Individual Dessert Galettes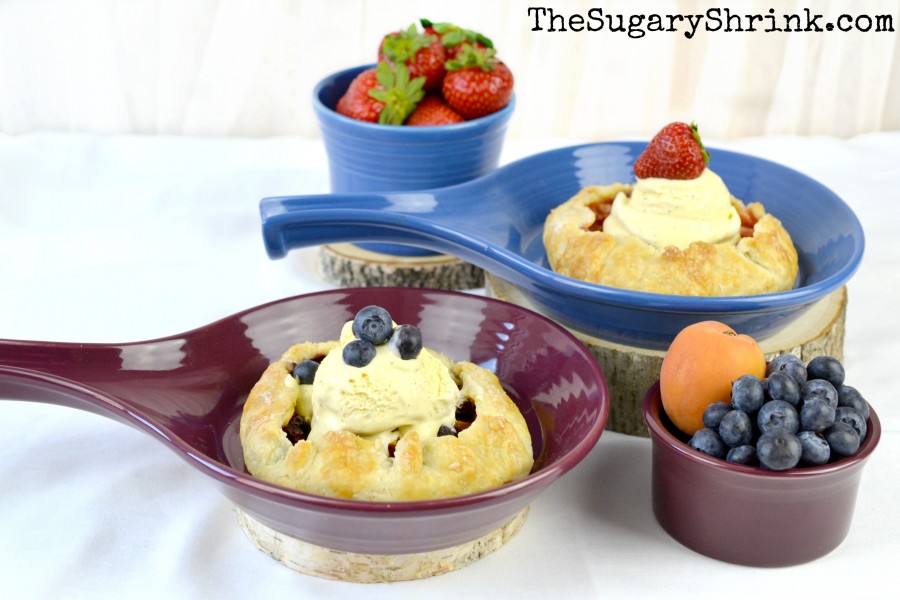 Apricot Blueberry Walnut Galette with Vanilla Ice Cream
Strawberry Rhubarb Almond Galette with Vanilla Ice Cream
Oh my yes!  These sweet galettes are an ideal dessert to finish off a special dinner.
While a traditional galette is more like a buckwheat flour pancake with a baked savory component of sausage, eggs, potatoes, etc. it is the case that fruit galettes are a beautifully simple dish to prepare.  Home bakers everywhere can embrace this very approachable and doable dessert – the filling is quite similar to crumbles, crisps, and cobblers.
Think of it as a fancy not fancy fruit tart.  There are four simple guidelines that help ensure a successful outcome.
When I first laid eyes on this new Individual Skillet Baker from Homer Laughlin Fiesta Dinnerware, all I could think was, "I have to get my hands on that!"  One of the everyday ideas for this new shape is a savory recipe you can check out here.
Thinking in terms of a sugary dessert, all I saw were individual galettes.  It's a match made in baking heaven.  I could already see it… into the oven, out of the oven, add ice cream, serve warm …. listen to the conversation die because your guests have resorted to little "hmm mmm hmm" sounds.
Let's get started!
The apricots are just barely in the market, so these were quite hard.  All that meant was they needed more time blanching.  Be sure to shock the stone fruit immediately from boiling water.  The peeling and dicing become quite easy at that point.
Add blueberries, a squeeze of lemon juice, sugar, and cornstarch.  The ratio of ingredients depends on the amount of fruit and don't be afraid to taste as you go.  When mixed, allow the fruit to sit.  Then add roughly chopped walnuts and a sprinkle of cinnamon.
Process the strawberries into bite-sized chunks, de-vein the rhubarb and chop into bite-sized pieces.  Add sugar, cornstarch, 2T almond flour, and lemon juice – let sit, then fold in chopped/slivered almonds.  This combination is scrumptious.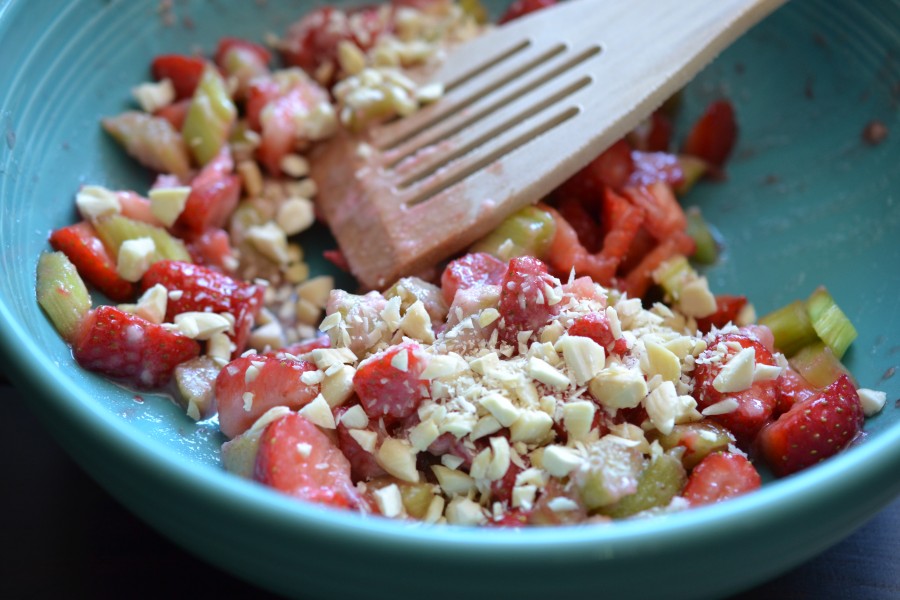 Now, there are many recipes out there for the perfect galette crust.  And crusts aren't yet in my wheelhouse like a chocolate layer cake!  So I approach the galette crust like I do all my pie crusts… with the help of Betty Crocker.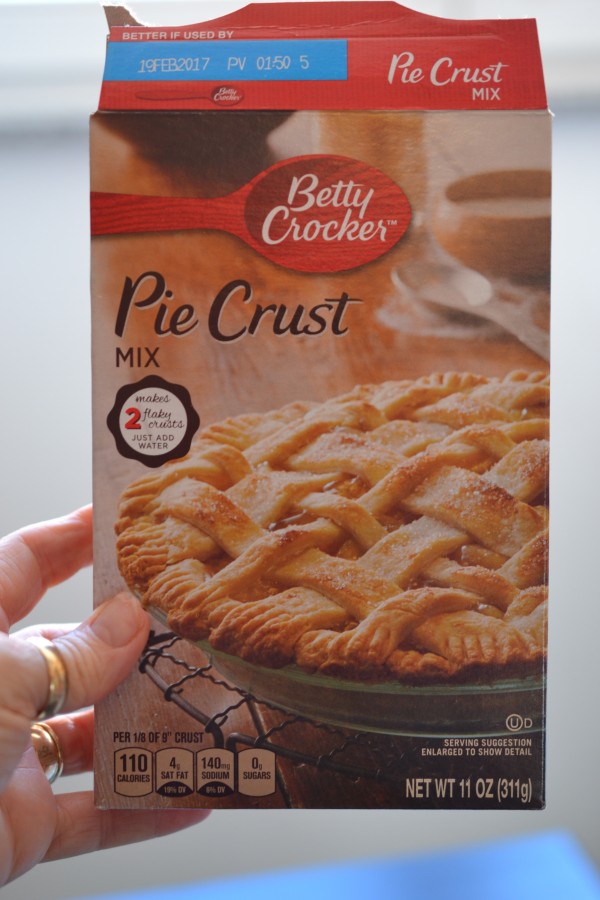 Since I'm not looking for a perfect looking crust, I'm relying on taste and ease of use.  This is how I roll.
I divided the dough into four equal portions (106 gr) and formed into flat discs.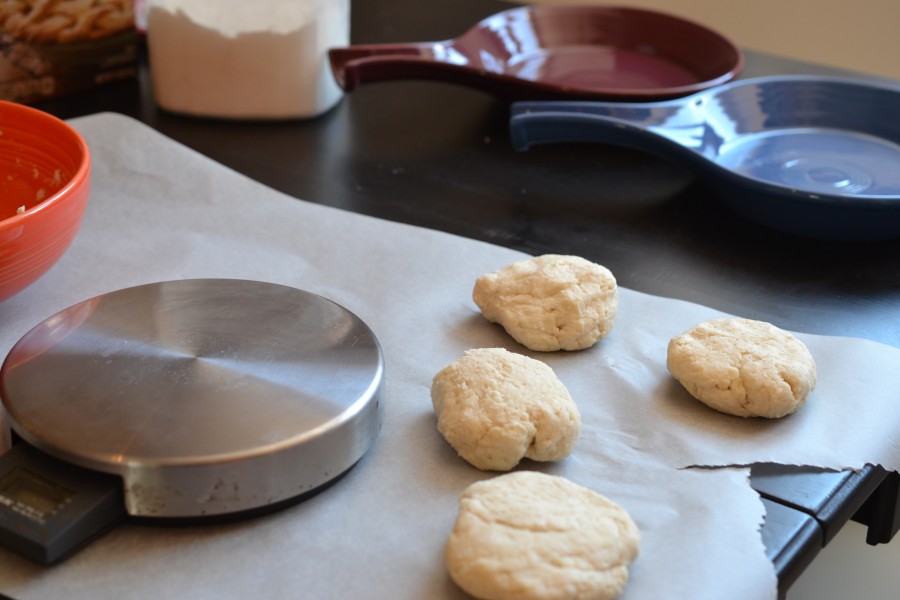 When gauging the size of the rolled out dough – I need a crust that's at least as big as the base of the individual skillet.  This will allow for a folded edge and still look wonderful in the baker.
For reference, I rolled out the dough just larger than the dessert/salad plate. Picture for reference.
Since I rolled the dough out on floured parchment paper, it was a breeze to lift the crust into the skillet.
To fill the center…
Drain liquid while spooning onto the crust – soggy is bad news.
Consider adding a thin layer of a complementary jam before filling.
Do not overfill; an even flat layer is quite lovely.
Dot the top of the fruit filling with butter (not margarine).
Let's take a minute and talk about the most recent Fiesta Dinnerware color, Claret.  It's gorgeous.  I've been reading reviews and opinions of this new color – anecdotally, most people seem to like it and compare it to the retired Cinnabar.  To my eye, Claret has more grape in it and is quite distinct from any previous color.  It's beautiful and I look forward to pairing it with #allthecolors!!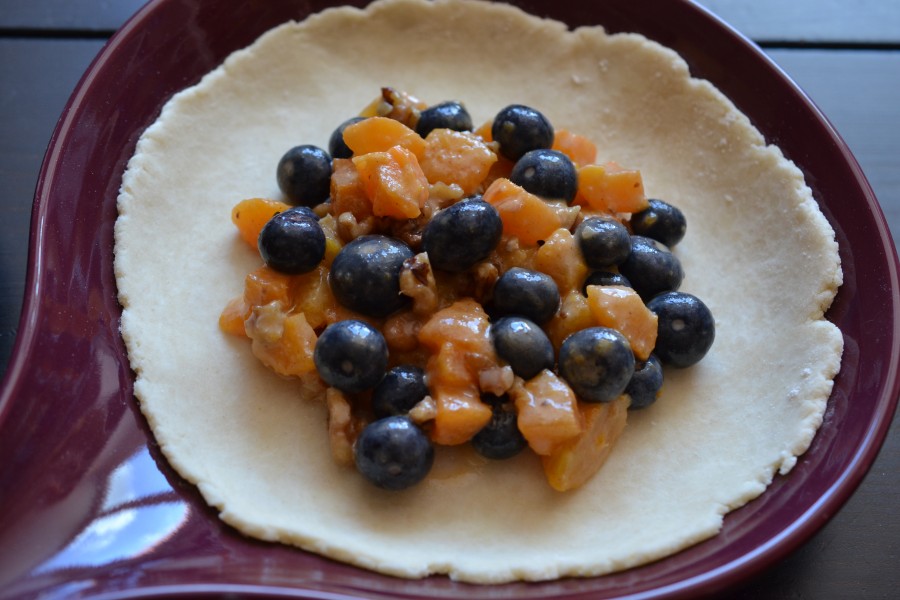 And, it's stunning with Lapis.
Fold the edges over, but not more than 1.5 inches.
Brush the exposed crust edges with an egg-white wash; sprinkle liberally with sugar (you'll thank me later for this final step).
Bake at 375F/190C for 40 minutes.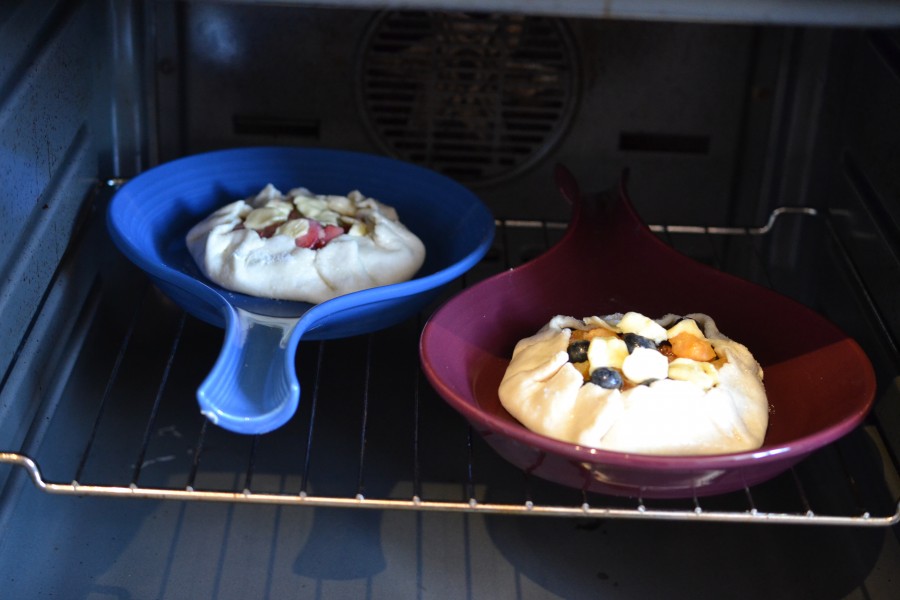 I placed the individual skillet bakers on a cooling rack on my kitchen table… I was so surprised, the handles were warm to the touch at just 20 minutes.  It was remarkable, I thought the handles would have been too hot touch that soon.  Your mileage may vary, but I was really happy with the results.
The timing is perfect for a small dinner party.  Consider inviting your guests to build their own galettes (having already prepared two or three different fillings), bake during dinner, allow for a brief cooling period, and then serve with ice cream, heavy whipped cream, yogurt, etc.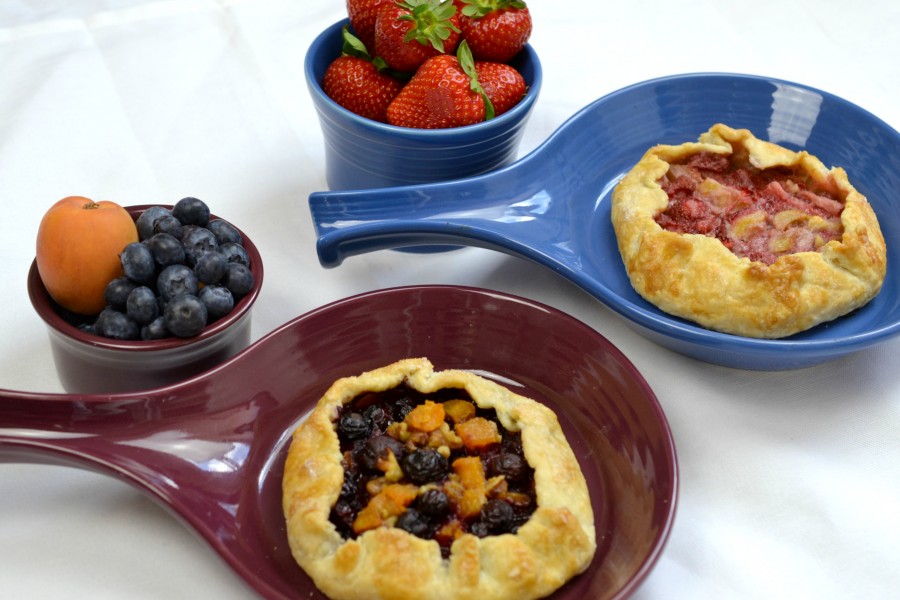 I'm already planning different fillings and different desserts that will be ideal for this versatile skillet baker.
I loved working with this new product and was crazy happy with the results from my test kitchen.  How lucky could a baker get?!  Seriously.  It was a great day.
This is a great life I get to enjoy with my life partner husband.
This is a great life that includes our people.
And what an amazing life that sobriety allows.