Apple Cinnamon Pecan Rolls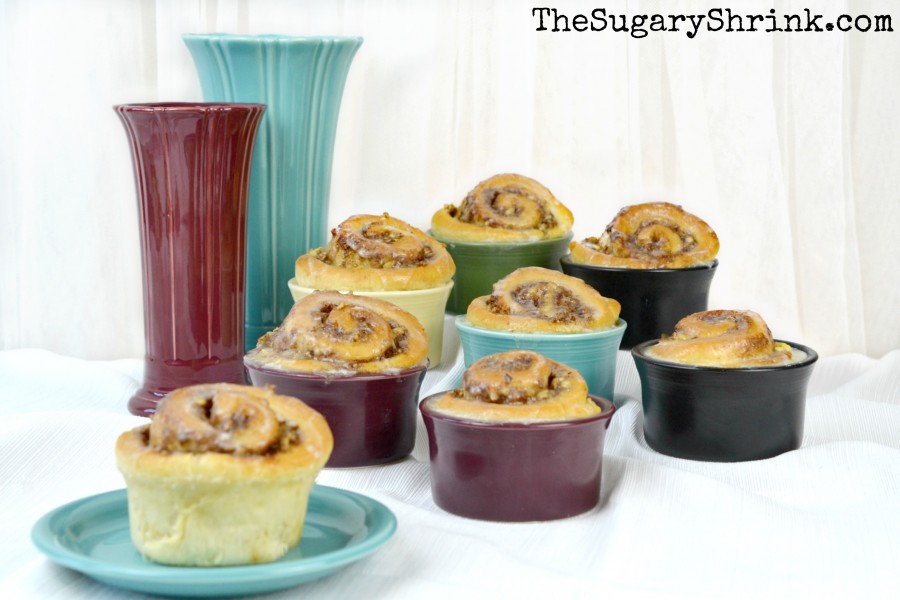 Apple Cinnamon Pecan Rolls with a Vanilla Glaze
There's nothing more interesting or fun than working with my favorite Fiesta Ramekins.  These personal-sized baking dishes can be used for so many kinds of dessert…and since I love baking, these are a winner everyday.
As I've blogged before here, I'm a rookie when it comes to baking sweets with a yeast dough.  It's not difficult and I've been successful … maybe it's the extra time required to account for rise?
Anyway, the new Homer Laughlin Fiesta Dinnerware Claret Ramekin and Foundry Ramekin are perfect bakers for a hot cinnamon roll.  That's all the inspiration I need.
Let's take a look at the construction of this yumminess.
I followed a basic yeast sweet roll recipe of yeast, warm water, milk, egg, sugar, salt, butter and flour.  Suggested time for rising to 'double in size' was 90 minutes.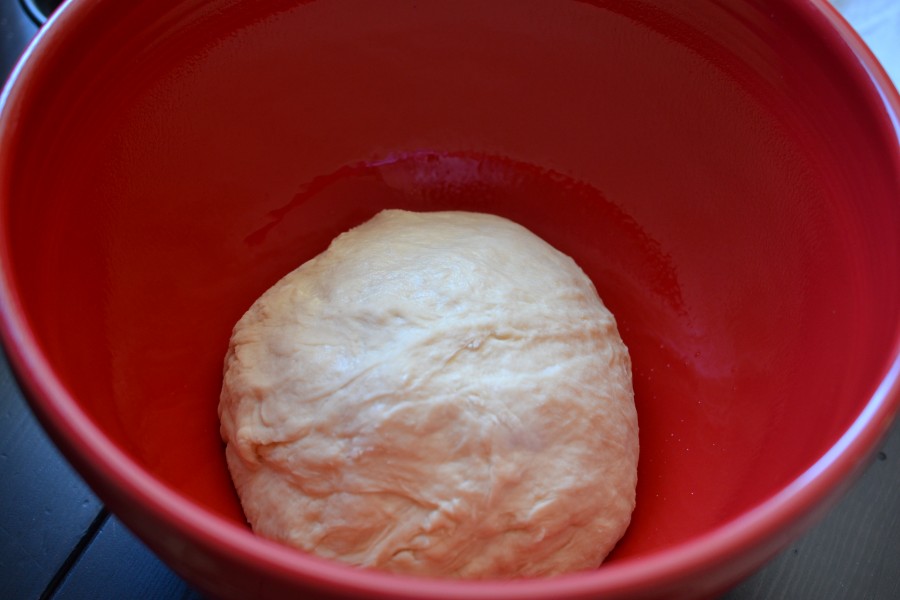 Near the end of rising/resting, I prepared the filling of sugar, cinnamon, butter, pecans, and apples.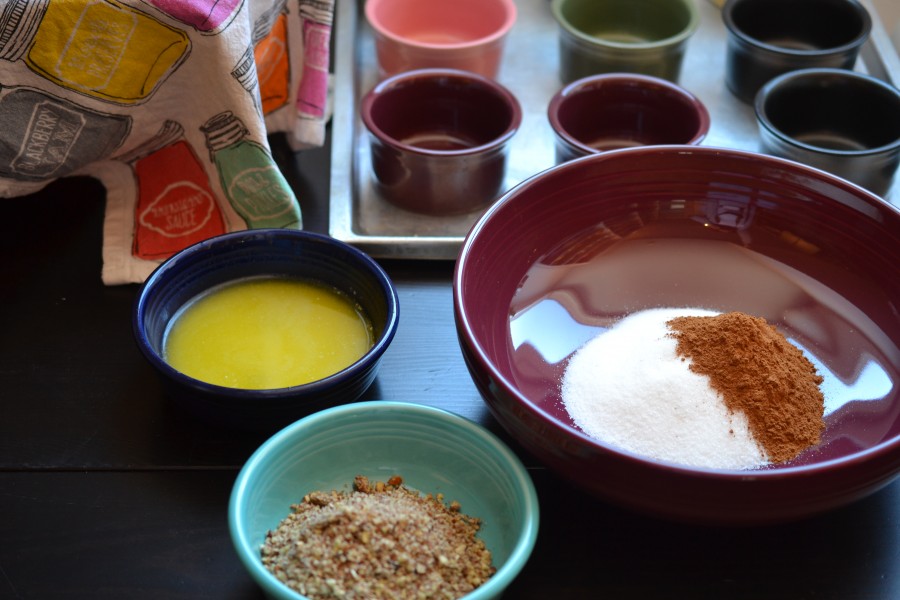 I processed the nuts, melted the butter, measured the dry ingredients and finely chopped an apple… a lovely mis en place.
I added the apples to the mix..next time I'll need more apples and add them directly to the cinnamon sugar mix after it's on the dough and gently press into the sugar.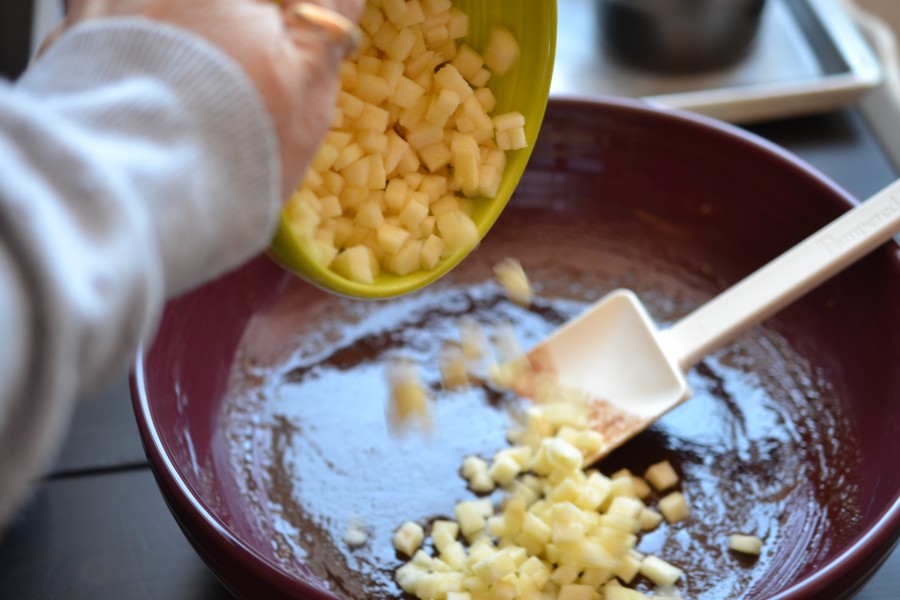 Next step, roll out the dough.  A simple trajectory was 15″ x 9″.
I barely brushed the surface with melted butter since there was plenty of butter blended with the sugar and cinnamon.
Definitely not enough apples.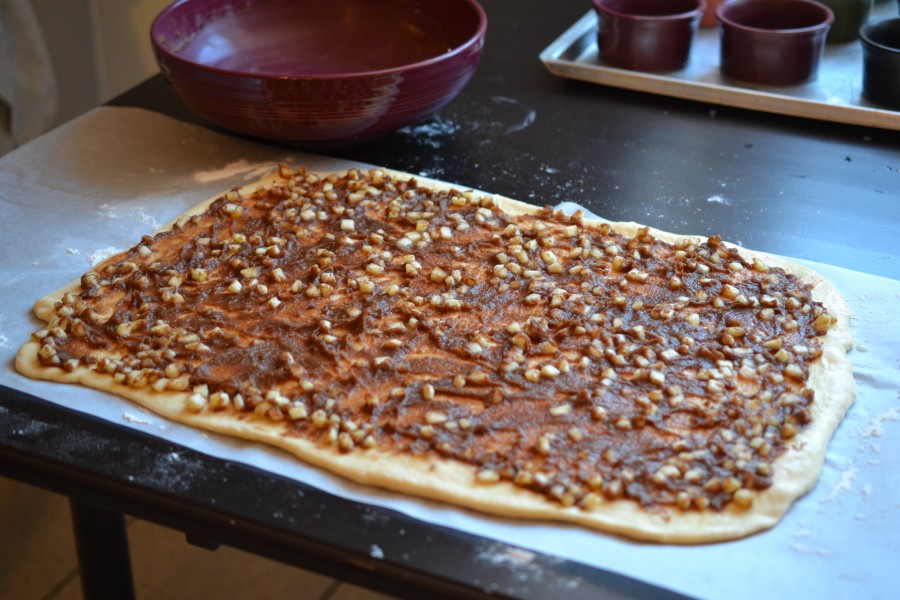 The chopped nuts were pressed onto the surface before rolling.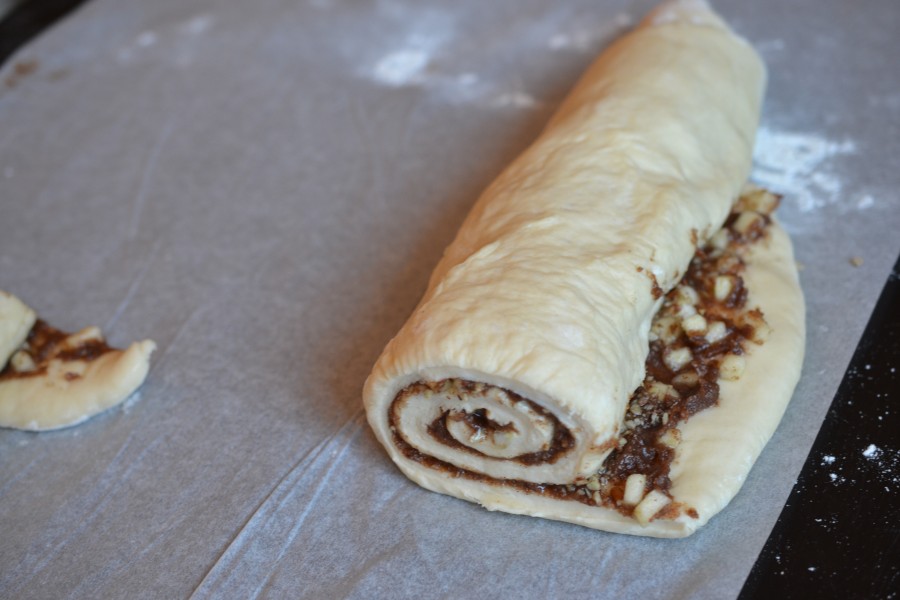 I love the smooth clean cut of using a thread to make each slice.  I blogged that technique here.
The inside of each ramekin was coated with butter and a sprinkle of white sugar.
These rolls needed a few minutes to rise before baking, about 30 minutes.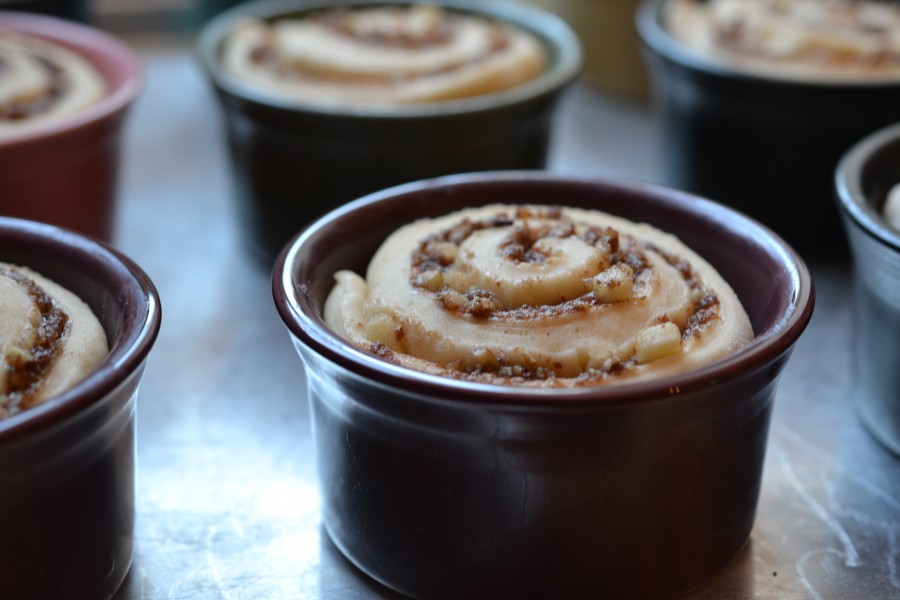 Into the oven at 350F/180C for 30 minutes.  I thought the tops seemed too brown, maybe – but the inside of the roll needed that time to bake completely.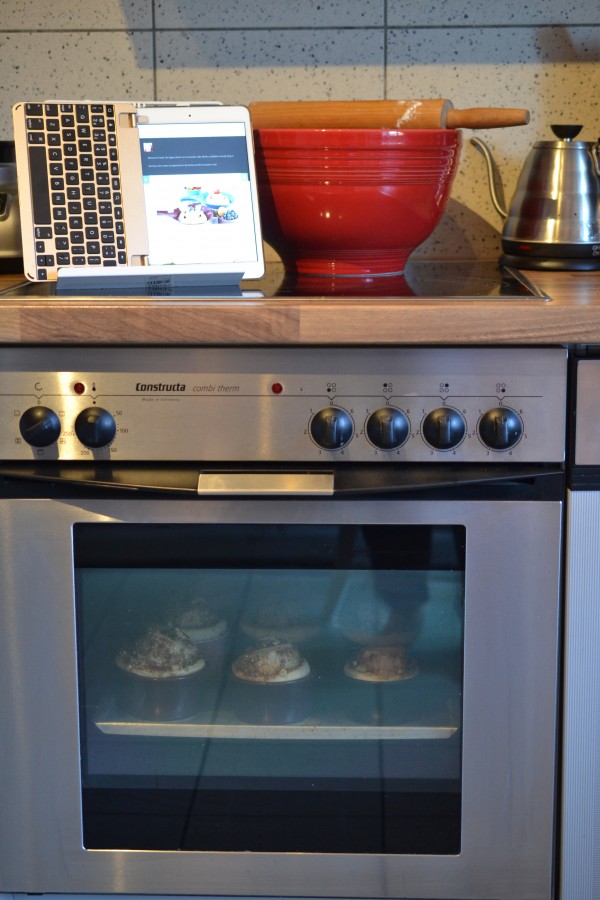 And yes!  They exploded right out of the top and aren't they amazing?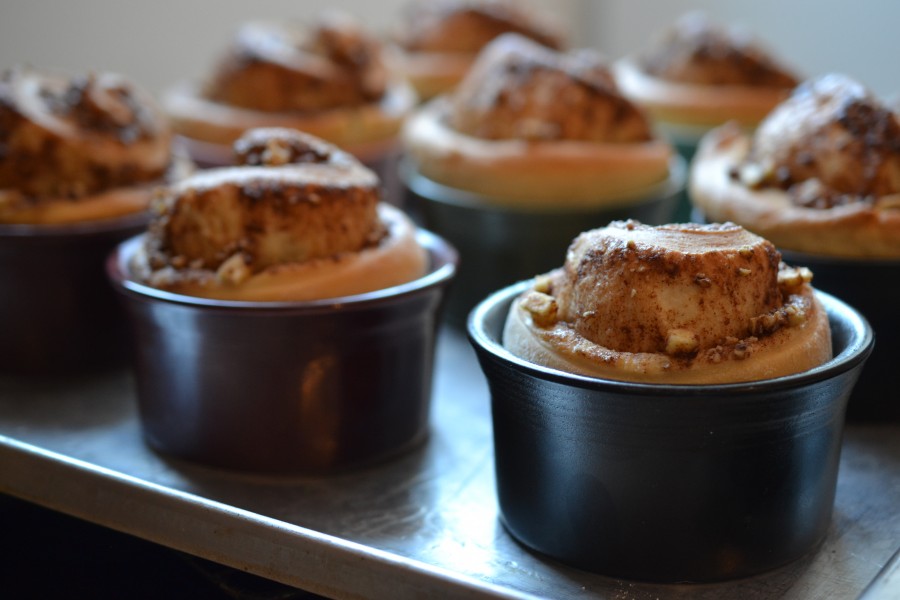 The rolls need a few minutes to cool down before topping with a glaze.  I mixed together a simple and delicious glaze of powdered sugar, butter, vanilla, and hot water.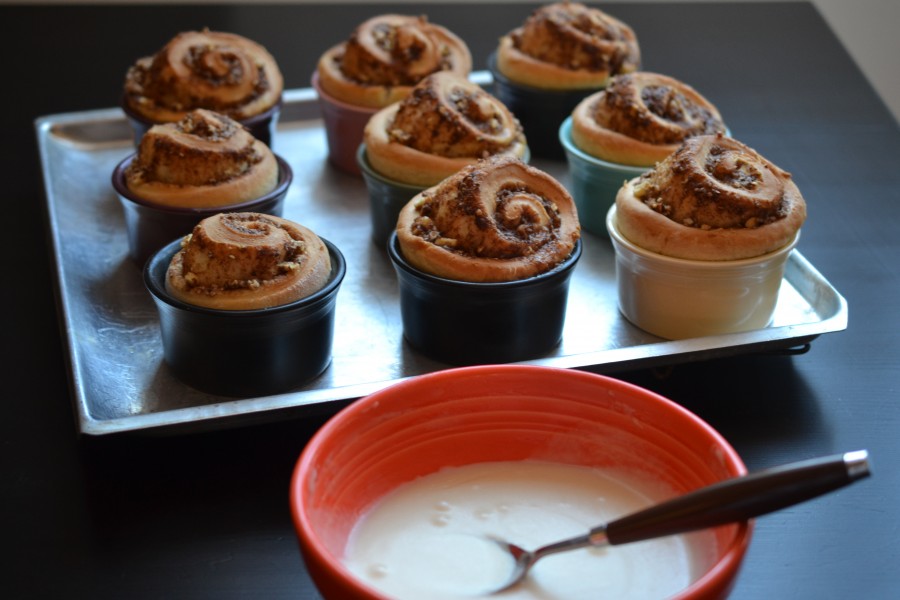 I love the way the hot roll absorbs more sugar and more flavor.  "Yes please, more sugar!"
Can you almost taste it?  Please, bake them for yourself.  You're worth it.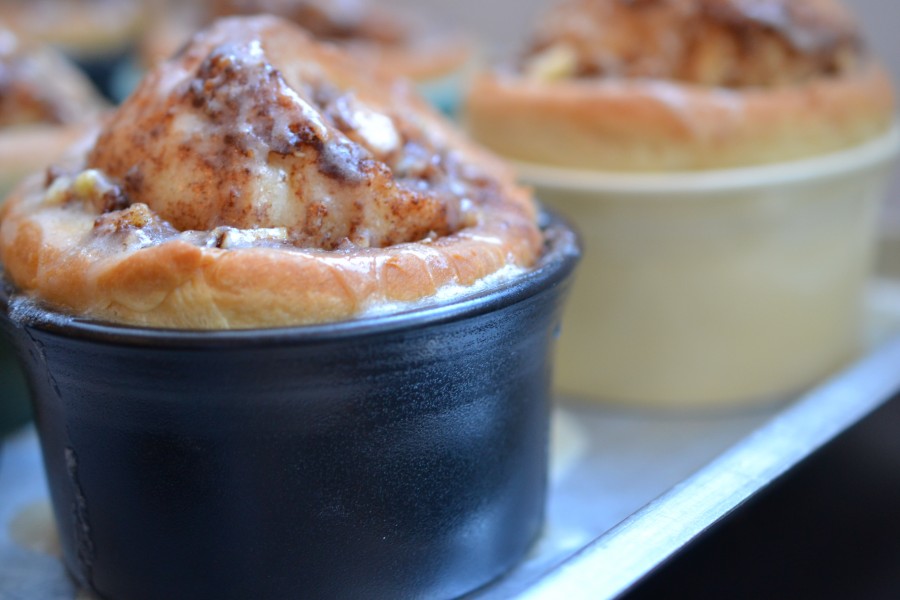 While these beauties were in the oven baking, I had a little bit of the rolled dough remaining and two misshapened ends that I couldn't waste.
I threw together melted butter, white sugar, brown sugar, pecans, and a bit of apple – then coated the bottom of the Foundry Loaf Pan.  It was the perfect size for six small cinnamon rolls!  That went into the oven for 30 minutes.  When it cooled for 20 minutes, it turned out of the pan (like a Pineapple Upside Down Cake) – the Foundry Loaf Pan released the sticky buns perfectly.  ohsoscrumptious.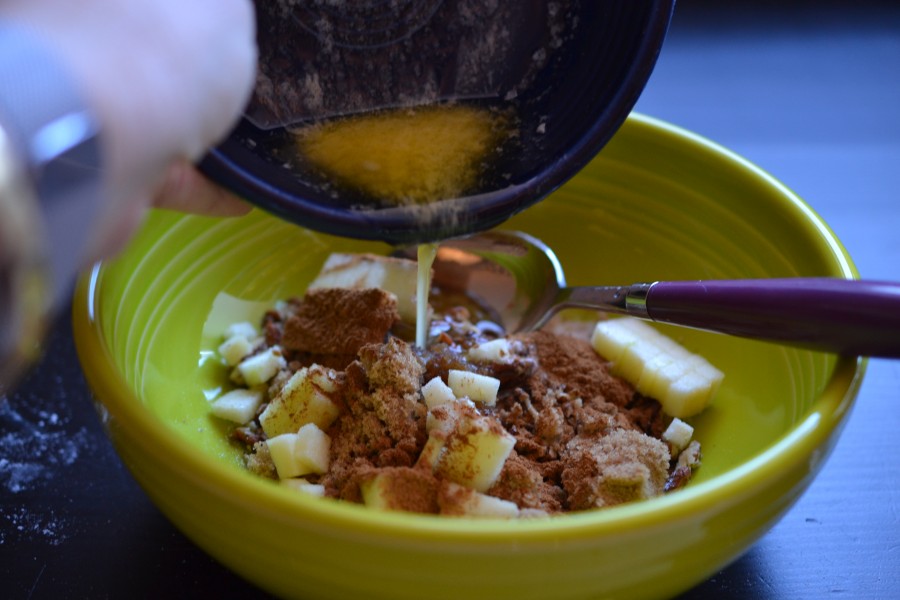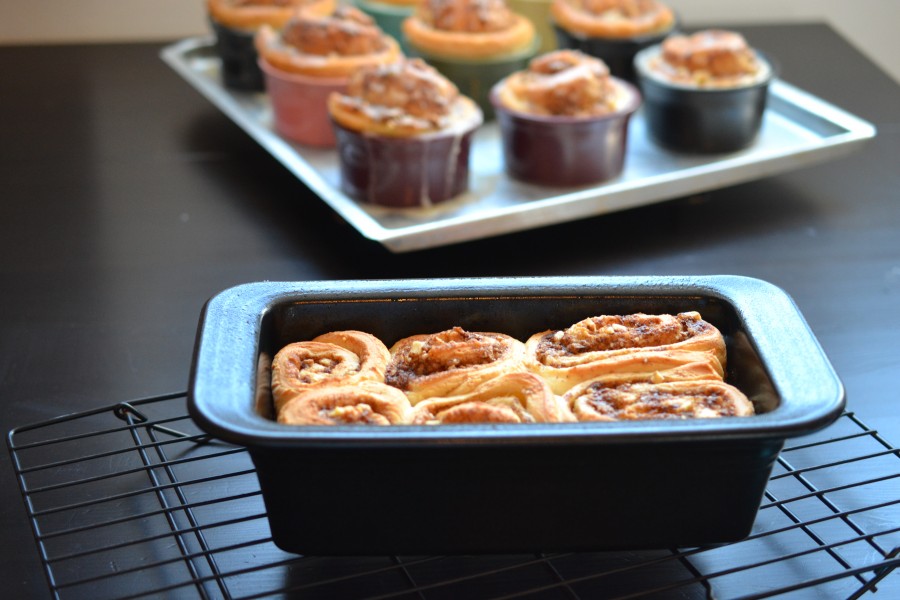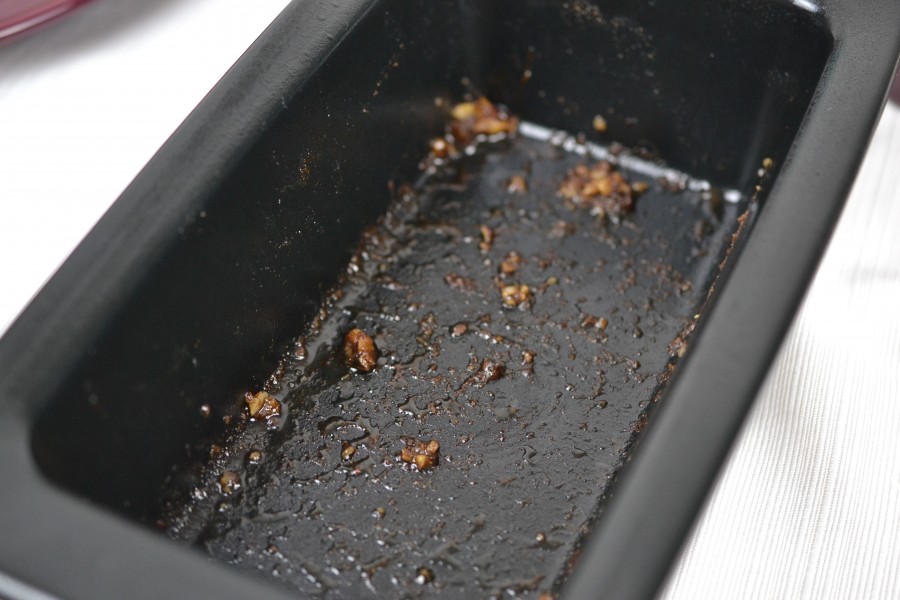 Look at how pretty this turned out!  And it's from the leftover bits and pieces.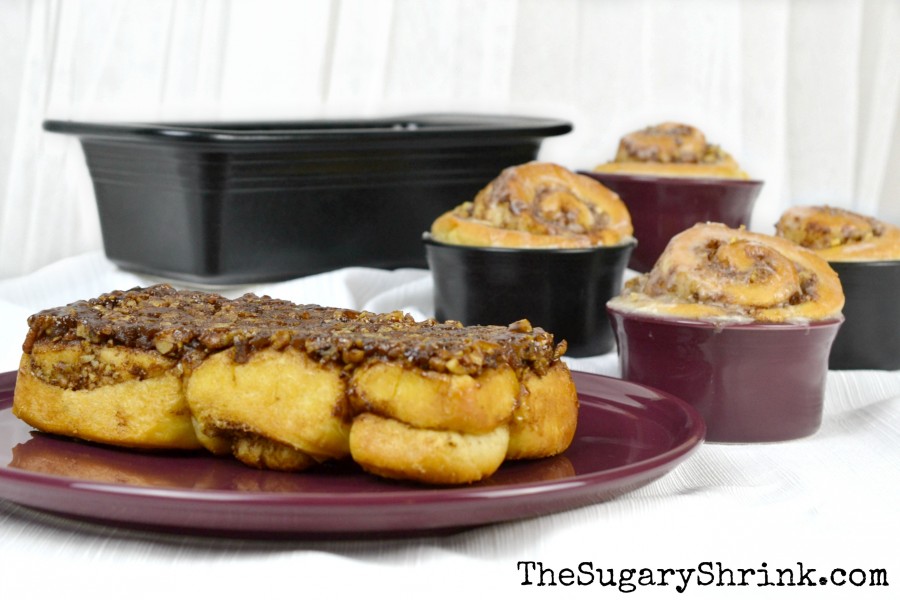 I have to say, I'm in love with this new color, Claret.  It's definitely its own color and incredibly rich; read more about it here.  So far, I've paired it with Lapis, Turquoise, Sage, Ivory, Slate, and the new Foundry Bakeware.  The looks are fantastic.
It's been another great day in the kitchen.  During the preparations, there was a series of friends dropping and leaving and other friends arriving.  How lucky am I?
I  have an incredible life partner.
All our people still visit us and we text #allthetime.
And sobriety endures all things.
Who needs an Apple Cinnamon Pecan roll?