An Explosion of Chocolate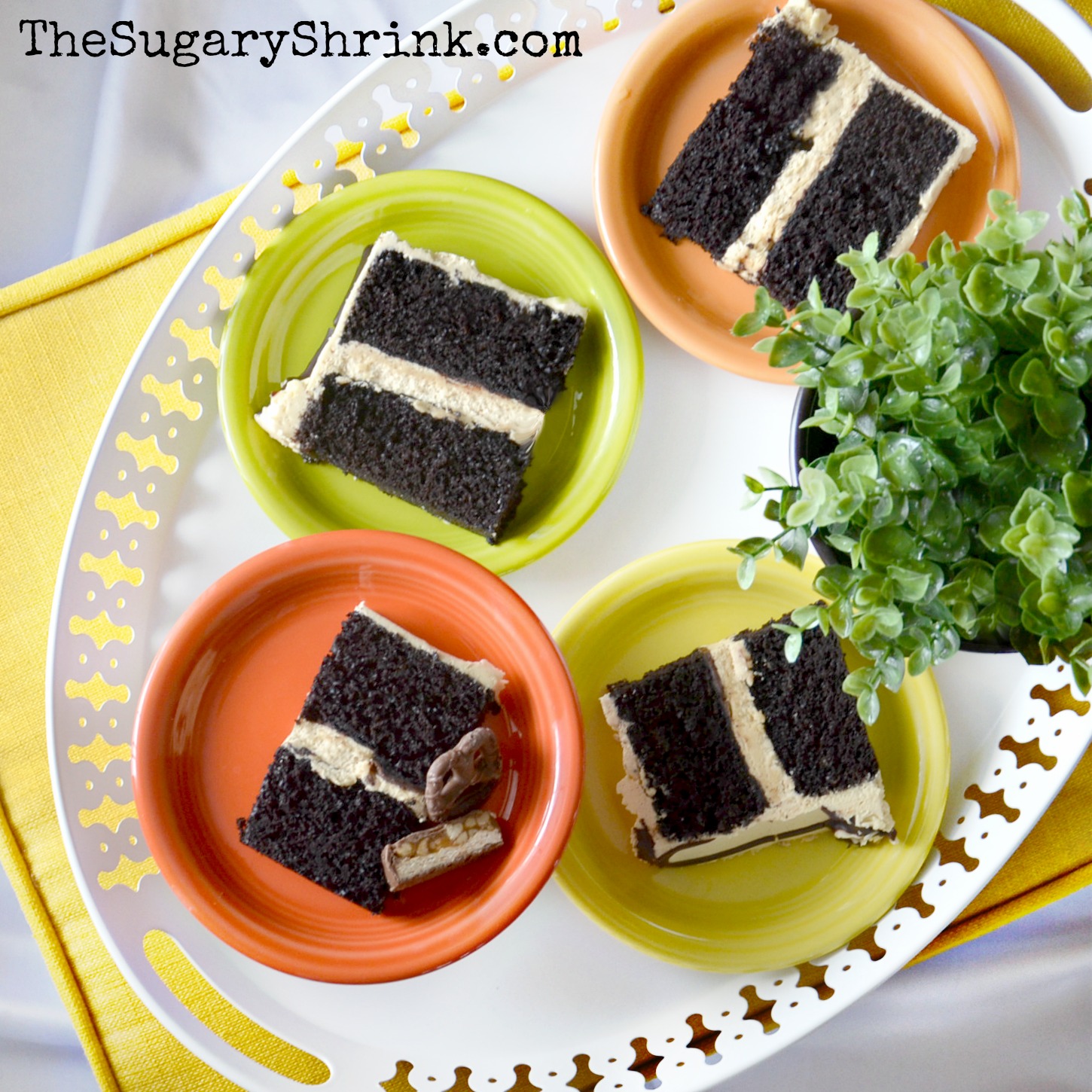 We were celebrating a birthday at our house this weekend. I love baking a cake for family on their special day and this was no exception. Executing on a big idea is risky. This cake was right on target for success… just until the finish line and I blew it.
I was sad and disappointed in myself and my people were sweet and kind about it. I absolutely believed them when they said, "It looks great!" … and I knew it wasn't right.
Our family isn't any different than most families.. we love chocolate and peanut butter. This cake is a no-brainer for winning the day and sitting around the table with a forkful of buttercream.
The sponge layers are Chocolate Layer Cake and the buttercream is the same as any other Vanilla Buttercream with about 1/2c smooth peanut butter per 2 sticks of butter. Mix well, add powdered sugar, 1t vanilla, and 1T milk. I found Kerry Gold butter measured in ounces at the store (having been used to grams when we lived in Heidelberg, this was new to my eyes).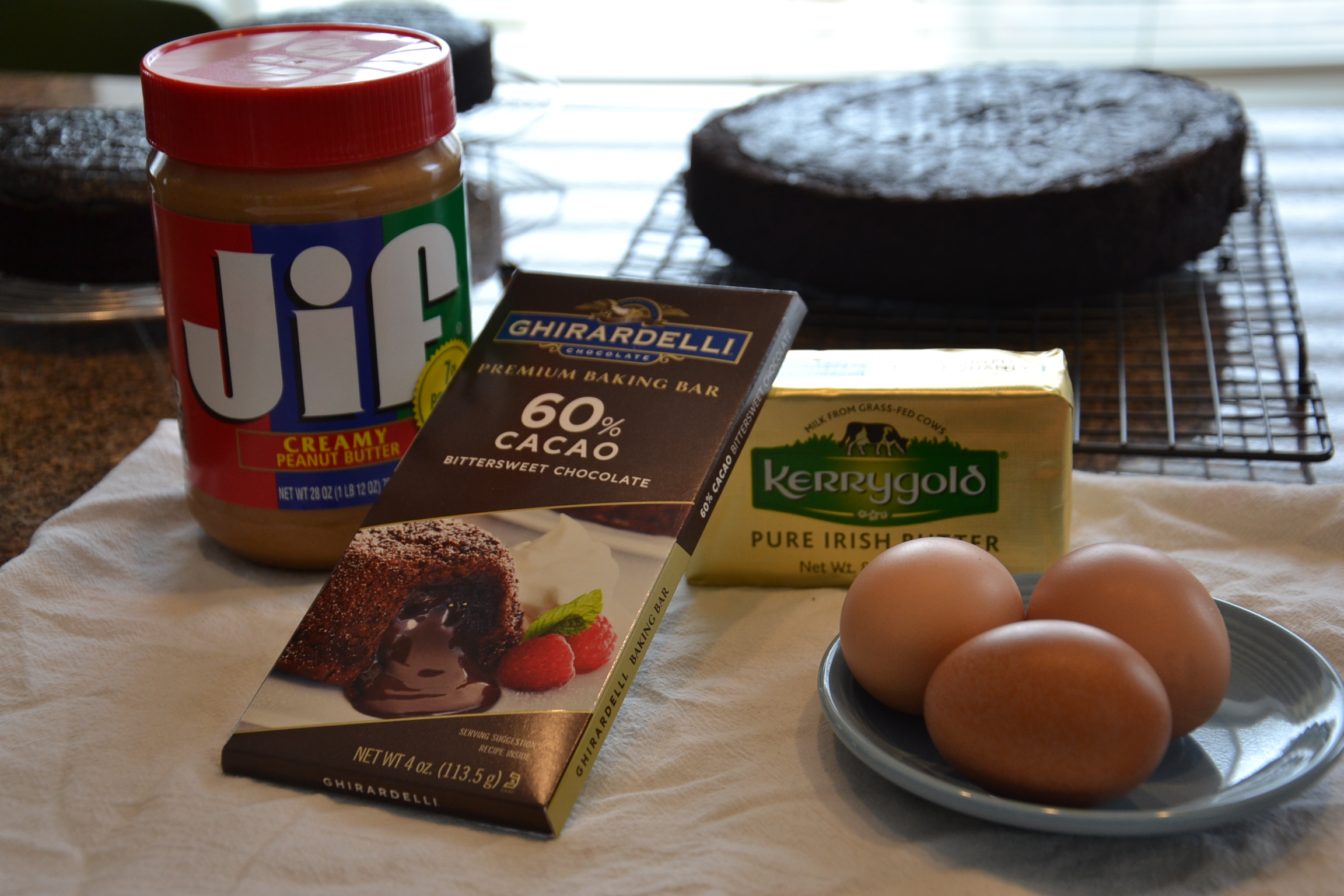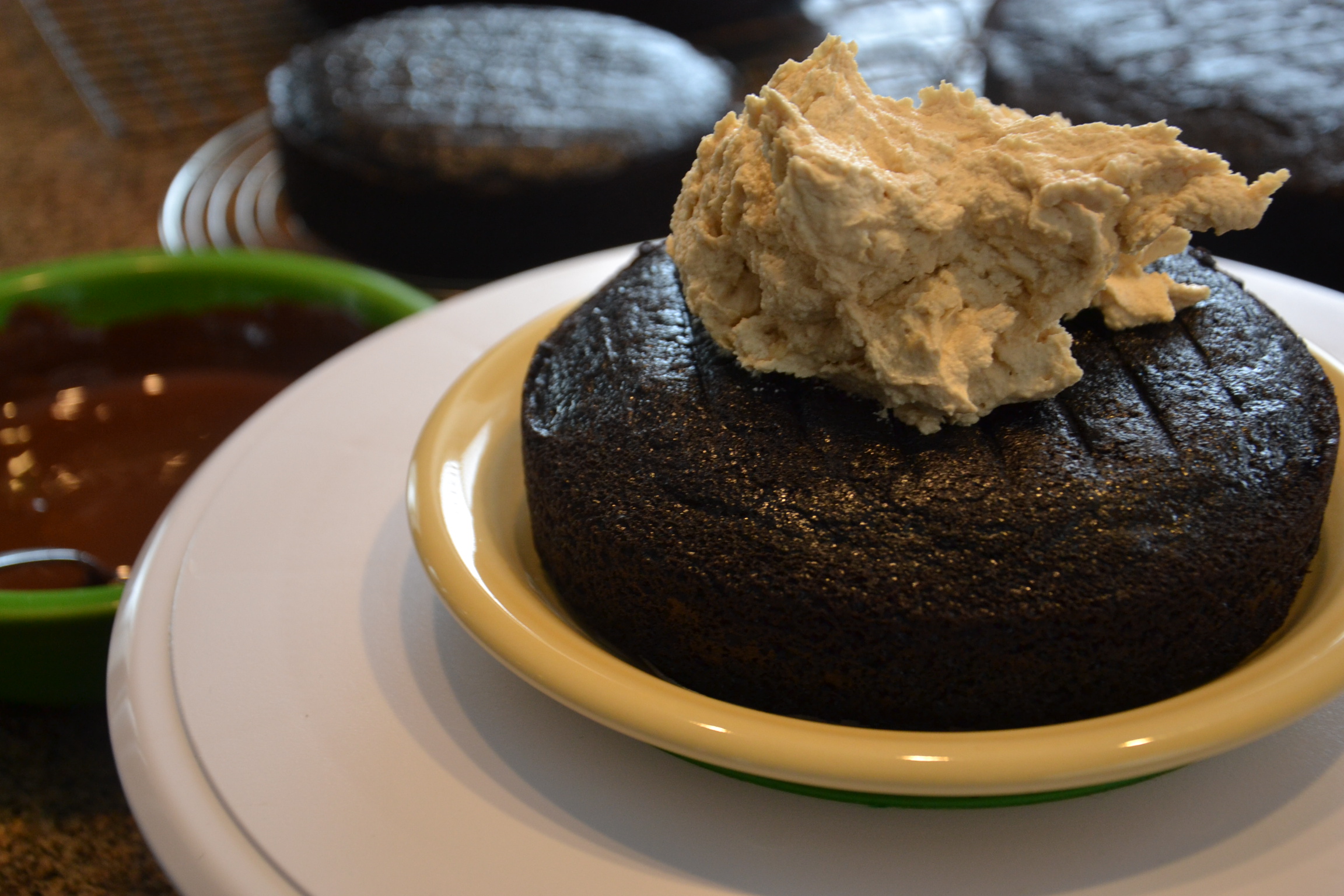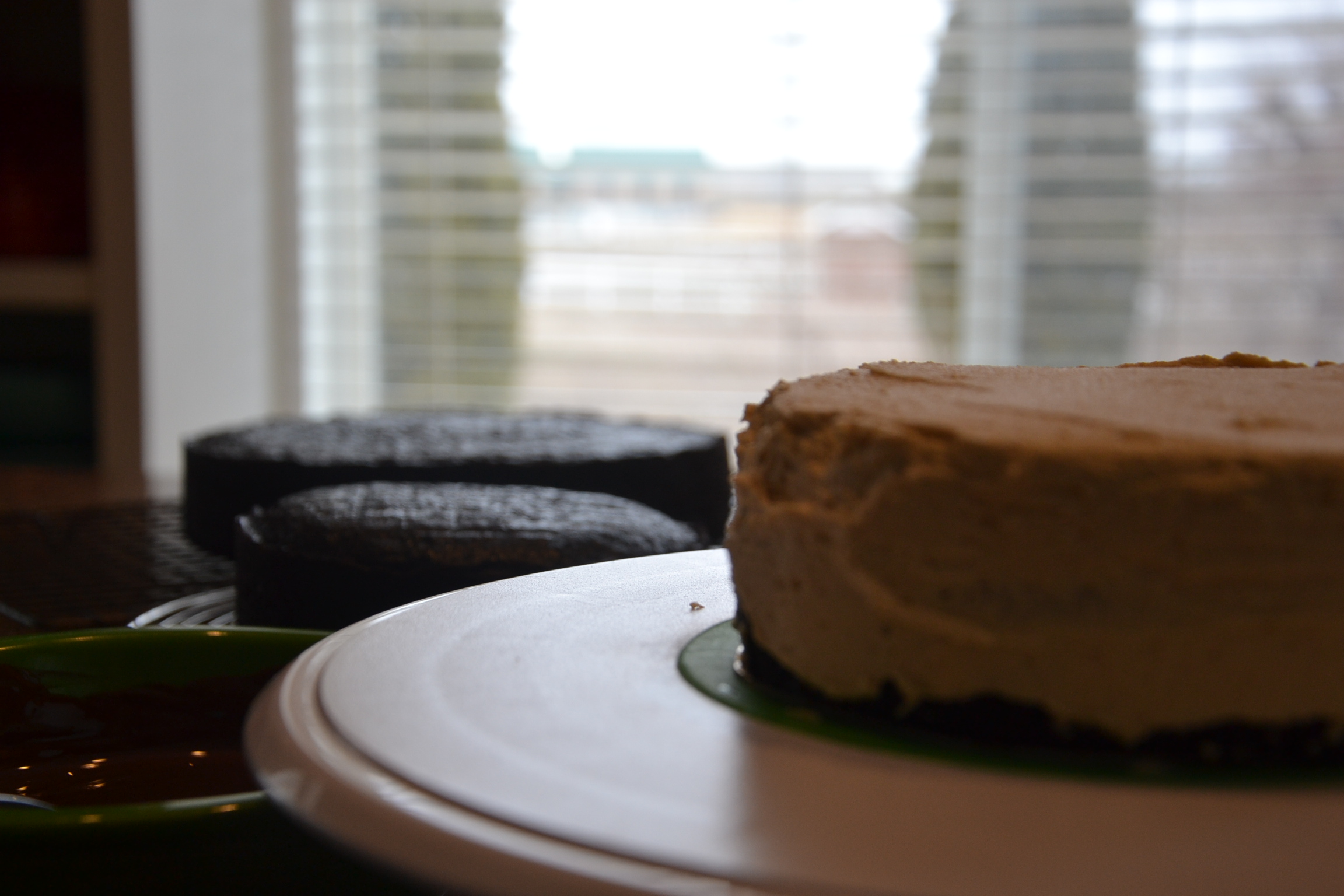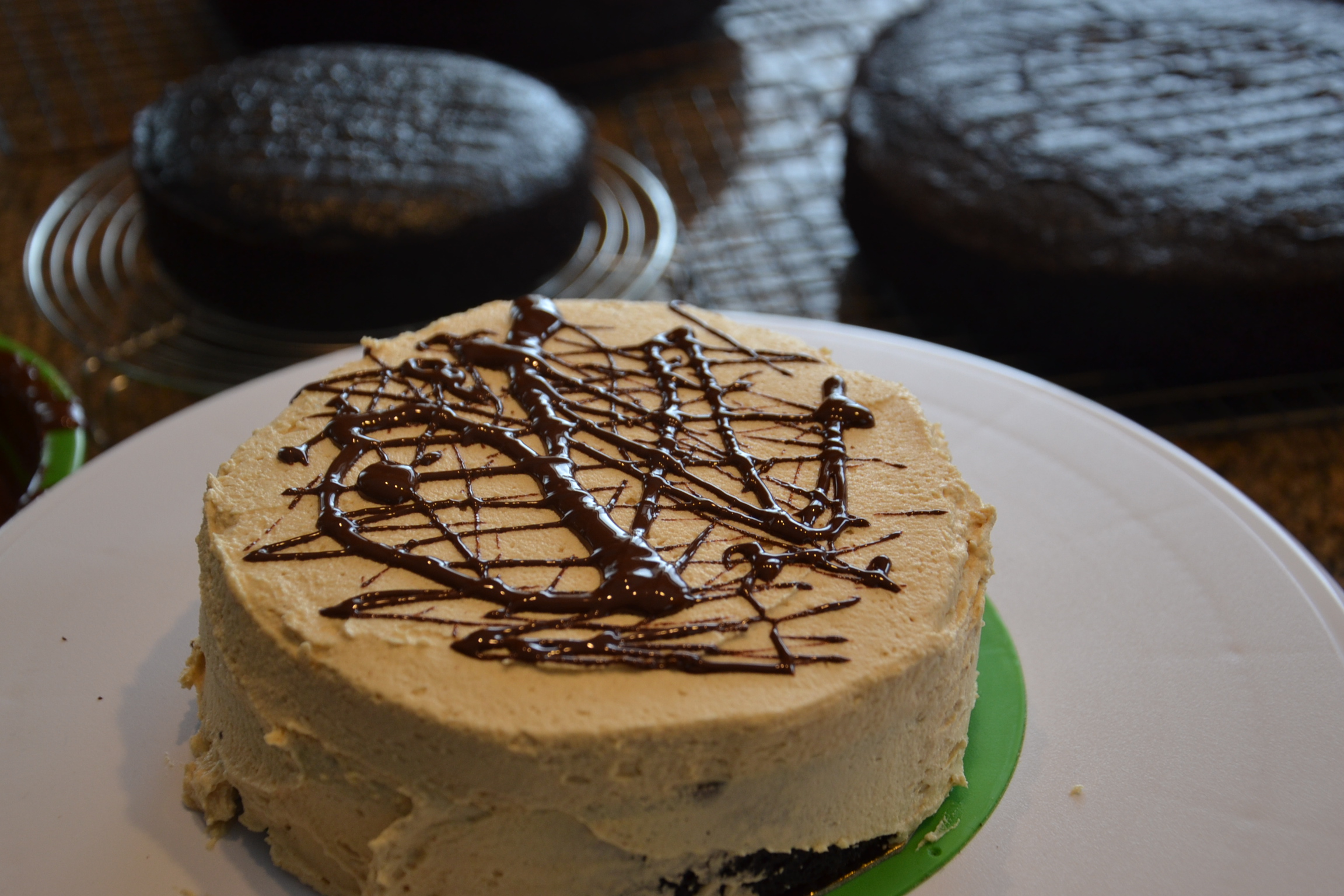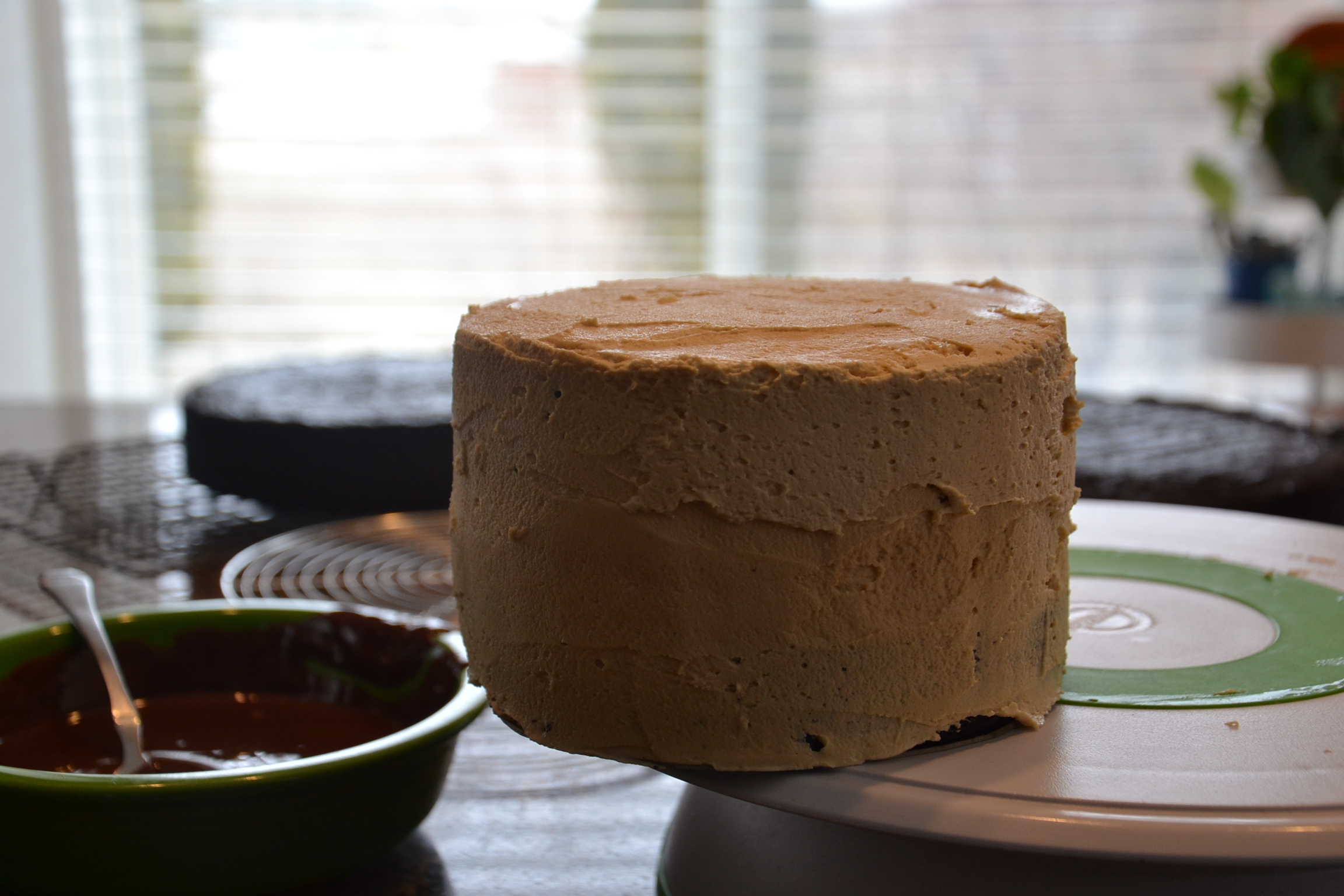 Once the top tier of the cake was completed, it was back to the beginning with the 9″, double layer base component.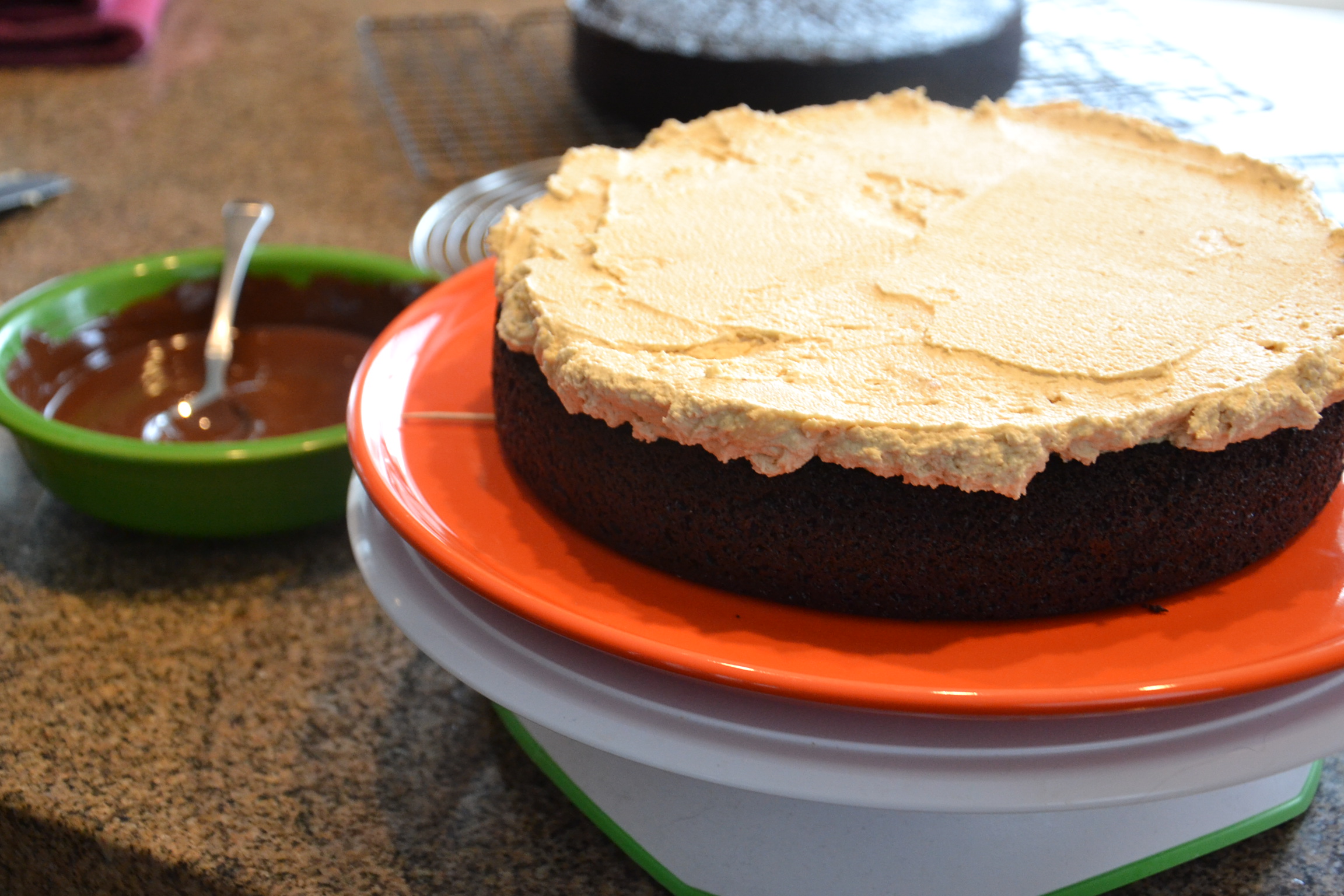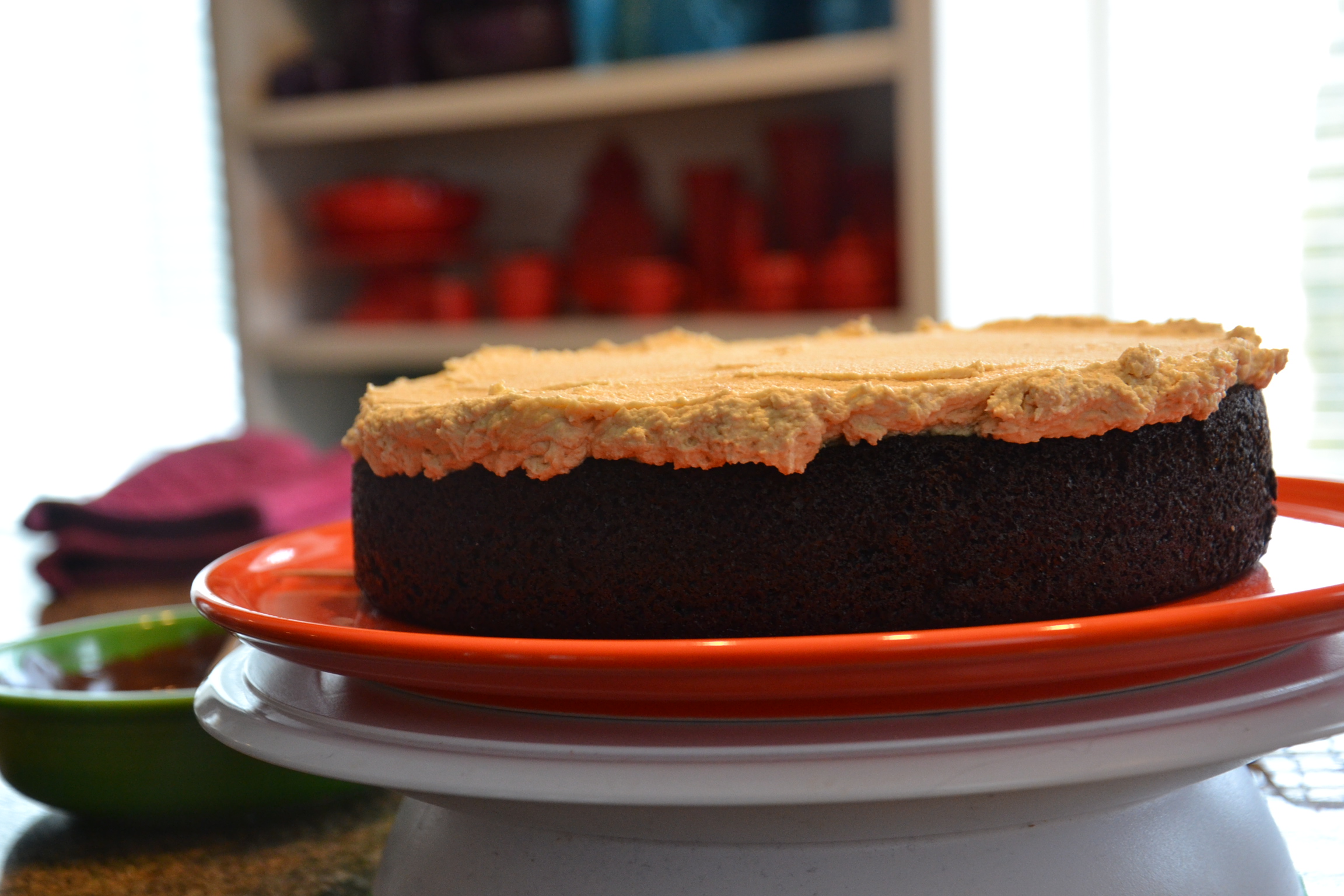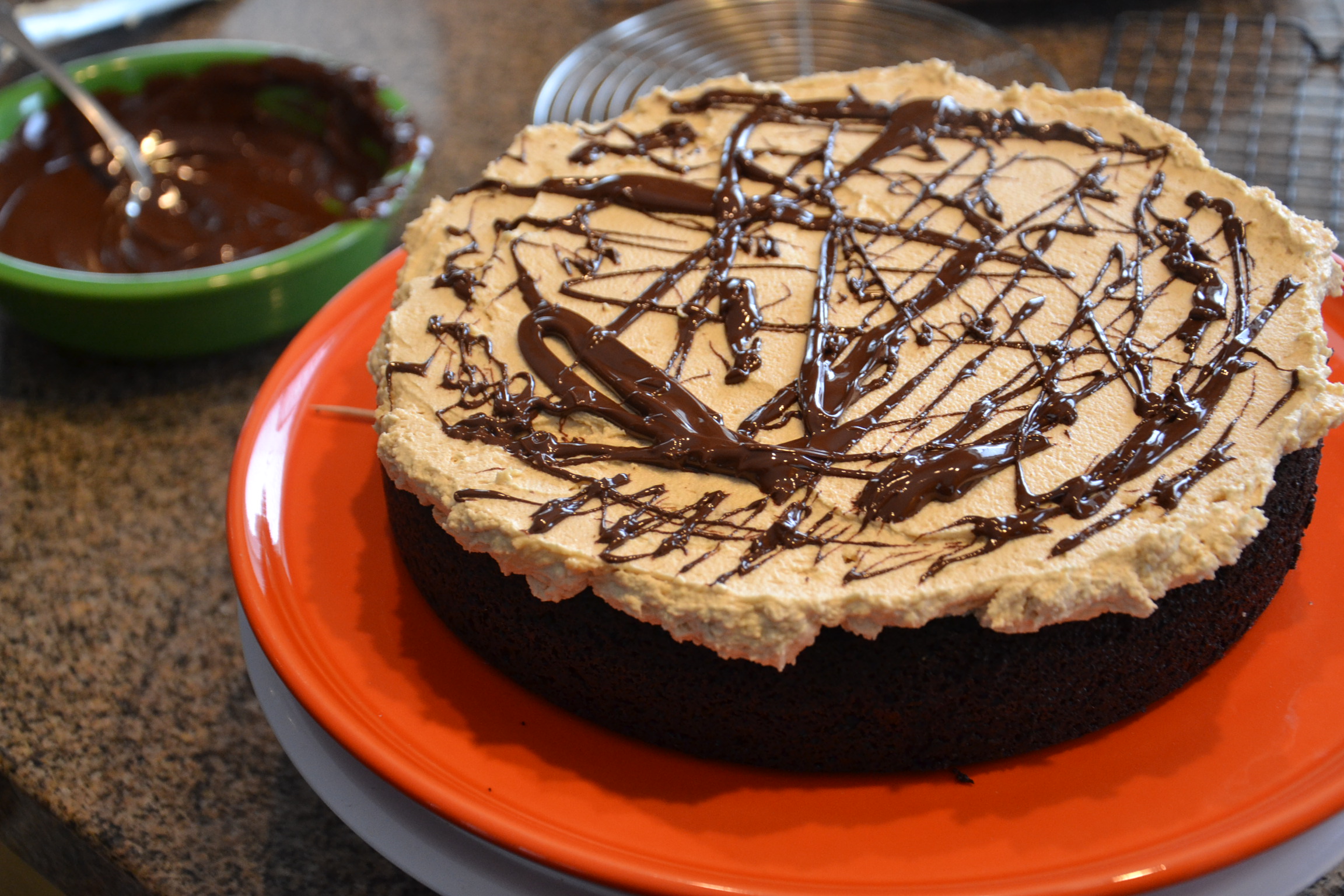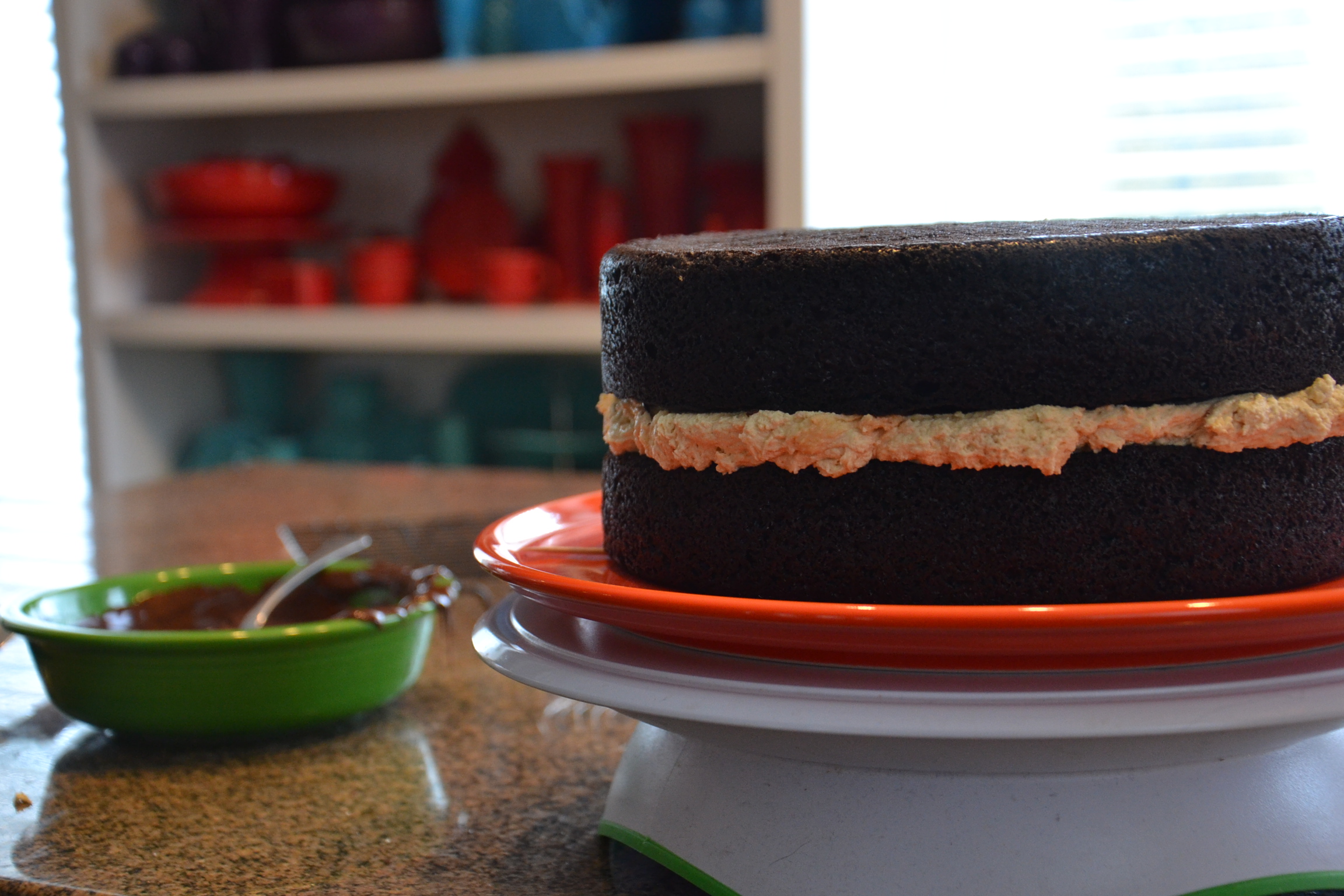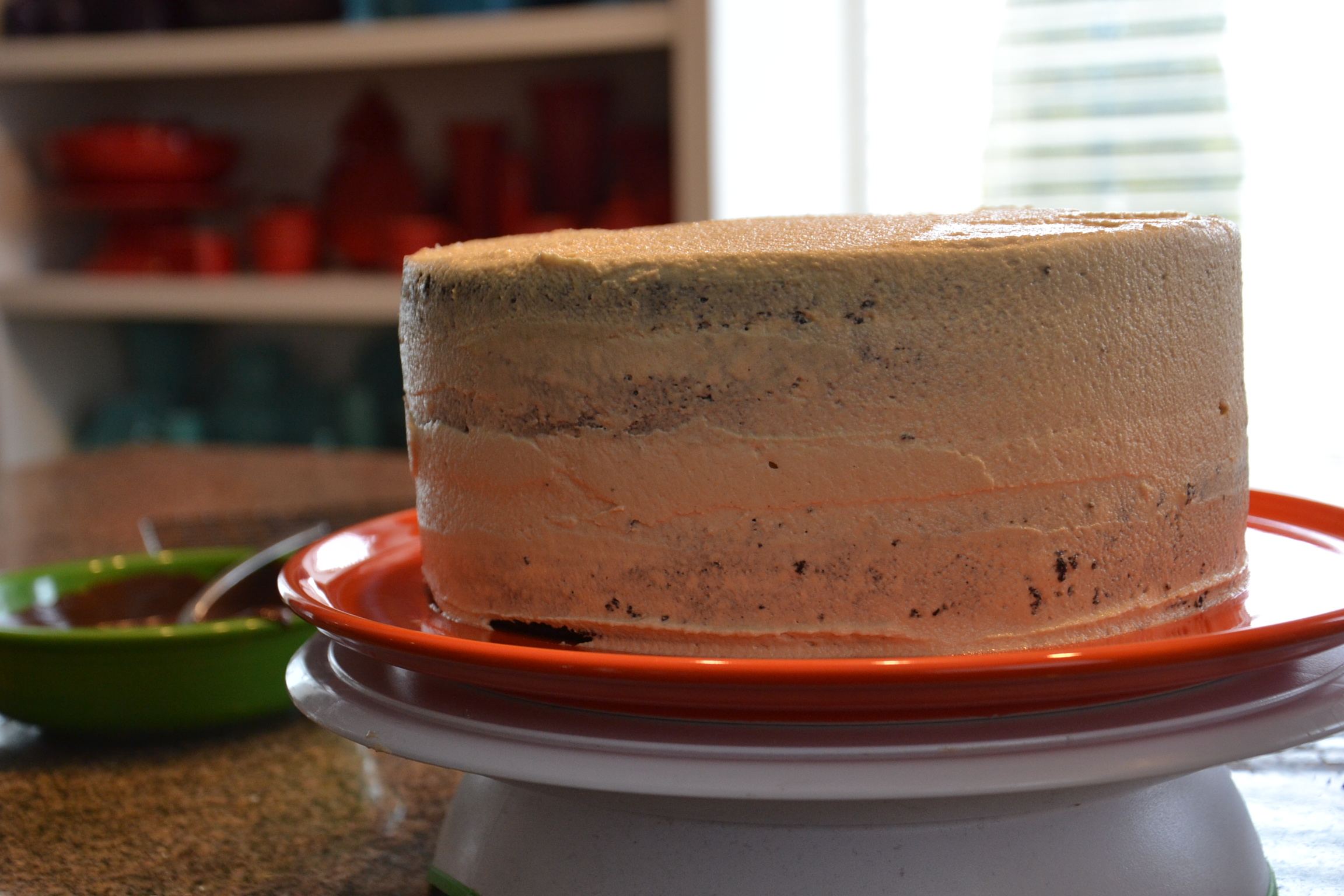 Both tiers of chocolate and peanut butter were ready for final construction. While they were setting up in the cake fridge, I made the Chocolate Ganache. Martha Stewart likes to use 63% cocao…I love a Ghirardelli Chocolate bar for the job.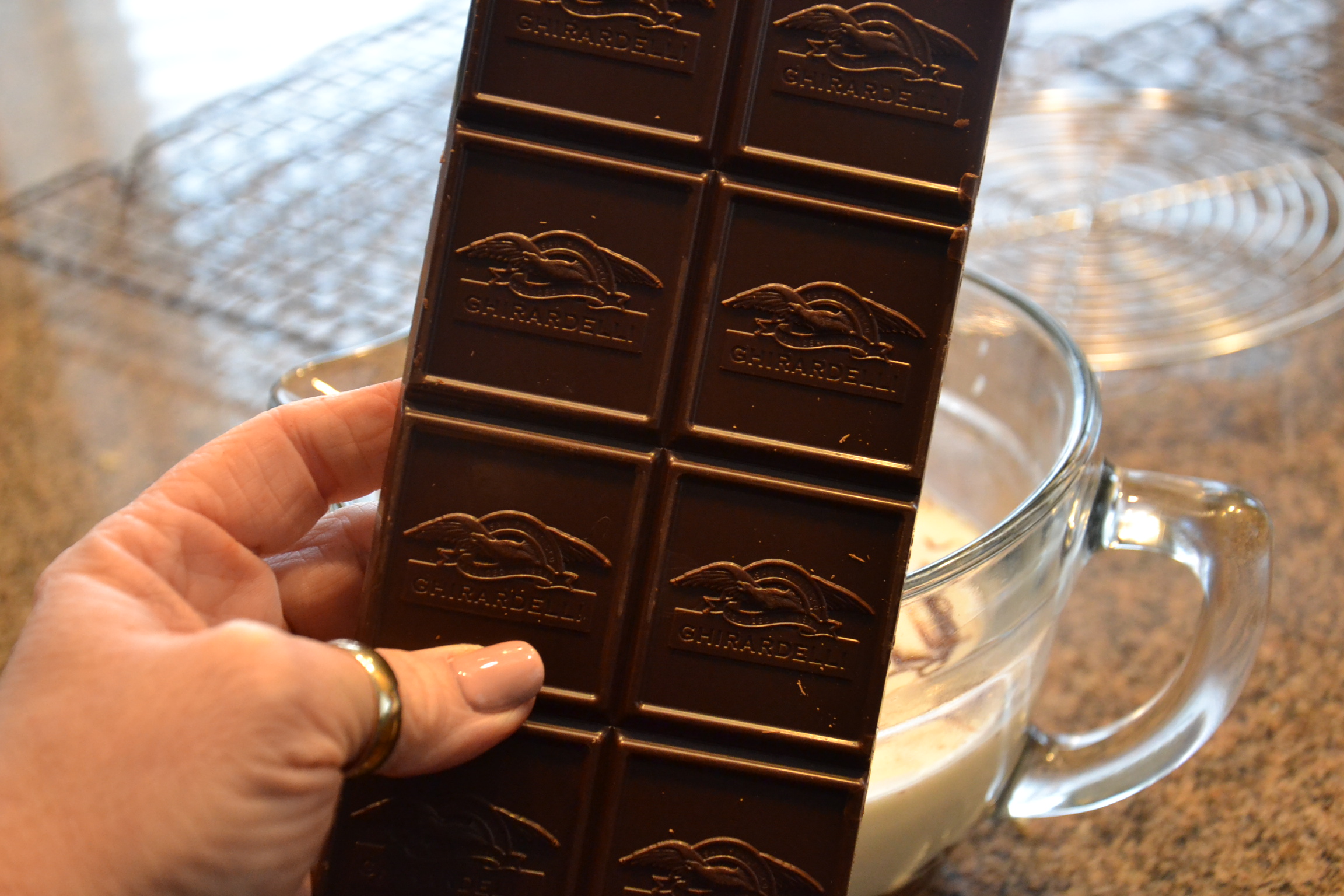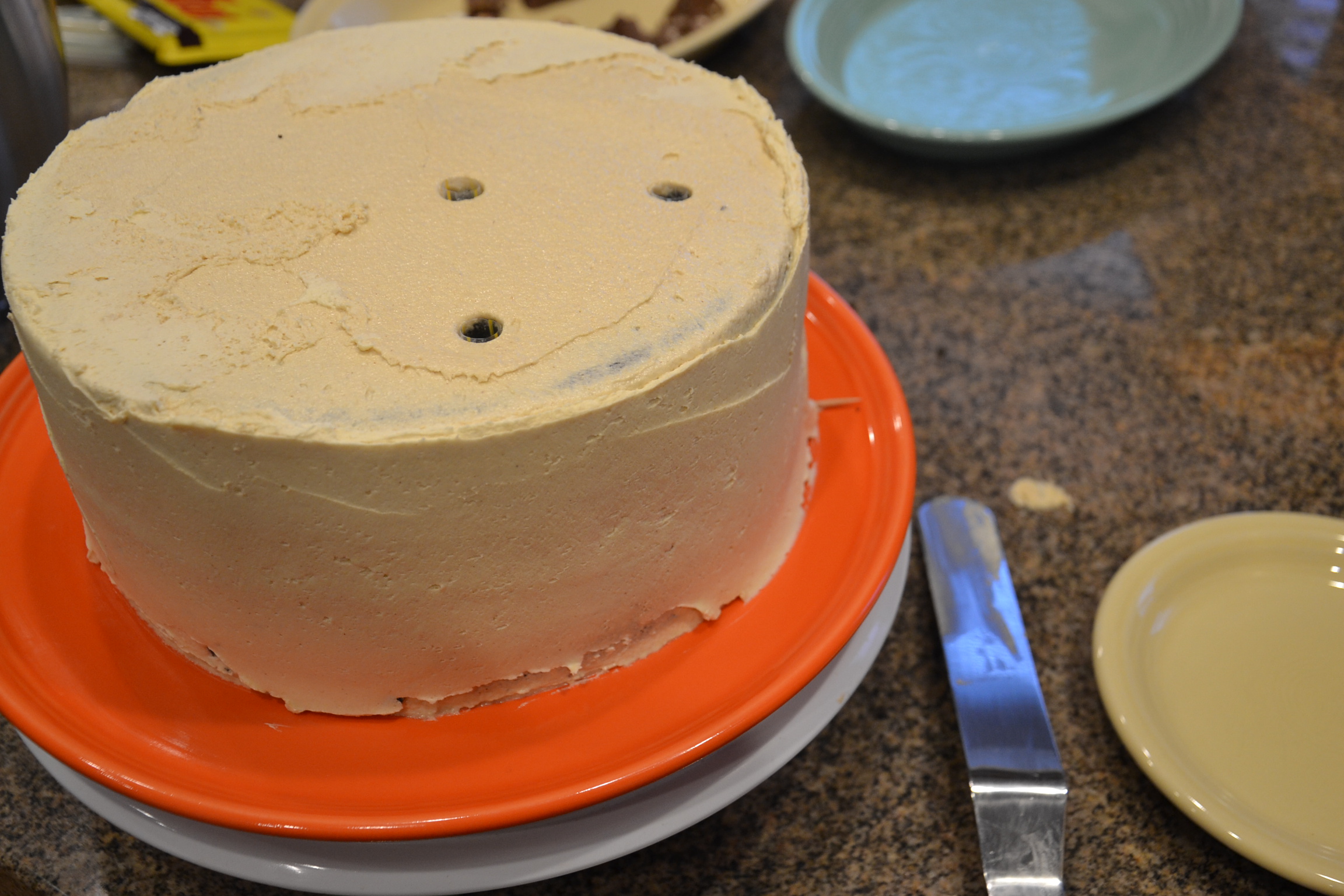 Under normal circumstances, I believe the infrastructure of these three bubble tea straws would have been enough to hold the cake in balance.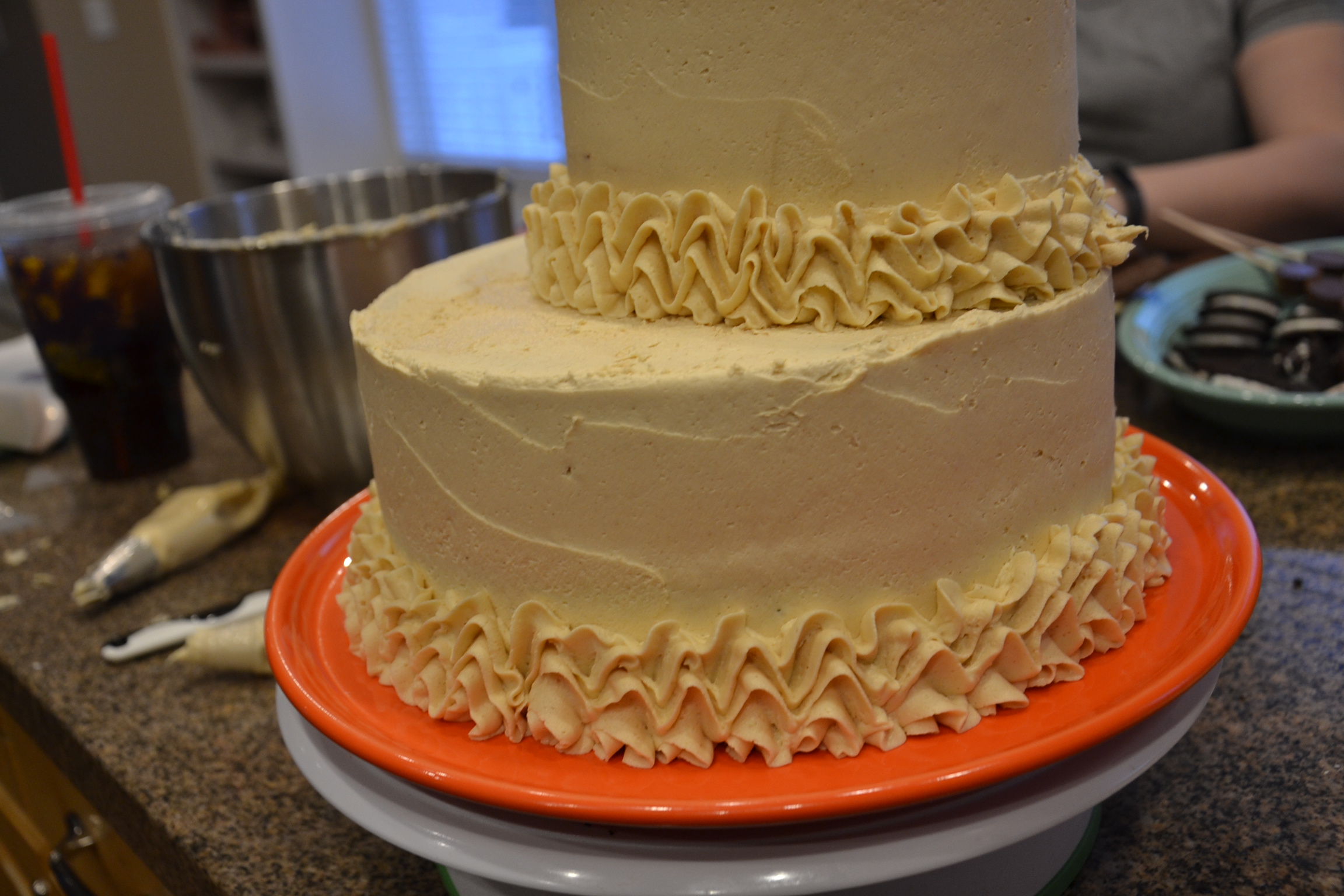 There's never any doubt my Homer Laughlin Fiesta Dinnerware will handle the cake. This 12″ Cake Plate is designed to provide a stable base for whatever the baker can create… and look amazing while doing just that!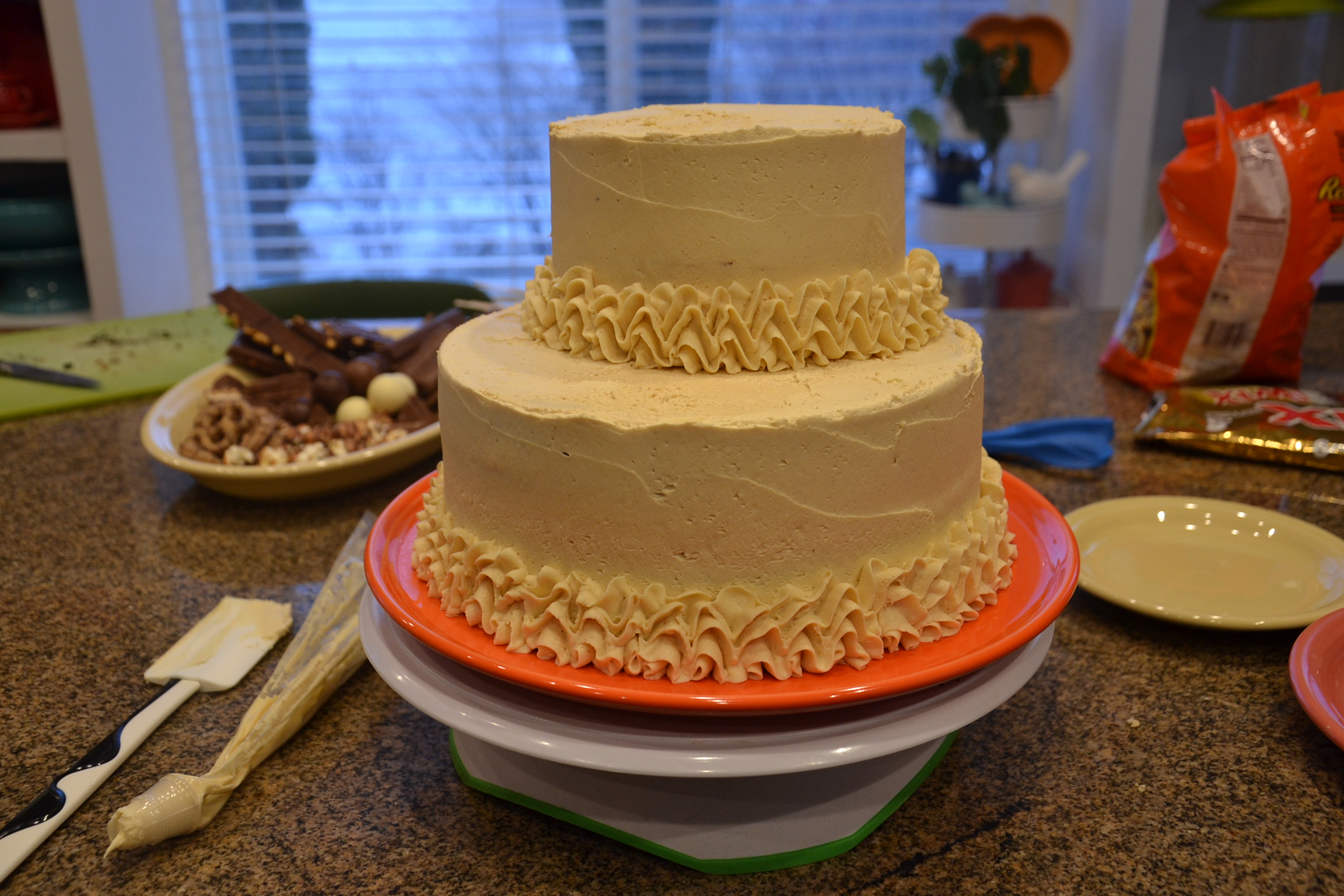 Wanting to have a waterfall look, I placed the top tier toward the back instead of center… another mistake. Nonetheless, it shouldn't have been such a serious error.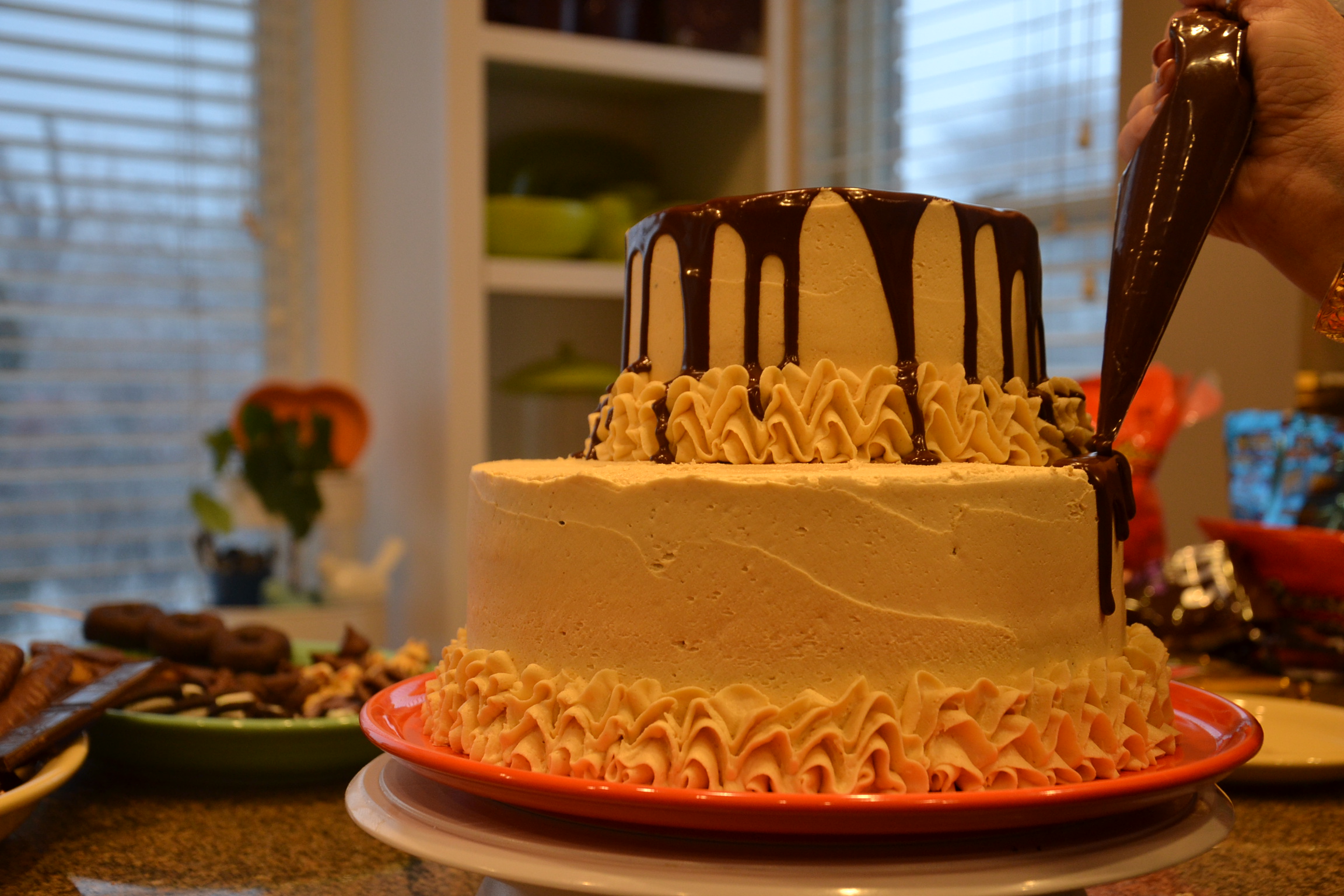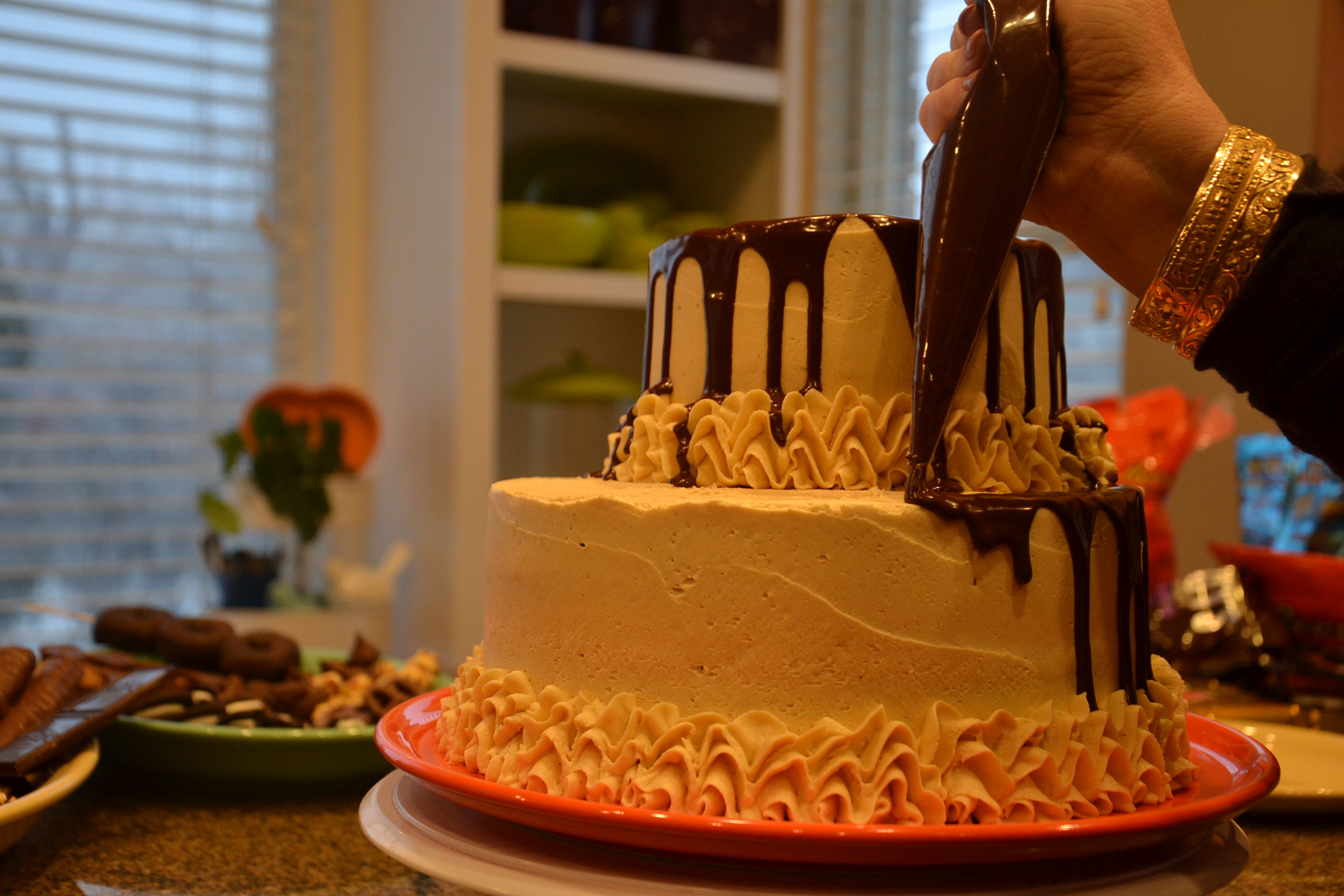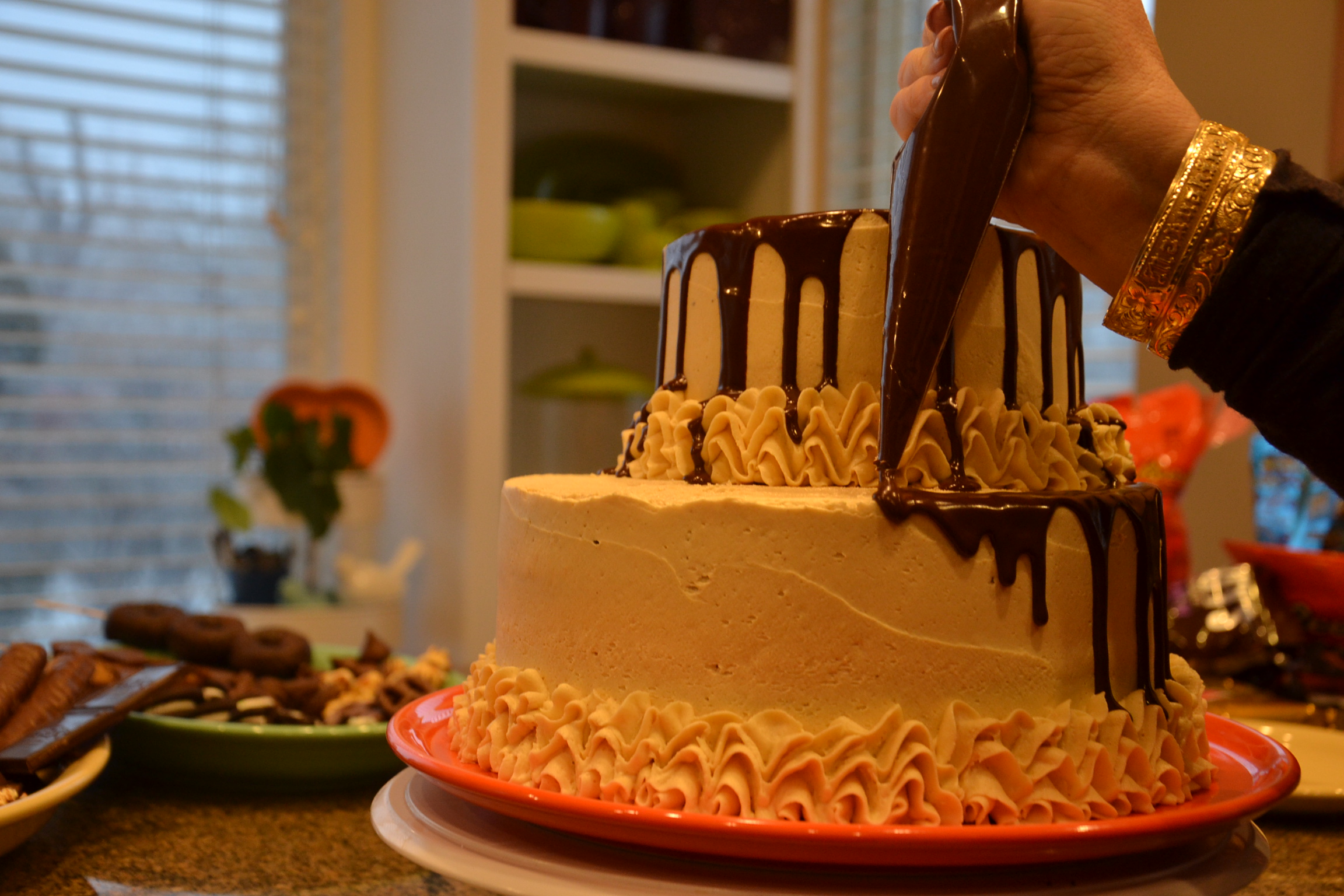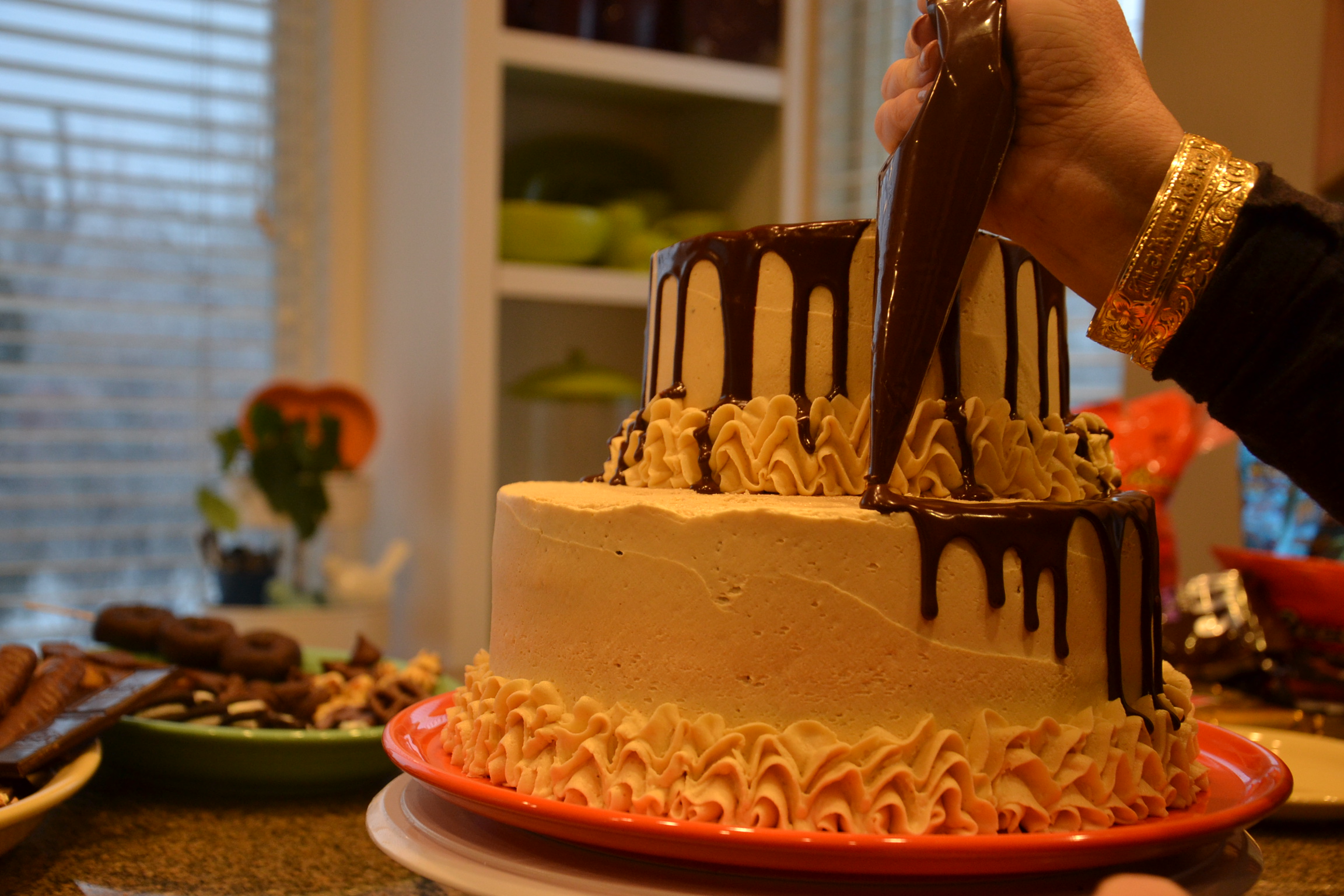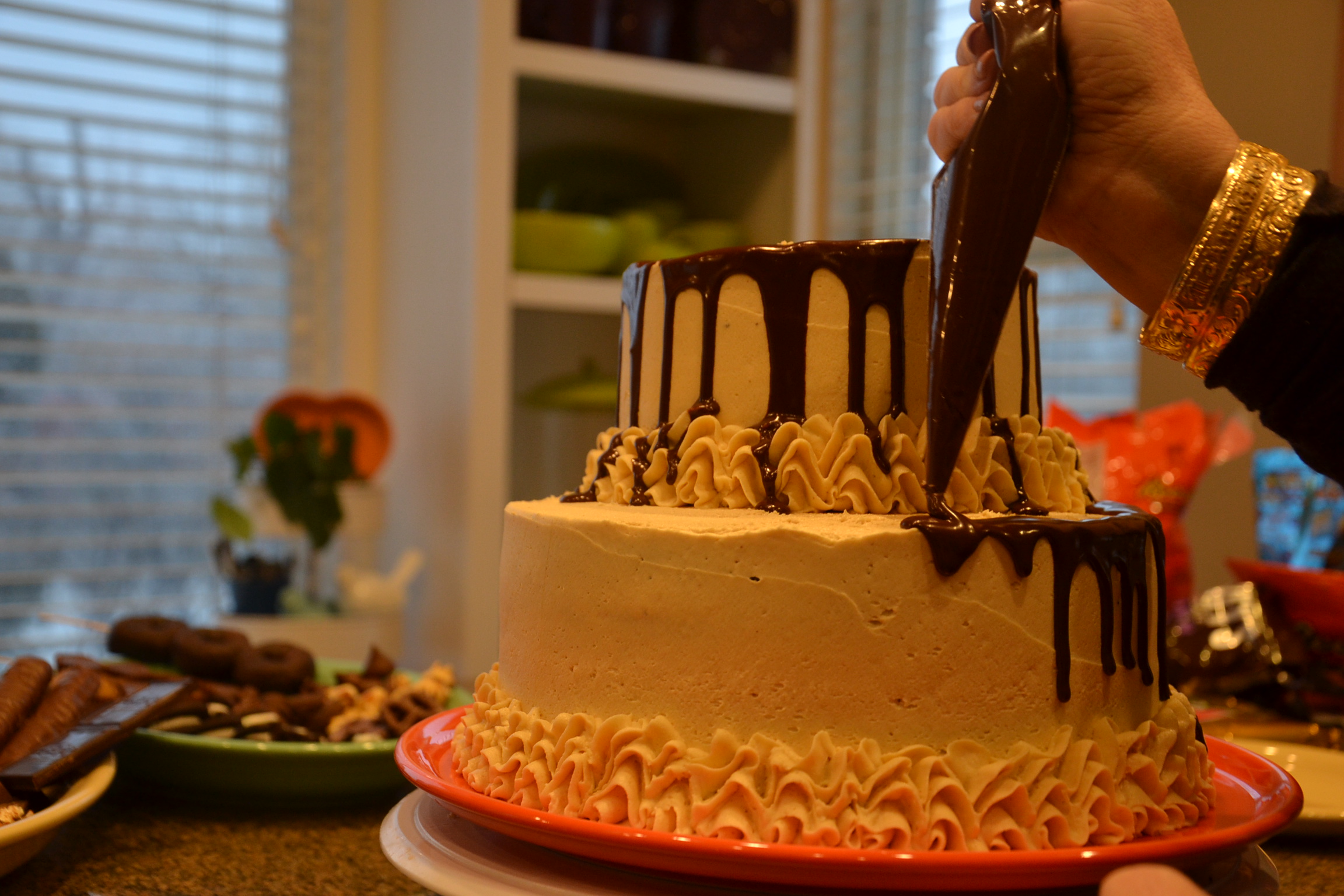 That ganache was perfectly blended with just the right amount of whole milk and chocolate. It piped on like a dream.
The top of the cake was to be "an explosion of chocolate" … in hindsight I shouldn't have chosen such a description. My intent was to add many types of yummy chocolate treats. In doing so, three things happened:
the weight of the chocolate added up one Kiss/Oreo/Reese Cup at a time
driving chocolate into the tier broke down the integrity of the sponge
the cardboard cake round supporting the top tier prevented longer sticks from anchoring in the base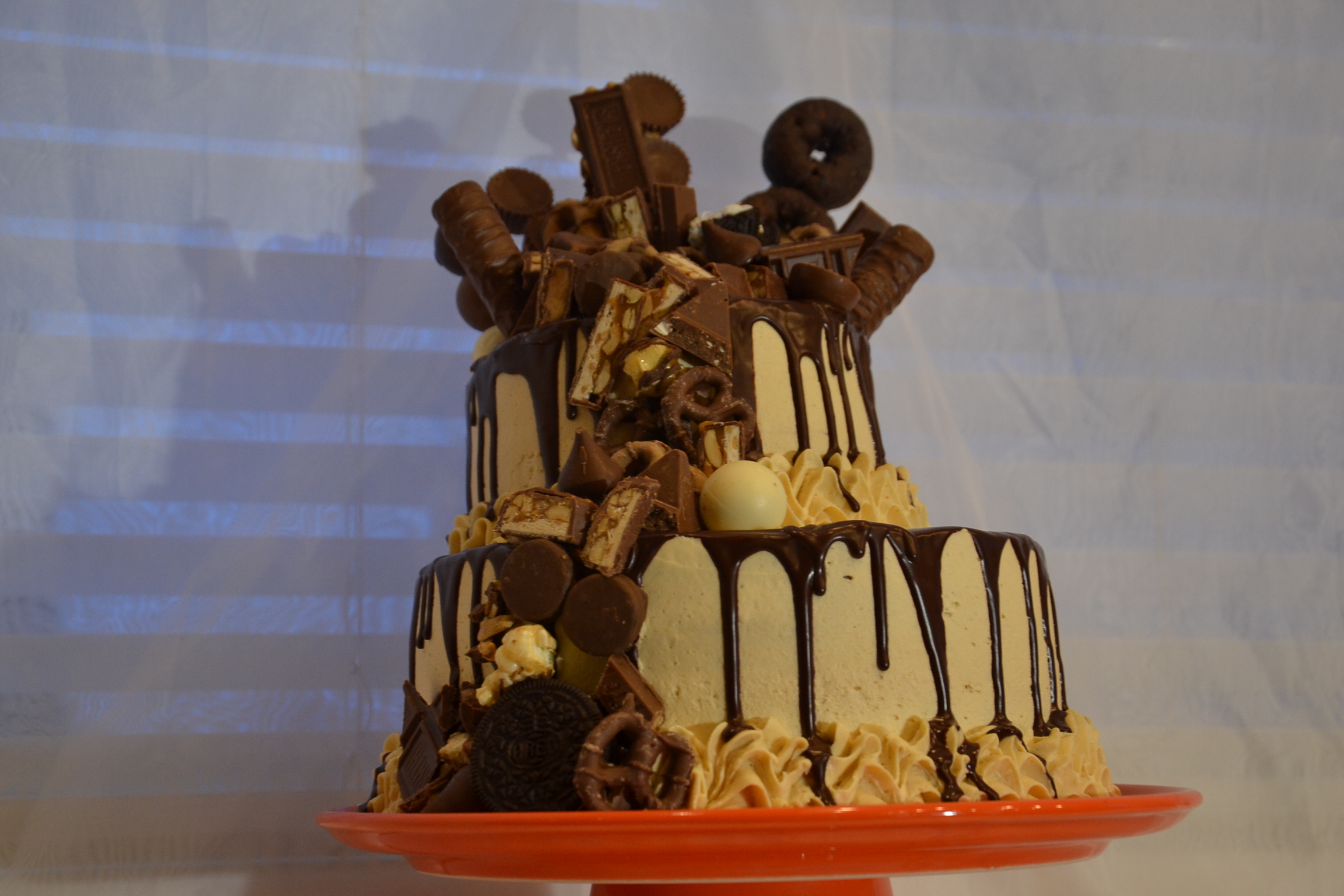 Let's add all that up…
not enough infrastructure
off-set to the back of the bottom tier – not enough weight displacement
weight of the chocolate
executing placement of each piece
cake round preventing some pieces to anchor
Good news! This cake tasted amazing! It was so delicious. At just the right angle, the leaning was less noticeable. However, we still had dinner before singing and cake; I was certain gravity would take its toll. Which did happen while in the fridge… necessitating a bit of a repair/reconstruction? Anyone else ever have a moment of, "just don't look at the back"? It was somewhat like serving the pancakes "good side up."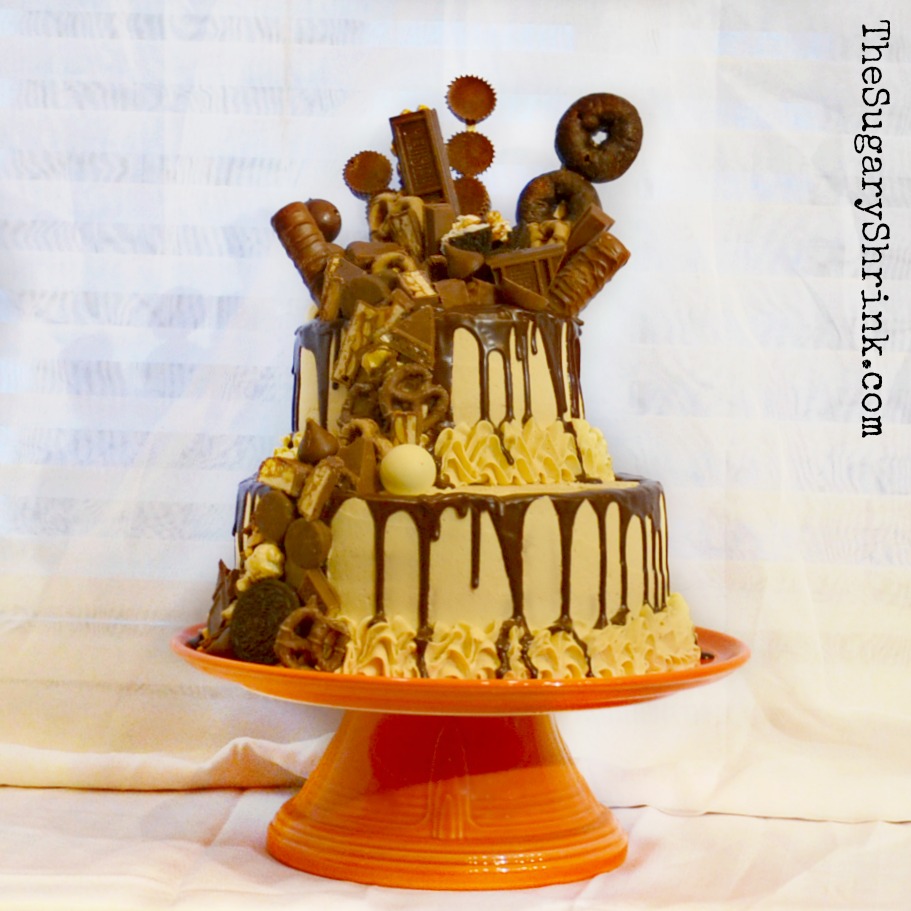 Good news, I'll try this one again soon. I hope I've been able to spot all the factors that contributed to … this learning moment. (I hate to say 'cake fail' based on taste.)
I love that my life partner and I are still expanding our love for one another.
I love that our kids visit us and we're in each other's lives.
I love that sobriety remains a priority.