Vanilla Bean Layer Cake: Test Kitchen Results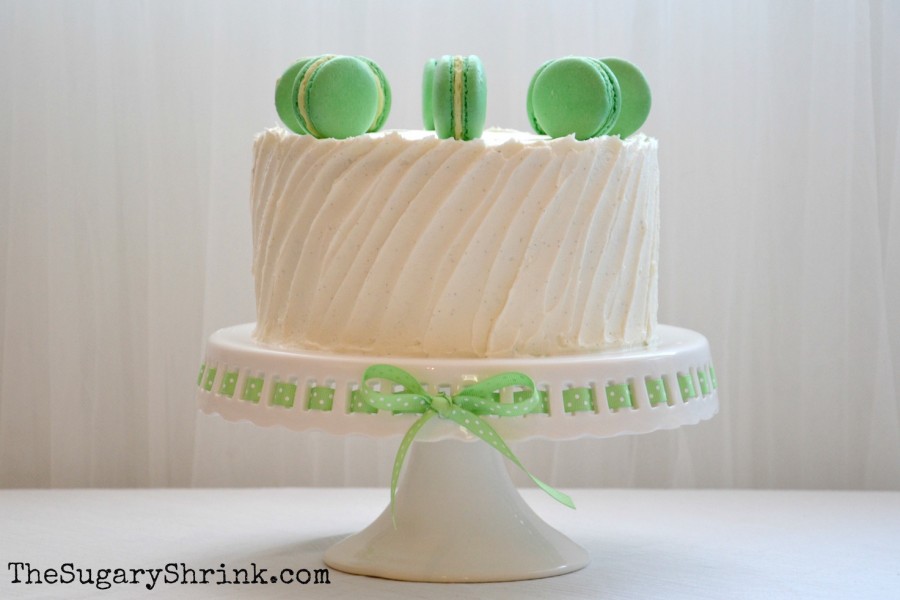 Triple-layer Vanilla Bean Cake, Pistachio Filling with Chopped Pistachios, Vanilla Buttercream Frosting, and a Pistachio Macaron Garnish
What a wonderful cake for just about any occasion – weddings, graduations, birthdays, or garden party.  These flavors are very complementary and are quite delicious together.  And, I just love the look of this cake.  Sometimes, I have a vision of what a cake looks like… and other times, the design develops in place.  This cake – went together so quickly and without struggle.  It's just plain exciting when I don't have to think…just do.
It's really exciting working with new ingredients.  During a trip to Paris, France – I found this amazing jar of Vanilla Beans.  I love using really wonderful ingredients.
How I use vanilla beans in this form:
Measure room temperature milk required for the cake recipe
Gently flatten the bean with the flat edge of a knife
With point of knife, split bean in two lengthwise
Open each half of pod
With knife edge, scrap seeds of pod and place into milk
Put vanilla pods in milk
Warm milk and allow to steep
This is how the cake was constructed…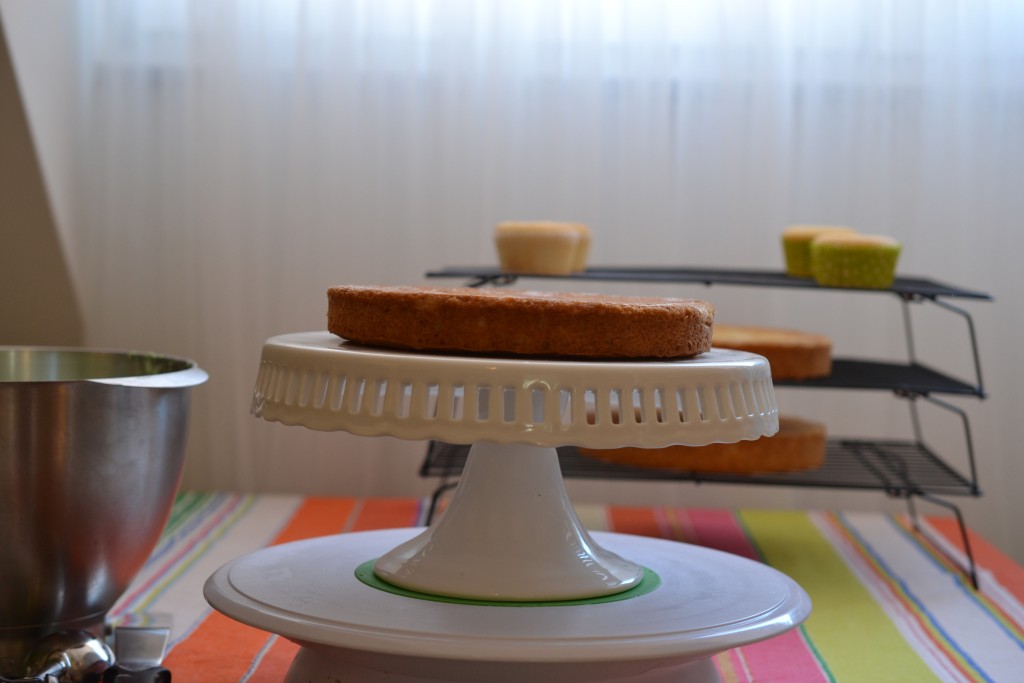 This first layer looks a bit wonky, but it turned out fine.
The filling and crumb coat was Pistachio Buttercream with an added crunch of roughly chopped pistachio nuts.  I use 1 tsp Pistachio extract in place of Vanilla in my standard Buttercream Recipe.
I love the color of this crumb coat and I always knew I would finish it with white vanilla.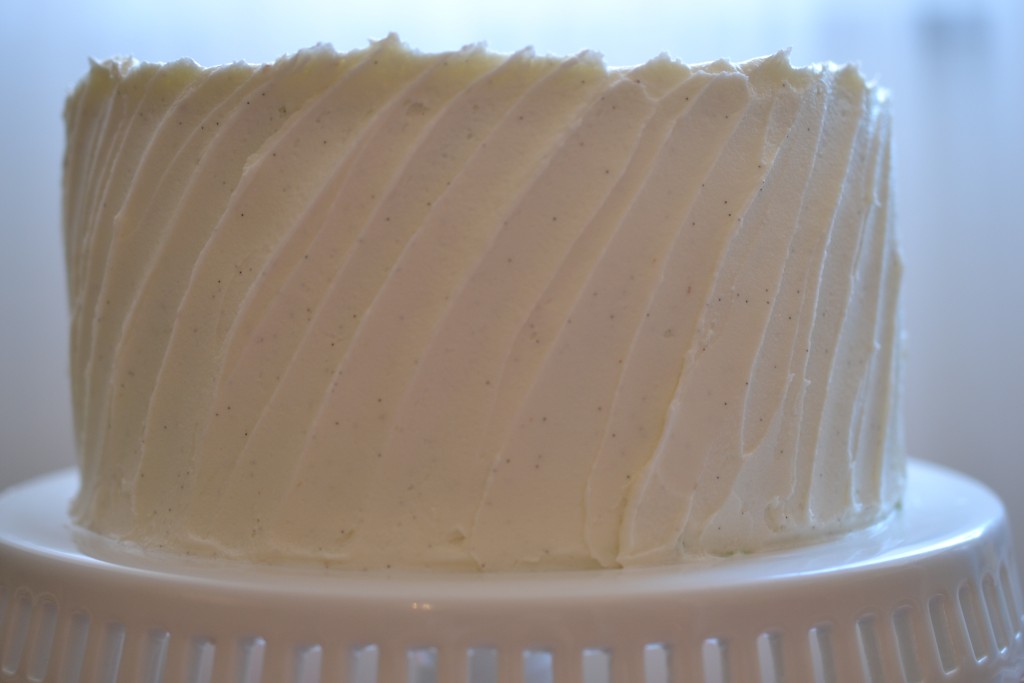 This is a complete look.  I don't think it needed anything after that, but I often try.  In learning to edit myself I sometimes feel as though I've gone too far, but I'm learning.  This is a great time to continue practicing what I do.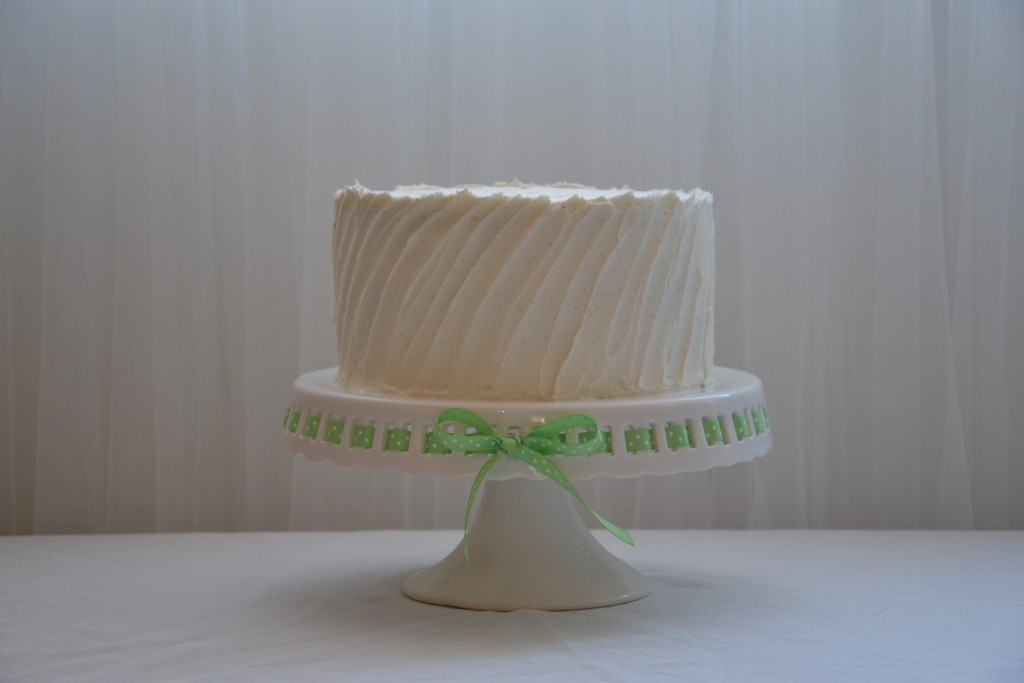 And then I made some Pistachio Macarons.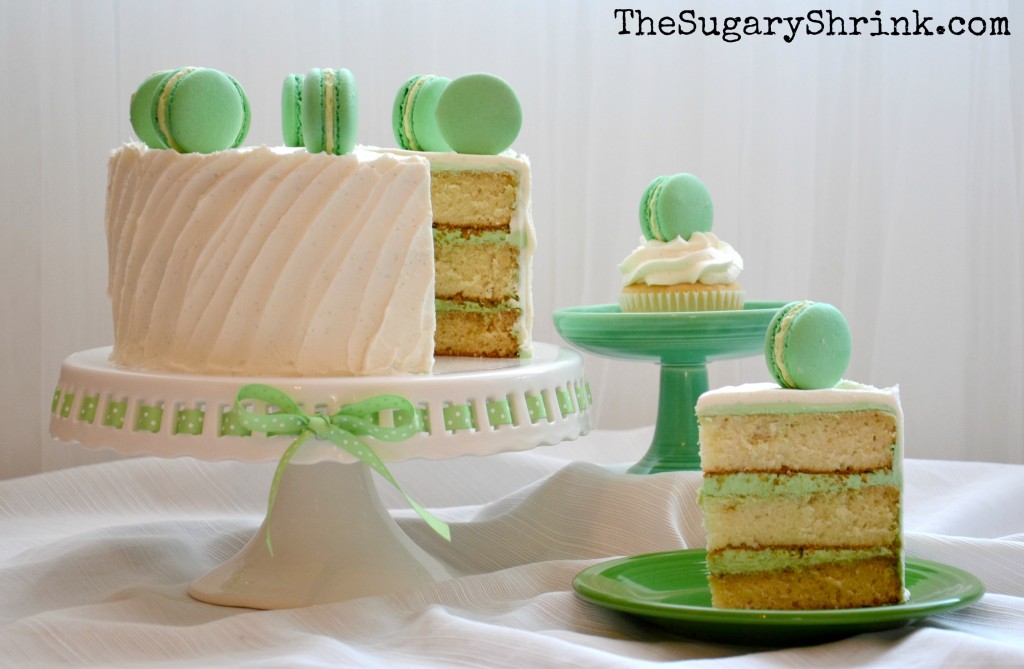 I am a bit disappointed in the slice.  I didn't shave away the baked top and bottom surfaces  If I had, the colors would be more differentiated and crisp.  The taste isn't affected, but visually there'd be more appeal.  I learned on this cake and haven't finished a Vanilla Cake or White Cake without trimming away the baked bits.  It's the Test Kitchen.
And I love what I get to do. And I love my life partner.  Yea for my people and yea for sobriety.