Vanilla Buttercream Recipe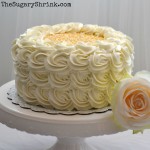 Servings
4
cups (Enough for 1 double-layer 8" round cake)
Servings

4

cups (Enough for 1 double-layer 8" round cake)
Servings

4

cups (Enough for 1 double-layer 8" round cake)

Servings

4

cups (Enough for 1 double-layer 8" round cake)
Servings:
cups (Enough for 1 double-layer 8" round cake)
Cream butter in a stand mixer until smooth.

Add about 1 c. powdered sugar until integrated.

Add vanilla, mix well. (This is an image of what I use.)

Add remaining powdered sugar. Mix on med high until smooth.

Add milk to desired consistency and taste.

If desired, add tinting gel.
Hot tip: Margarine is not a very good substitute. Vegetable shortening is a doable substitute for half the butter - the flavor is different and careful if adding coloring.