Chocolate Halloween Cake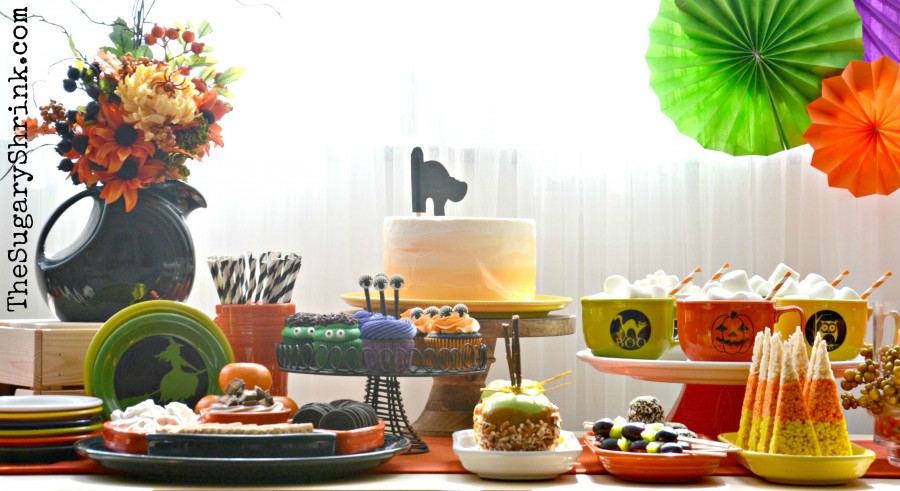 Halloween Dessert Table
designed for  www.AlwaysFestive.com
I was thrilled to create this dessert table for Homer Lauglin, the geniuses who produce my very favorite Fiesta Dinnerware.  Of all my ideas, this is what I decided to showcase… a delicious chocolate layer cake, Rice Krispie Treats, hot chocolate with an abundance of marshmallows, fresh fruit, and store-bought items.  The guest post is here.
A dessert table doesn't need to be completely made from scratch… the hosts can determine the energy level, budget, and preferred tastes in order to decide what to include and not include.  I like to offer vegan and vegetarian items as well as a couple gluten-free choices in order to include all our guests.  Additionally, a dessert table can be quite simple or complex… again, it's up to the hosts.
This center-piece cake is always a crowd pleaser.  How it went together…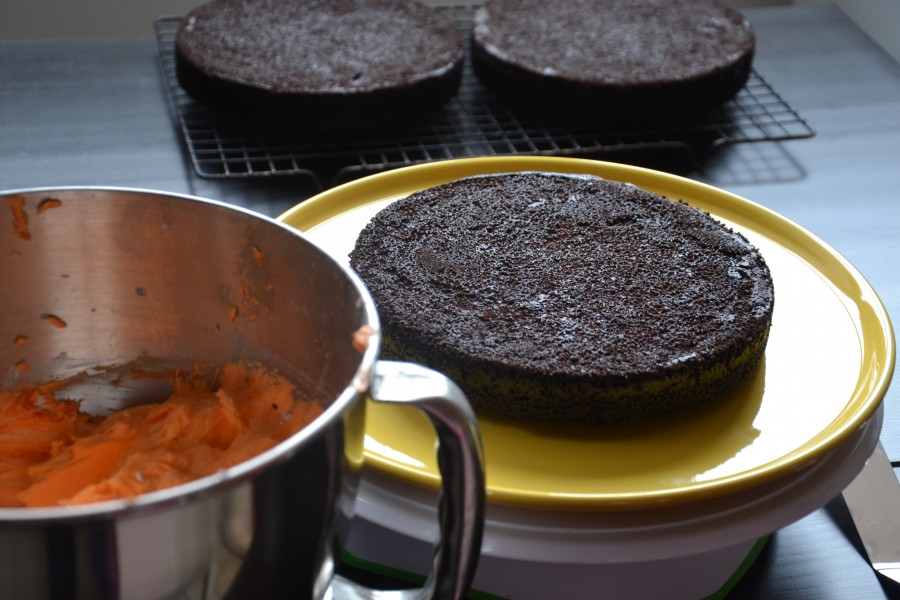 I built it directly on my 12″ Fiesta cake plate…it's incredibly sturdy and  it fits inside my cake fridge without a problem.
Because this was a holiday cake for a party, I wanted to bump up the contrast of color by adding a bit more.  Usually, I'll use three scoops of buttercream between the layers of an 8″ cake, but this time a fourth scoop would be the ticket.
I'm tooting my own horn on this… I love the even layers and the richness of the orange coloring.
The crumb coat is a necessary step especially for a chocolate cake with a light icing.
While it was firming up in the fridge, I made another batch of buttercream.  This needed to be separated since the top was to be white and the bottom of the cake a darker orange.
Roughly applying the buttercream is perfectly acceptable –  it'll blend nicely and the I love the outcome.
Keeping designs simple and approachable for home bakers (like myself), hopefully inspires really new home bakers.  I've always wanted the look of the cake to be perfect until discovering that no cake I bake will be perfect; there is so much freedom in knowing this.  Cakes can come close to magazine ready and that's fantastic.  But, I'm not attached to flawless.
A simple black cat made of construction paper is certainly doable.  The coffee stir stick is taped onto the back.  Done.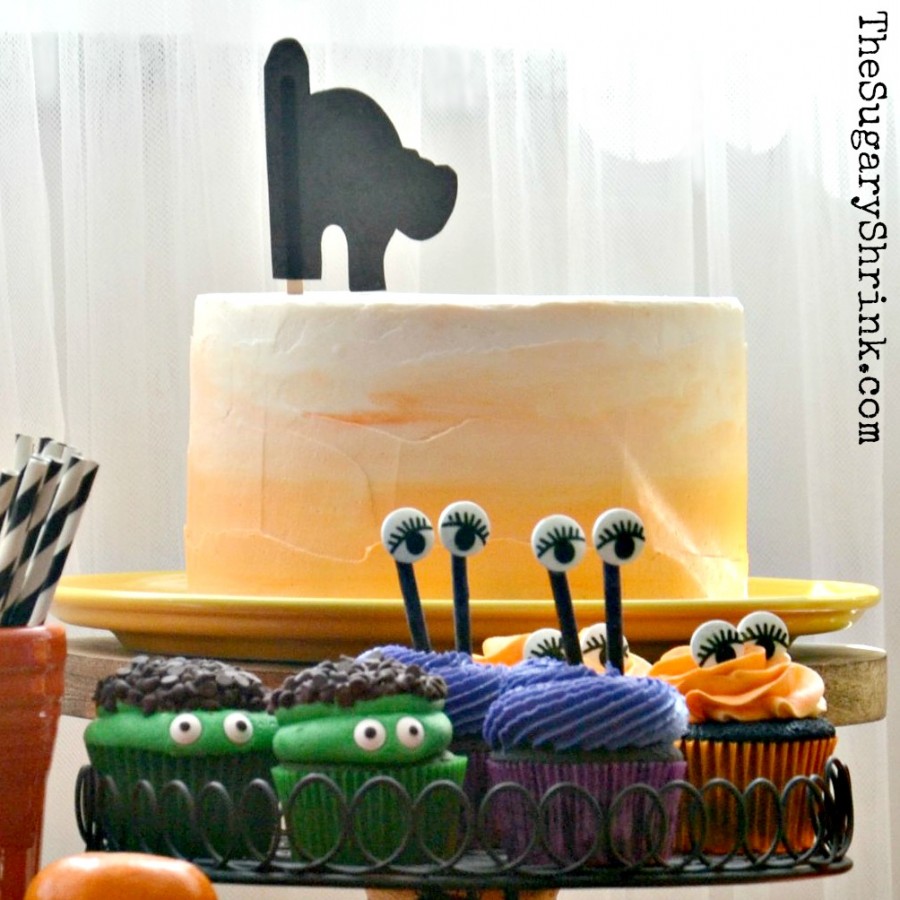 After getting as many pictures as possible (from every angle imaginable)… it was time for the slice pic.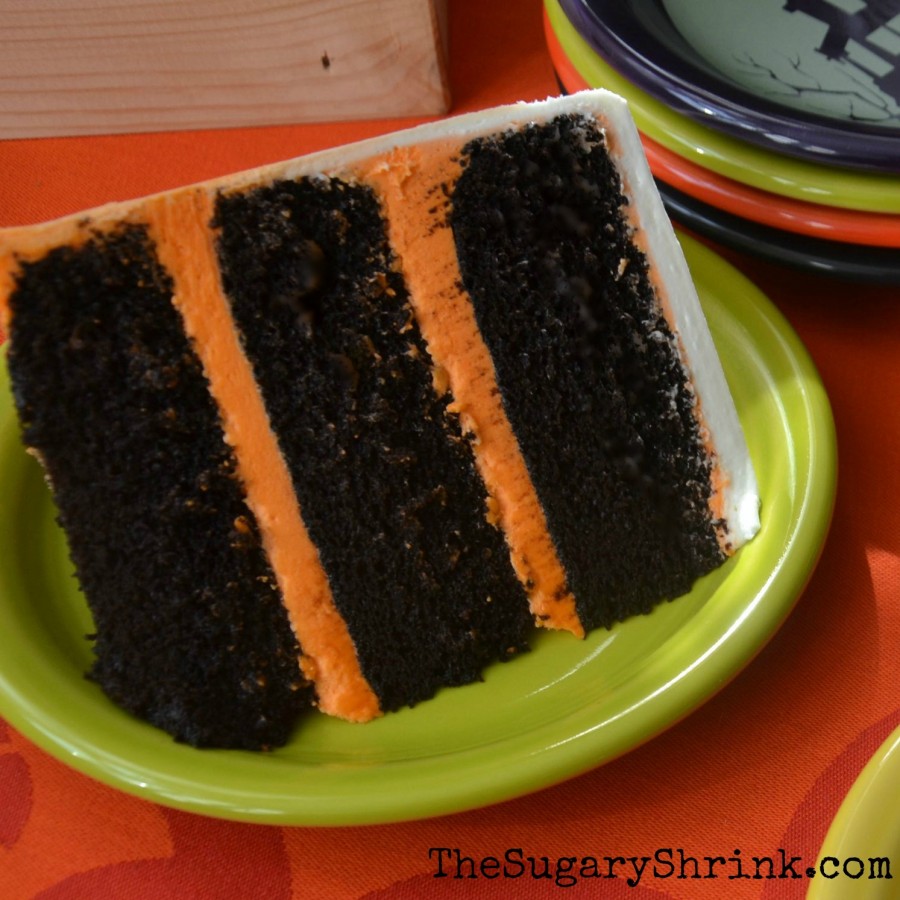 Even layers.  I've been working on that and the results are getting better and better.
I'm thrilled and humbled and excited that Fiesta asked me to guest post on their blog.  I still pinch myself!
More than anything I learned that I can do this and concentrated on offering other dessert table designers as many choices/ideas as possible.  For example, the Jumbo Mugs have hot chocolate with marshmallows… When I used jumbo mallows and min-mallows on the same tray, I offered readers a visual choice for creating their own look "would I prefer jumbo or minis?"  The example is right there.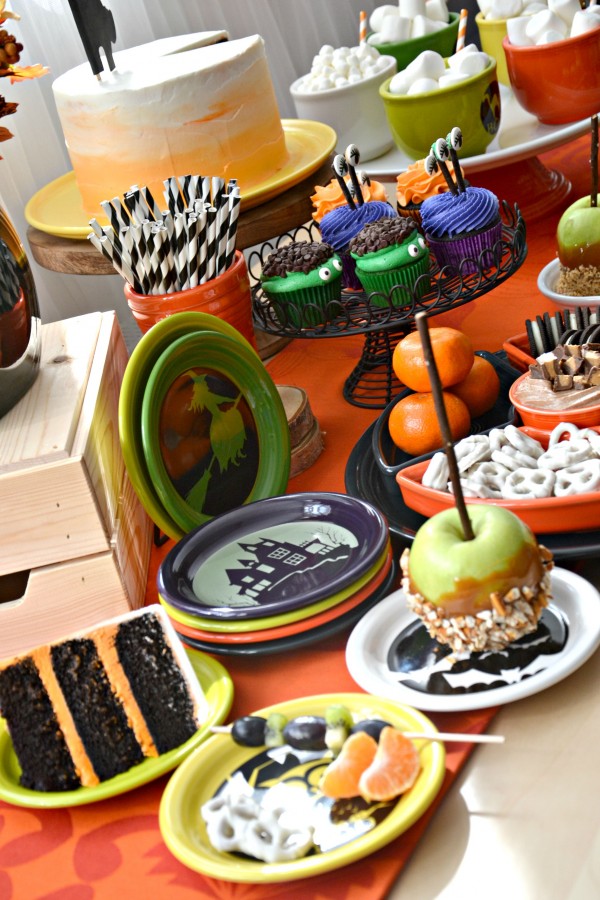 I'm grateful for the opportunities that come my way and that I get to share them with my life partner.
I'm grateful for sobriety.
I'm grateful for our people who include us in their lives.