Coconut and Pineapple Cake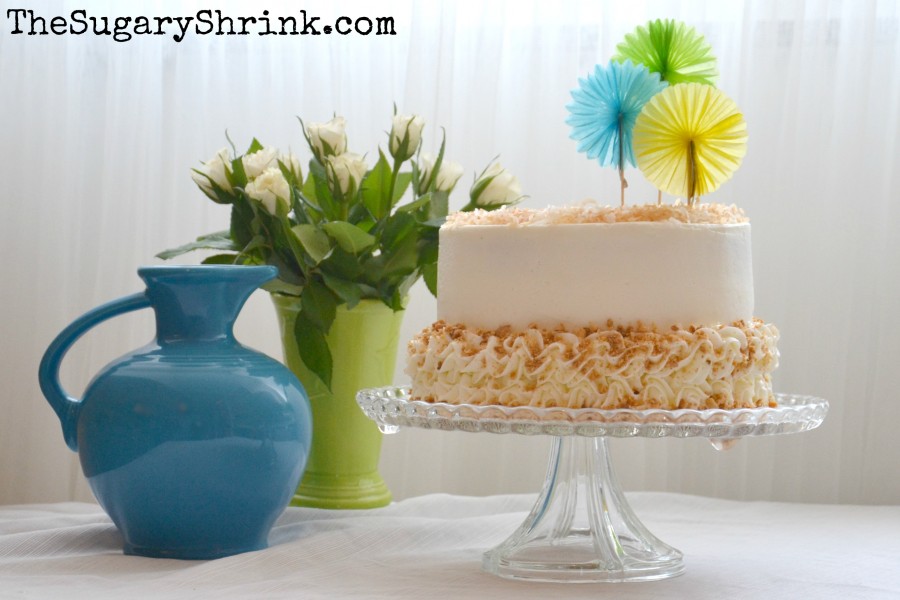 Coconut Layer Cake with Coconut Buttercream & Pineapple Curd Filling and Cream Cheese Buttercream Frosting garnished with Toasted Macadamia Nuts & Toasted Coconut Flakes
Can you tell I've been craving a Coconut Cake??  The more I thought about it, the more I had to bake one…and this did not disappoint!
One of the best aspects of baking is putting together classic flavor combinations in fun and interesting ways.  Coconut Layer Cake seems to be one of those delightful events that people remember but don't experience that often.  Adding Pineapple Curd, elevates the entire event and makes it all the more special.
I didn't have a vision for the cake, I simply knew I had to bake a coconut cake.  Off we go…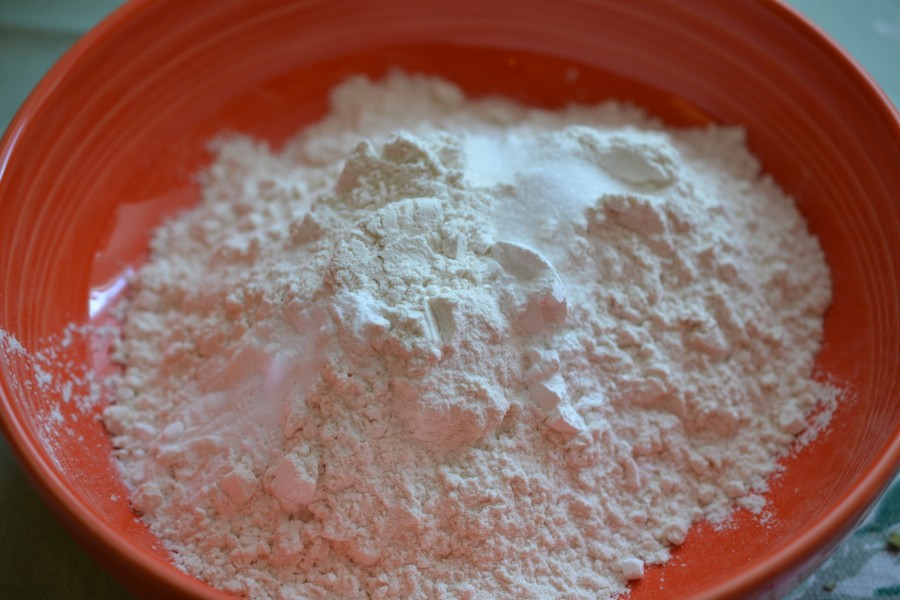 The dry ingredients were whisked together and set aside.  My Fiesta Dinnerware Large Bistro Bowl gets pressed into action for this step…almost every time.
Once the rounds were baked and cooled, I began construction.  I still wasn't sure where this cake was headed.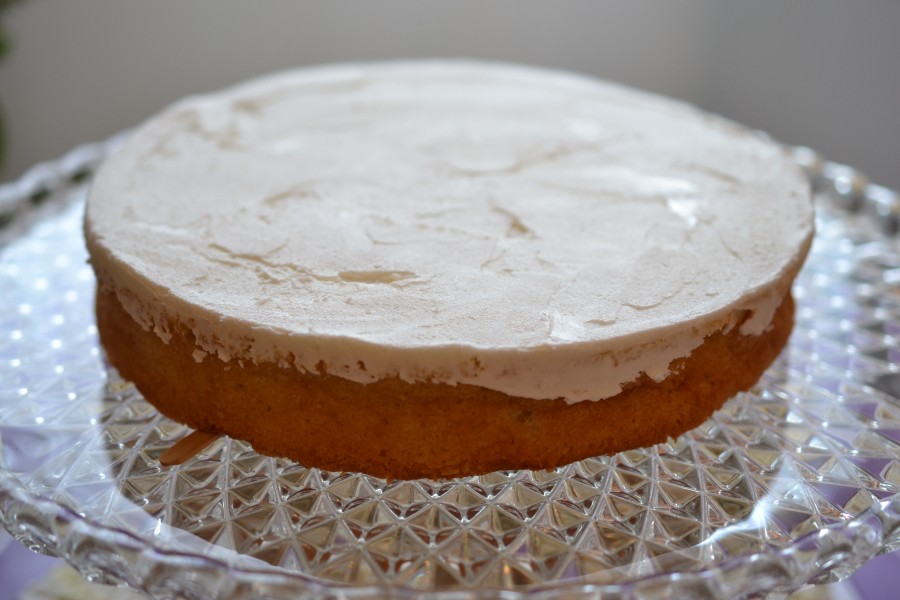 A very thin layer of Coconut Buttercream was in place before adding the cooked Pineapple Filling.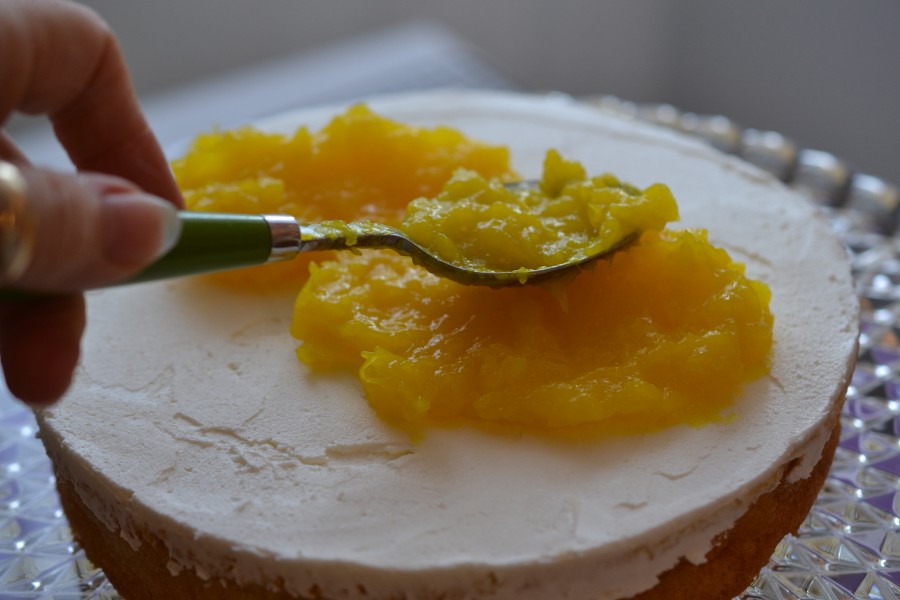 Gently pressing with the back of the spoon works wonders.  I didn't want any pockets of buttercream peeking through, so a even layer of pineapple filling is a good best practice.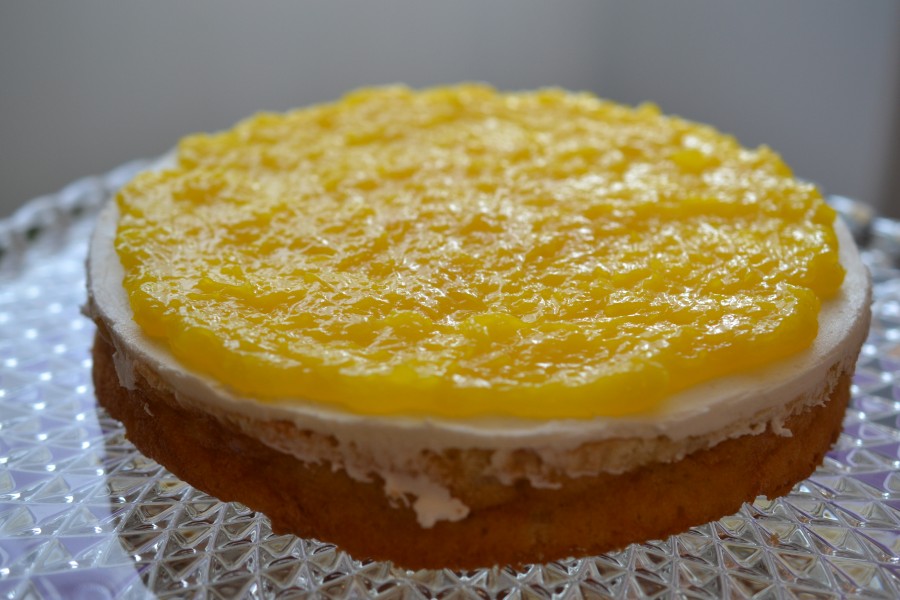 This looked great!  Time to continue building.
As a side note, this cut glass cake stand was bought at a local flea market  It has some age to it (which is fantastic), but I didn't notice it sits a bit wonky until the project was completed.  Oh well.  Such is life.
These layers look fantastic.  I'll need to work on the cake recipe since I wasn't too thrilled with how the sounds tended to cave in.
Oh…
I guess this means I'll have to bake more coconut cakes.  That sounds terrible.  Make it stop.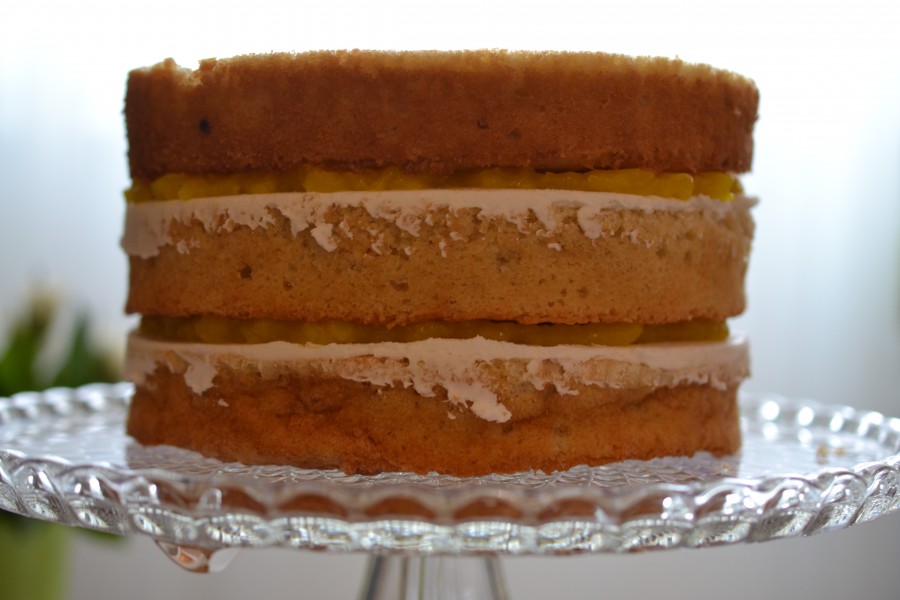 At this point in construction, I take the buttercream back to the mixer and whip in a little more cream to get the right consistency for the crumb coat.  In this case, I used a bit more sweetened coconut milk.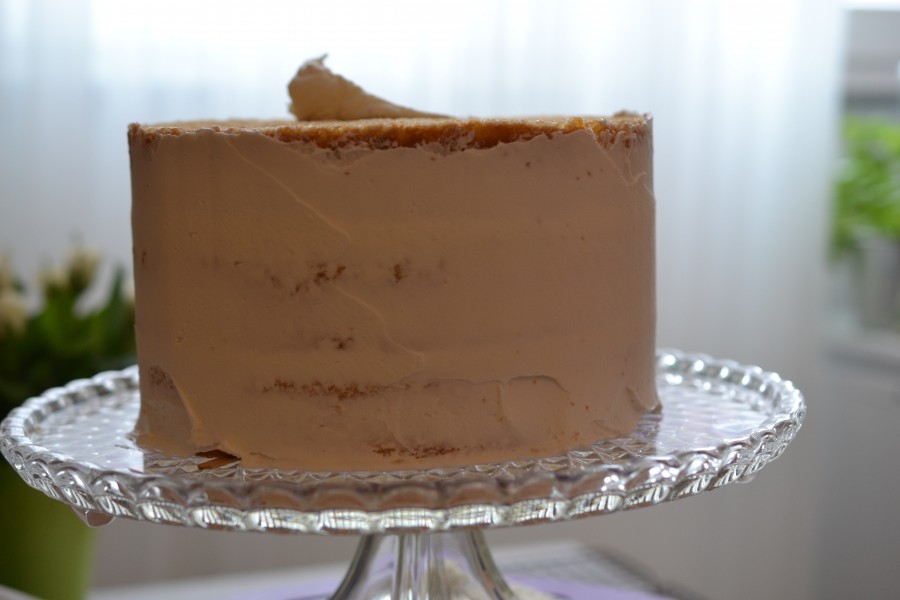 For the filling, we're looking for a stiff buttercream in order to support the layers of cake.
For the crumb coat, a softer buttercream fills in the spaces and small pockets and provides a nice smooth, thin surface layer.
Now what to do with this cake?
First, I decided to go with a Cream Cheese Frosting on the outside of the cake to help reduce the sweet while upping the tang.  What a super fun balance!
A few macadamia nuts were hiding in the pantry.  Toasting them and toasting some coconut flakes sounded like a good idea… the flavors are a classic combination.  Hot tip: I toast tree nuts for 7 minutes at 350/170 and toast coconut for 8 minutes at 325/160 – stirring every two minutes.
Ruffles are a good start.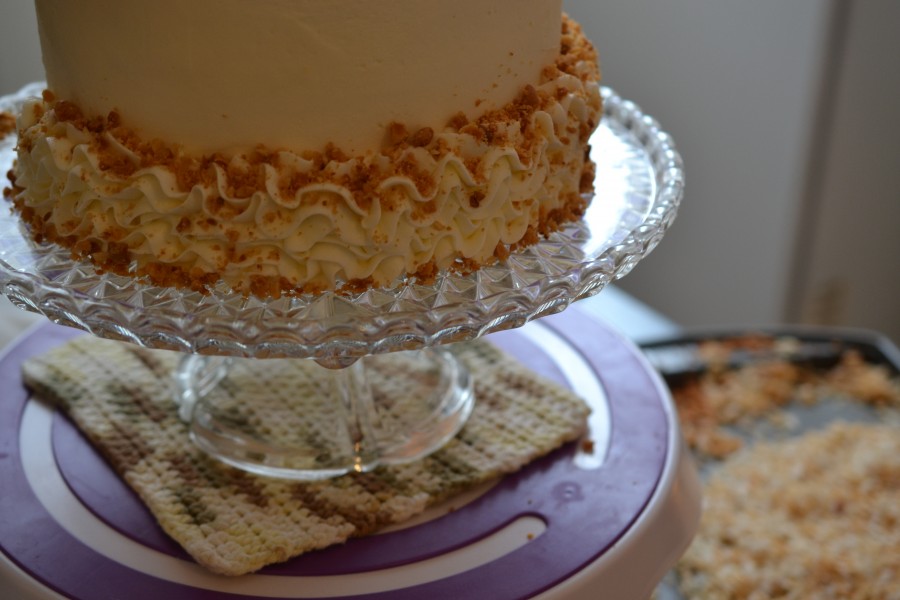 With the coconut flakes sprinkled across the top, adding color sounded like a good idea.  Knowing there was a lovely yellow in the filling, I took that as a cue for the cake design.  These little paper fans have been sitting in my cabinet for a  year and now was an ideal time to use them.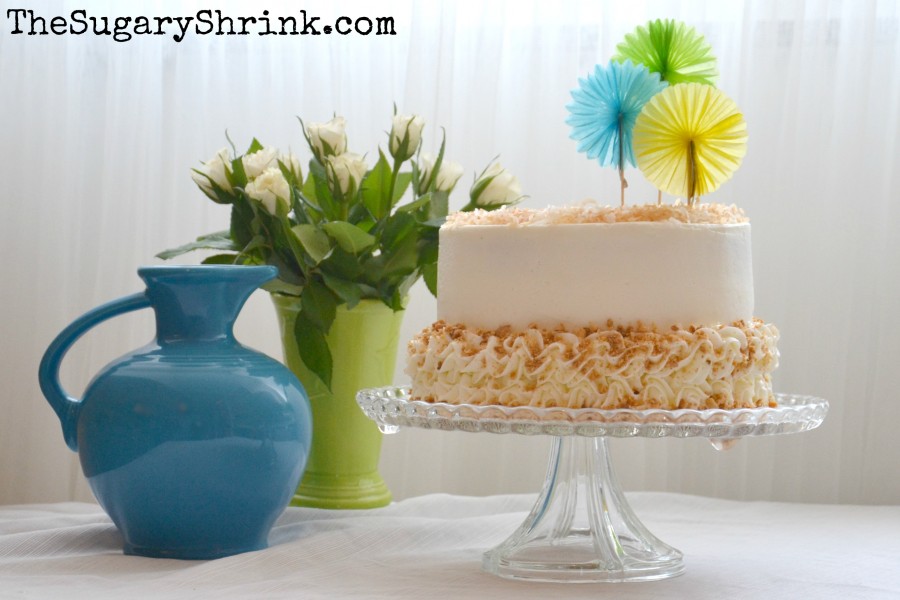 I love the colors and the simplicity.  Cake decorating doesn't have to be complicated and I'm the first one to go over the top!  I'm learning to edit myself.
And the slice pic?  Slicing the cake can cause anxiety, but… cake has a shelf life and needs to be enjoyed!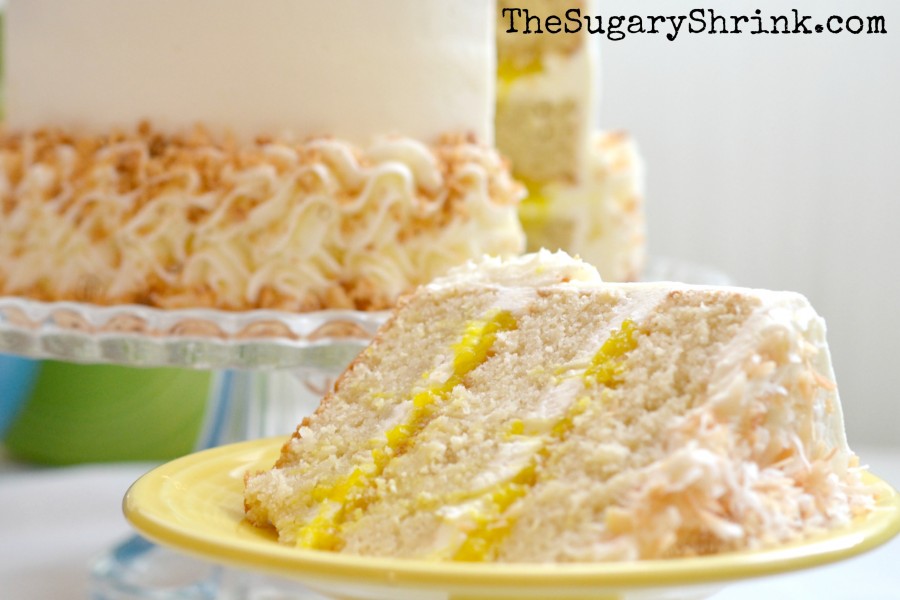 The look and the results of this cake were so lovely.  I was happy with the results and so happy to share it with friends.
What a great life I get to live with my amazing life partner.
We get to enjoy the love of our people.
And we both benefit from sobriety… I'm eternally grateful for the gifts inside the 12 steps.