Rice Krispie Christmas Trees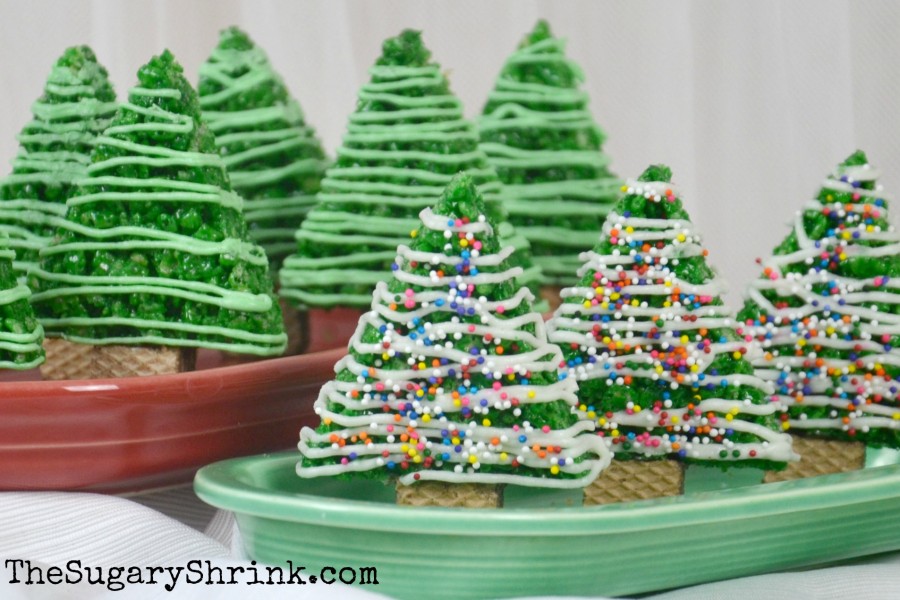 Rice Krispie Christmas Trees, Buttercream Garland, and Rainbow Sprinkles
Nothing like a Christmas Tree this time of year!  I've always been fascinated by a shiny tree.  As a young sprout I loved the sparkliness of the bright lights… and that hasn't changed!
I still love the blinky lights and the reflection off the glass ornaments.  The handmade ornaments are especially dear and anything with our names/years on it gets a special place on the tree (#nottheback).
It is the case I have a simple decorating technique, "If we can see the green of the tree, we need more decorations!"  When we had anklebiters tearing things apart, the bottom half of the tree was covered with non-breakable items.  The middle years were wonderful – many hands made the work go very quickly.
Now that we are empty-nesters, the entirety of putting up a tree falls on our shoulders.  It takes longer as I look at many of the ornaments and remember how we came to have it on our tree.  "I remember that was the year we were completely broke and spent .39 on a teeny, tiny craft wreath to frame a pre-school picture." or … "That was the time we rented an apartment in Berlin for the holidays."
These Rice Krispie (RK) treat Christmas Trees are as easy as they look… make the no-bake treats as directed on the back of the marshmallow bag, add color at the very very end of melting, stir in cereal, and spread on a larger pan for a thinner profile.
I wanted to add stars, but don't have the right size star cutter.  I tried using red marzipan, but the star didn't hold its shape.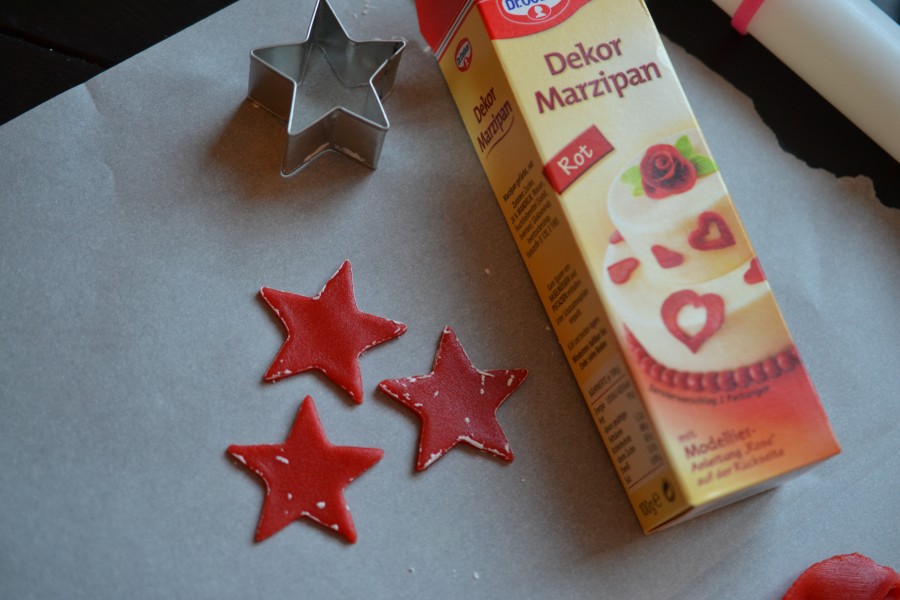 Once the cereal was room temperature, I went to work.  The two cutters I wanted to try are essentially the same size, but I was curious to see if there would be any discernable results of the straight edge vs the scalloped edge.
I couldn't see much difference, so chose to work exclusively with the straighe-edged triangle.
One entire recipe yielded 18 trees, which I thought worked out well.
I sliced the "tree stump" off before adding the garland.  I knew I'd be adding a stump that would allow the tree to stand independently.
The garland is thinned buttercream frosting.  Since this was more test-kitchen than not, I played with different colors, sizes, decorations, etc.  I especially loved the light green tone on tone effect and the white is a terrific background for the rainbow nonpareils.
To add the tree stump – I dabbed on a bit of melted chocolate and simply pressed on a chocolate wafer cookie.  Consider using a bit-sized candy bar, Reese cup, etc.  I used what I had available.
To stage these trees, I kept like treats together and focused on simple.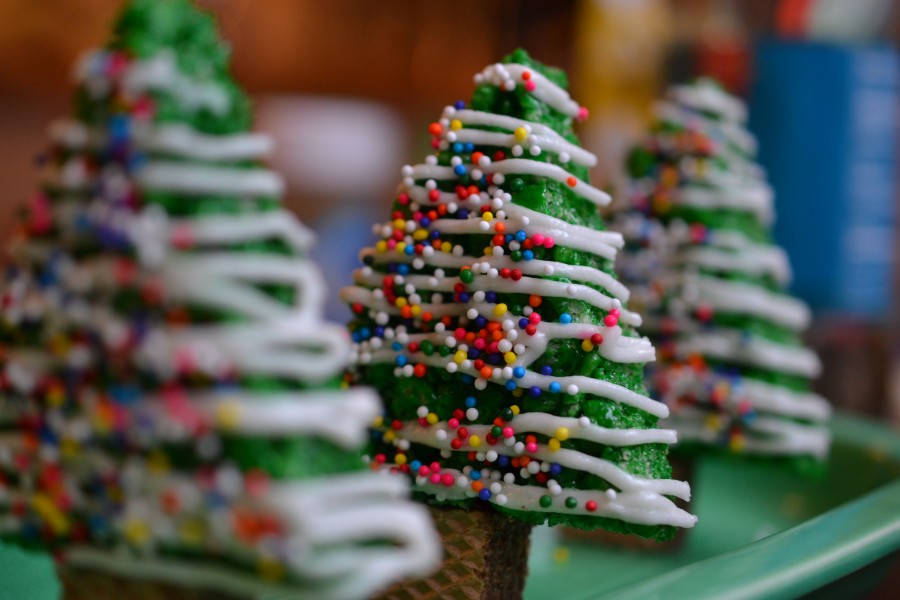 It's a Rice Krispie Christmas Tree… the kids can help with this one.
The holidays leave me in a real "thinky" place.  Time changes me and my response to events… time does not change what happened.  For example…
In 1986 (engaged, but not married), I was living alone in my studio apartment in Ohio. I didn't have enough days-off saved or money to visit family. On Christmas morning I sat quietly in my place and listened to the family in the apartment above me open gifts. The girls were approximately 7 and 9-years-old.  They were squealing and laughing the entire morning.  OMG, they were sweet.  My response?
I got drunk, ate an entire box of Cheezits, and listened to my Anita Baker cassette – on repeat.
Today, I am grateful for this memory.  Today I feel love and gratitude for those delightful girls.
I learned in that morning, that no matter what the future Christmas' looked like – I vowed to appreciate my people and find joy in their laughter.  Twenty-nine years later, I am giddy about each Christmas morning…this year is no exception.
I wouldn't be where I am today without my life partner.  Sobriety. Our people.