A Coin Purse Cake!?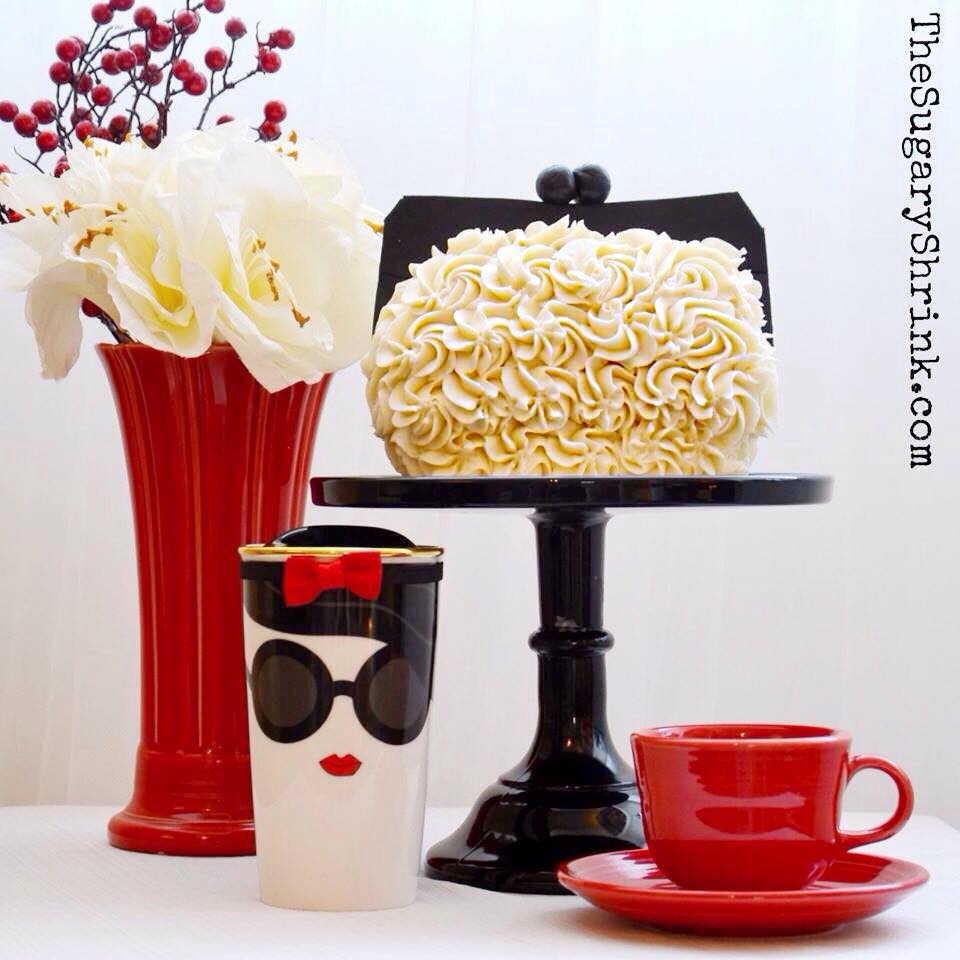 Double-layer Chocolate Cake, Vanilla Buttercream Filling and Textured Rosettes with a Fondant Clasp
This coin purse is ready for that little black dress!  I'm totally in love with the execution and staging for this cake.
Recently, we had traveled to the Republic of South Korea for a short holiday (we lived there in the late 1980s) and I ducked into a Starbucks, looking for a city mug.  There weren't any, but – as soon as I laid eyes on this Alice + Olivia mug I had to have it!  All that attitude is simply amazing.  Immediately I knew there would be a cake.
I can't remember exactly where the inspiration came for the coin purse, but when it hit – I got to baking.
Two 6″ chocolate cake rounds with vanilla buttercream filling is where we pick up.   I needed to flatten two opposing sides of the cake and wanted each edge to be equidistant from the center to the side.  Not knowing how to get there eloquently, I used a cake/pie divider.  I eyeballed the center and aligned the curve of the center handle with the outside edge of the cake.  The vertical line gave me the cut line.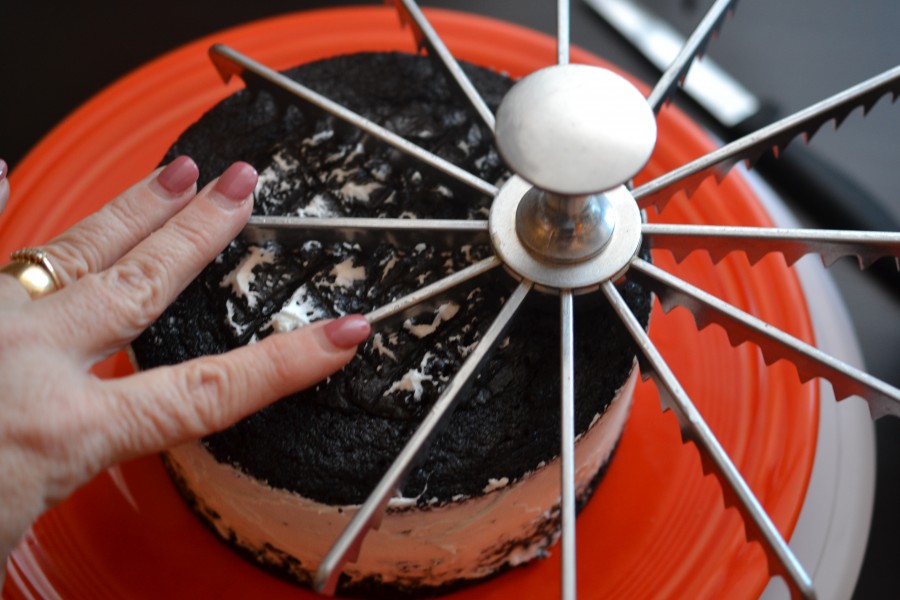 Working from the center, I used the same procedure on the opposite side of the cake.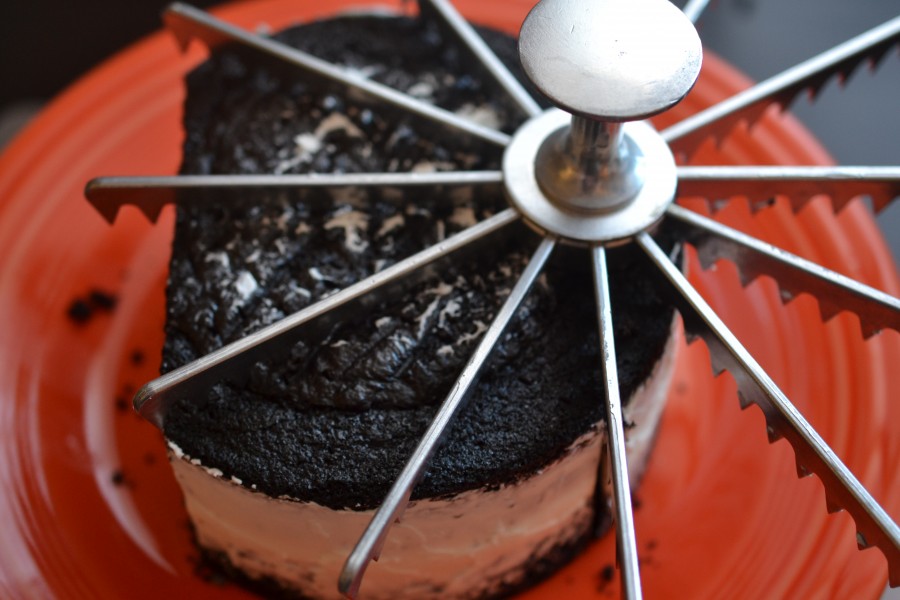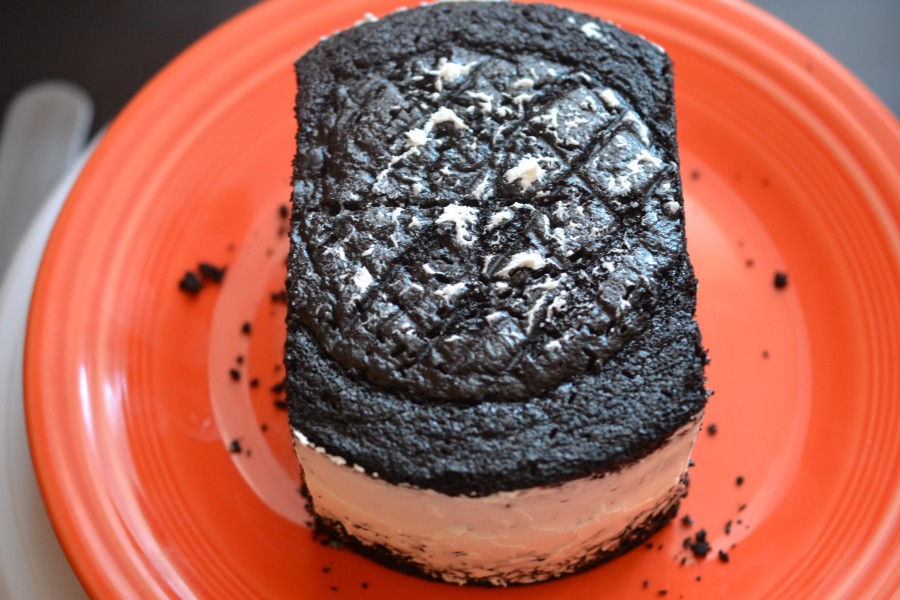 Which resulted in two, roughly equal (meaning length of cut) sides.  From there, I upended the cake.  It was important for the shape of this coin purse to accurately reflect this wonderful outline of a classic coin purse.  A bit of carving near the top for the clasp was necessary.
Time for the crumb coat.
This stage went really well, but I had to figure out a way to pipe buttercream rosettes to the bottom surface of both ends.  I moved the cake to the edge of the cardboard base, then placed it on the corner of my work table, and finally approached the cake from underneath.
After gently sliding the cake/coin purse back to the center of the cardboard round, I was ready to pipe the rosettes on the open sides (using a Wilton Cakes 1M piping tip).  That was an much easier job.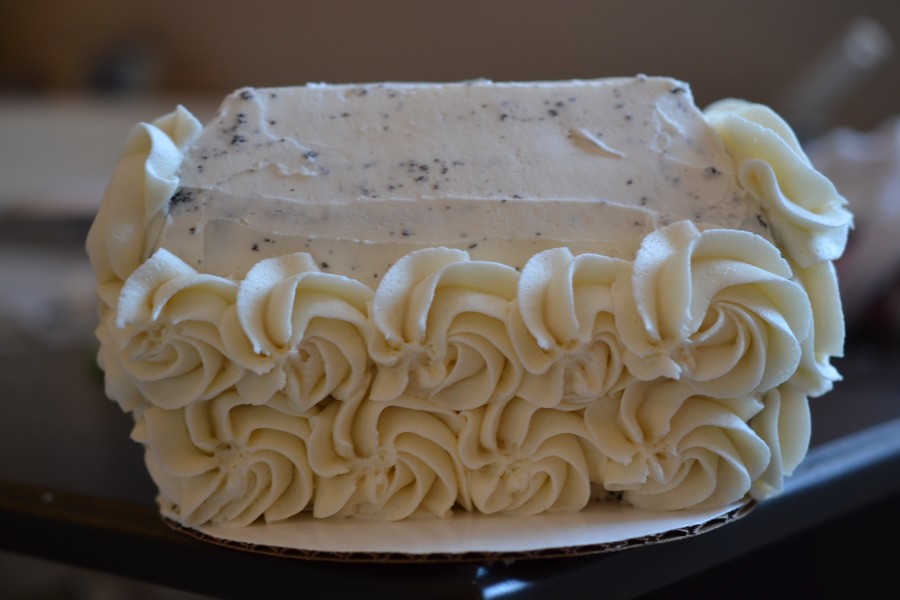 I happened to have a bit of black fondant (if not, I'd have used marzipan – no marzipan? Consider using construction paper or poster board).  After rolling out a long thin stripe, I folded two corners and then clipped it.  They angled cuts aren't exactly even, but I'm okay with that for my first effort.
I was very happy with the results.
And how to slice a coin purse??  First, scissors on the fondant followed by a serrated cake knife.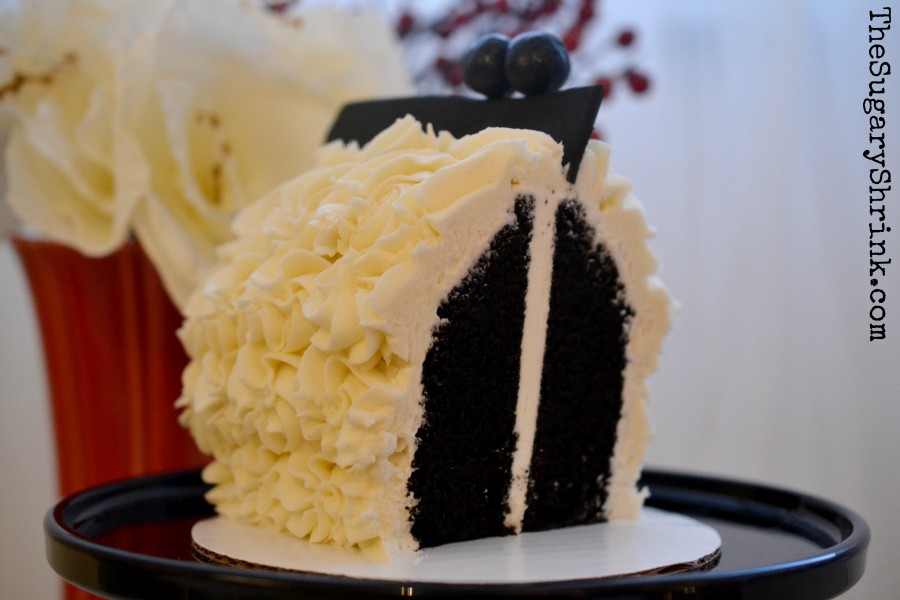 There was so much fun building this cake!
I love it when my life partner and I get to travel.
And its amazing what I get to do in sobriety.