Blonde Buttercream Ruffles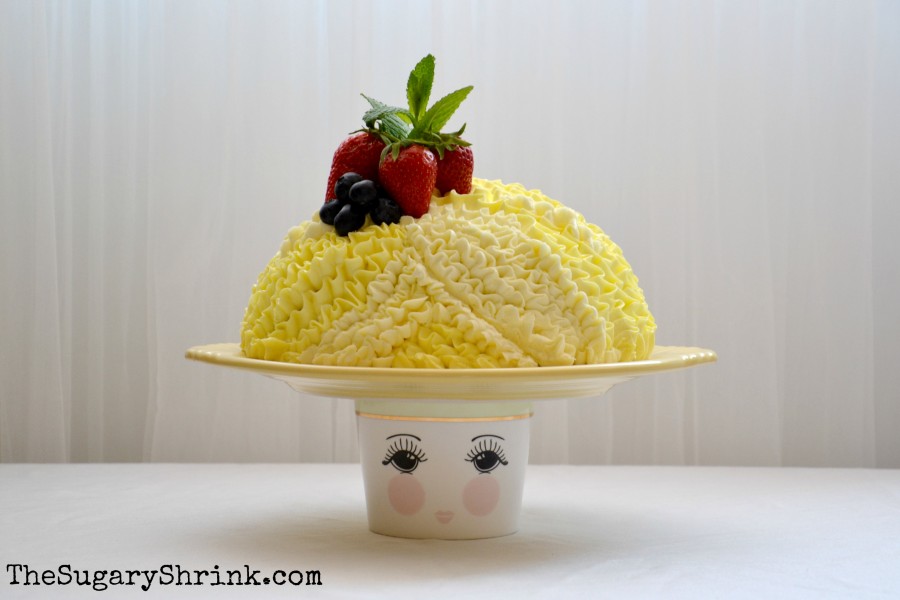 Vanilla Cake with Vanilla Buttercream Ruffles and a Fresh Fruit Hair Bow
A quick post to remember the Test Kitchen doesn't always go as planned and when it doesn't, it's time to step back to develop Plan B.  This sweet little cake was the new plan.
I was hoping to bake a hat and thought I could use my baking bowl to get the shape I envisioned.  Yes, I can bake in my Fiesta Ware Baking Bowls and No, it was not the shape I was wanted.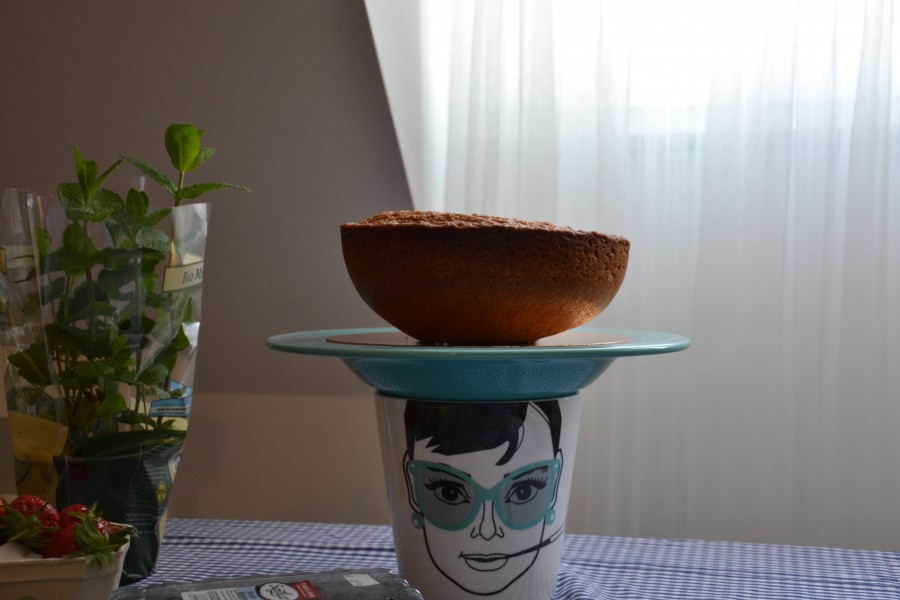 Something went terribly wrong.  Honestly, several somethings went wrong with one cake.
I under-baked the cake by about 25 minutes
I needed more patience to wait for the right cake plate to arrive
I got mad at the cake (umm…)
Common denominator is me… #operatorerror
First, scrap the turquoise and be patient.  While this isn't my strong suit, it's a great lesson.  As soon as I stopped trying to force the issue and looked at what could work, real progress started happening.
"I have a cake with a big hole in the center.  Options?"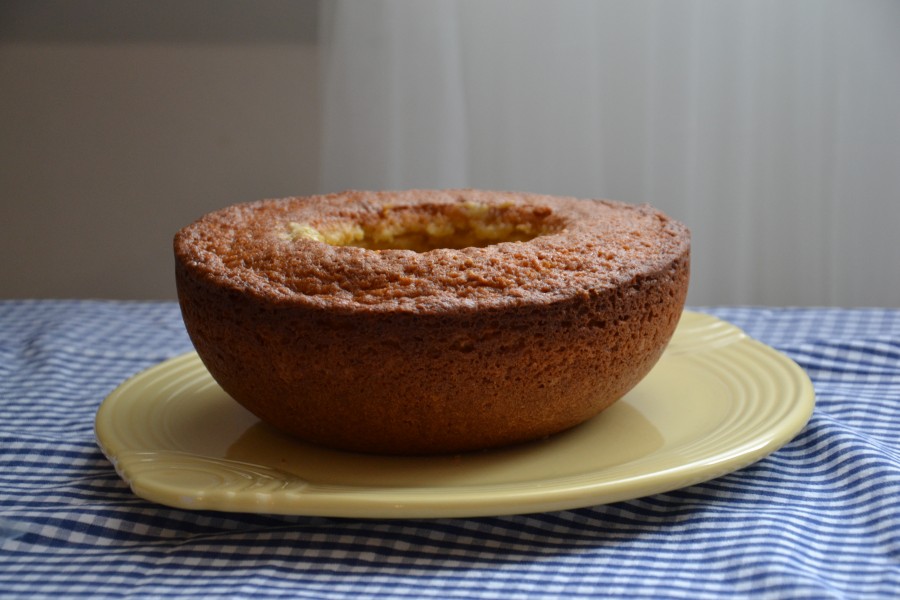 Cut the cake in half and think "Rainbow."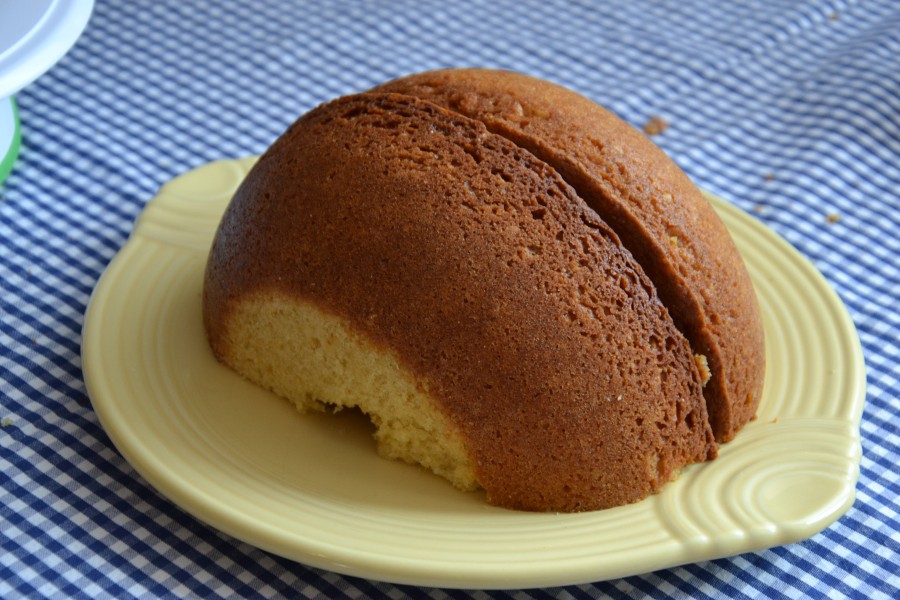 At this point I was relieved!  There was hope for this cake and as soon as I realized how low I was on disposable piping bags, I needed a slightly different plan.  Side note: I use a different piping bag for each color of the rainbow buttercream – which this cake would require at least six instead of the two I ended up using.
Since there isn't a local supplier for the decorating products I use, ordering in advance is critical.  I simply wasn't paying attention and this happened.  Ok, then.
So, ruffle-y hair happened and I loved it!  My life partner had ordered this amazing Wilton Cakes tilting turntable – it can support more cake weight, rolls smoothly, and tilts; it's fantastic!  The tilt is a big boost when it comes to producing ruffles.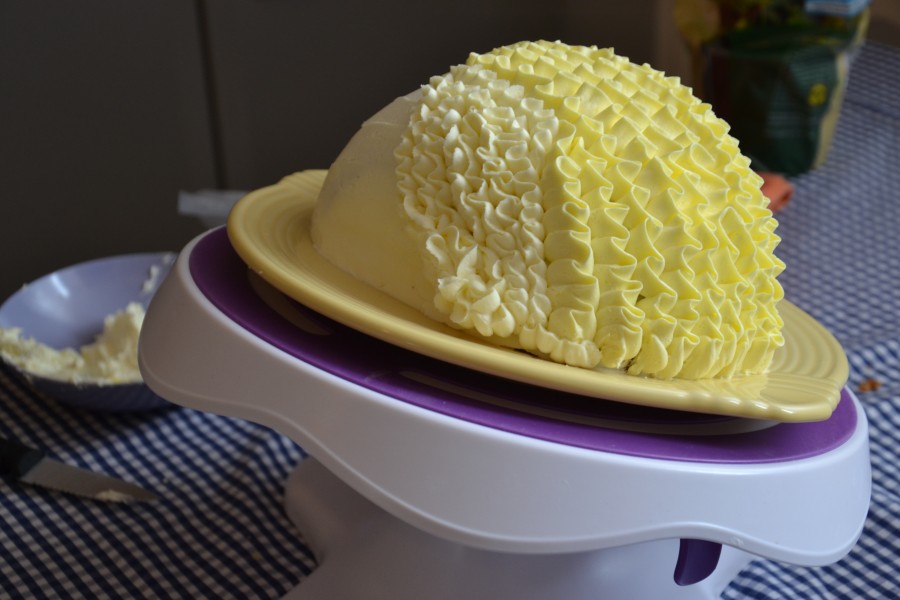 I'm still not very well practiced in combining colors to highlight and produce depth.  This is me trying and it's not perfect.  That's ok, too.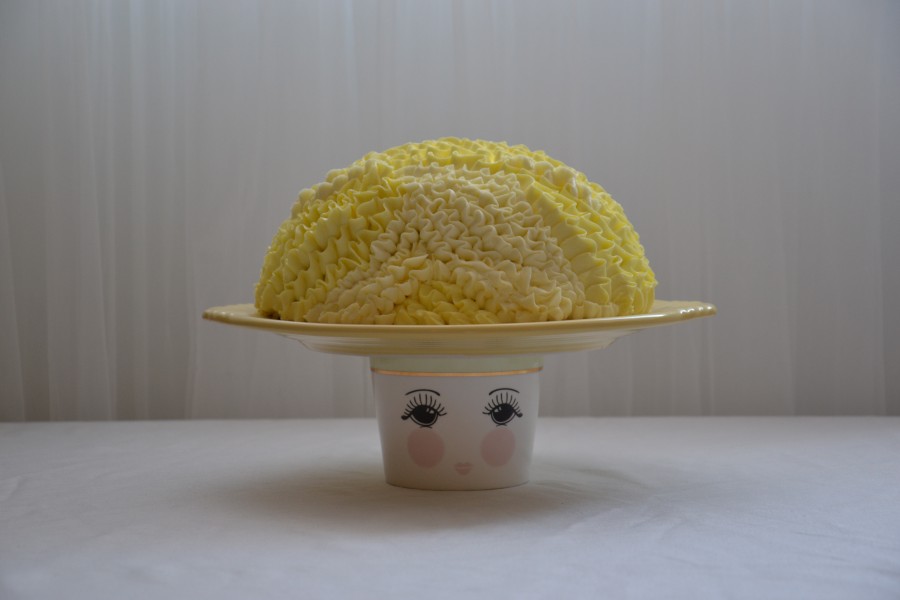 She looks like she just got a curly perm and it needs a few days to unwind.  Using an off-set spatula, I gave her a slight part.
"She needs a bow."
"Why yes!  She does."
Successfully editing isn't always achieved, but the fresh fruit garnish/bow has the right amount of foofahrah happening.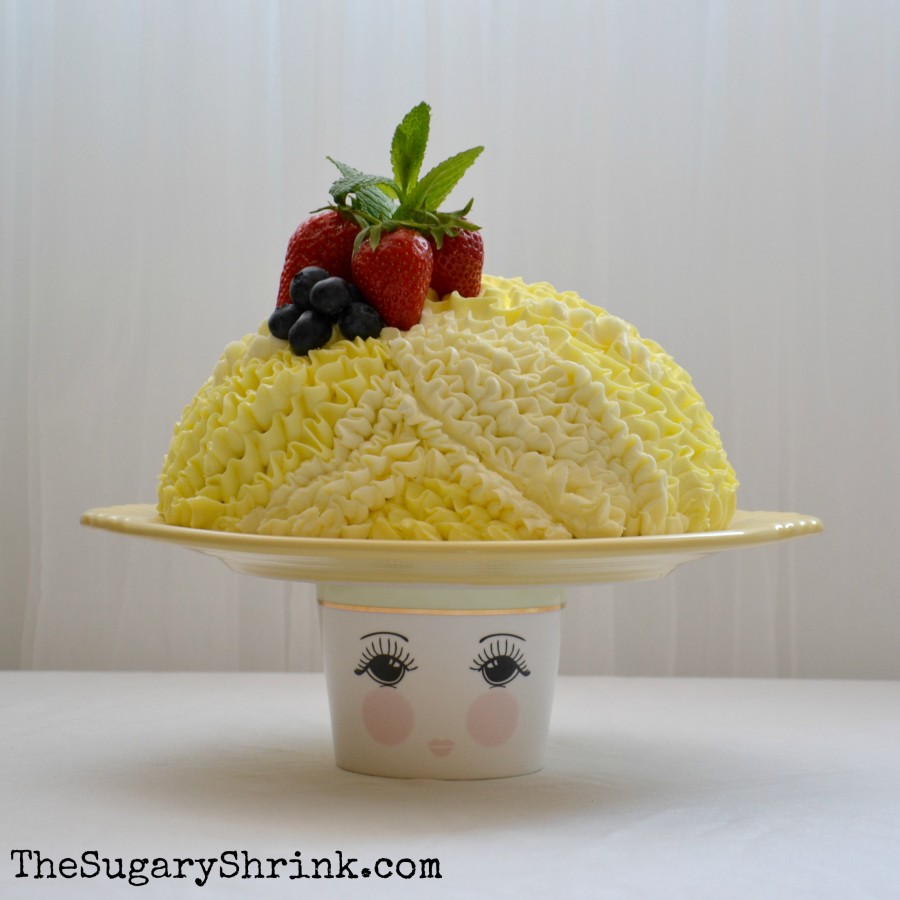 This cake stand makes me smile; really… she makes the cake.  And, the stand is a cake decorating hack.
It's a small flower pot with a Fiesta Ware Two-Handled Cake Plate sitting on top.  We found her in a small boutique in Paris; she reminded me of a larger flower pot I found in Wiesbaden, Germany (the turquoise Audrey Hepburn).
I've pressed into service her cousin (found in Ghent, Belgium) on a Strawberry Cake.  I blogged about her, here.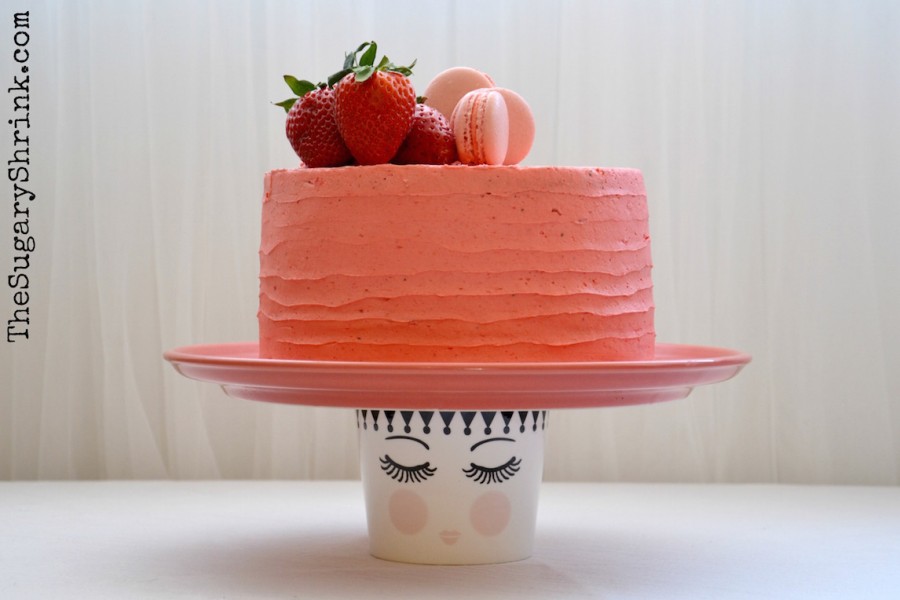 Clearly, there's an affinity for amazing faces and cake….and purses (blogged here).  This mug was found at a Starbucks in Seoul, S. Korea.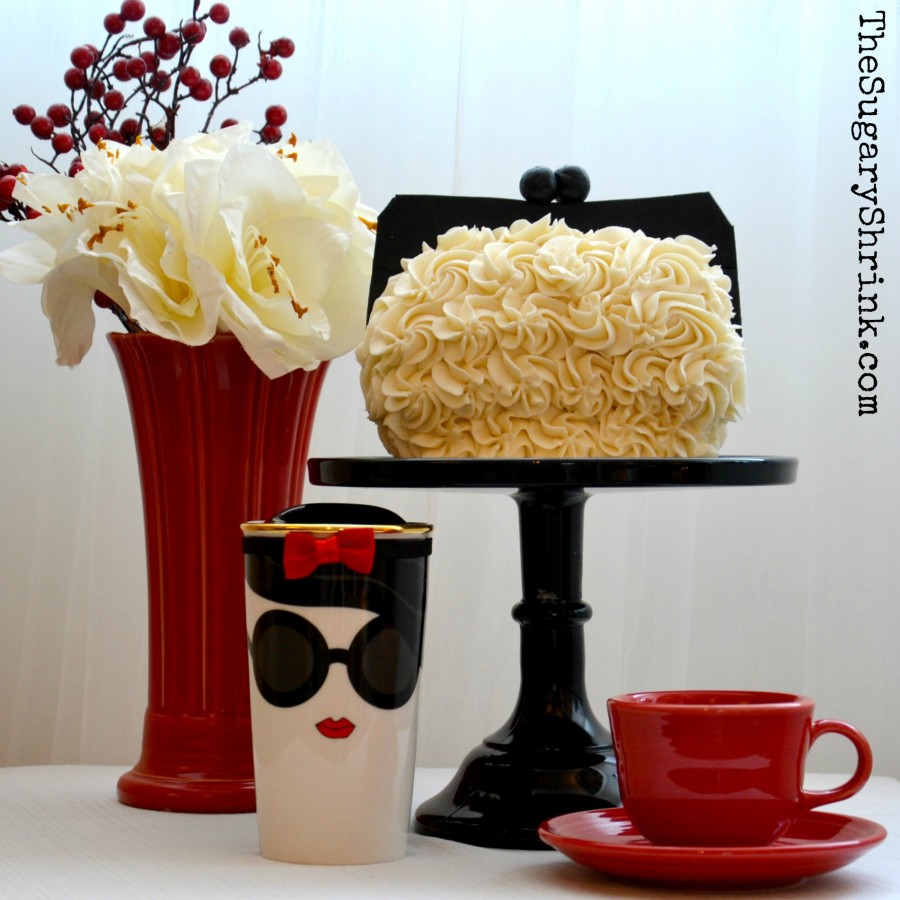 There are very few rules when it comes to cake decorating and presentation; but I think "Make it interesting" is probably on the list.
Cake slice!  The Classic Vanilla Cake was delicious, no matter the sideways journey it took getting to the plate.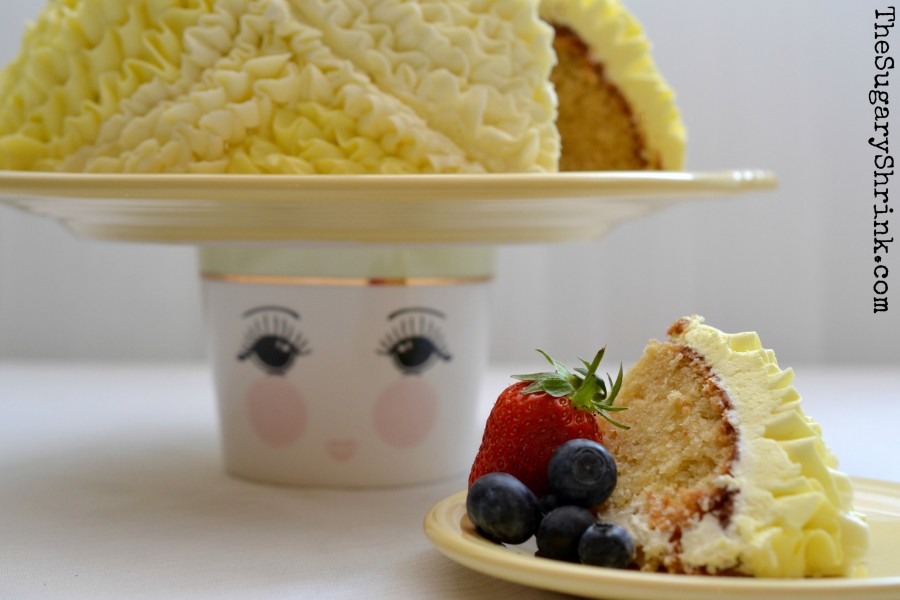 I'm grateful for a program of recovery that's taught me to laugh at myself when I'm getting mad at a cake!
I'm grateful for my life partner who knows when to stay out of the kitchen and when to pop in – he's a genius.
I'm grateful for our people and how they love us.