Christmas Tree Cupcakes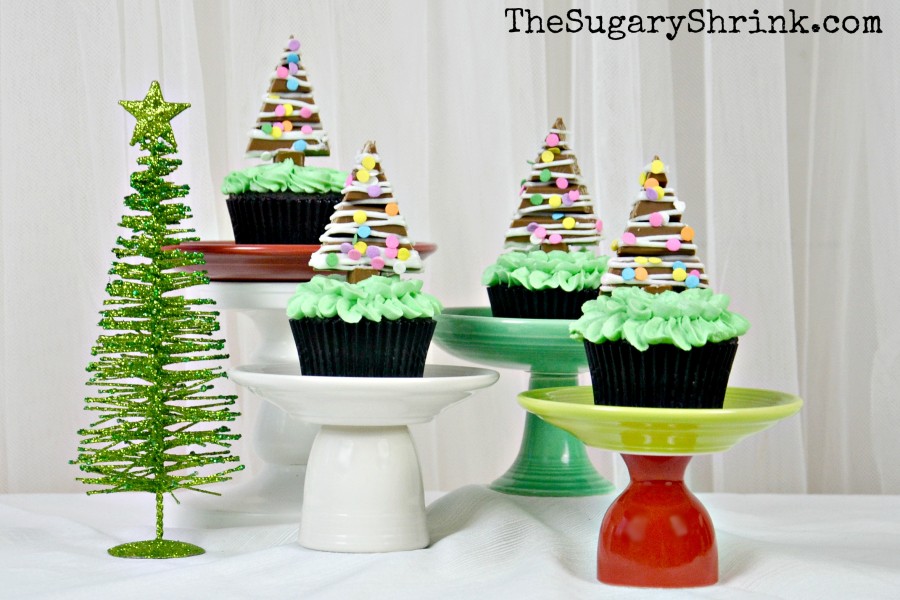 Chocolate Cupcakes, tinted Vanilla Buttercream, and Kit Kat Bar Christmas Trees
Have I mentioned that I love holiday baking?  And the super fun items that can be created from everyday ingredients?
Please know it wasn't always like that.
First, when we were in the trenches of raising kids and negotiating everything from diapers to carpool to 2nd grade to soccer practice.  Then it was homework and braces and after-school activities …. baking was a chore. 
It was impossible for me to put together a few box-mix cupcakes with tub frosting.  "Why?"  It was just too much work.  And if I had, there is no way I could have put together a candy bar Christmas tree.  Not a chance!  Focusing on a marriage, raising kids, working the steps took all the energy and brain power I possessed.
This post is for the future home baker that lays-in-wait … the one that soaks in the ideas while simultaneously preparing a box of Kraft dinner and rewashing the load in the machine because it sat for two days and has gone south.  This post is for the creative spirit in you – that you may one day upgrade to a stand-mixer to whip real butter buttercream.
The base for this cupcake design is a Chocolate Cupcake with tinted Vanilla Buttercream.  I worked with two designs.  I chose the more loopy, petal design…though I could have easily gone with the low swirls.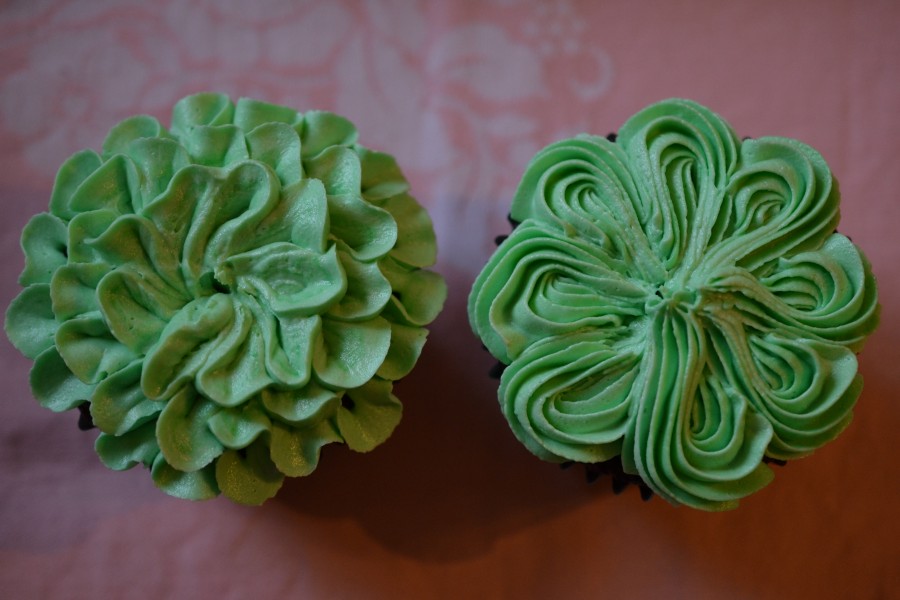 With the cupcakes ready, I went to work on the Christmas trees.
I started with a standard Kit Kat Bar.  It measured 3.5″ in length.  I marked three notches to know where to gently, evenly, yet firmly press my knife.  The wafers inside the bar were fragile at the tippy top corner – two were lost.
I reserved some of the buttercream before tinting it green.  By adding whole milk to the white buttercream, it became thin and perfect to pipe on the tree for garland.  I used a Wilton tip #3.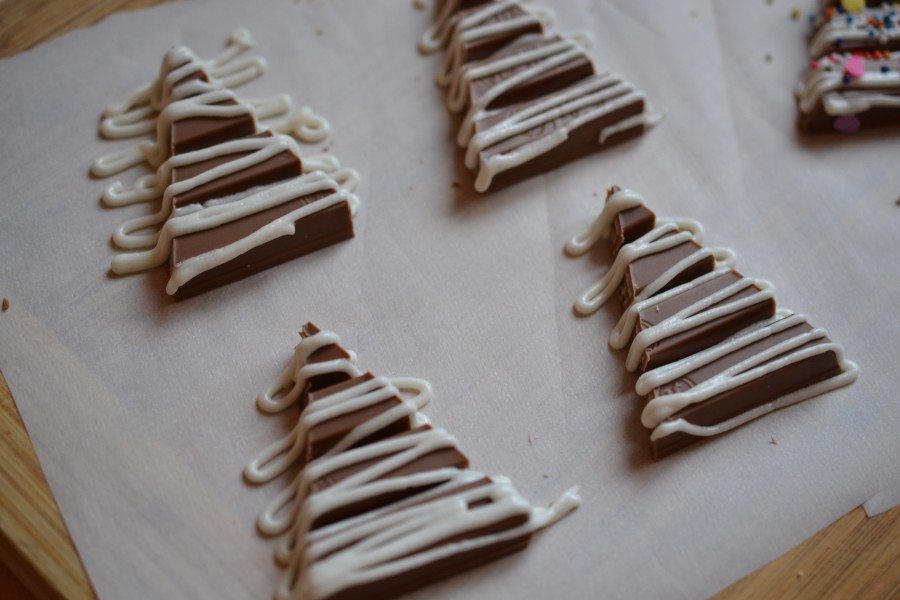 I tried several types of decorations… sprinkles, rainbow sprinkles, snowflakes, and sugar pearls.  By far the best look was produced with the flat polka dots.  I love it!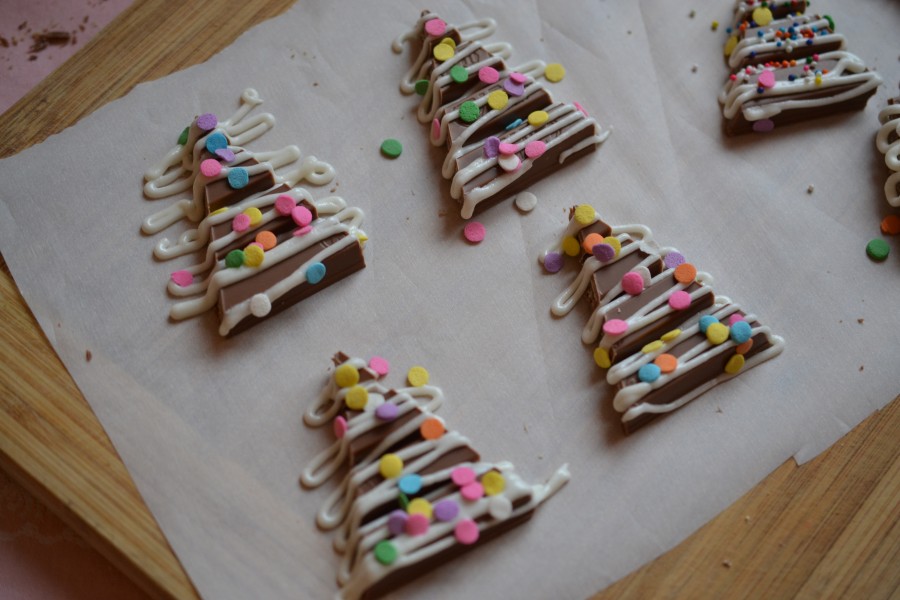 With a portion of the cut-away portion of the Kit Kat, I sliced a small bit for a tree stump.  There is a  slight angle that needs to be considered in order for the stump to sit firmly against the body of the tree/candy bar.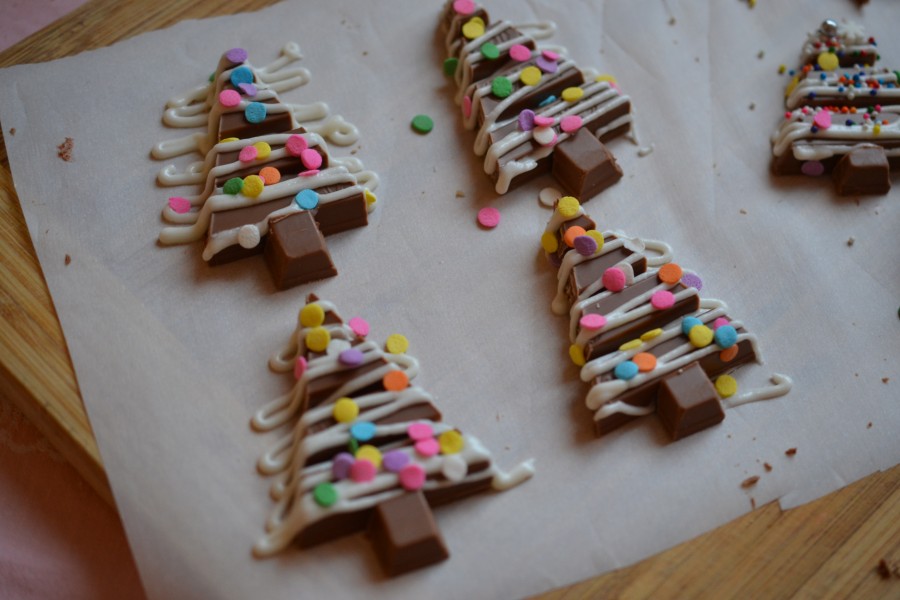 I really did love making these cupcake toppers.  They would be wonderful on a full cake or a dessert plate.
Again, there is no way I would have tried making these with several bad haircuts running around the kitchen.  I don't think I'd have had the patience to power through each step while helping somebody find a hat and mittens.
At the same time, I wouldn't trade those days.  Maybe that's why I appreciate the time I have today for things like fancy Christmas trees made of chocolate and sprinkles.
I am grateful for my life partner, our people, and sobriety.  It was a circus.  I like circuses (but I don't like clowns).