S'Mores Favorite Cousin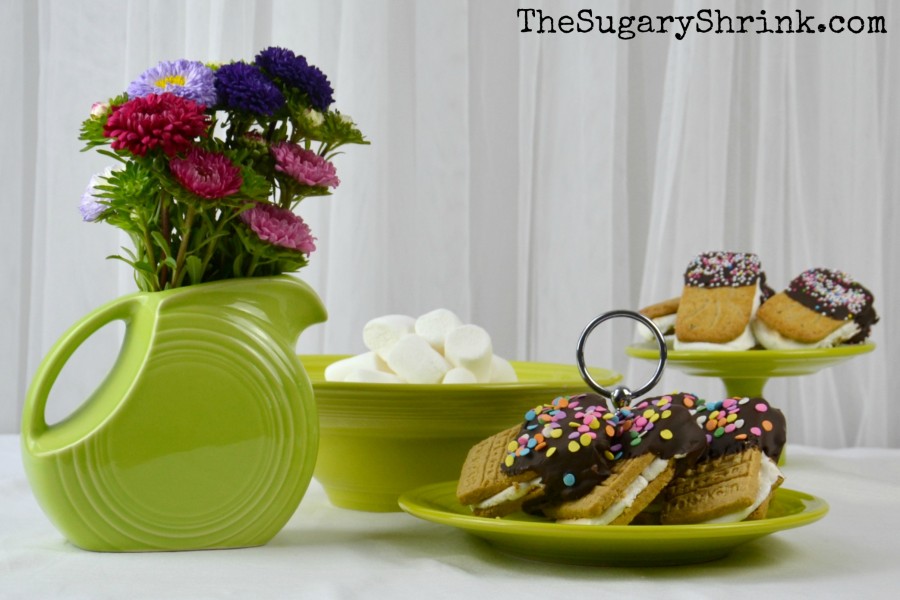 August 10th is National S'mores Day!  And we had to celebrate.  It is the case that Germany does not have graham crackers.  I know that sounds nutty, but it's true.  It is also true that Germany provides many good alternatives to this American staple..
The Hafersnack Cake advertises itself as a 'crunchy grainy' oat snack that is "irresistibly delicious."  I have to agree – it's a cross between a cookie and a sweet cracker.  Certainly, this could hold a marshmallow sandwich, right?
The other option I tried was this crunchy cookie oat biscuit.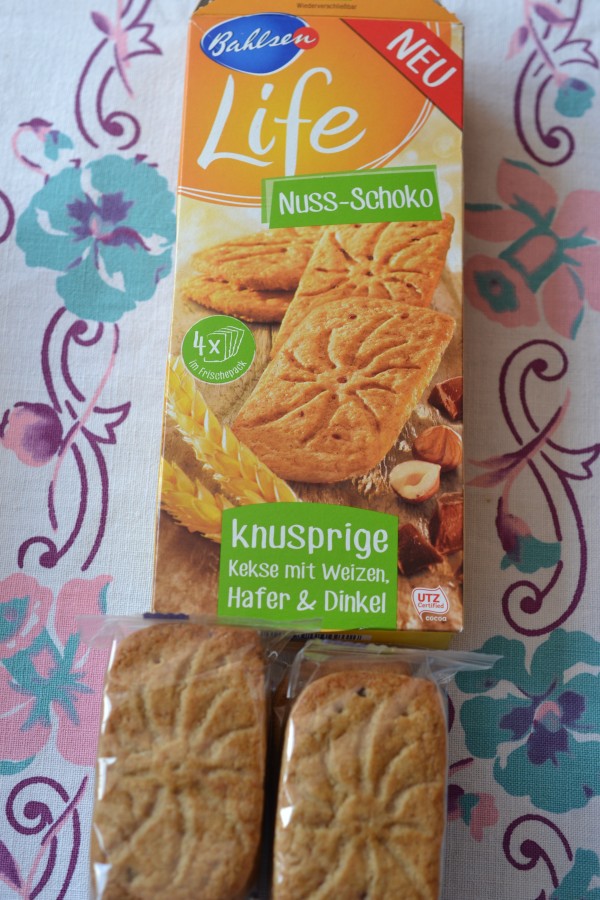 When in the test kitchen, considering using at least two options (or three!) to determine which is a good, better, best choice.  As it turned out, both worked extremely well and were quite delicious.
This is what makes my S'mores Dessert a cousin to the original… the basics are all there, so we're related, but not identical.  Gotta love family.
I started by carefully preparing a pan with the biscuits and placing two large marshmallows on each.  I gave'm a bit of a smoosh to help get the melting started.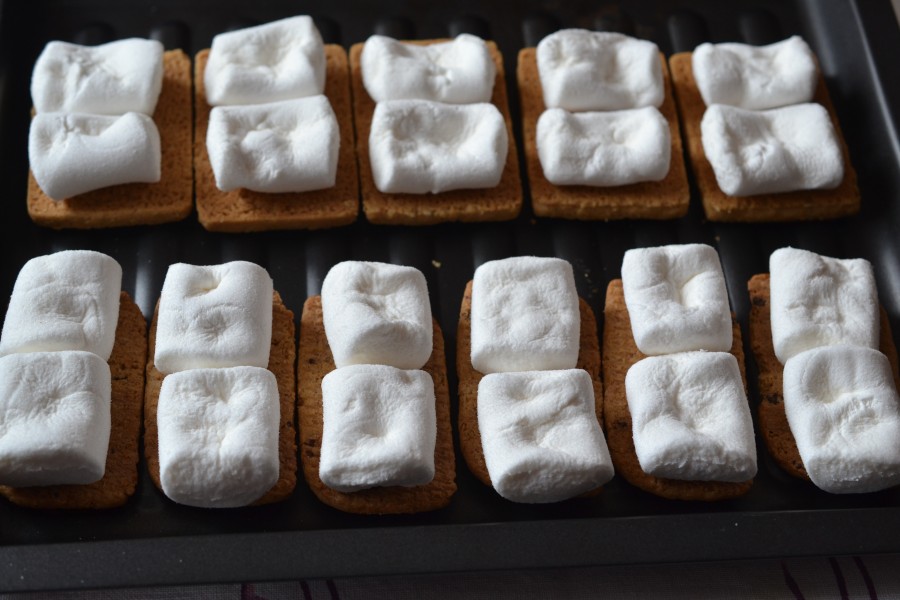 I used my toaster oven with the broil setting instead of my conventional oven – it's easier to control the temperature in the small oven and I could keep an eye out for flaming mallows.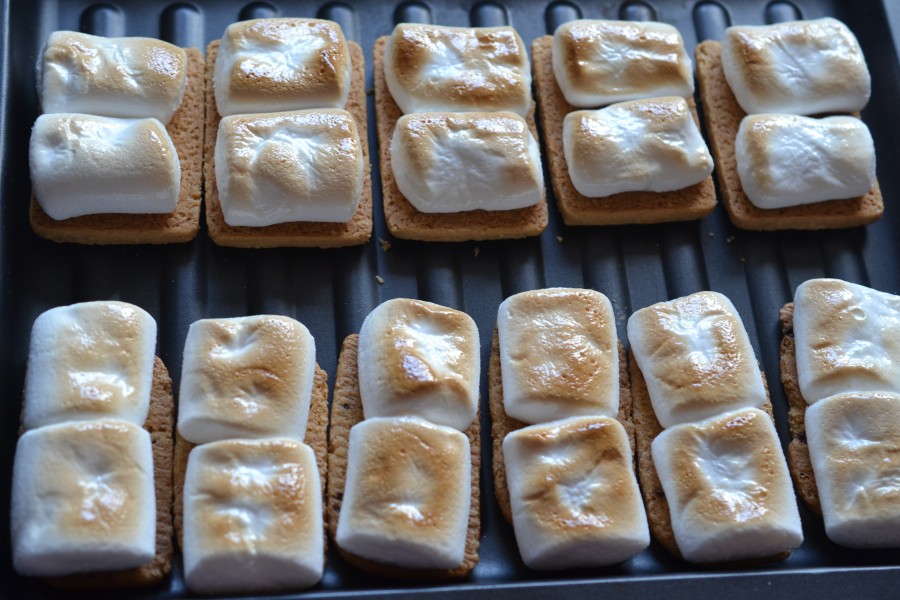 "It worked!!"  Oh the excitement!  Perhaps they could have stayed in the oven a few more seconds, but I wasn't sure about the integrity of the biscuits at that heat.
Each pair of marshmallows was topped with an identical biscuit to the base.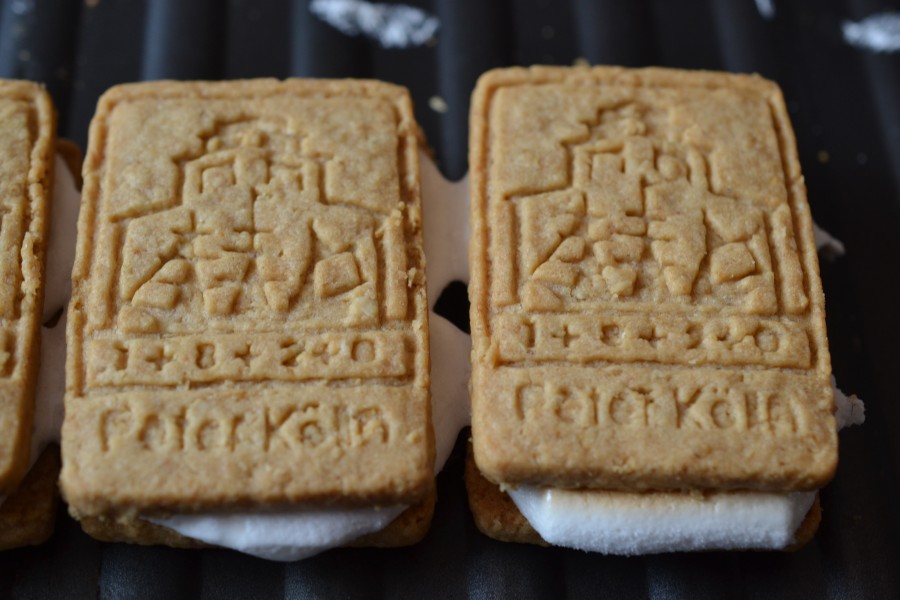 Choosing to dunk the sandwiches in chocolate instead of layering it inside was based on ease of storage and transportation.  We were headed out for a cycle camping trip and I wanted to take these along.  Also, I imagined they'd look great.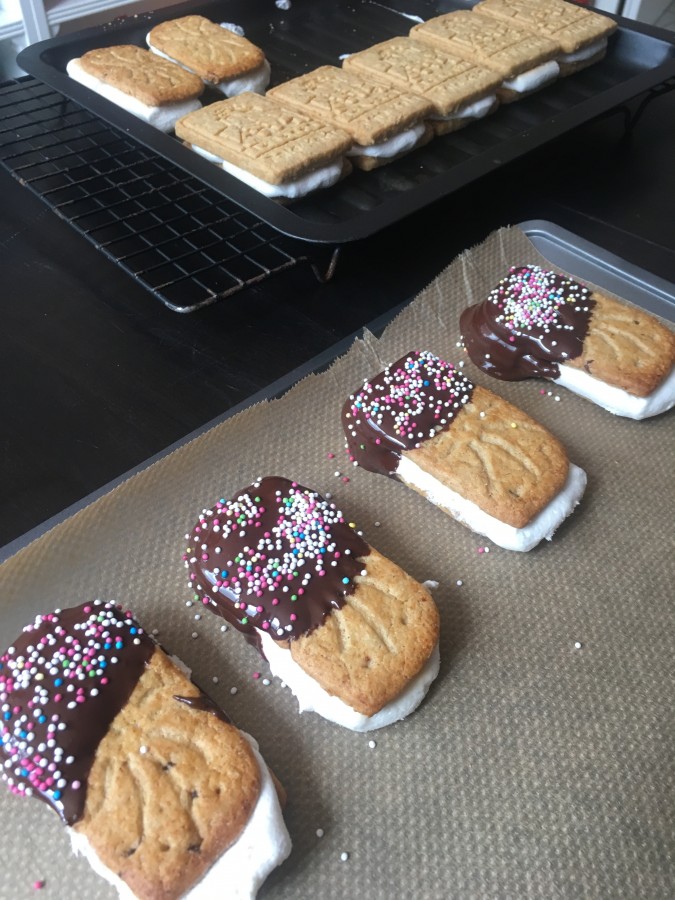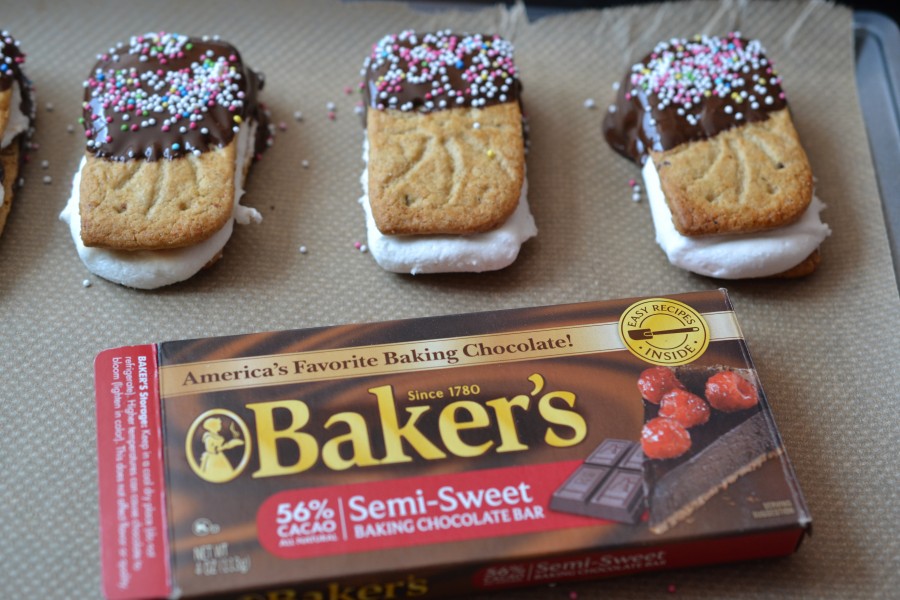 The sprinkles are everything!  I love this look and seriously, isn't this a fantastic dessert table item?  Hot tip:  These stored very well overnight, so make them a day or two ahead of time.
In order to easily dip the sandwiches in chocolate, I melted the chocolate in my Homer Laughlin Fiesta Dinnerware Jumbo Mug.  The size is ideal since the mug is quite deep – this step was too easy.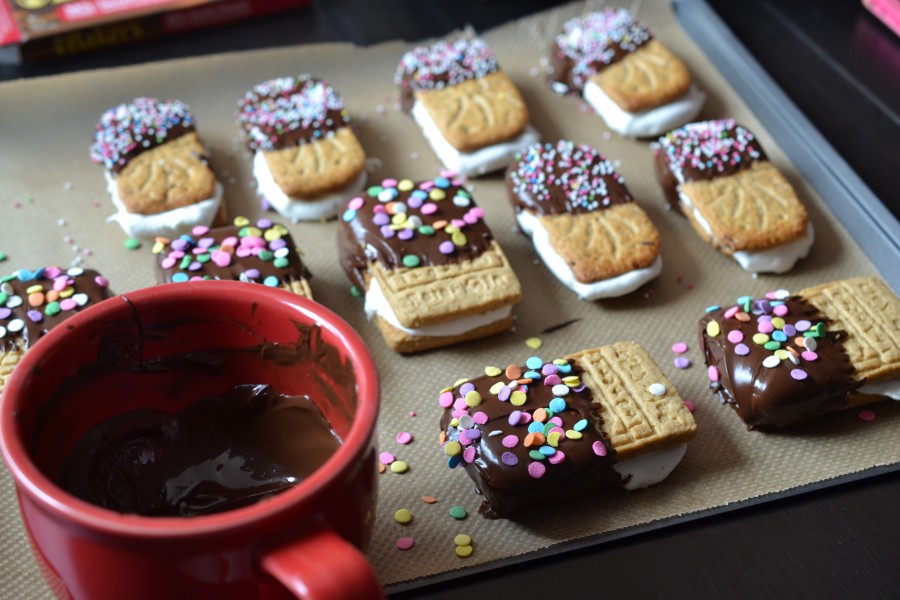 I only sprinkled the dots on the top of the sandwich; maybe next time I'll cover the front and back.  But I love the look!!
Baking is about creativity.  When some ingredients aren't readily available or your pantry is looking thin – bake with what you do have.  While there is much science to cake, cupcakes, desserts, etc… there is also art.  That's what makes my baking special to me… and your baking special to you.
I love that I get to try new things in the kitchen and still keep my old favorites close to me.
And I'm nuts about my life partner husband and our life together.
I love our people and the people they bring.
It's not possible without sobriety.