Banana Chocolate Chip Party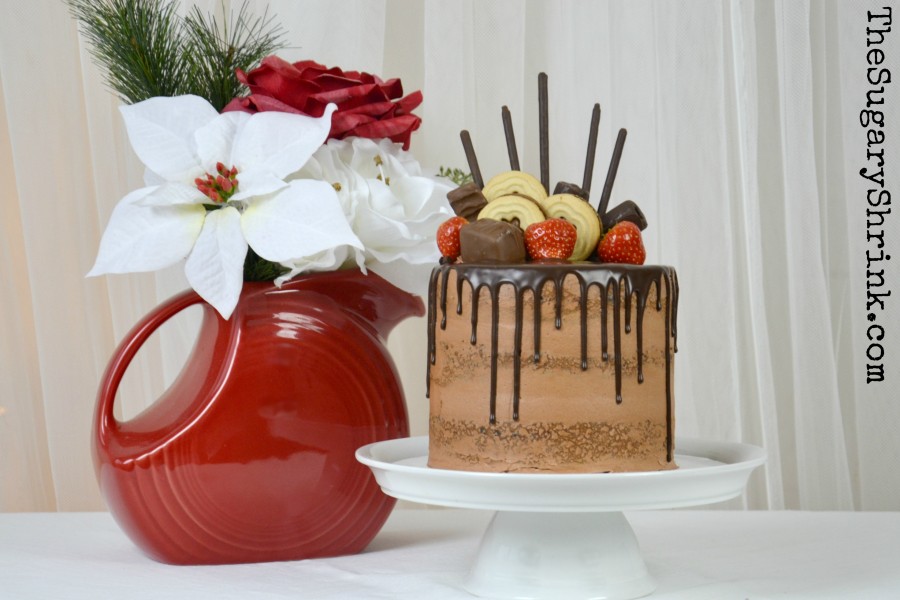 Triple-layer Banana Chocolate Chip Cake, whipped Dark Chocolate Ganache Buttercream Filling and Frosting, Dark Chocolate Ganache Drizzle, and a garnish of Fresh Strawberries, Cookies, and Sees Chocolates
Merry Christmas all month long!  And this is just the cake to kick off this holiday season in style.
It's an exciting time to be in the kitchen – the flavors and colors of traditional baked goods at Christmas are wonderful… but why not turn up the volume a little bit?
This cake is an interpretation of one of my all-time favorites: Banana Bread.  I love a delicious slice of warm Banana Bread.  Adding chocolate is a classic… and "anything worth doing is worth overdoing."  So here we have this Banana Chocolate Chip Layer Cake.
I love how easily this cake goes together…
The dry ingredients are whisked/sifted together, except for the baking soda which needs to be added to the buttermilk… consequently, it nearly doubles in volume.  I love science!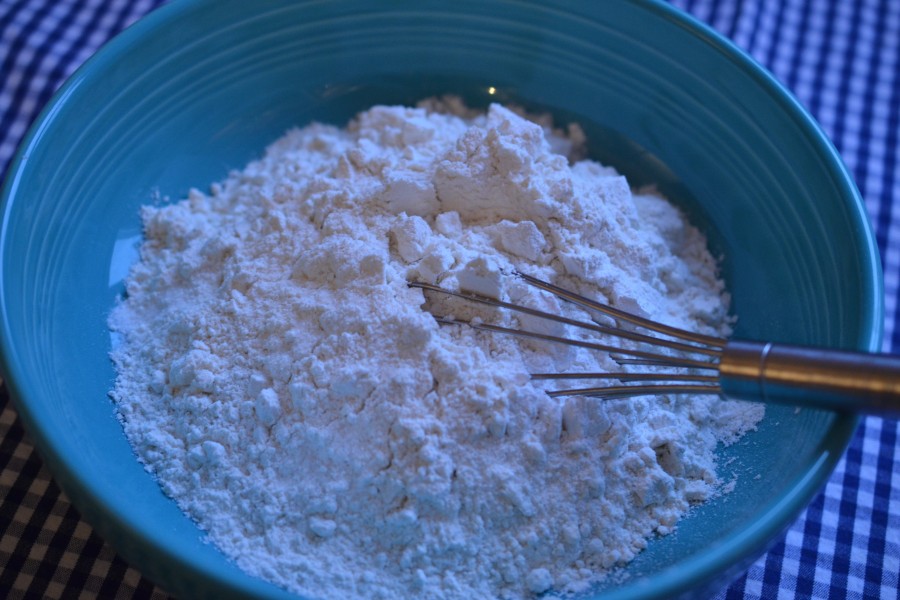 For this cake, I chose to use 6″ rounds.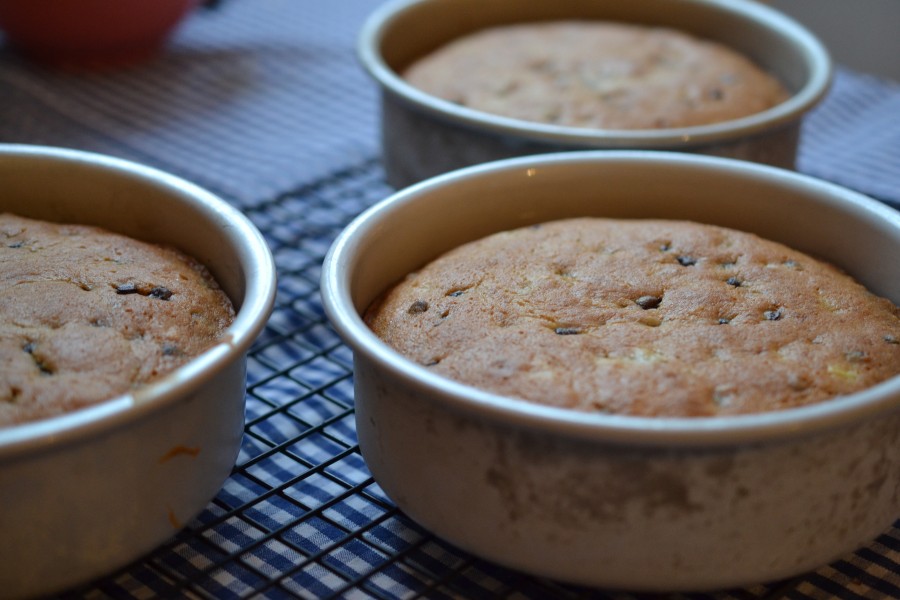 I say it all the time, as humbug as it is to cut the parchment paper rounds – it's worth it.  Also, the circle doesn't need to be exact.  For me, a rough cut is the most I can tolerate.
I made a Chocolate Ganache with whole milk and 63% cacao…. the ratio is 3 to 4, milk to chocolate.
When the chocolate was back to room temperature, I whipped it into the buttercream filling.
Since these were smaller rounds, I only added two scoops of buttercream.
I love a good crumb coat.  It looks fantastic and is a ready canvas for the design.  Sometimes though, it's pretty enough and the design changes and the chocolate ganache looks like a ready source for drips.
In other words, listen to the cake.  It might influence the design in a previously unexplored direction.
Sometimes I get the consistency all wrong for the ganache drippy coat.  But this time, things worked wonderfully.  Through practice, I'm learning that temperature of the cake and temp of the ganache are just as important as the fluidity of the chocolate.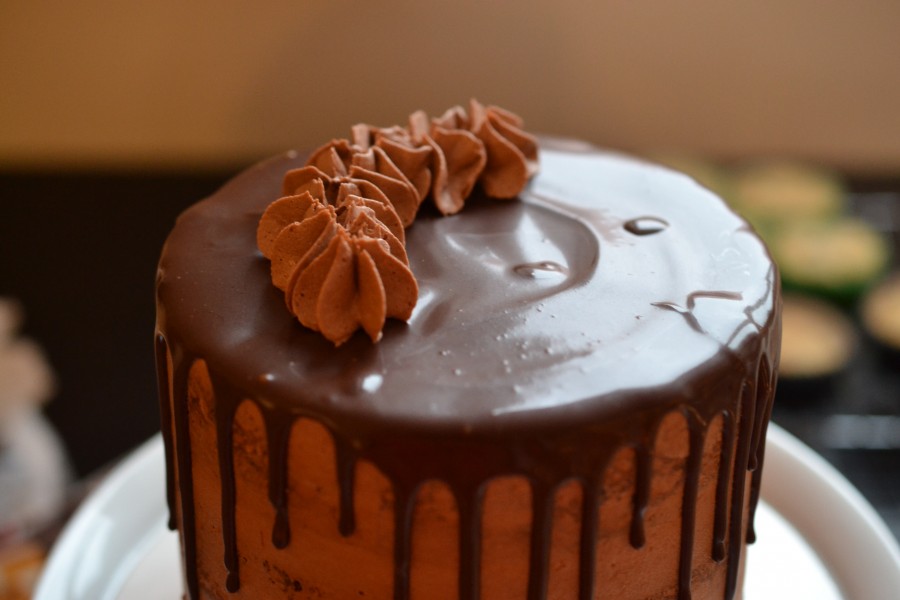 Cake decorating can be quite forgiving.  Then there are those instances when getting it "right" the first time really makes a difference.  I piped on a few pillows of buttercream to support the decorations.
Regarding how to top a cake with a stack of yumminess, these things I've taught myself…. vary the height, color, texture, and taste.
This cake has Sees chocolates (a gift from a visiting Art Historian), Poki Sticks, cookies, strawberries, waffle chocolate rollchen, and more chocolate chips.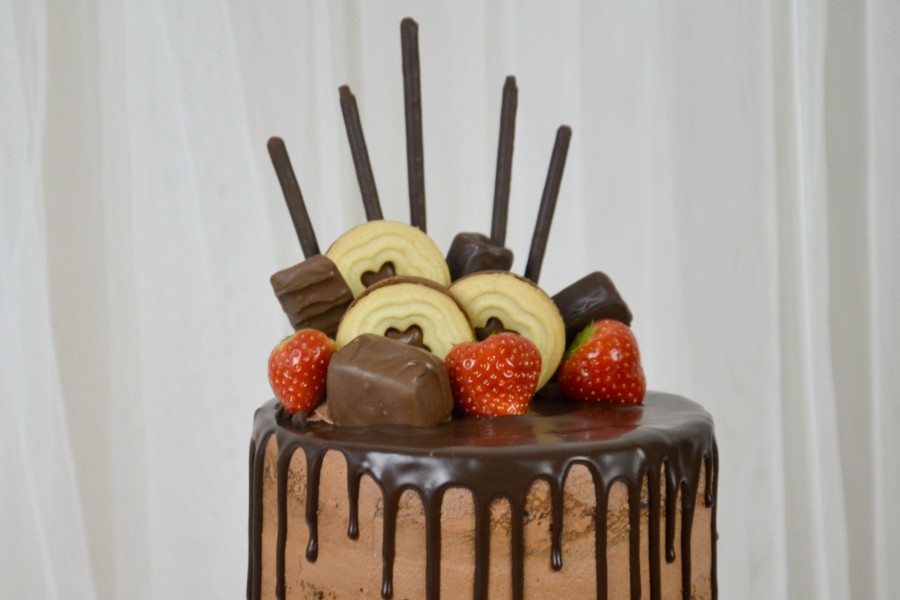 It felt great to decorate this cake on my daughters' birthday – they were born on the same date, five years apart.  Watch them bake a cake, here.   I miss my kids terribly and especially so on their birthday.  When I dwell on how much I miss our people, my life gets messy.
To balance that, we travel often and stay engaged with dear friends.  We like to take cold winter walks along the Neckar River and on warmer days… take the tandem out for a spin.
During the holidays, we make plans for our time together.  That keeps me going and it's worth it.
A slice pic?  Definitely.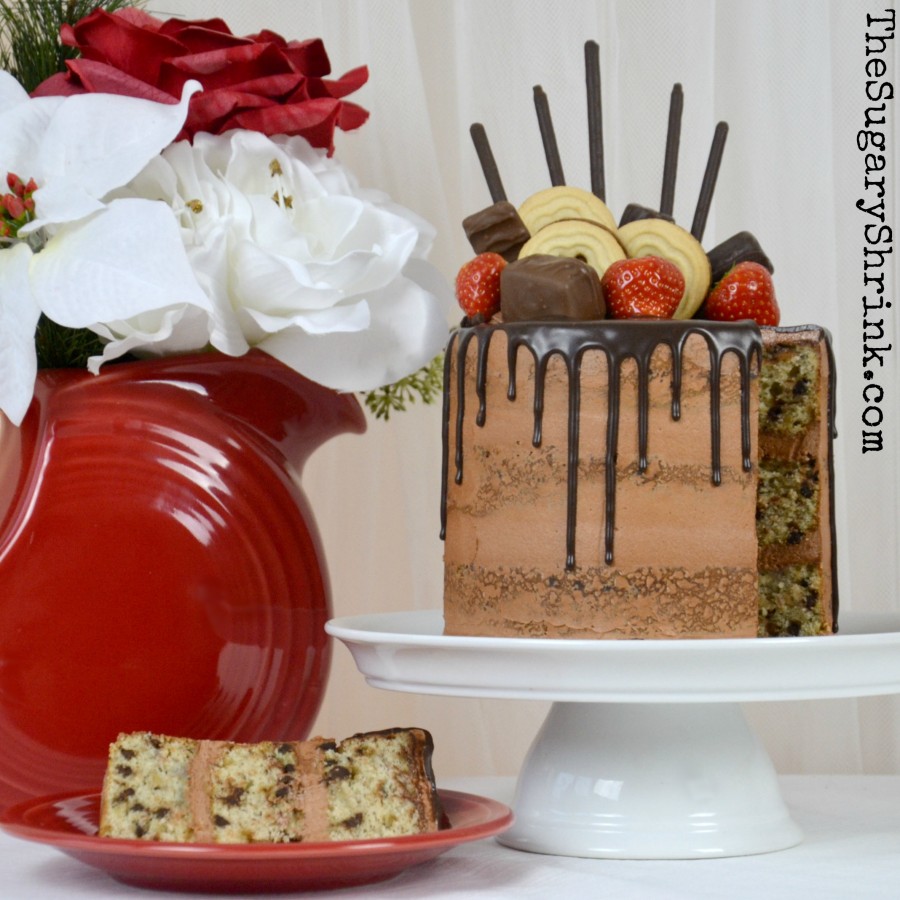 It looks delicious and it was!  The Scarlet Large Disc Pitcher by Homer Laughlin Fiesta Dinnerware is the ideal companion to show off the red of the strawberries.  I think this picture is a party all by itself!!
I'm so grateful for my life partner, he's compassionate and just right for me.
I'm grateful for our people.
And seriously grateful for sobriety.
Cake.. it's what's for dinner.