A Spring Hat in Autumn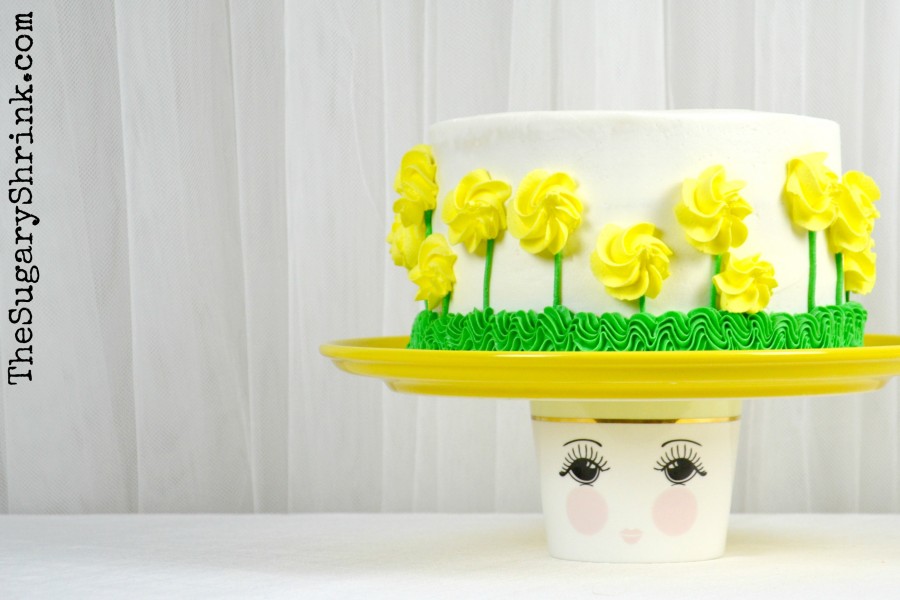 Triple-layer Almond Cake, Almond Nougat Filling, Almond Buttercream Frosting with Tinted Roses
Almonds!  This cake was built around a tub of Almond Nougat I found at the market.  It sounded so good – like Nutella but made with almonds.  Who can predict where inspiration will come from??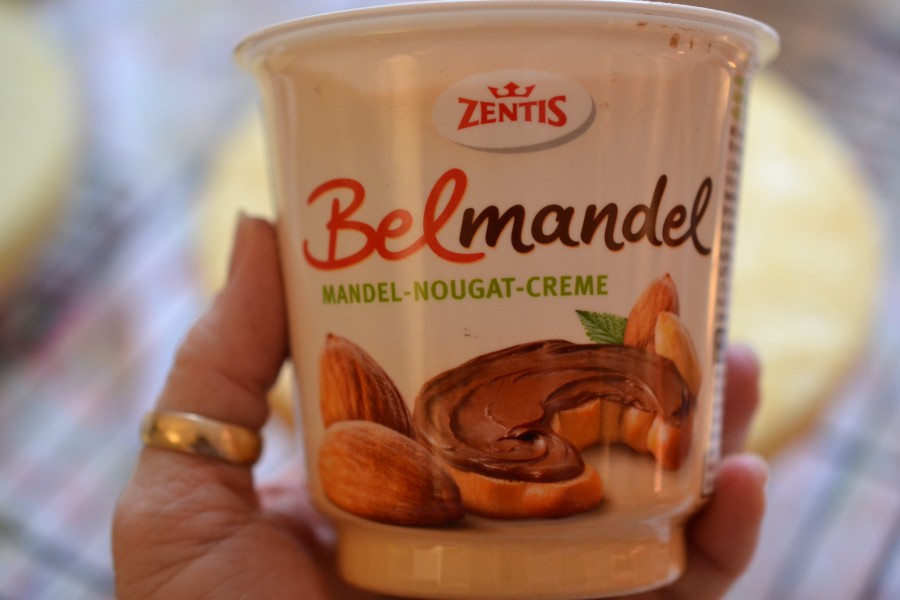 I love it when inspiration is that easy … it's like, I can't bake fast enough.
The Almond Layer Cake is a simple and straight forward recipe that uses egg whites (not whole eggs) and cake flour.  The recipe calls for 2 tsp of almond extract, which is mild to my taste.  So, if you're feeling edgy….
Here's how it went together.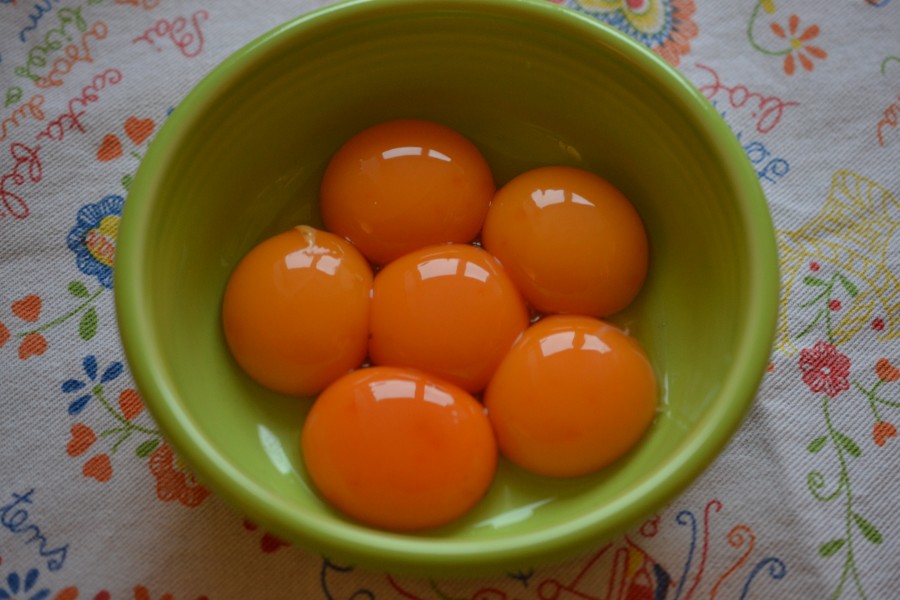 I left the separated egg yolks in one bowl.  Instead of tossing them out, I like to make a fruit curd – most recipes call for egg yolks only.
The room temperature egg whites are combined with room temp milk and extract.  My Homer Laughlin Fiesta Dinnerware Prep Bowl is ideal for mixing wet ingredients – the deep sides keep all the ingredients in the bowl and off the counter top.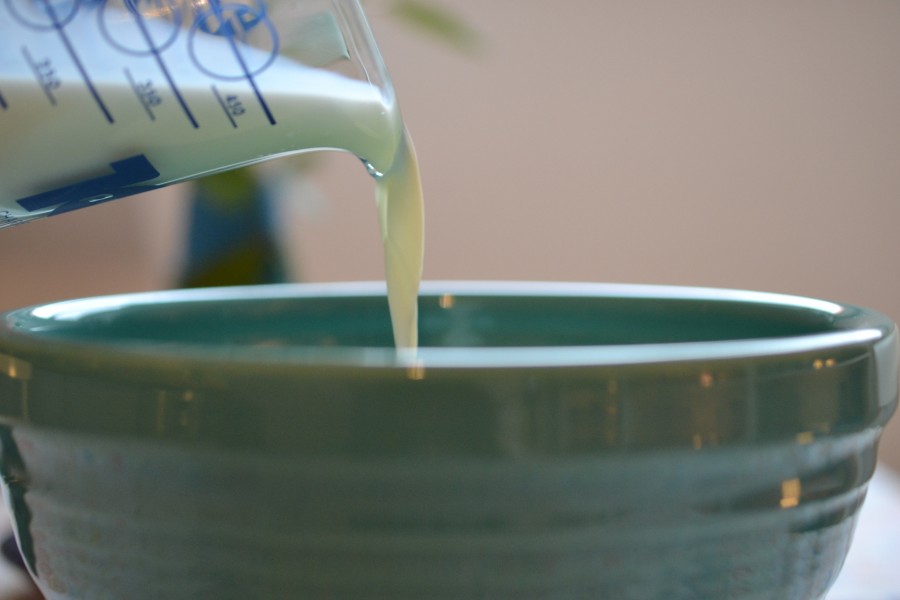 The dry ingredients are combined in the stand mixer before the butter cubes are barely blended in.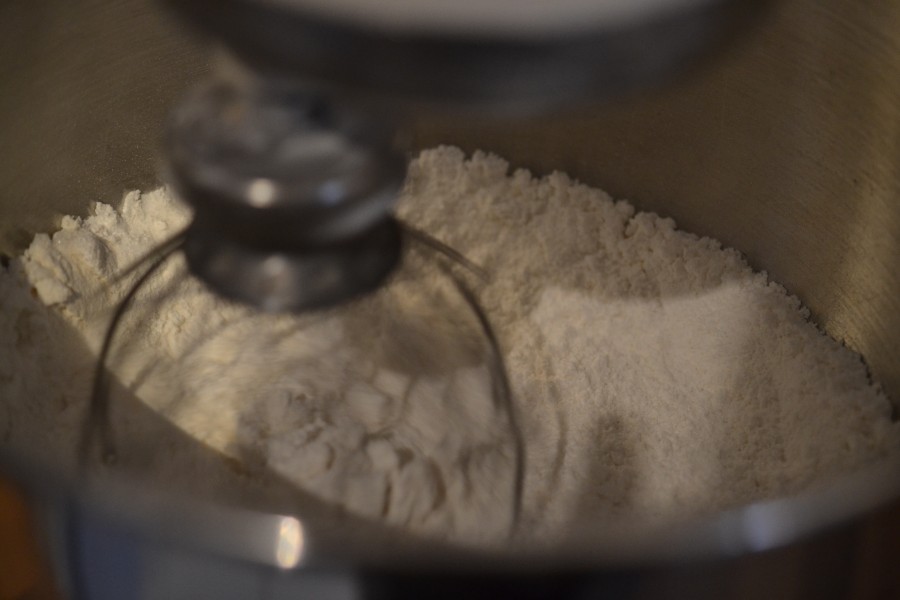 Integrating the wet ingredients into the dry ingredients is a fine art… overmixing makes for a sinking/no rising cake and undermixing leaves pockets of raw flour.
Here's an action snapshot of weighing the pans prior to adding the batter – as many cakes as I've baked,  I'd like to say I can eyeball this process.  I can't.  Maybe soon?
Because I know my oven runs mostly cool but has a hot spot in the back right-hand corner… I place the pans carefully and watch the bake time.   Hot tip: Do not open the oven door in the first 20 minutes of baking..badness ensues.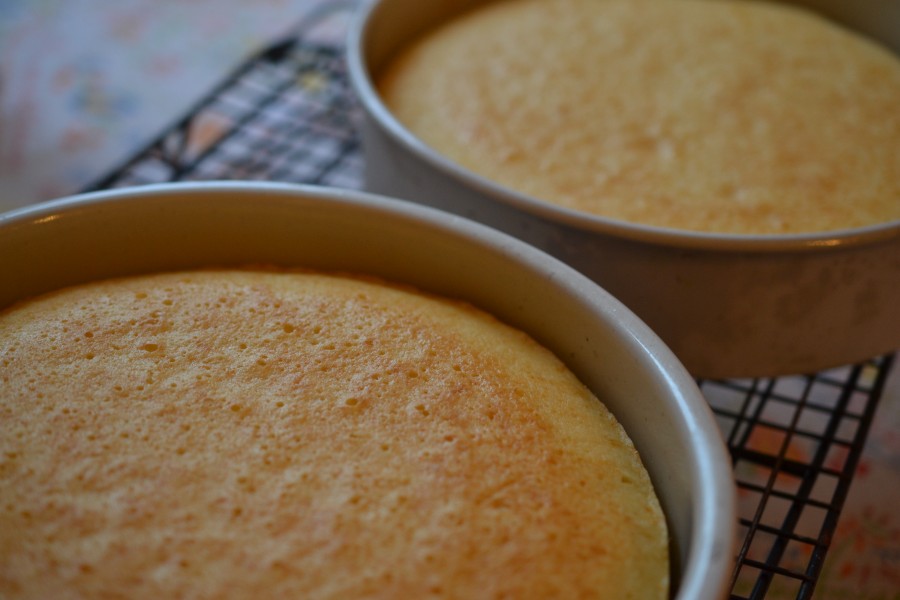 I rarely use a cake tester anymore… too many cakes have lost their air and deflated like a balloon.  Instead, I pat the top of the cake and look to see if the edges are just beginning to pull away.  After sitting for ten minutes cooling, most edges should have shrunk from the side of the pan.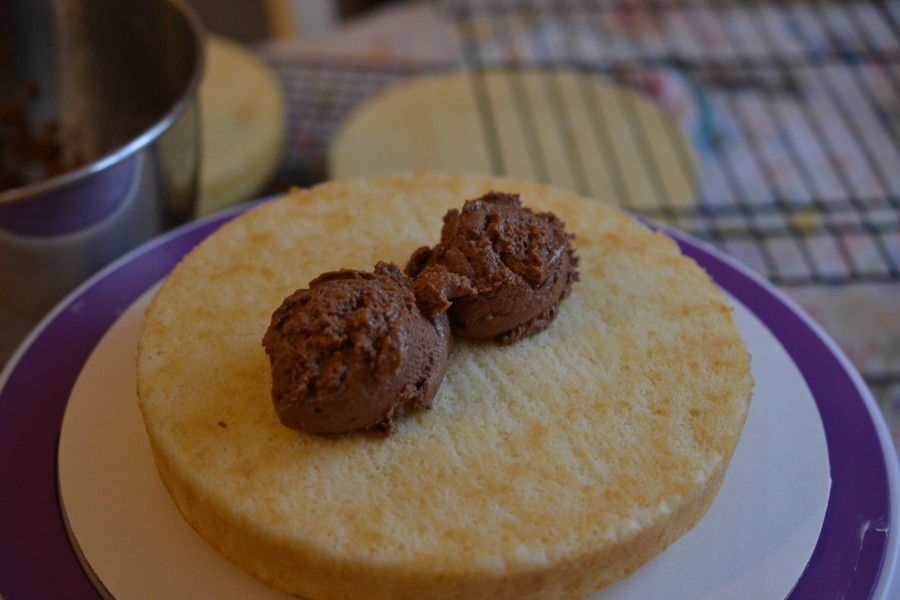 I whipped some powdered sugar, milk, and butter into the almond nougat – I wanted a consistency that would support layers of delicious cake sponge.
I love the contrast of the dark filling against the lighter sponge.  It's incredibly visual – which works considering we eat with our eyes.
How to decorate this cake was a direct influence of a sweet little bouquet of yellow roses from the market.  I dearly love yellow roses; they make me smile.  Of course, a white Almond Buttercream seemed like a natural background for almond roses.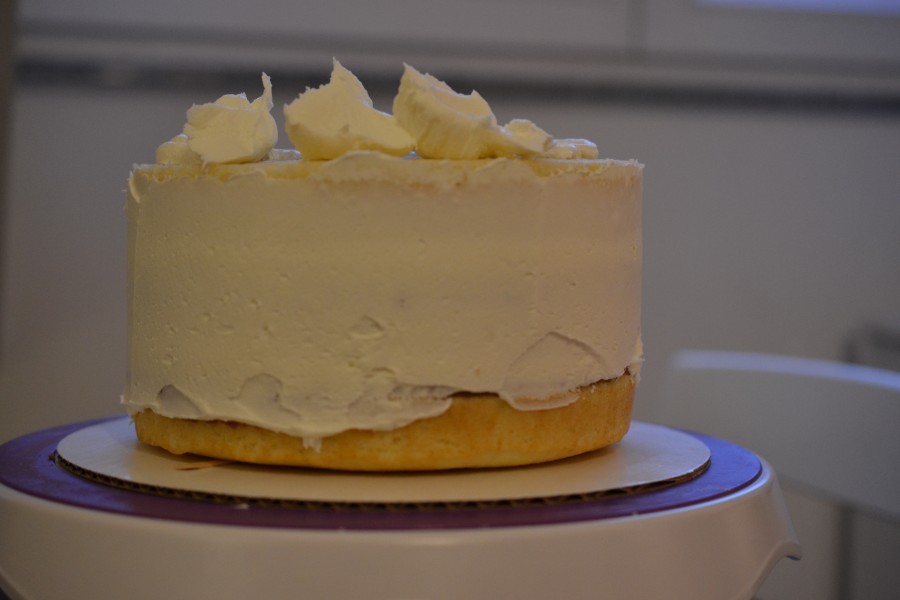 I tried several smaller piping tips to execute the roses, but the results were just so-so.  I finally landed on these flowers – they were made with a Wilton Cakes 1M.. in a half-rose technique.  A full rose was too big, but the tip had the right profile and swirliness.

I like the cake… now what?  It's been the case that lately, I've had a vision in my head how the snapshots should look.  And that's what I did this time…and I didn't like it.
It was …. nice.  Several iterations later, I announced to my life partner, "I'm bored! It's all boring!"
Artists.
Sooo… I do love it when a cake becomes a hat.  I love it every time.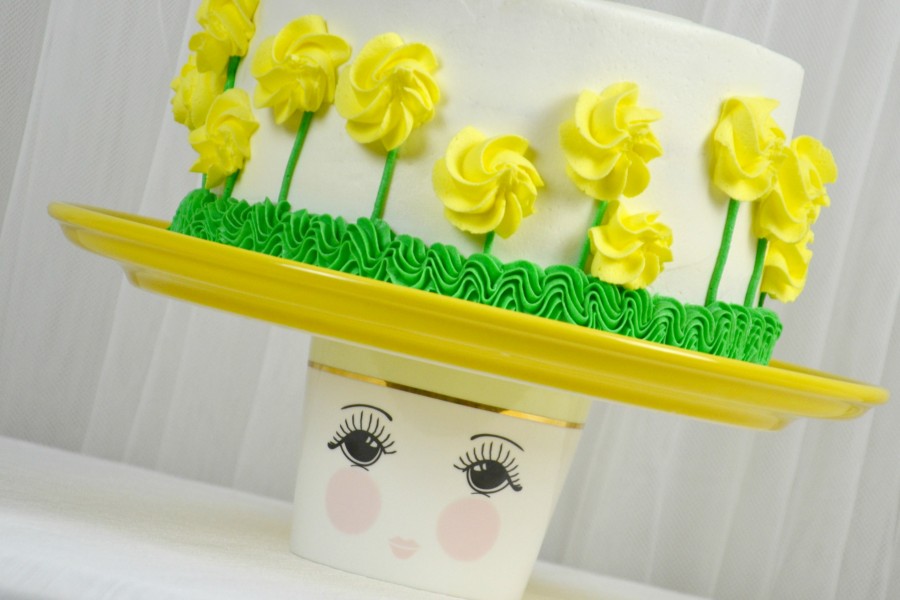 This angle sort of gives her a fashionista look… like she's ready to strut the cake walk.
(Yep, I'm cracking myself up!)
The slice pic wasn't a disappointment.  The contrast is quite lovely between the nougat filling and the white layers of almond sponge.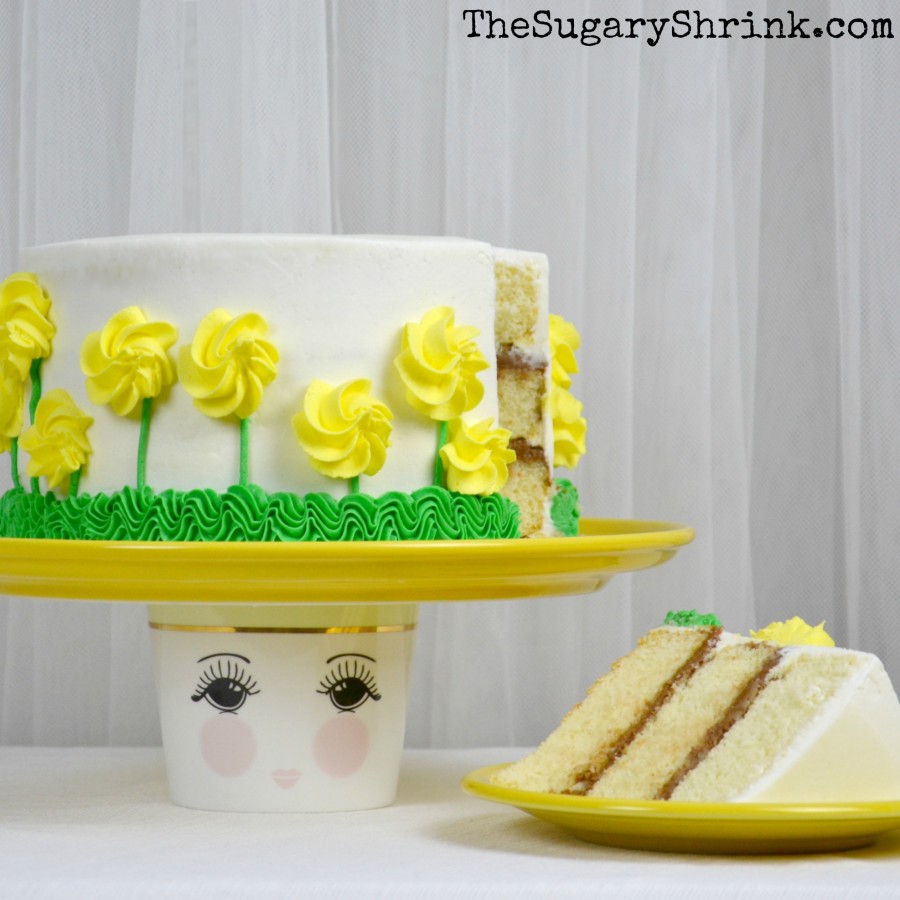 It's a great day when I get to bake a cake and share it with my life partner.
It's a great day when our people stay in contact with us – facetime, text, chat, etc.
It's a great day when sobriety is happening.