Two Smash Cakes & a One-Year-Old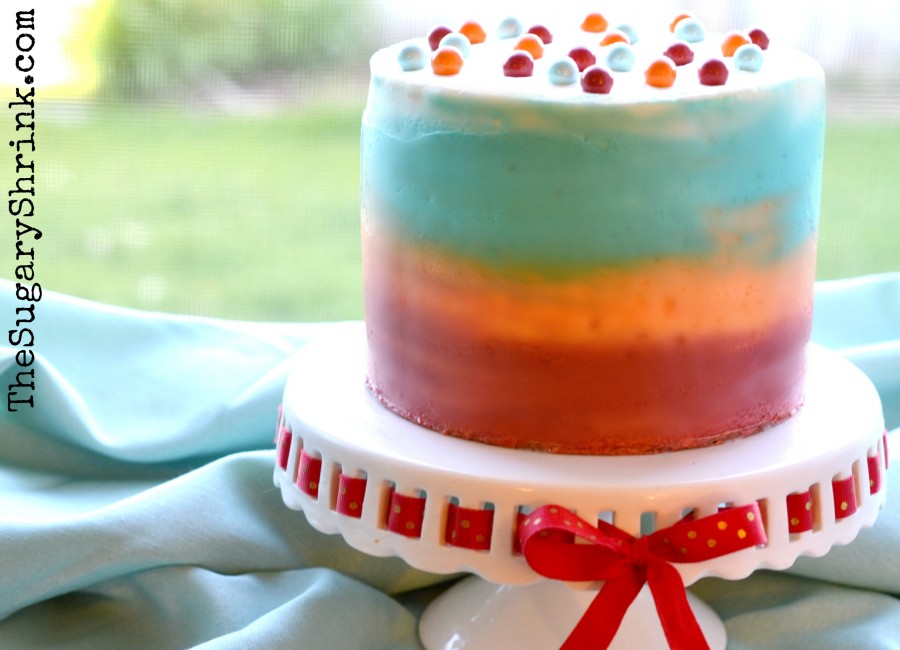 Double-Layer Chocolate Cake, Vanilla Buttercream Filling with a tinted Vanilla Buttercream Frosting and a garnish of Chocolate Candies
A cake.  That gets smashed by a one-year-old.  And photographed in impossibly cute scenarios.  This is a real thing my friends.
A couple weeks ago I was visiting some of our people – during the very week our dearest friends were hosting a first birthday party for their youngest.  What great timing!  I love celebrations that are over-the-top (they rented a bounce house for the backyard) and filled with love (at last count, 56 people had arrived get their party on).
My part?  "We'd love for you to bake two smash cakes – one for the professional photo shoot on Friday and one for the party on Saturday."  Because they are friends-that-seem-like-family, I agreed.  "Anything for you."
Here's two smash cakes that were baked in our oldest daughter's kitchen and photographed on her window sill.  I love baking while I travel and find joy in the casual conversation that happens spending time creating.
The first cake was a Triple-Layer Chocolate Cake with Vanilla Buttercream Filling and Ruffles.  The absolutely perfect garnish of red sixlets were a last minute add-on.
I can't say it often enough – lining the bottom of the pan with parchment paper completely eliminates my stress regarding the cake releasing from the pan.  I use it every time and I grumble about this extra step equally so.
It was an 8″ round smash cake – I wanted even layers with equal buttercream between the layers and thin was perfectly ok.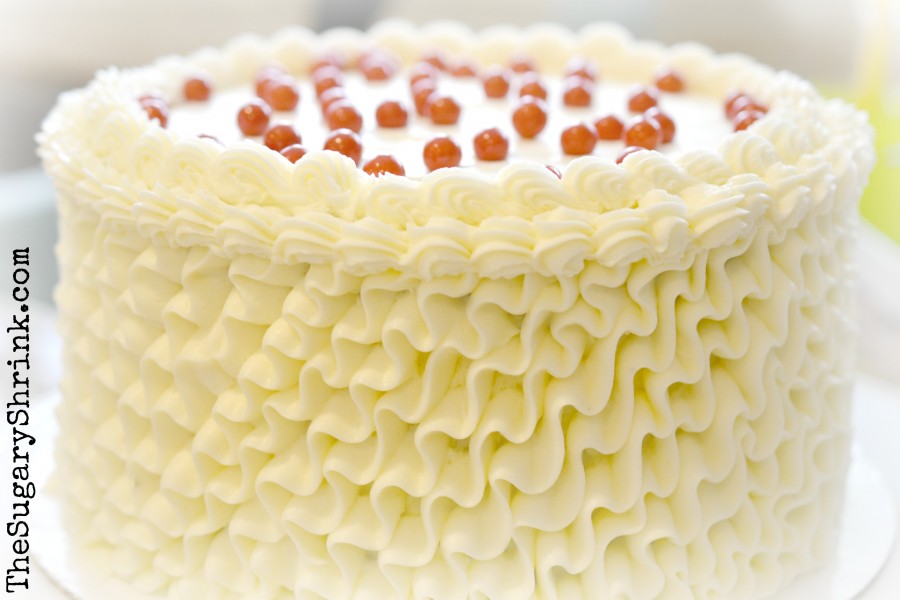 I loved this cake and the Smash Cake Pics were darling.  Who doesn't love a kid with a chocolate cake?
That was cake #1.  Moving on to cake #2.
This cake needed to be smaller in order to fit on the tray of his high chair at the party – and that's perfectly ok by me.
These two layers were fantastically bouncy and moist and looked delicious.  A little bit of buttercream between the layers and I was ready to crumb coat this sweet cake.
And, I was so focused on tinting small portions of buttercream and smoothing it on just right – I didn't take pics.  It was also late in the day, so there's that.
After falling in love with the red sixlet chocolate candies, I returned to the store for matching colors for the second cake.  I've now added this look to  my portfolio of cakes.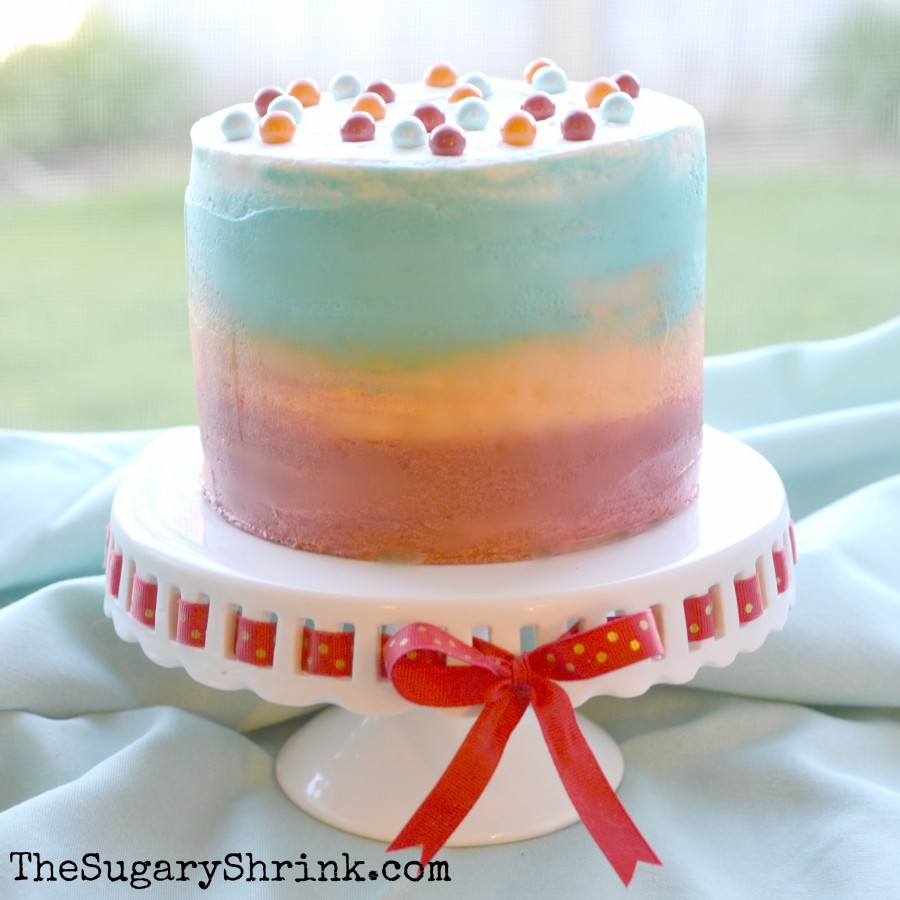 And the party?  It was such a success!  People and love and food and family everywhere.  I'd say it was kinda perfect (except not all of my people were able to attend).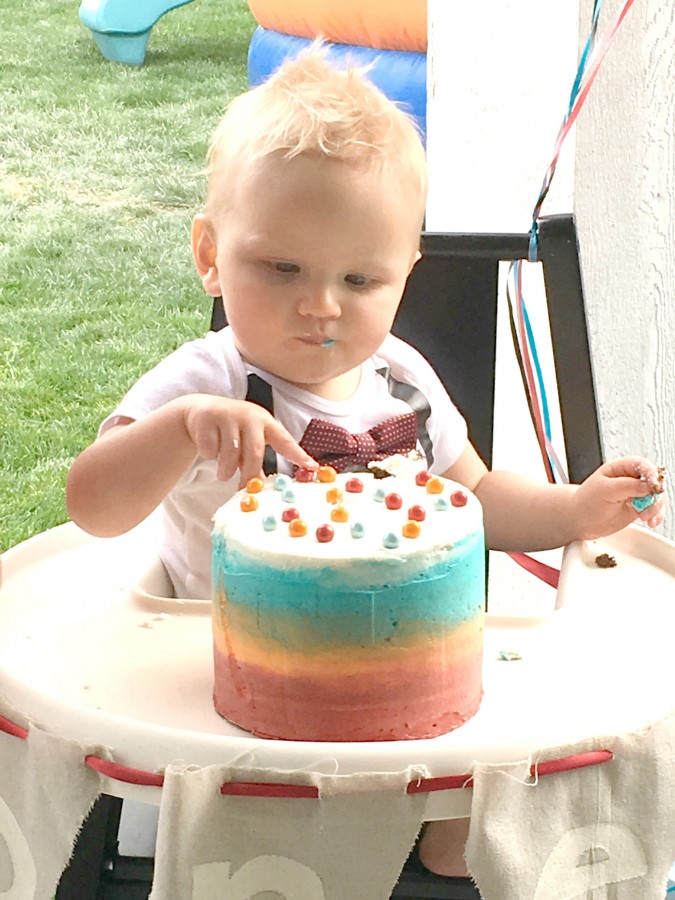 That's two smash cakes, two events, one adorable kid… and chocolate for days.  Let's put this one in the 'win' column.  Family and friends – nothing better.
There isn't anyone better for me than my life partner.
Or our people.
And sobriety.
Our people, without their respective partners, four years apart.