Happy Birthday, John
Triple-layer Dark Chocolate Cake, Peanut Butter Buttercream Filling, Whipped Chocolate Ganache and Peanut Butter Ombre, Lindt Chocolate Drizzle with Whipped Chocolate Buttercream Roses and a flurry of So Many Chocolates!
This is a birthday cake for somebody who's loved like crazy!  We celebrated my life partner husband's birthday last month and it was wonderful.  We met friends out for a dinner and enjoyed a slice of this cake for dessert.
I loved baking this cake.  It is the case that for many years (while the kids were little and life seemed overwhelming) baking was a chore – just one more thing that had to get done with a minimum amount of kitchen mess.  Barely could I gather the wherewithal to bake a cake much less tackle decorating it, but that is not my current reality.  Today, I love baking cakes and cupcakes and developing rich flavors.
Sometimes people ask my why I refer to my husband as my life partner.  It's simple – he's more than the definition of husband.  We are partners and enjoy a wonderful life together.  We're friends (and have other friends), but we've come to trust one another in a really vulnerable way.
After this cake was baked and constructed, I started to work on the drizzle and whipped ganache.  A favorite is Lindt chocolate – they've never let me down and I adore the different chocolate intensities.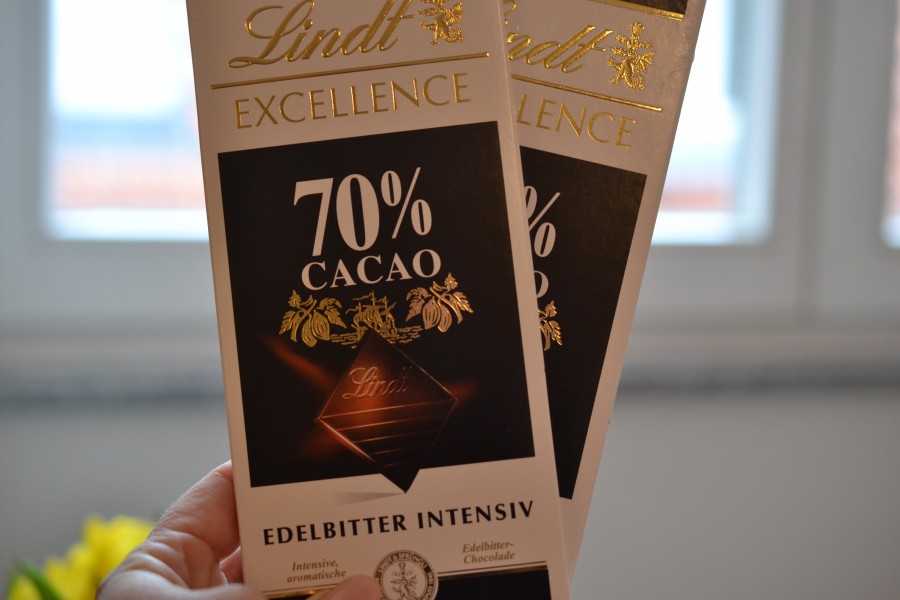 I took some of the ganache and whipped it into chocolate buttercream for the base of the cake and wreath of roses around the top.
Once the drizzle and roses were in place, it was time to decorate with chocolate bars.  While my dude loves chocolate and peanut butter, I didn't have any Reese Peanut Butter cups.  That's ok – John's other favorite candy bar is a KitKat.
In addition to the Lindt BonBons, I carefully selected all the brown peanut M&Ms from a share-with-a-friend bag (I'm a friend!) and placed them on the cake.  I like the look of the different shades of chocolate on this cake.  And, it looks amazing on my Turquoise Homer Laughlin Fiesta Dinnerware – what a terrific complement.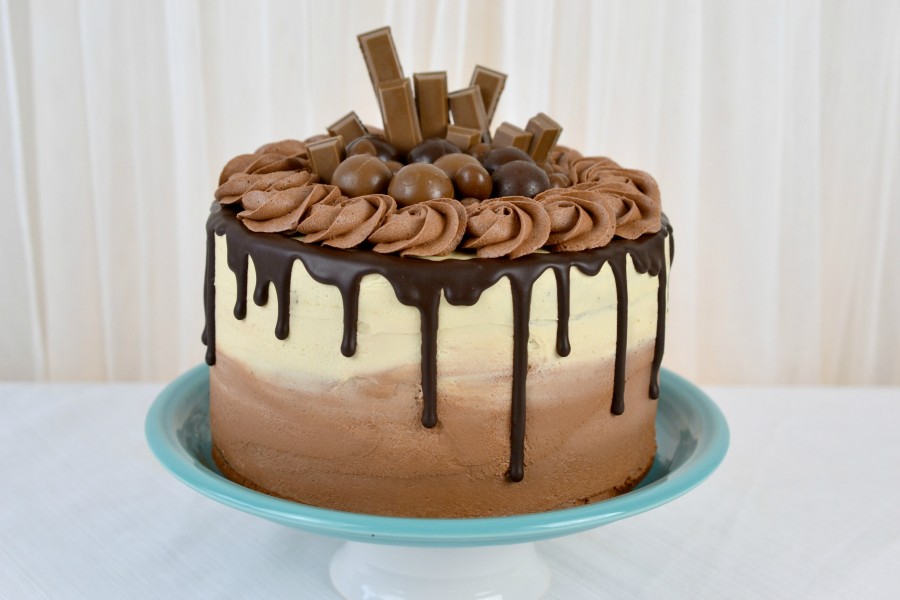 It was great to celebrate another birthday together.  It was equally great to share the evening with wonderful friends.
Mostly, I'm grateful for our life together, our people, and my continued sobriety.