A Peachy Afternoon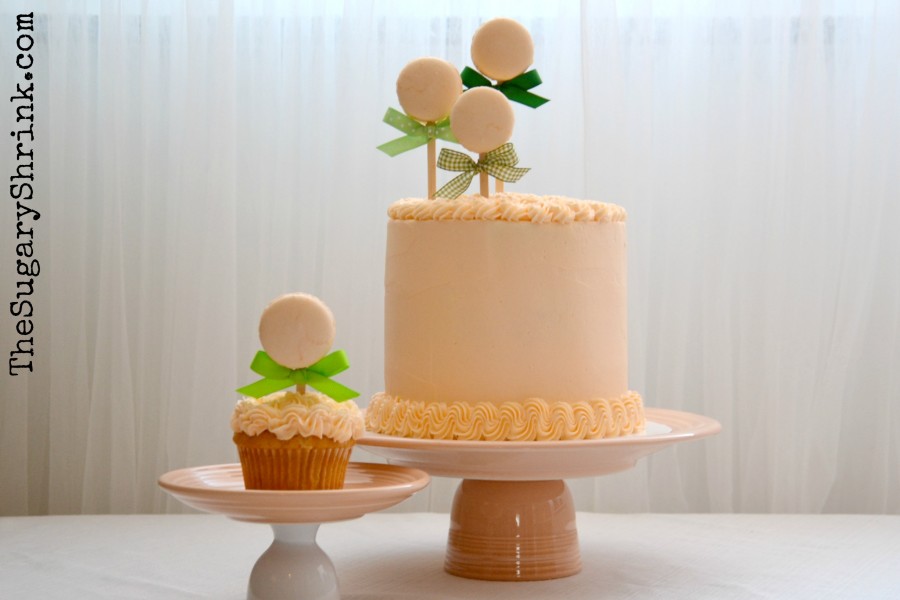 Triple-layer Fresh Peach Cinnamon Cake, Peach Curd & Peach Buttercream Filling, tinted Vanilla Buttercream Frosting, and a garnish of Peach Macarons
Nothing says summer like all the peachy things!  Fresh Peaches made their first appearance in the market this week and I just had to work with them – their flavor reminds me so much of my summers at my grandparents farm in Eastern Missouri.
I modified my Lemon Cake to bake this Peach Cinnamon Cake – and it was delicious!  Using a very light hand on the cinnamon allows it to act as a flavor enhancer to the Peach that is definitely becomes the star of this cake.  And did I mention it's super moist and has a wonderful texture?
The day before baking the cake, I made the macarons.  Its a good thing I really love practicing!  And I still need more practice to get them dialed in just right.  In the meantime, they taste really yummy.
Here's how the cake went together.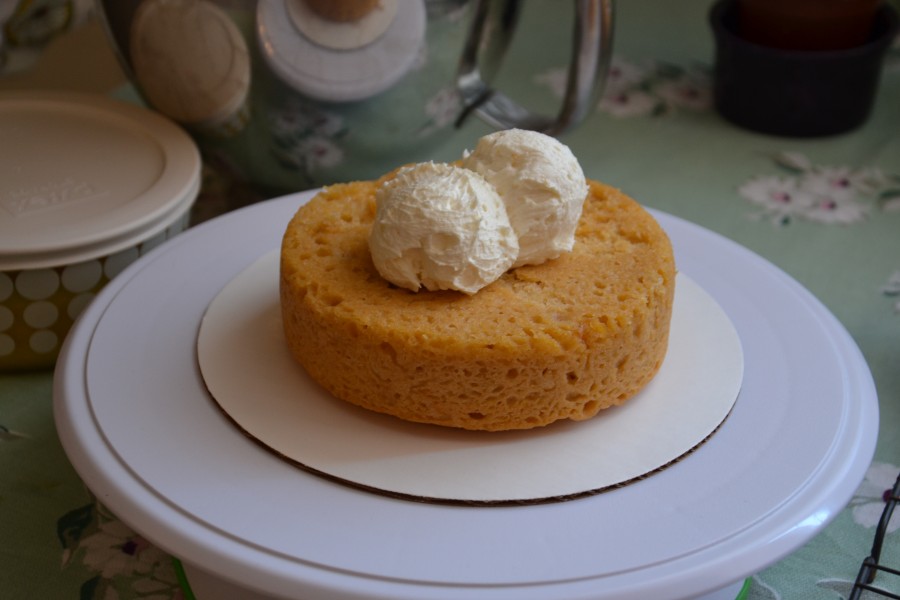 After a thin layer of Vanilla Buttercream, I added a layer of Fresh Peach Curd.  This has so much flavor and really turns up the volume on the peachiness of this cake.  Take the time if you can, and if not… maybe next chance you get.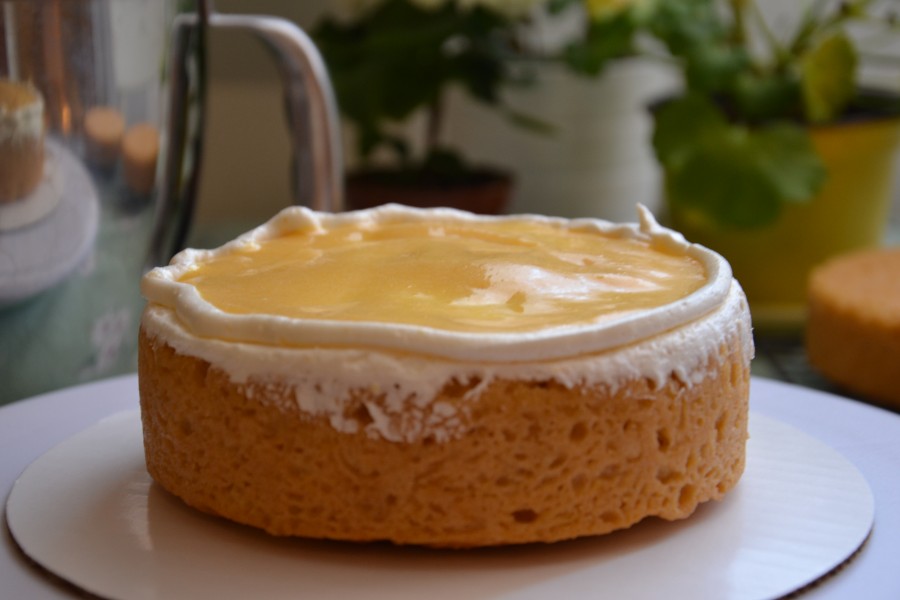 I added a small wall of buttercream to prevent all the delicious curd from spilling out.
While the cake was sitting in the cake fridge, I put together a few cake toppers.  I had made the macarons the day before so they were nice and set.  I used coffee stir sticks and ribbon to build the flower.  Hot tip: If pressed for time, buy the macarons from your local bakery.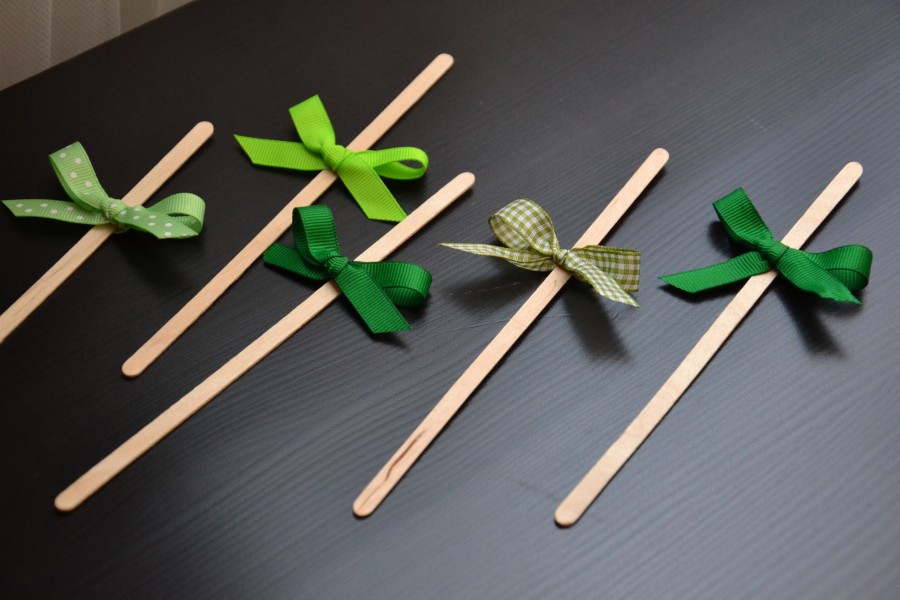 So, with the Peach Flowers set and resting in the fridge, I turned my attention back to the cake.  I wanted the design to be simple but not plain.  Hot tip: I prefer the top of the cake to not be smooth when I'm using a cake topper attached to a stick.  If I don't place it perfectly the first time, a cake top with piped buttercream is very forgiving if I need to try again.
I had a wonderful bouquet of flowers that I couldn't wait to stage with the cake, but they were competing with each other for attention!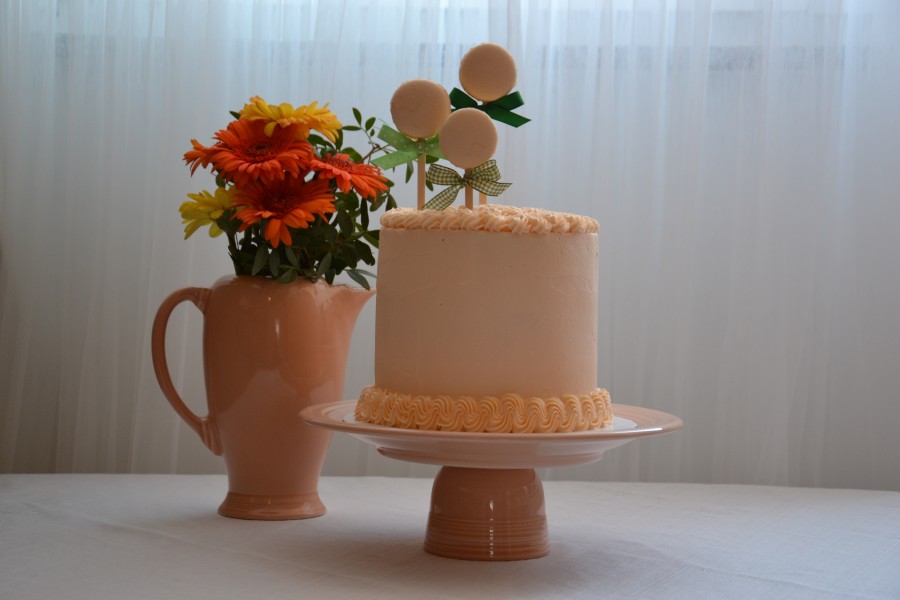 For a cake stand, I built the 6″ round cake on an 8″ board and placed it on a 10.5″ Apricot Fiesta dinner plate sitting on an upturned Apricot Fiesta tea cup.
Because I had planned on a smaller cake, I baked a few cupcakes to match.  These little bits of love were very fun to bake; we gave them away to friends and they seemed to like'm too!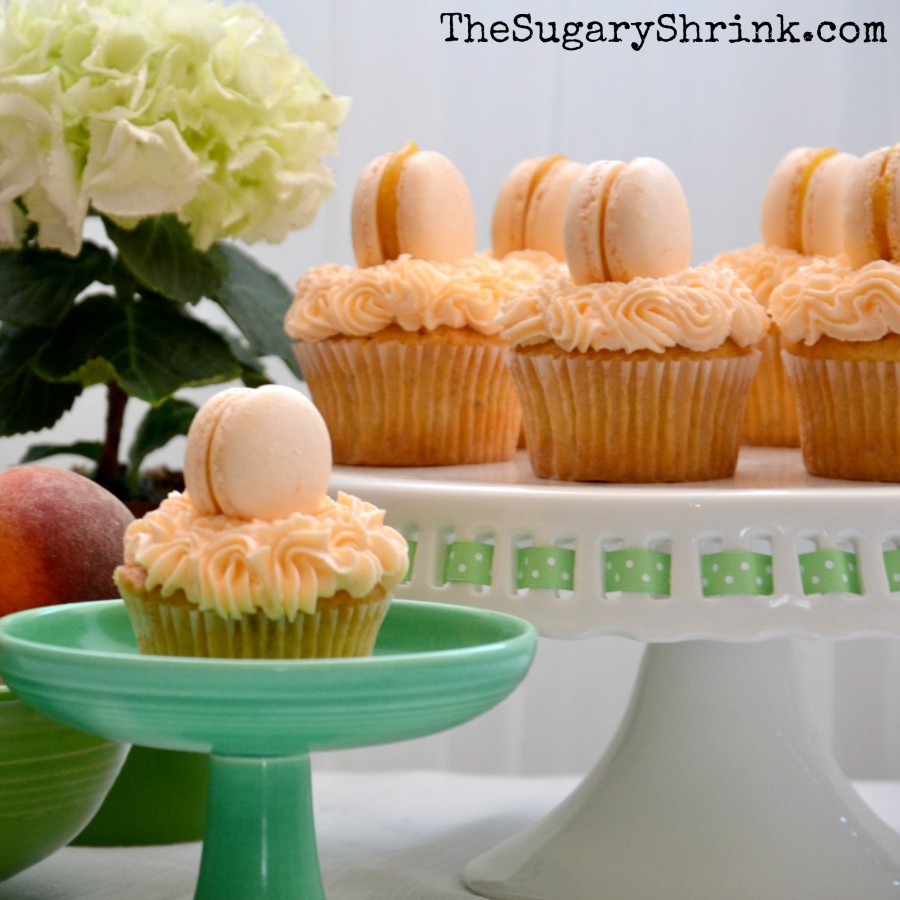 I was looking forward to slicing this cake and hoping it would be as good as I had imagined.  And it was! The strong sponge is sturdy and light – I'll try this one when I need to carve a cake.
This was a good cake and I loved baking it.
My life is good and I love my life partner.
Sobriety is always good.