Baking on the Road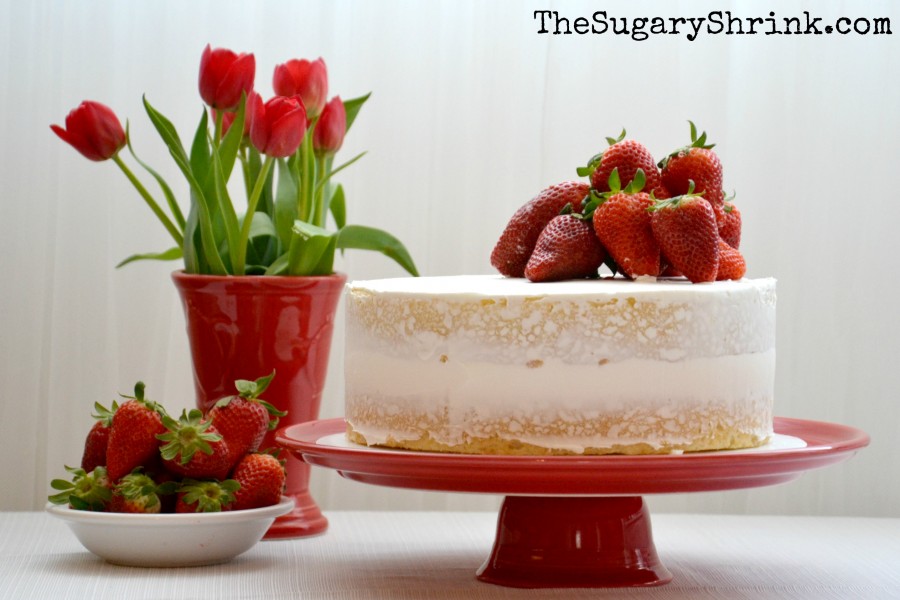 White Cake, Fresh Strawberry Curd, Vanilla Buttercream, and a garnish of Fresh Strawberries
During the entire month of April, I was traveling.  Literally, I was back and forth between the U.S. and Germany a several times.  But, that didn't stop me from baking!
Let's start with this White Layer Cake…
While I was back in Germany for a few days, I baked this cake for a wonderful friend – his wife had planned a spectacular surprise birthday party for him.  Though I would have to miss it, I was still able to bake this cake a few days ahead, freeze it, and leave it with strict instructions on how to decorate the cake with fresh berries.  Rumor was…DELICIOUS!
I snapped these photographs during the construction and right after crumb coat and before the finished layer of buttercream.  It's a double-layer, 9″ White Layer Cake.
No slice pic for this cake!
I made a similar cake for my BFF's daughter who celebrated her birthday in April.  We had such a wonderful party and good times catching up!
She asked for "something with fruit" so I baked another White Layer Cake and introduced all the berries!  There was much love – she let me take a slice pic right in the middle of the party and the singing and the ice cream.
Naturally, when I'm in Utah visiting our people, we bake together.  On this trip, one of the cakes we baked was a Chocolate Layer Cake with a Cheese Cake middle layer.  We frosted it with a Cream Cheese Buttercream and covered the top in a lattice work of Ghiradella chocolate.
We shared this cake with friends and every single bite was eaten.  I think I overheard, "Cheesecake is for breakfast, right?"
I love when I get to share baking with family and friends who are family.  I miss them when we're away from each other … which makes our time together all the more precious.
I am loved.  I am sober.  I get to share all of these good things with my life partner.