Chocolate Cake & Chocolate Chip Cookies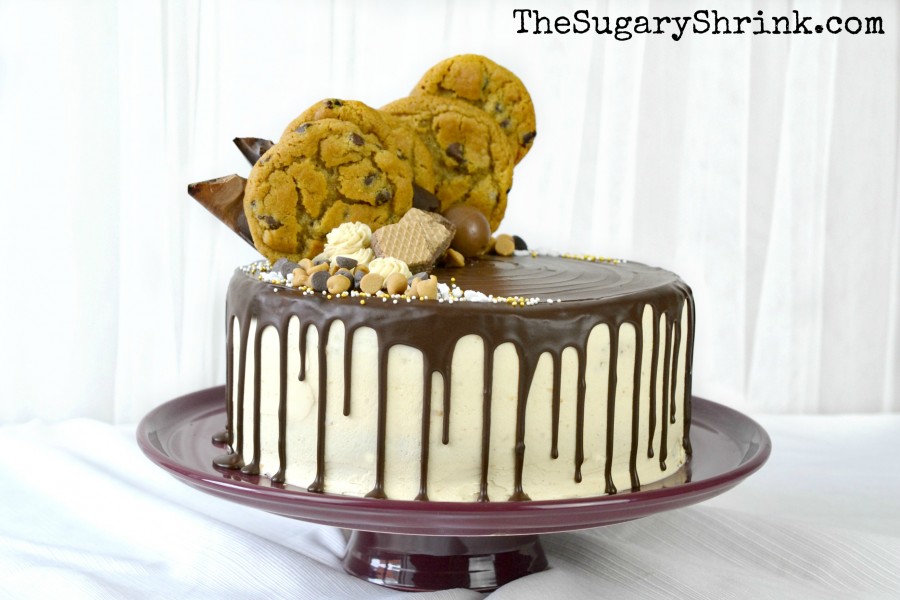 Double-Layer Chocolate Cake, Peanut Butter Buttercream Filling and Frosting, Chocolate Ganache, and a garnish of Chocolate Chip Cookies, Lindt BonBons, Rock Sugar, and Sprinkles
Sometimes, I just have to bake a Chocolate Cake and that's all there is to it.  Returning from holiday, we had barely walked in the door and I was mixing a cake and getting it into the oven.  It was late, but I was already looking forward to decorating it the next morning.
Here's the thing… I didn't know what it would look like!  I knew I definitely wanted to use my new Homer Laughlin Fiesta Dinnerware 12″ Tray in Claret; I've been curious how it would respond to light buttercream and dark ganache.  It looks fantastic with both!  This new color is incredibly rich and I love the look of this cake on Claret.  I see more cakes on this tray in my future.
How did this cake come together?  I started a bit out of the ordinary by baking two 9″ rounds instead of three 8″ layers.
Having decided on a peanut butter filling, I promptly discovered I had no peanut butter in my pantry.  I did however have peanut butter baking chips.  "These'll work, right?"
Hot tip:  When melting chips to add to buttercream, melt the chips with the cream to be used in the frosting.  This will prevent the melted chocolate, butterscotch, or peanut butter chips from separating from the butter and sugar and remain in the mix and not on the bowl.
Since there were only two layers, I could build a taller-than-usual filling.  So I did.
I love how the 9″ cake is an ideal size for the 12″ tray.
I wasn't sure about leaving the crumb coat to be covered with the ganache or add a finishing layer of frosting, but I was happy with the look so stopped there.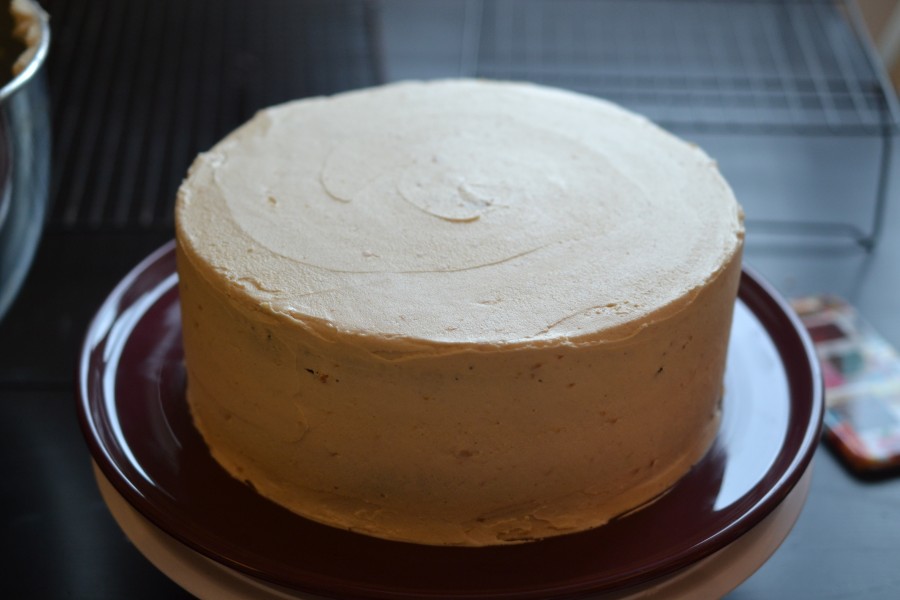 The usual ratio of cream to chocolate 100ml to 200gr.
As I sat looking at this cake begging for a design… I was struck with the idea for chocolate chip cookies.   Time to bake cookies and put the cake into the refrigerator.  I made several different sizes since I wasn't sure exactly what I would need.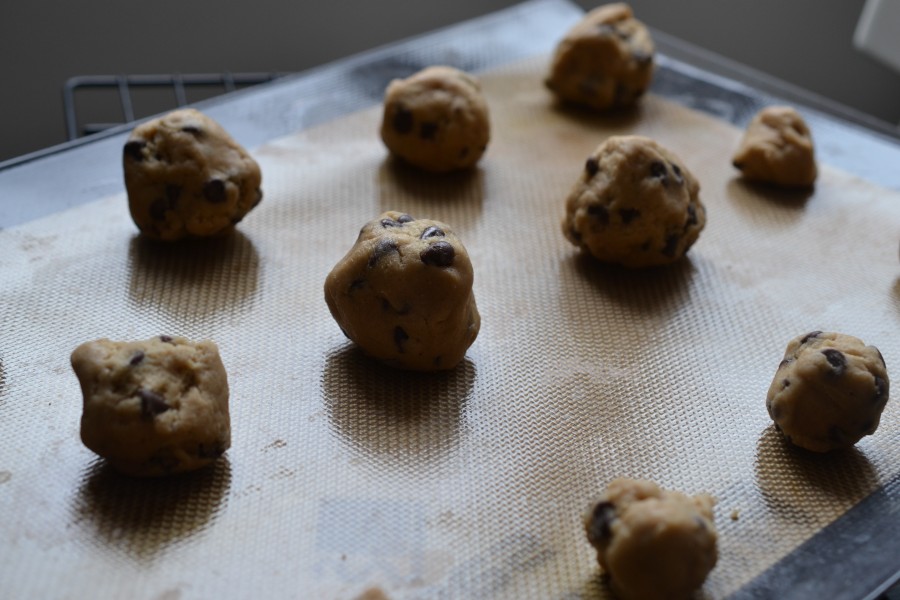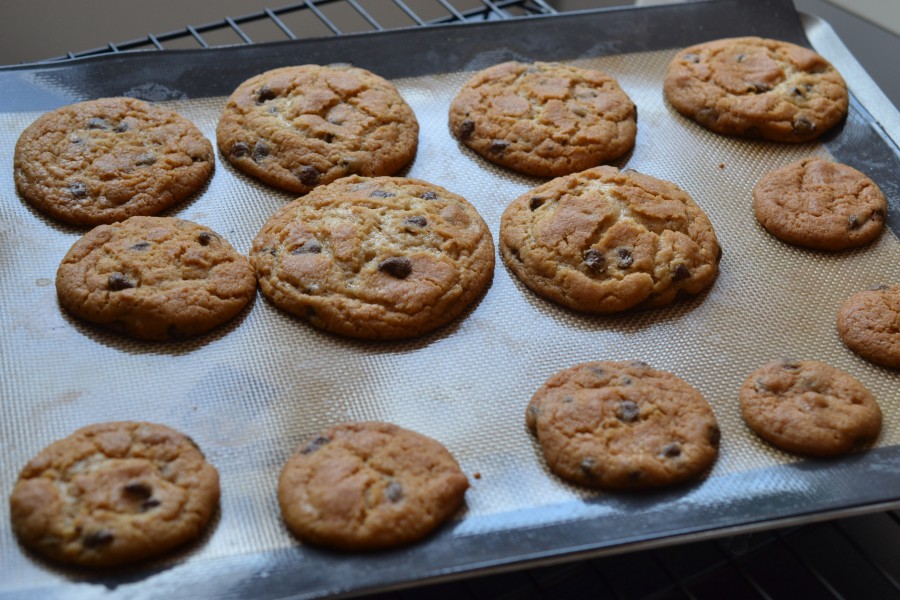 After the cookies, I kept adding flavor bits and textures until I went one thing too far and edited.  In this case, the M&Ms were removed.
There are wafer cookies and Lindt BonBons.  Along with the chocolate and peanut butter morsels, there is rock sugar and sprinkles; and for good measure, I rough-chopped a chocolate bar for shards.  Tying it all together are small swirls of Peanut Butter Buttercream.  This was a fun to design.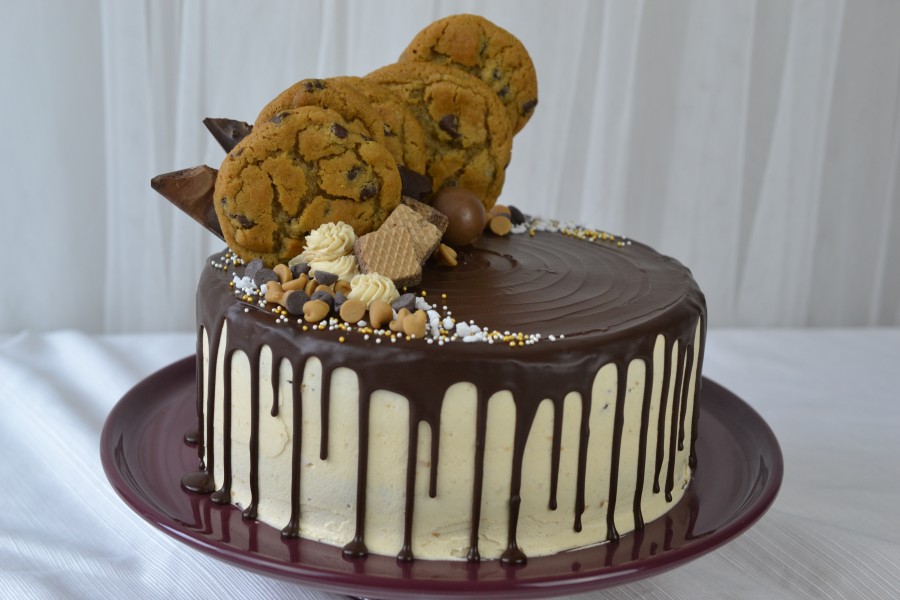 What's the value of a cake if it isn't sliced?
I seriously love those even layers.
It's a great joy to travel with my life partner and return home safely with him.
I miss my people when they're away living terrific lives.
None of it's possible without sobriety.