Chocolate Chip Cookie Sundae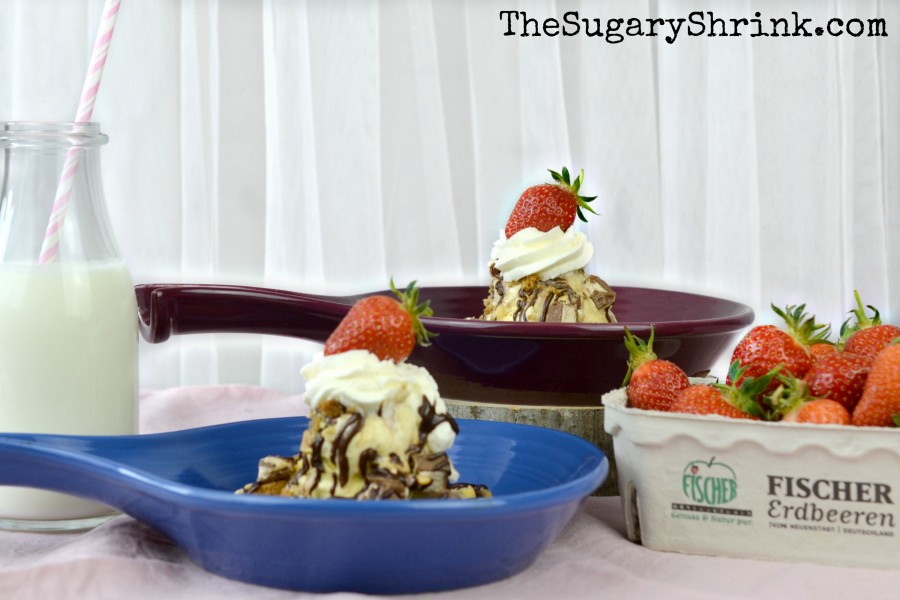 Chocolate Chip Cookie Sundae
This dessert!  Where has this been my whole life?!  Seriously, this one is going to be in the permanent rotation because it's that easy to make and crazy delicious.
Looking at my new Homer Laughlin Fiesta Dinnerware Skillet Bakers, I said "It needs a giant cookie."  And that's where it started.
The day before making this masterpiece, I had baked a few chocolate chip cookies for a cake, look for it here.  The good news, not all of the cookie dough had been baked and it was sitting in the fridge.
Into the test kitchen we go.  Since I wasn't using a Silpat or parchment paper, I used non-stick spray in the bottom of the skillet.  It was dreamy.
Not knowing how to size the cookie to fill the baker, I started with 80 gr of cookie dough.  Use that as a benchmark for how much dough you want to bake with per skillet.
Usually, I shape cookie dough into a ball, but wanted to give these larger cookies a head start.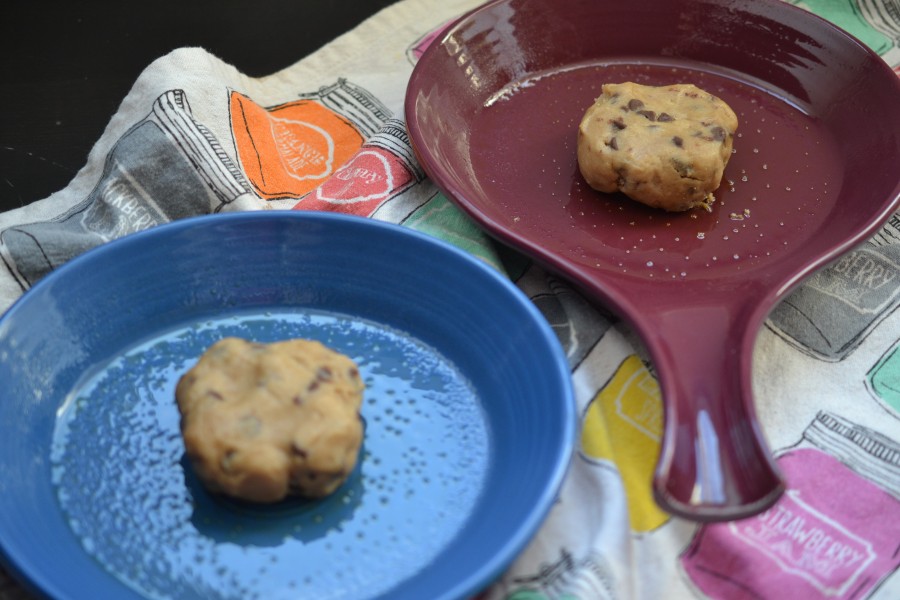 It worked!  I love these results.  Next time, I'll seriously consider adding a bit more dough.
Waiting just a few minutes into the cooling process, I gently lifted each cookie up with a small plastic spatula.  This prevented the cookie from sticking to the baker and avoided problems later while enjoying dessert.
These cooled down and I was ready to go.  Since I was working with ice cream for the photos, I needed to set the look up first before finishing the sundae – which was exactly like working backwards.  "What do I do now?"
Prepare the toppings.
Once I made it to this point, I softened up the chocolate ganache drizzle and whipped up the heavy cream.  All set.
I think this is a favorite dessert because of the flexibility.
Cookie dough – just about any cookie; home made, from a store-bought tub, or slice & bake.  It all works.
Ice cream – choose whatever flavor makes you happy
Drizzle – chocolate, white chocolate, caramel, butterscotch, fruit spread, etc.
Toppings: unlimited; stick with nuts, candies, cookies, pretzels, breakfast cereal, etc.
Whipped Cream: home made, from a tub, sprayed from a can, or omitted.
Tip Top:  Sundaes traditionally have a cherry, however, it's baker's choice as far as I'm concerned.
Use what you have in your pantry.  Bake at your comfort level.
As I was thinking about "any ice cream will do" – I thought of sherbet.  Yep, it works on a sugar cookie with a strawberry drizzle and Fruit Loops on top.
"Or what about frozen yogurt?"  Don't let me stop you from that goodness!
Bottom line… what do you have in your kitchen and are there any food restrictions or allergies to consider?  This dessert is a winner all day long.  I can't wait to see how creative we all can be.
I'm incredibly grateful for my life partner husband, our people, and continuous sobriety.  And I'm grateful for this new basic.