Crumbles, Crisps, and Cobblers: Part Two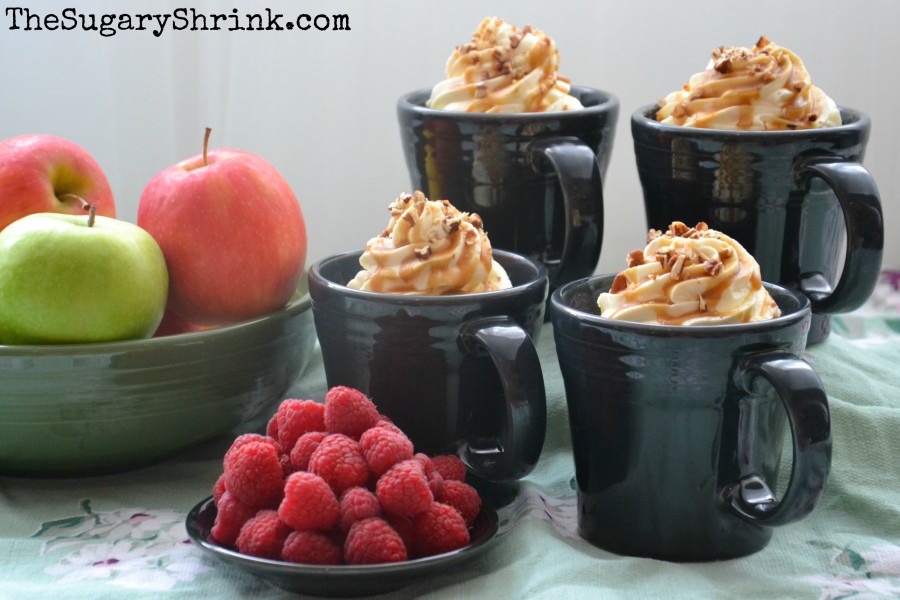 Gluten-free Apple Raspberry Crisp with Heavy Whipped Cream, Caramel Sauce, and Toasted Pecans
The next step in this fantastic exploratory journey is the Crisp.  I grew up enjoying my grandmother's Apple Crisp and from time to time I would make this for our own family.  But, it never became a big star – out of sight, out of mind.
So now it's wonderful to revisit this old friend.
After the success of the Apricot Blueberry Crumble, I wanted to continue combining some of my very favorite fruits in order to turn up the volume on the flavor.  Apples and raspberries are a wonderful complement – the sweetness of the berries combined with the tartness of the apples is divine.
This is how this dessert came together.
Four servings in 15oz mugs… peel and chop four apples (I used 1 Granny Smith, 1 McIntosh, and 2 Pink Ladies) and a generous cup of fresh raspberries.  Yes, you can use frozen raspberries, just let them thaw enough to separate before mixing.
Add the dry ingredients. Using Almond Flour in place of All-Purpose Flour makes this recipe gluten-free.  And why not if it means I can share my baked desserts with more friends?  Almond flour, sugar, cinnamon, and a little bit of salt is mixed in.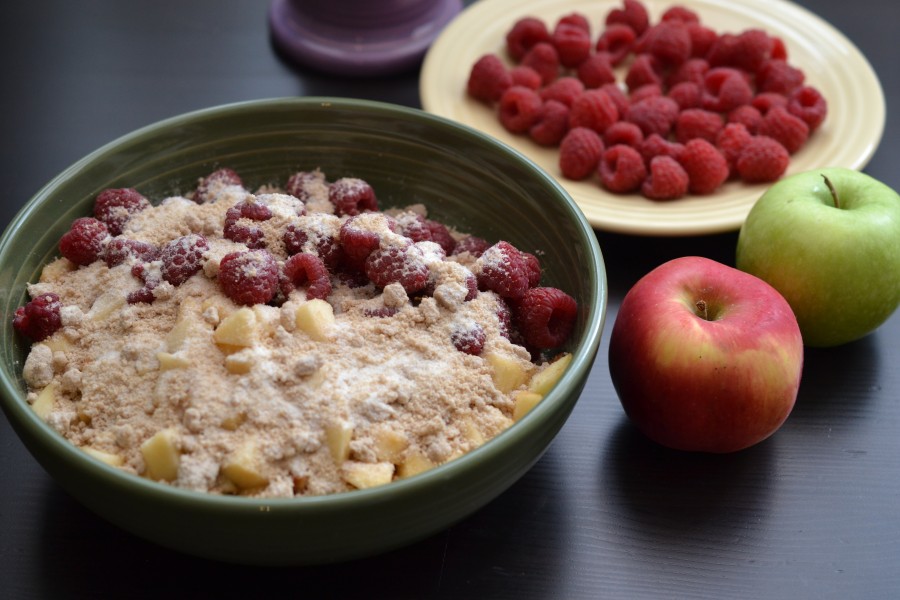 Stir, then set aside.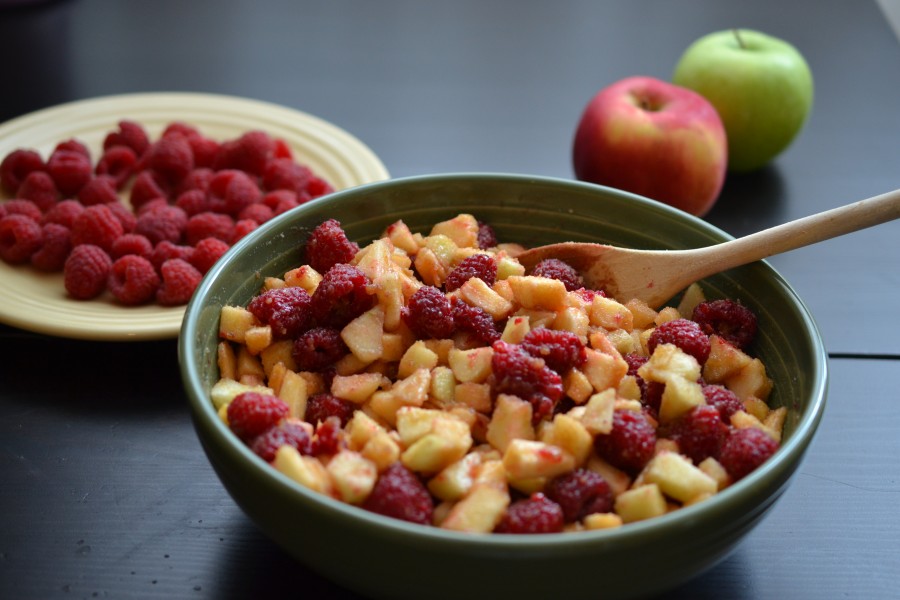 The crisp topping is equally the hero in this dessert.  As I've been working in the test kitchen, it's all about ratio when it comes to the crumble, crisp, and cobbler.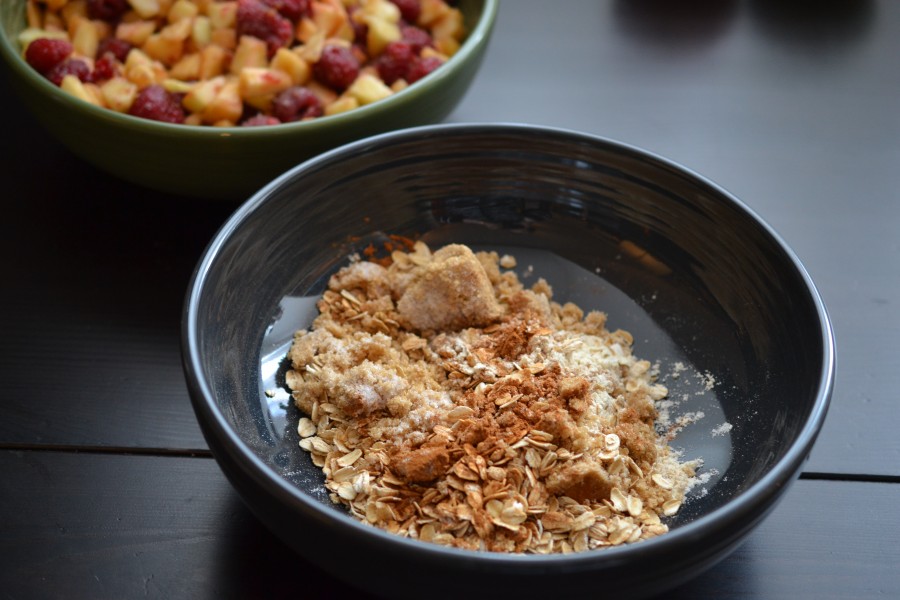 Again, I used almond flour along with brown sugar, white sugar, cinnamon, a pinch of nutmeg, and oats.  If possible, treat yourself to the goodness of oatmeal; the heartiness is remarkably different from the quick oats.  And, toast the pecans before chopping and adding to the topping.  No time?  Promise yourself you'll toast the pecans next time.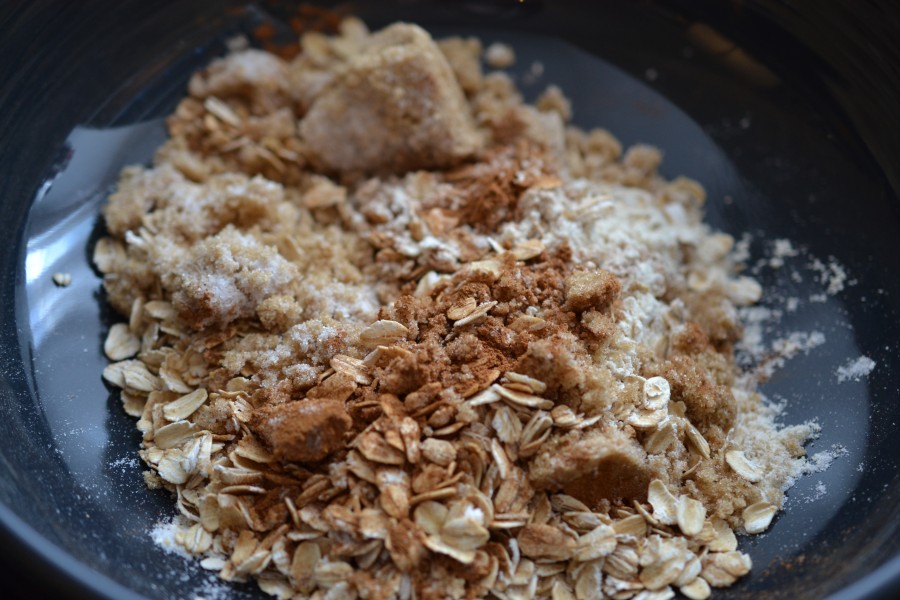 Keep the butter chilled until this next step.  Slice 6oz of salted butter (not margarine) into small cubes.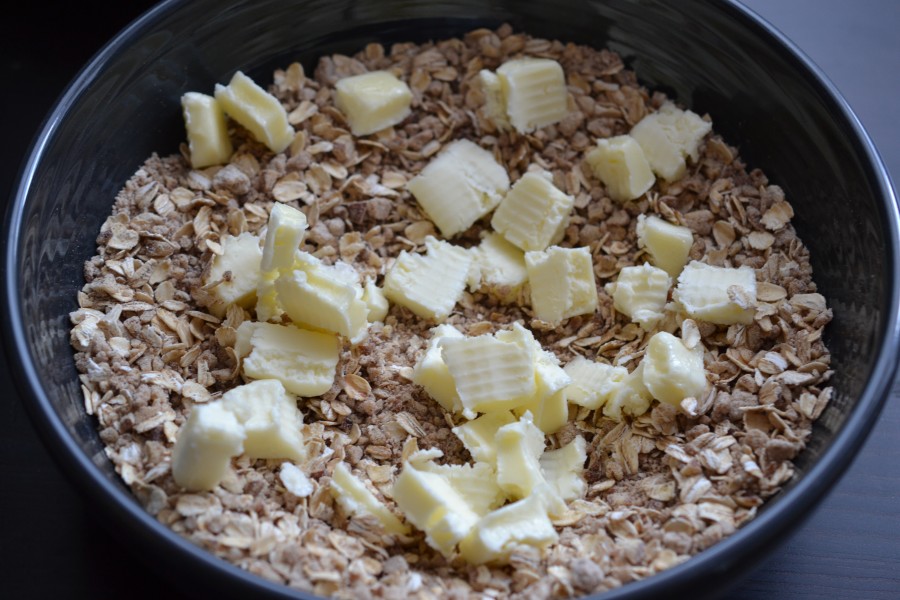 I don't have a pastry blender, so I used a fork to cut the butter into the oats and flour.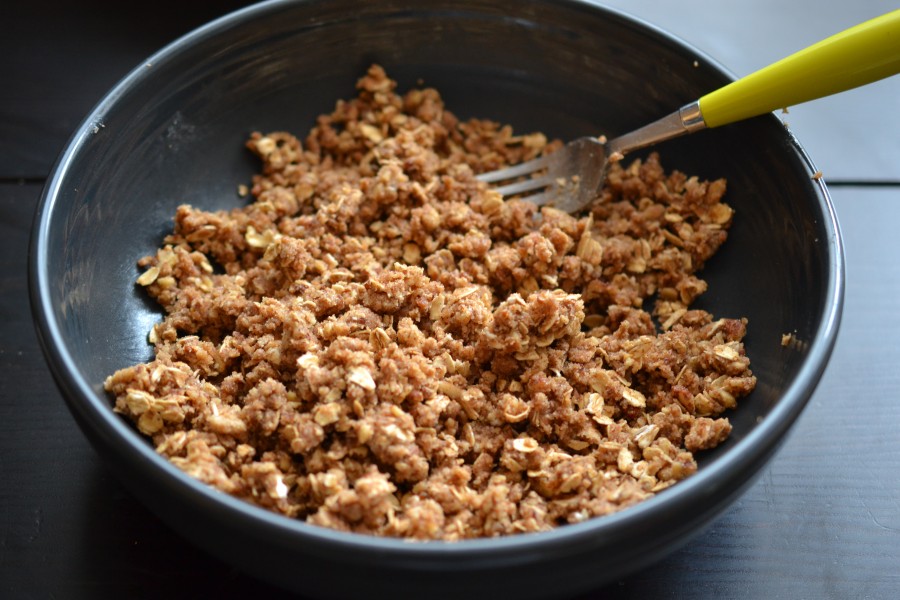 This is so luscious.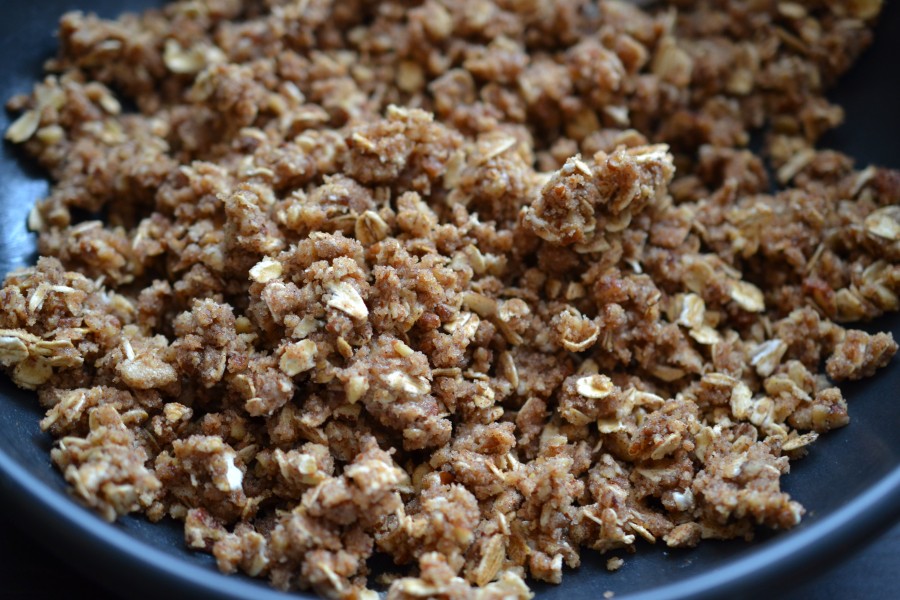 Evenly divide the fruit into the mugs, I baked these delights in the new Fiesta Ware Tapered Mug.  It is 15oz of wonderfulness and ideal for crisps of all kind.
Finish with the topping mix and slide the tray of mugs into a pre-heated 350F/170C oven.
Let them bake until the top is brown and the fruit is bubbling up around the sides…35-45 minutes.  As the fruit bakes, it will reduce.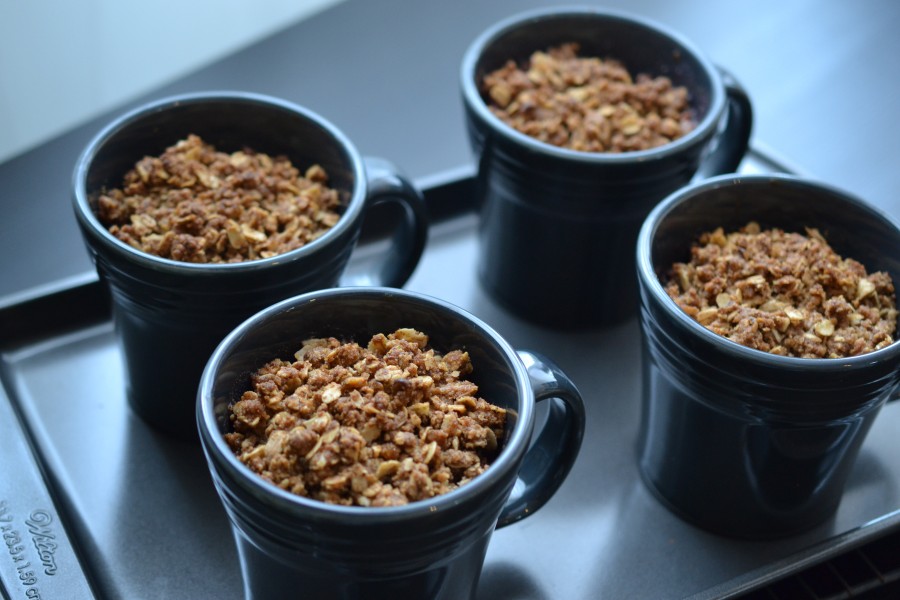 Because this is apples…I added Caramel Sauce I threw together (learning curve… when the recipe calls for heavy whipping cream, don't substitute it with whole milk).
"Anything worth doing is worth overdoing."  It's one of my favorite guide posts.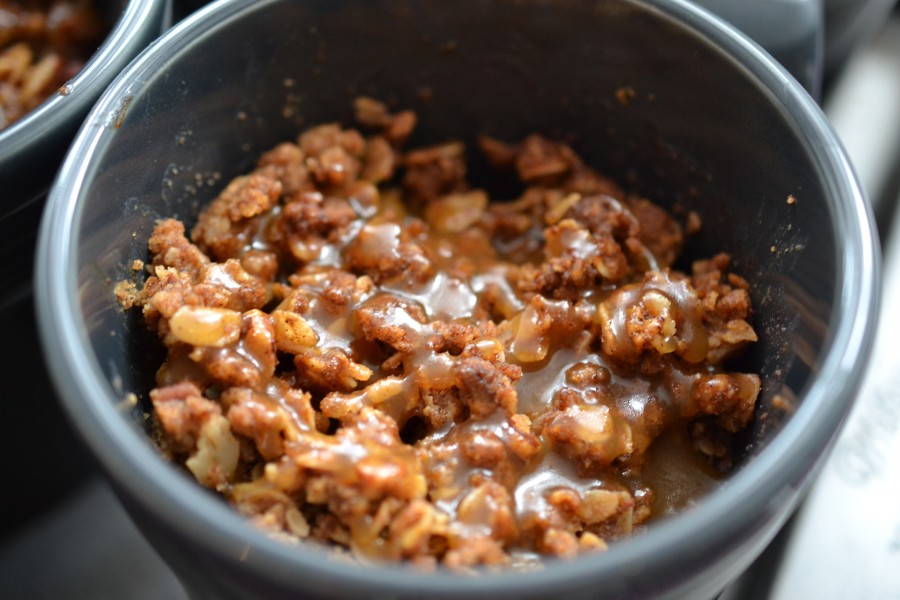 Of course ice cream is an ideal candidate to finish off this summertime treat.  I opted to make some whipped cream, top with additional caramel sauce, and a few chopped toasted pecans I held back from the oat mixture.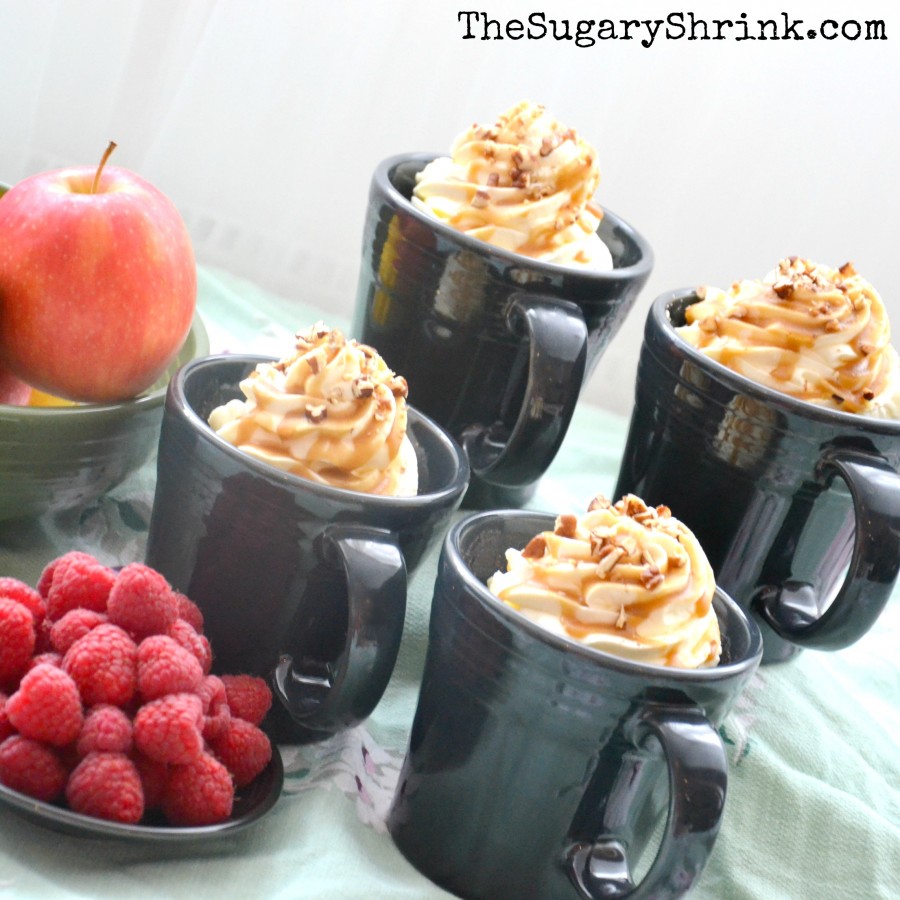 Originally, I was thinking of including this in a dessert table but I wasn't very happy with the colors.  I scrapped the idea; here's a quick look.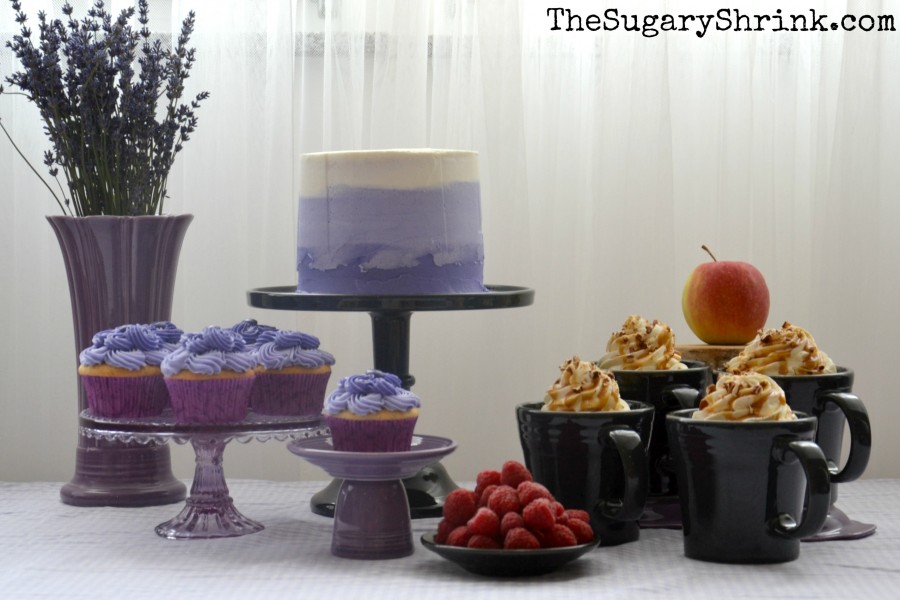 The colors work together, but there were too many things fighting for attention.  I'll keep trying.
And what was the result of the Gluten-free Apple Raspberry Crisp with Heavy Whipped Cream, Caramel Sauce, and Toasted Pecans?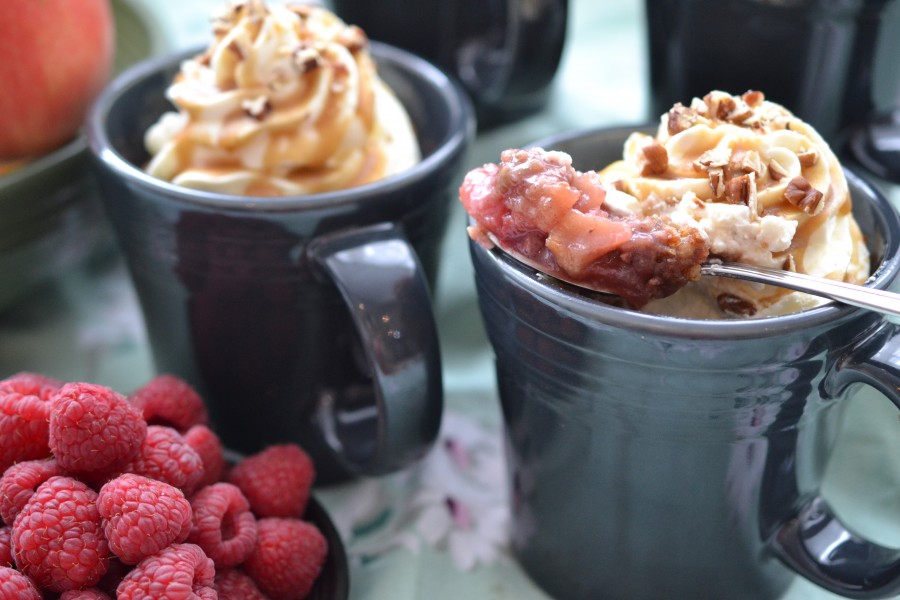 It was yummy.  Really, really yummy.
My life partner loves it when I'm busy in the test kitchen…he does all the tasting and offers feedback.  We're a great team.
It makes me all the more grateful for our people and sobriety.