Strawberry Cake with Blueberries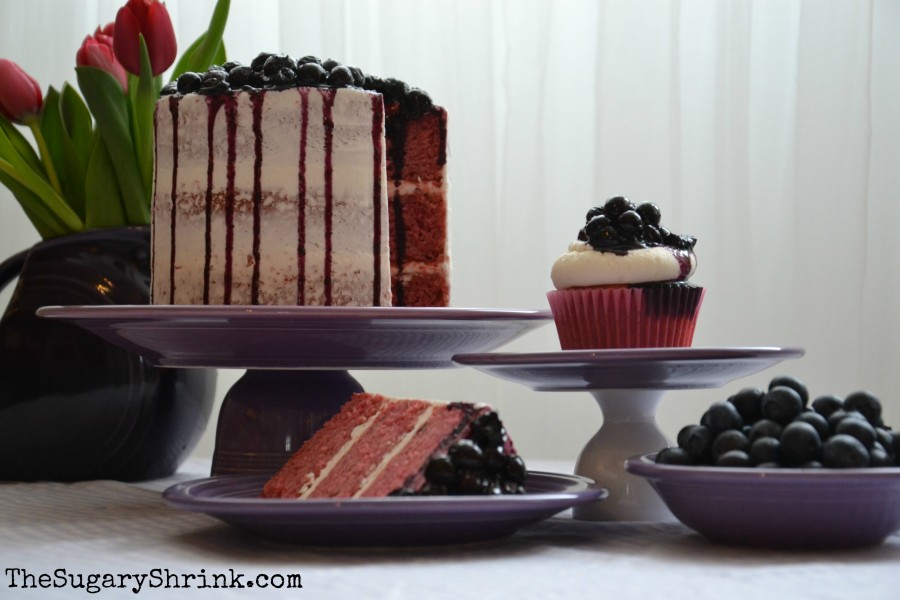 Triple-layer Strawberry Cake, Vanilla Buttercream Filling and Crumb Coat, with a Fresh Blueberry Compote
Strawberry Cupcakes, Vanilla Buttercream, and garnished with a Fresh Blueberry Compote
I baked this cake a little bit ago and I can still remember how delightfully fresh it tasted.  The Strawberry Layer Cake is one of my favorite recipes that uses fresh strawberry puree.  Don't have fresh available? It's okay to use frozen berries; let them thaw before attempting to puree them in the blender/food processor.
Often times, it is the case I don't know how to make a portion of the cake design, such as compotes or curds, etc.  But, I must get brave and step into my Test Kitchen.  Deep down, I'm afraid of making mistakes and I know one of the best methods of learning is through trial/error.
The good news… once I'm in the middle of it, the fear leaves me and it's game on!
Since this cake was baked in 6″ rounds, there was some batter remaining for a few cupcakes.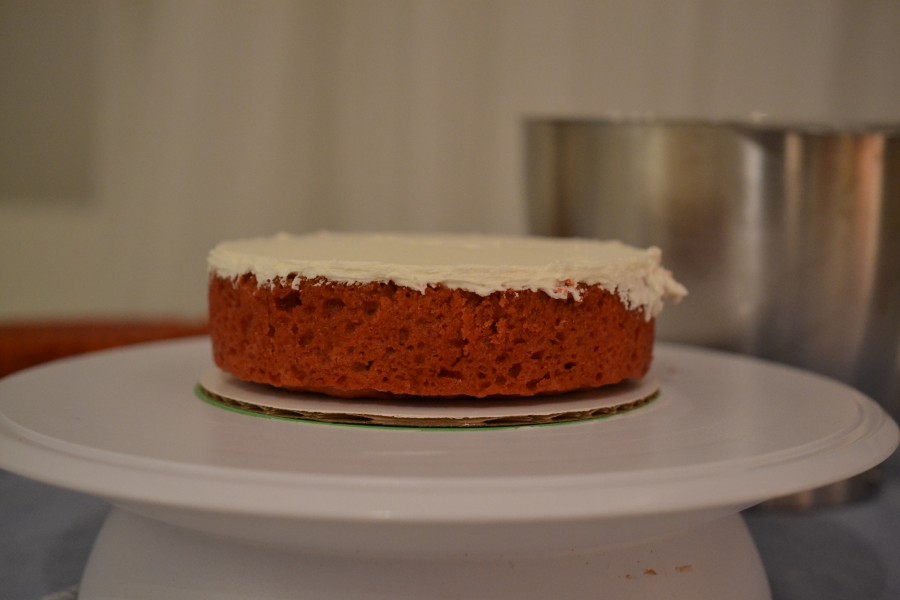 Vanilla Buttercream was a natural choice… Strawberries and Cream is a classic.
I love getting a cake into the cake fridge just before bed…it sets up over night and is a ready canvas the next morning.
Essentially, a compote is the fresh fruit, sugar, and an acid (typically fresh lemon juice).  I added just a pinch of cornstarch to thicken up the sauce.
Usually I build a cake on a flat cake plate or cake stand, but I just love this Fiesta Dinnerware Chop Plate in retired Lilac.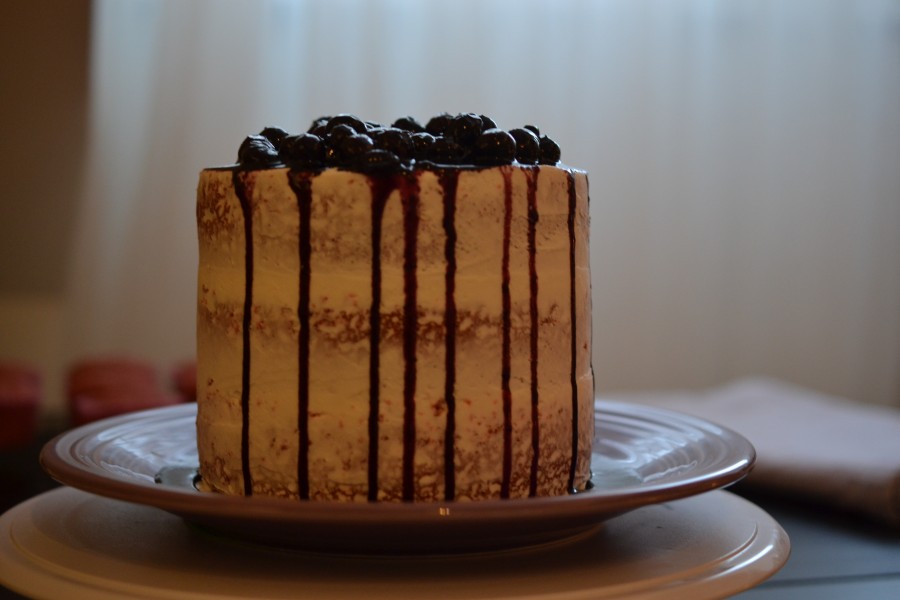 These cupcakes would look great at an upscale event or something less formal.
As an alternative, I could have added chopped strawberries in with the blueberry for a combined berry compote.  I think that would be delicious.
Choosing a rustic, very thin crumb coat instead of a fuller covering of buttercream was a deliberate choice – I thought it would highlight the berries and allow the compote to carry the sweetness.  It was well balanced with a real boost of flavor.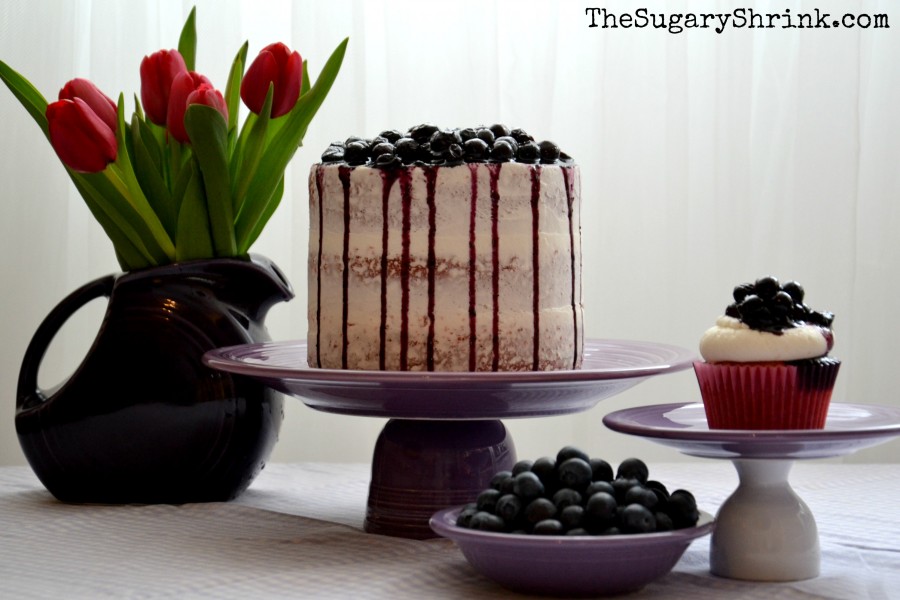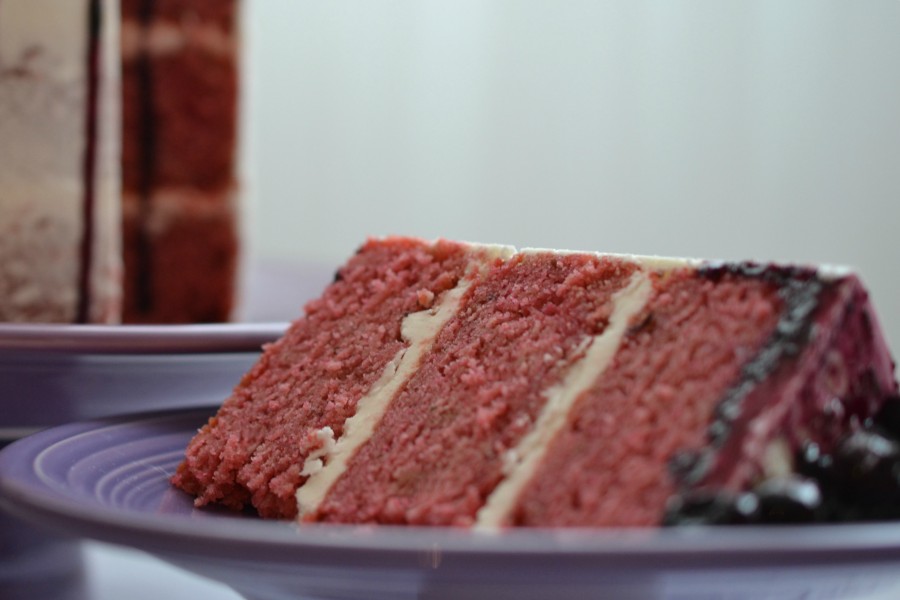 This was a charming cake and I'll need to bake a larger one next time.
I'm grateful that sobriety helps me be brave.
I'm grateful for my life partner who encourages me to be brave.
I'm grateful for our people who see me being brave.