Lemon Bundt Squared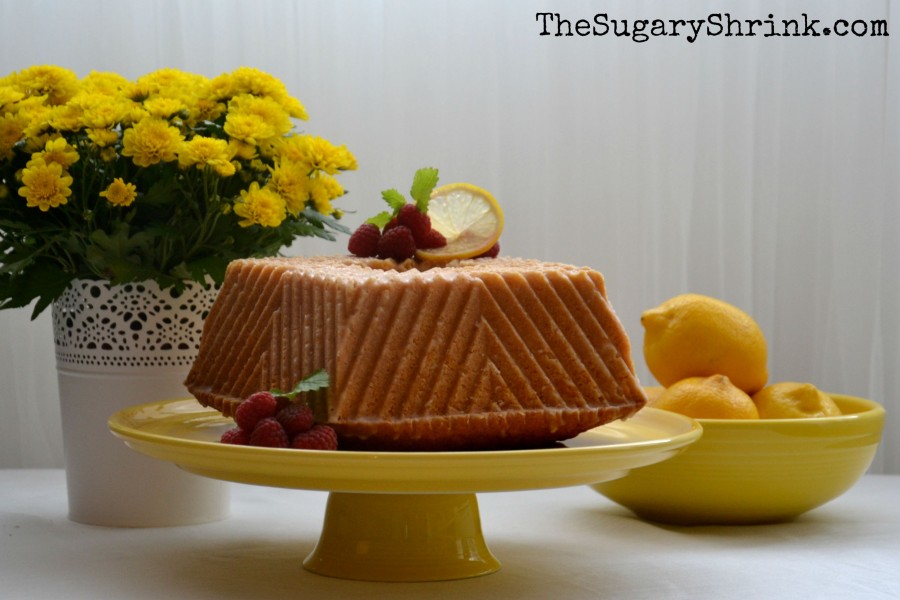 Lemon Bundt Cake with Lemon Glaze and Fresh Raspberry Garnish
How fun is it to stretch and try new things?!  This absolutely gorgeous Square Bundt Pan from Nordicware USA was a dream to work with.  I was able to make this Lemon Cake first time around…and it was as delicious as it looks.
Typically, I bake a triple-layer round cake with a variety of different fillings and flavor profiles.  I love practicing with this model of cake…it's definitely my comfort zone.
However, when I got my hands on this Bundt Squared with this chevron design, I just had to make a go of it.  Since this was my first attempt using this square, I followed the Lemon Cake recipe that was included with the pan.
I began with a bowl filled with beautiful lemons – so perfect for baking.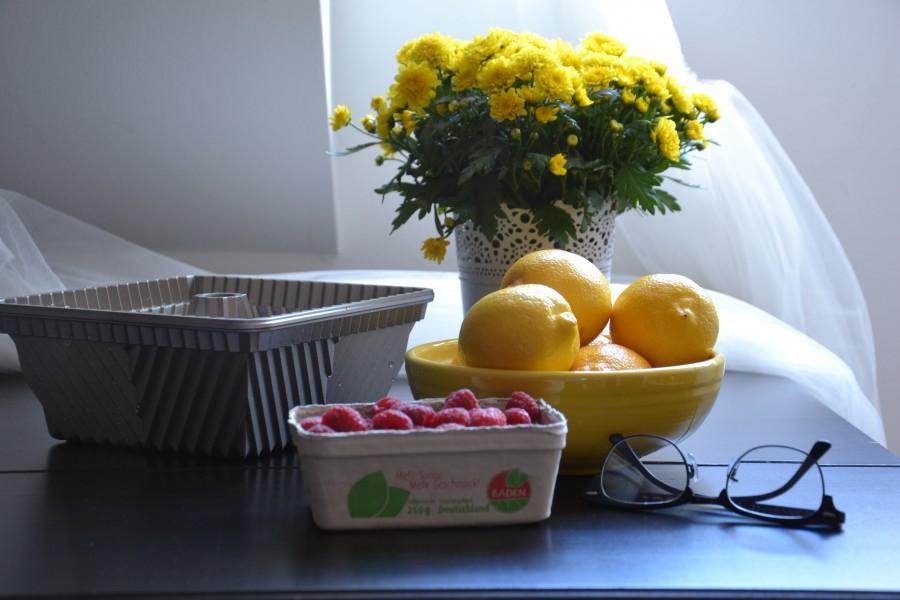 The ingredients list is quite basic… butter, flour, salt, sugar, eggs, lemons, etc.
I routinely use my Homer Laughlin Fiesta Dinnerware when baking; whether it's combining the dry ingredients or preparing another portion of the recipe, my Fiesta doesn't fail me.
The instructions for using this pan were very clear – use vegetable shortening and dust with flour or use a non-stick cooking spray with flour.  Oops.  I didn't have vegetable shortening or cooking spray with flour.  So I used regular cooking spray and dusted with flour.  It was the best I had in the moment; I hope to follow recommendations before I use this again.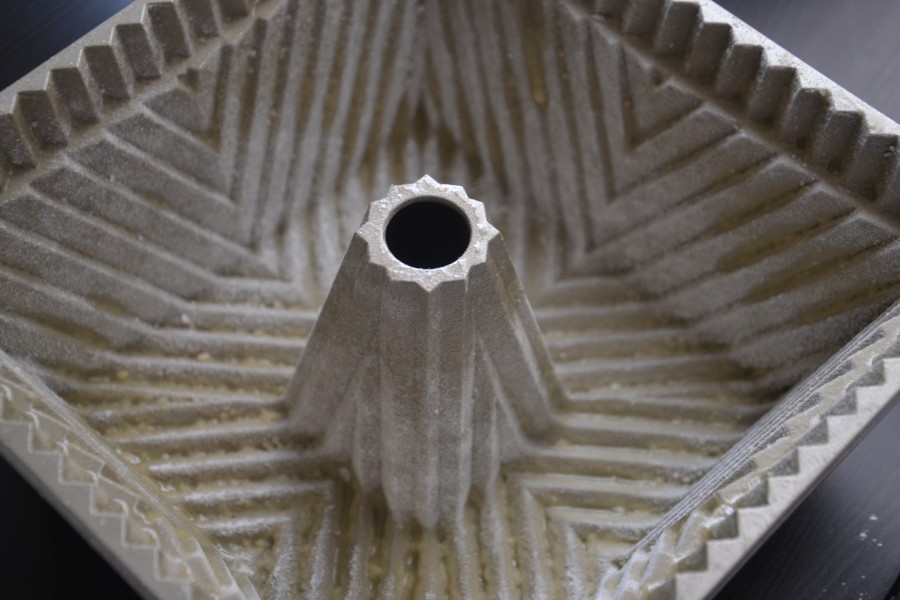 After pouring in approximately 25% of the batter, I dropped the pan onto the table a few times to help release any air bubbles and encourage the batter into the shape.
After an hour in the often, the cake looked fantastic!
Not having used this type of pan,I wasn't sure if I should trim the top edge of the cake to produce a flat surface.  I didn't this time, but will on my next effort to have a comparison.
The bubbles on the surface of the creases are a direct result of my effort in preparing the pan.  I was a little bit bummed and at the same time… so excited!  This cake looks.. WOW.
After removing the pan from the oven, I let it rest for 10 minutes.
Once I turned the pan over onto a cooling rack, the cake slipped right out – such a relief!
The instructions indicated to wait an additional 10 minutes before applying the glaze.  The cake is not cooled at that point, but it does need to have some warmth in order for the lemon-sugar to penetrate the surface of the cake.
This was not exactly what I was expecting… the cake literally drank up the glaze.  I was hoping to see a bit of white on the cake – similar to a very thin buttercream.
The effect is pretty with a shiny surface, it simply wasn't what I anticipated.  Now, when we talk about taste… THAT GLAZE was outstanding.
I am so happy I baked this cake and followed the directions enclosed.
Next time I'll trim away the bottom edge of the cake so it sits flat on the cake plate.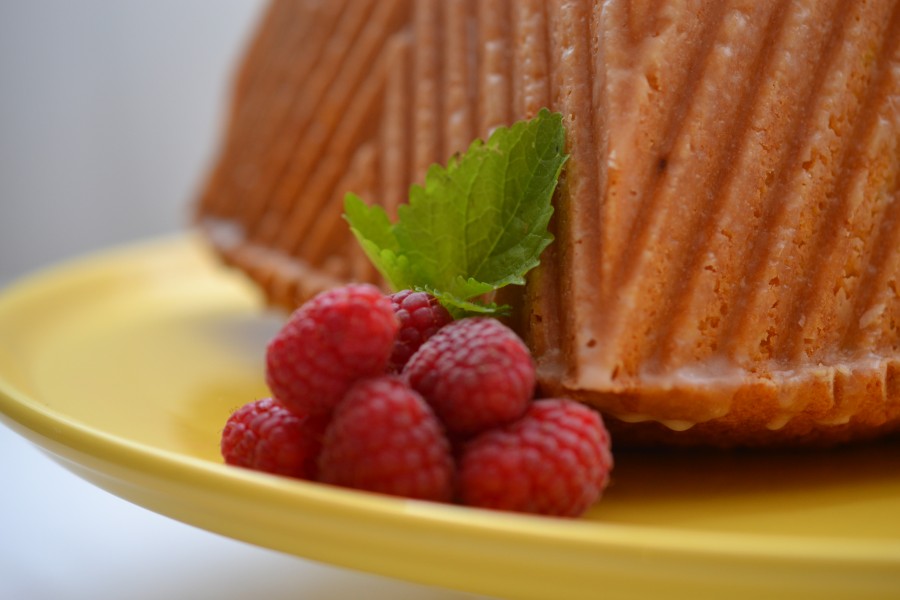 Lemons and raspberries – a classic combination.
This was a really fun baking experience… working with a new recipe and a new pan, but mostly, I was excited and looking forward to the results, "Will it turn out ok?"  "Will the design be sharp and clear?"
Adding a small amount of yellow food coloring gel to the batter before integrating the dry ingredients gives the cake a look of lemons.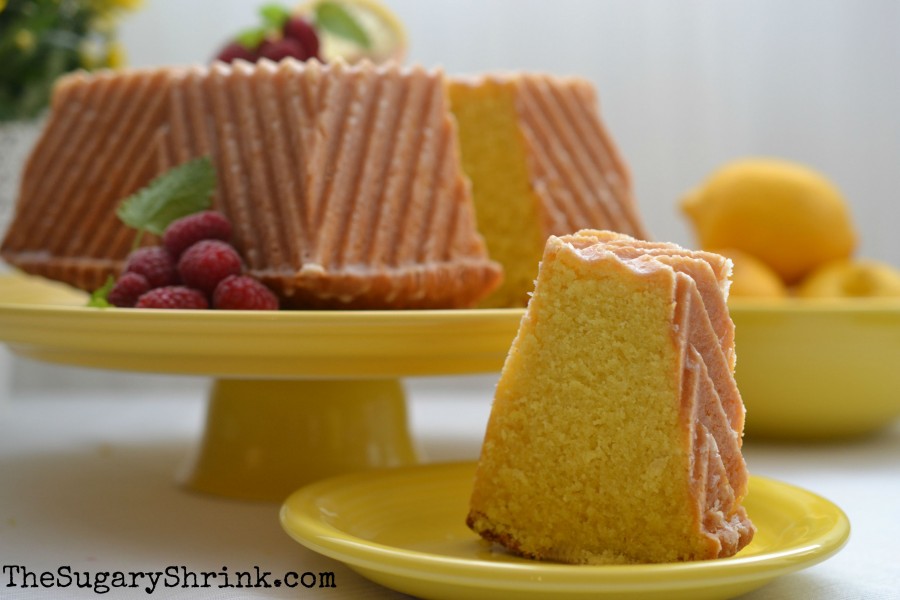 I love that I get to try new baking projects, especially when they turn out so well.
My life partner loved this cake and we both wished we could have shared this with our people – for sure, this will make an appearance over the holidays.
A cake as fun as this would be more than welcome at any 12-step meeting celebrating birthdays.