American Pie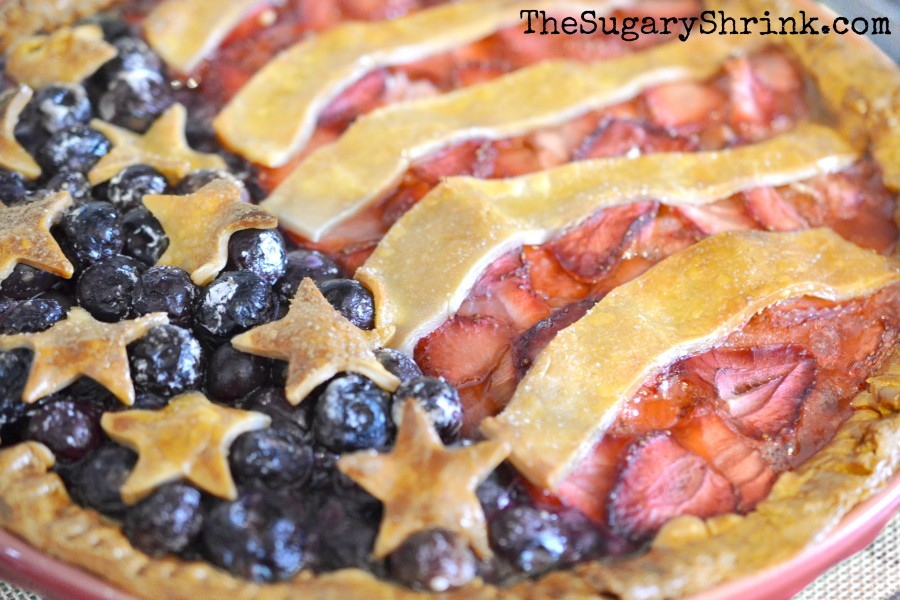 Blueberry & Strawberry/Rhubarb Pie
I'm still celebrating Independence Day!  And to do that, I'm taking a giant leap outside my comfort zone… pie.
Oh, pie makes me so anxious.  Crust is a science I haven't tackled in the same way I've approached layer cake.  It's daunting to me.  In order to tiptoe into the kiddie pool, I use crust mix or refrigerated pie dough.  When I watched the brief demonstration on Tip Hero of this holiday dessert, I asked, "Why not?"
So here we are.
I followed the blueberry component as directed and added rhubarb to the strawberries for a more rich flavor experience.
To speed up processing the strawberries, I used an egg slicer.  This task would have been much faster if there was an assistant – little kids or teens immediately come to mind.
Just a little bit of rhubarb was plenty.  It really added a delicious edge.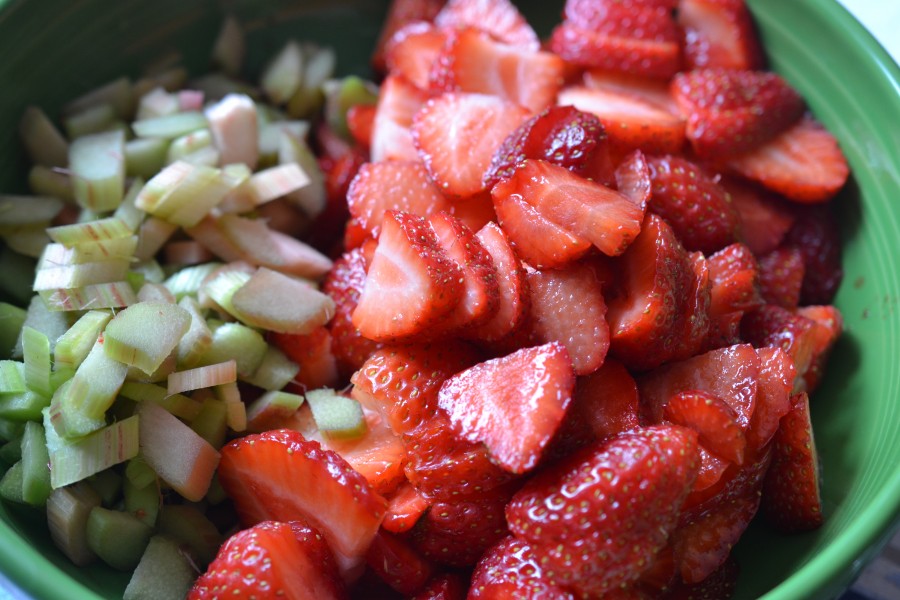 Cornstarch and sugar sweetens the fruit and helps thicken the natural juices during baking.
I folded a piece of tin foil several times to make a sturdy wall and bent the two bottom, interior corners.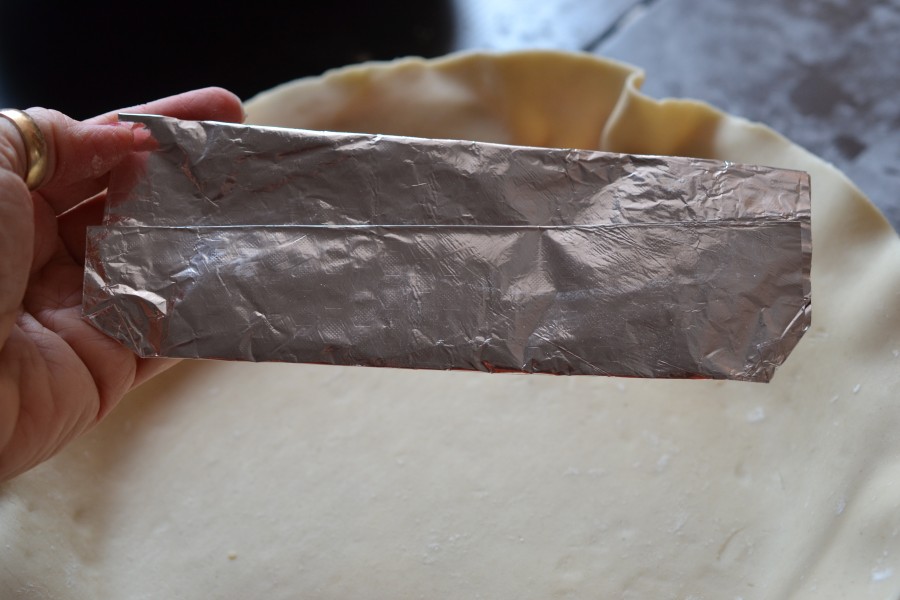 I should have filled both sides with all the fruit I had prepared.  But I didn't and was sad about it when the pie came out of the oven.
Time to make a few wavey stripes and some stars.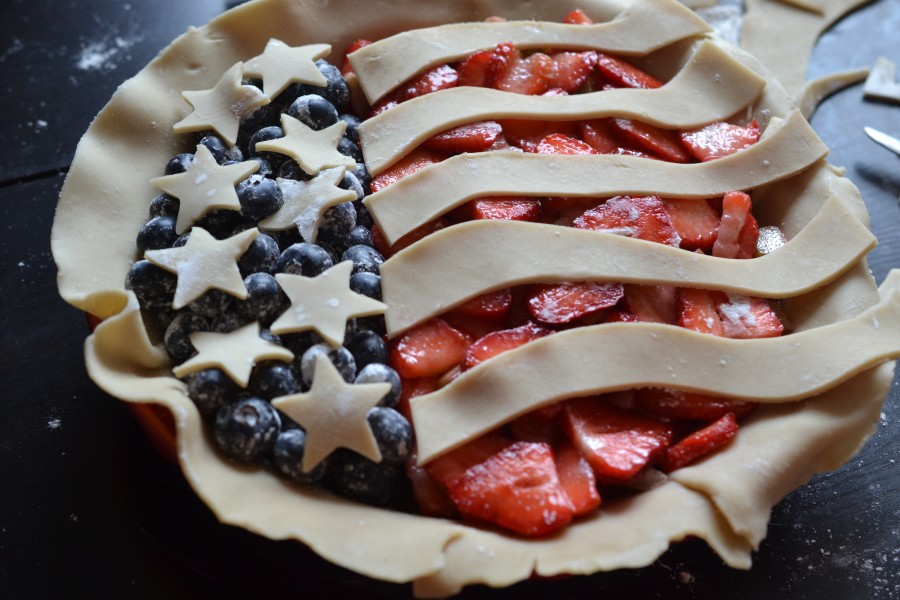 Admittedly, I was really pleased with this look.
The kitchen disaster was at an epic level.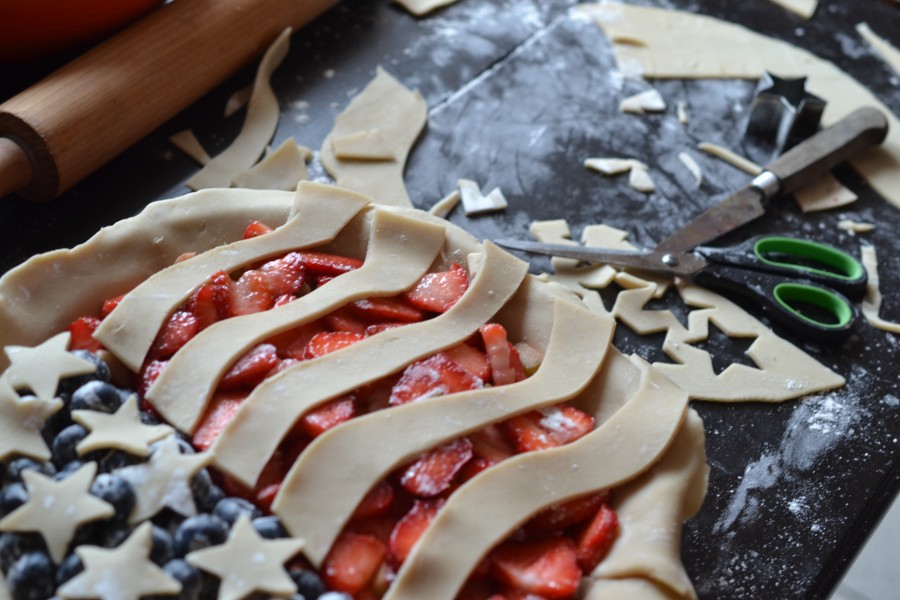 The crust edges, stripes, and stars needed a brushing of an egg wash – followed by a generous sprinkle of white sugar.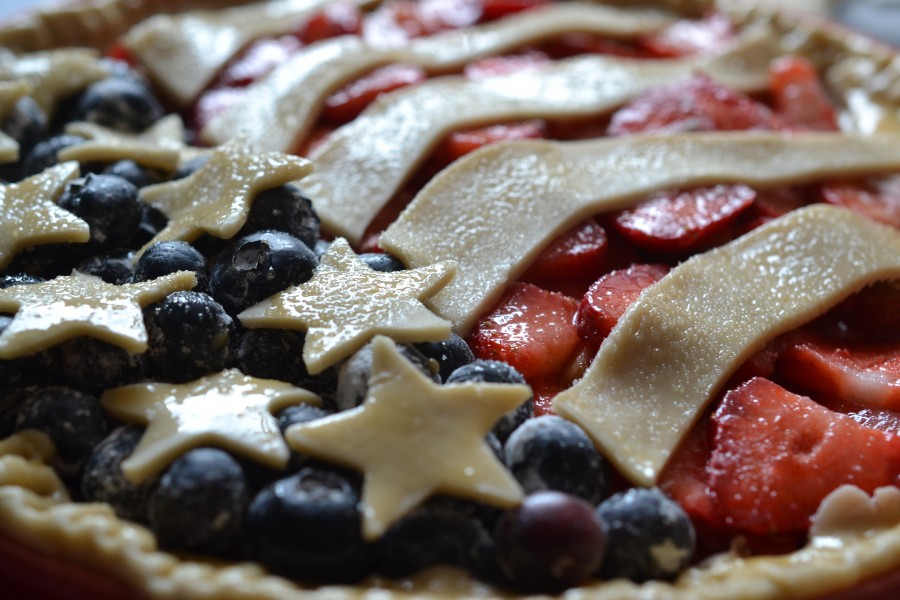 The edge needed a tin foil cover for the first 25 minutes of baking.  After that, the temperature gets turned down and baked until the fruit was bubbly.  I baked it a bit too long.  Shucks!
The final clean-up was discouraging but I had the best help!  My life partner husband routinely makes the kitchen magically clean again.  I am sooo lucky.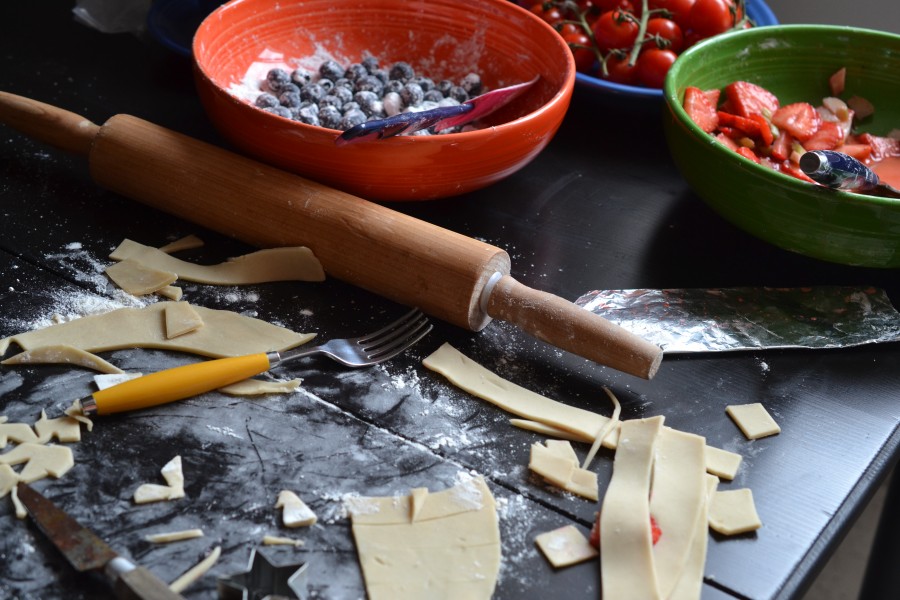 Here's a look inside this very tasty dessert.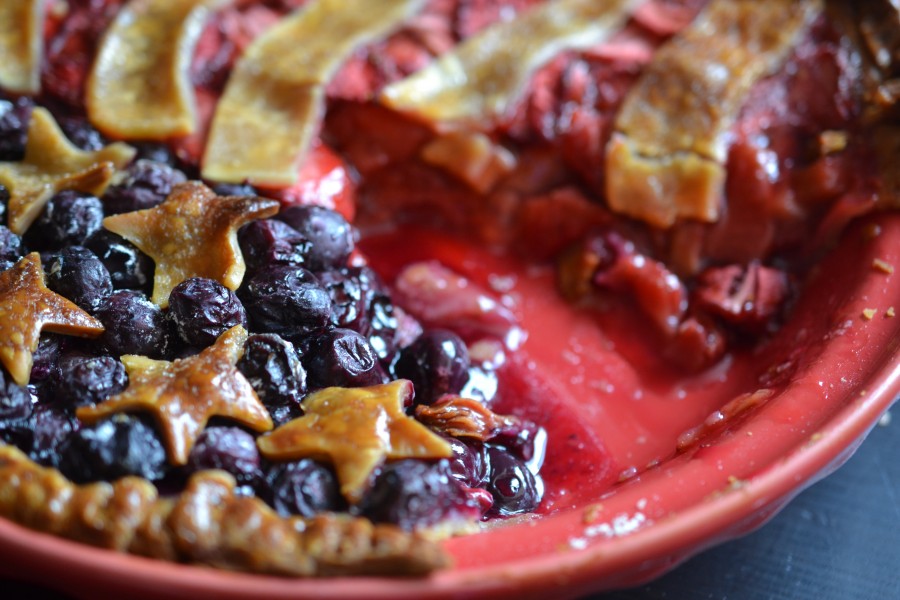 How scrumptious would a scoop of vanilla ice cream taste with this?  Or a heap of whipped cream?
I baked this pie in my Homer Laughlin Fiesta Dinnerware Deep Dish Pie Baker in Scarlet.  It is absolutely perfect for this dessert and would be a star on any family picnic dessert table.
Because I didn't add all the fruit to the pie, there was a bit of leftovers.  I added more strawberries and sugar and decided to make Fruit Crisp!
Mixing up a quick crispy crust included: almond flour, oats, brown sugar, white sugar, cinnamon, nutmeg, and butter.  I mostly guessed at the ratios since I was in a hurry to get it in the oven.  Bake at 350/180 until the fruit juice bubbles up.
Ice cream or heavy whipped cream is the ideal complement to these desserts, too.
I love trying new things and I am super anxious when it comes to stretching out of my comfort zone.  But it worked and I feel great about that!
I'm so grateful for my life partner husband who has confidence in me.
I'm thankful for trying new things and my people who love and support that effort.
I'm really grateful for sobriety.