Carrot Layer Cake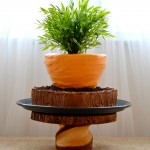 Servings

Prep Time

1

Triple-layer 8" or 9" round cake

30

minutes
Cook Time

Passive Time

30-34

minutes

10

minutes
Servings

Prep Time

1

Triple-layer 8" or 9" round cake

30

minutes

Cook Time

Passive Time

30-34

minutes

10

minutes
Servings

Prep Time

1

Triple-layer 8" or 9" round cake

30

minutes

Cook Time

Passive Time

30-34

minutes

10

minutes

Servings

Prep Time

1

Triple-layer 8" or 9" round cake

30

minutes

Cook Time

Passive Time

30-34

minutes

10

minutes
Servings:
Triple-layer 8" or 9" round cake
Preheat oven to 350°F. Prepare cake rounds with non-stick cooking spray.

Combine dry ingredients (flour, baking soda, baking powder, salt, cinnamon) in large mixing bowl.

Add sugar, oil, eggs, and applesauce, oil and vanilla until well blended. Best if hand stirred.

Fold in carrots, pineapple, coconut, and nuts.

Batter is thick. Divide evenly among 8" rounds.

Baking time. cake rounds: 35-40 mins. 9x13: 45 mins, cupcakes: 23-28 mins.

Cool cake rounds for 10 minutes before removing cake to cooling rack.

Cool cake completely before frosting.
Walnut Substitute: Pecans
Buttercream Suggestion: Cream Cheese