Brownie Sundaes with a Cherry on Top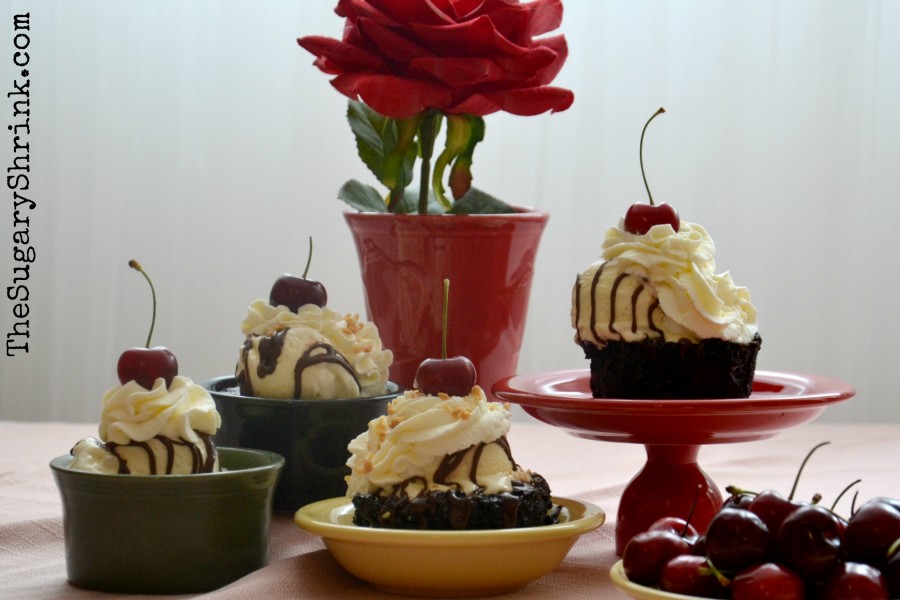 Brownie Sundaes with Vanilla Ice Cream, Whipped Cream, Lindt Chocolate Drizzle, Chopped Peanuts, and a Fresh Cherry on Top
These Brownies were amazing. Seriously, really good.  And… it was the first time I'd made brownies from scratch and not from a box mix.
After baking Crumbles, Crisps, and Cobblers in my Fiesta Dinnerware ramekins, I wanted to try other yumminess.  A family favorite is home baked brownies with most of us trying to nab a corner piece for the extra chewiness.  Wouldn't a ramekin produce extra chewiness for each brownie?  Time for the Test Kitchen!
After a quick search online, I found a promising recipe on Food.com.  Why not use a box?  I didn't have one in my pantry.
I know right?  Desperate times!
When it comes to working with cocoa powder, no matter what, I always take time to sift the cocoa powder – it really helps integrate all the dry ingredients together and promotes consistency.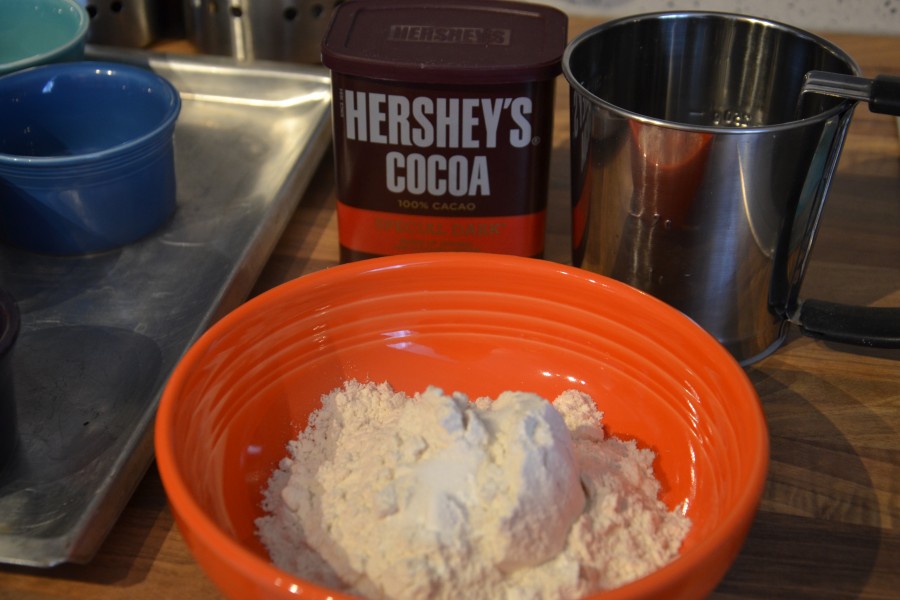 After the wet and dry ingredients were barely combined, I divided into ramekins and a two bouillon bowls because this was Test Kitchen stuff.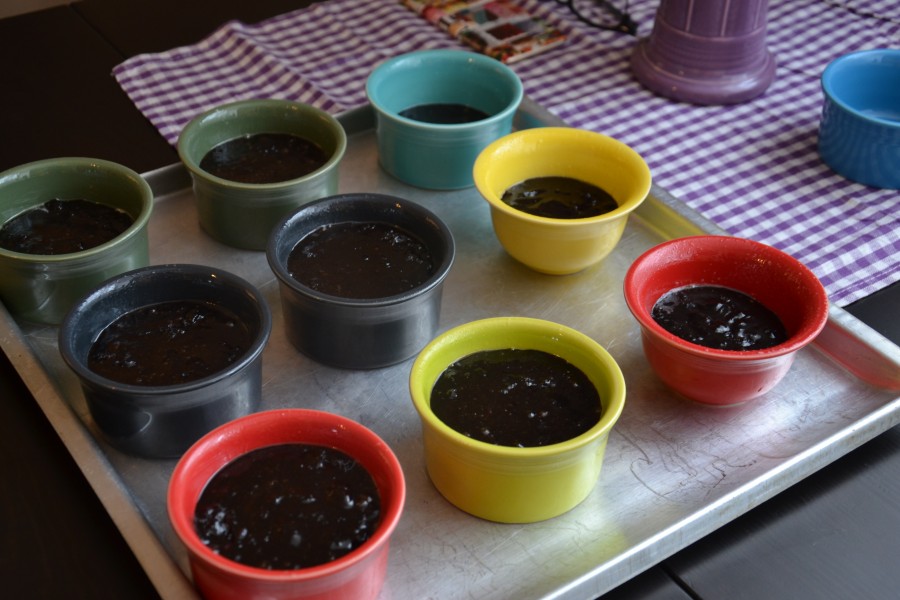 Still testing, six of the ramekins have 1/2 c of batter and the Turquoise ramekin and bouillon bowls have 1/4 c each.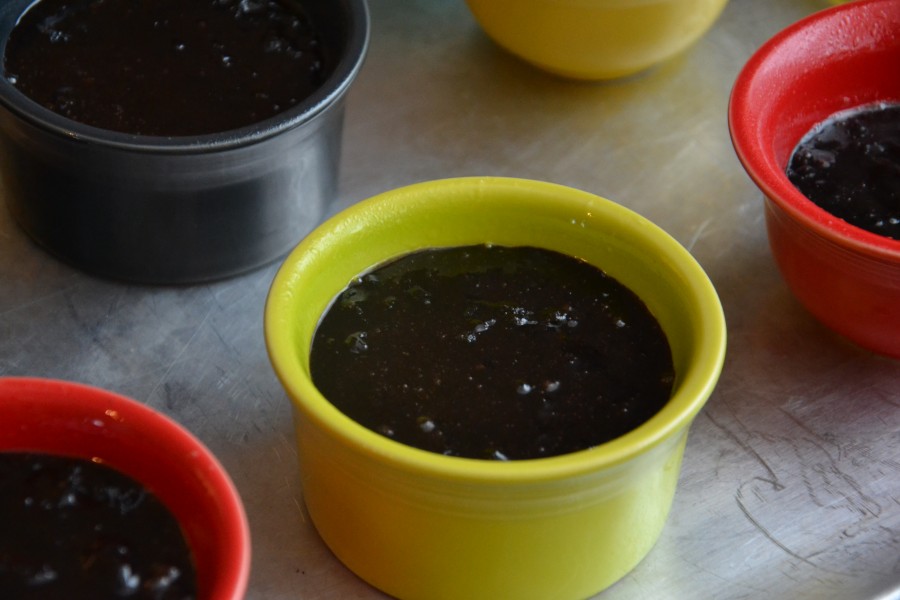 To keep things interesting, I added a full-sized Hershey Reese's Peanut Butter Cup to a few ramekins.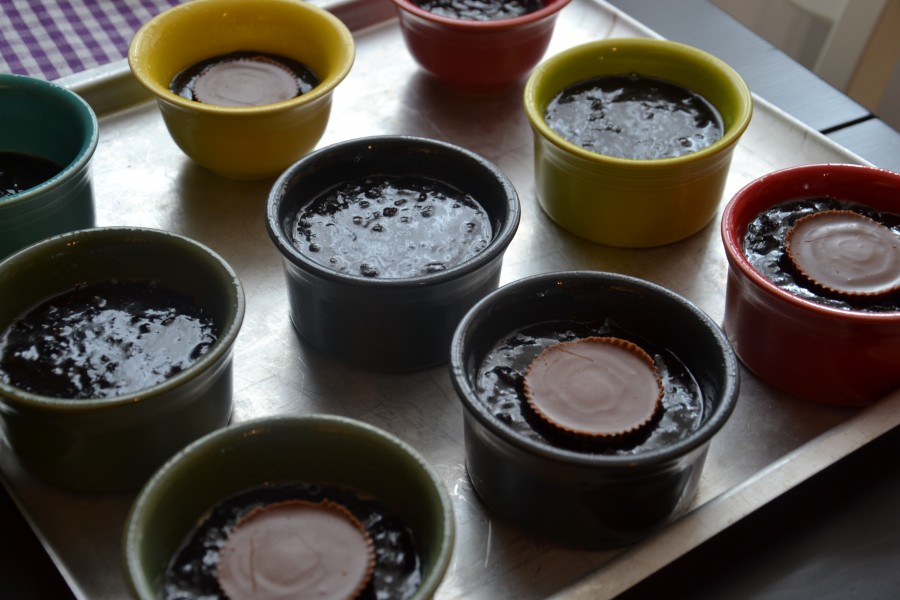 The recipe indicated 20 minutes for baking, but that wasn't enough.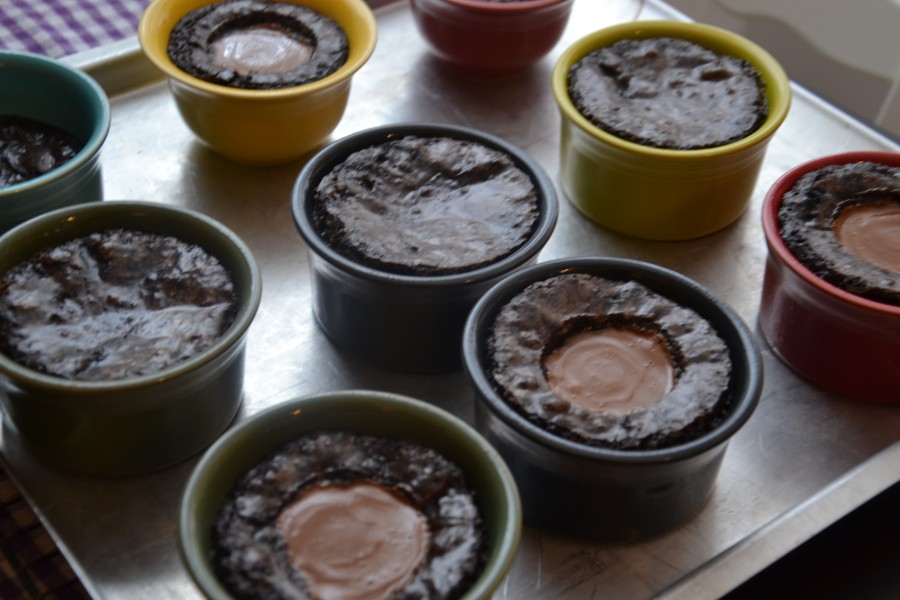 I removed them from the oven at 25 minutes and it still wasn't enough..  I've discovered that 33 minutes is just about right.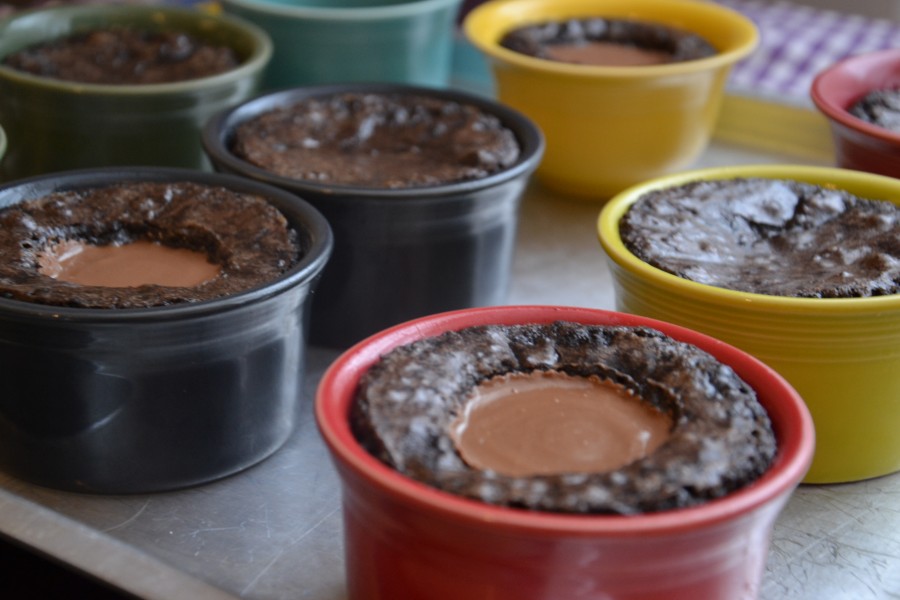 While the brownies cooled, I turned my focus on to the other components of this sundae.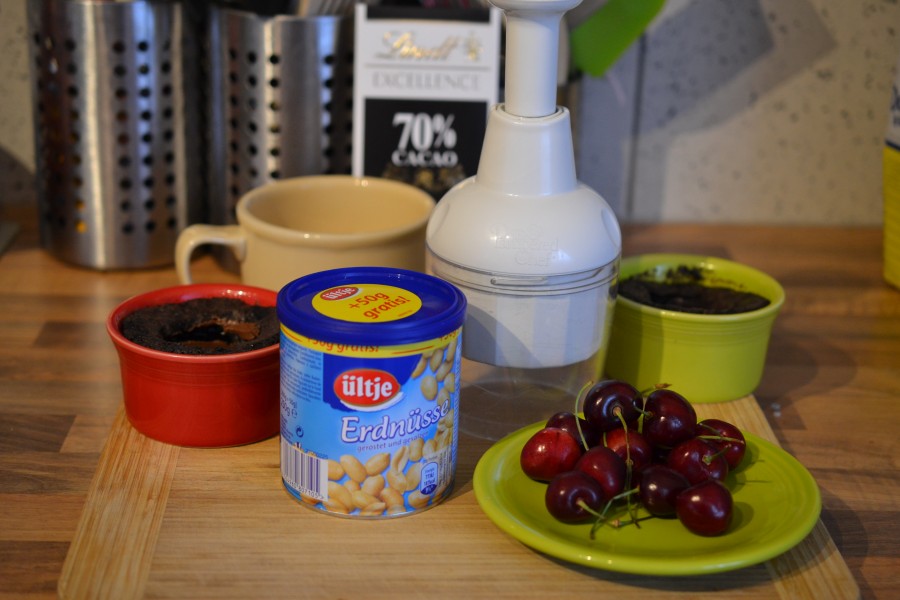 The too-short baking time is evident in the edge of this brownie and several disintegrated upon release from the ramekin.
Perfection doesn't have anything to do with taste when it comes to brownies, right?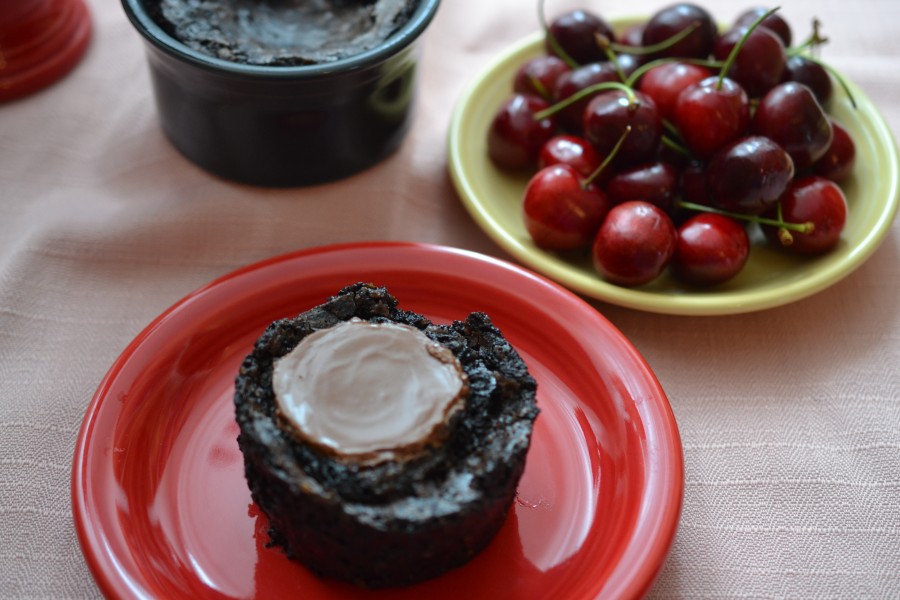 Whipped Cream goes together better/faster/more awesome when whipped in a chilled mixing bowl.  I left the metal bowl to my KitchenAid stand mixer in my freezer approximately 20 minutes.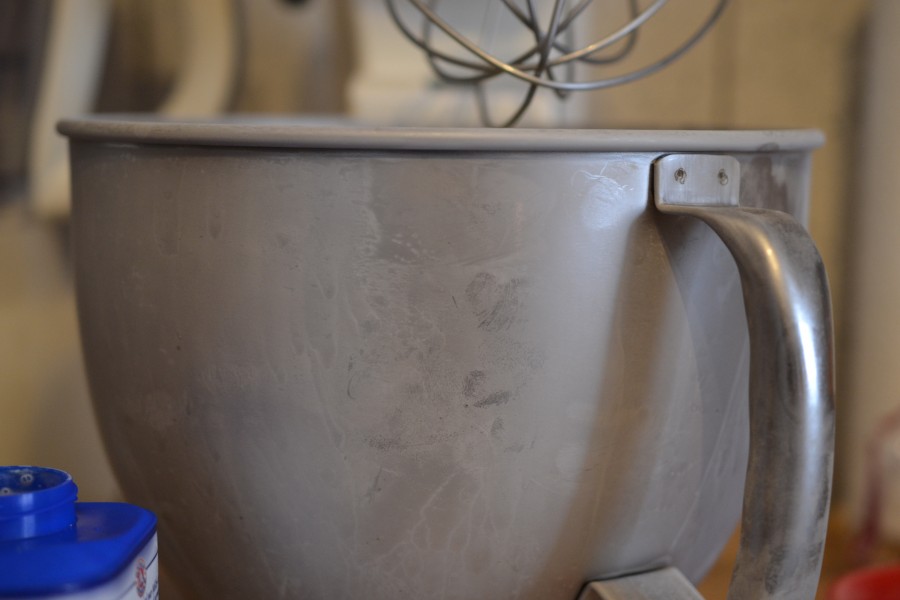 Everything is ready…. delicious brownie, ice cream, whipped cream, chopped peanuts, and cherries.  The problem?
It was a very warm day in the Test Kitchen, the brownies were still slightly warm…plus there was ice cream and chilled whipped cream.  And sometimes taking the photographs takes more time in finding the right design, and …and…and…
Cue the dripping and sliding and melting of the sundae.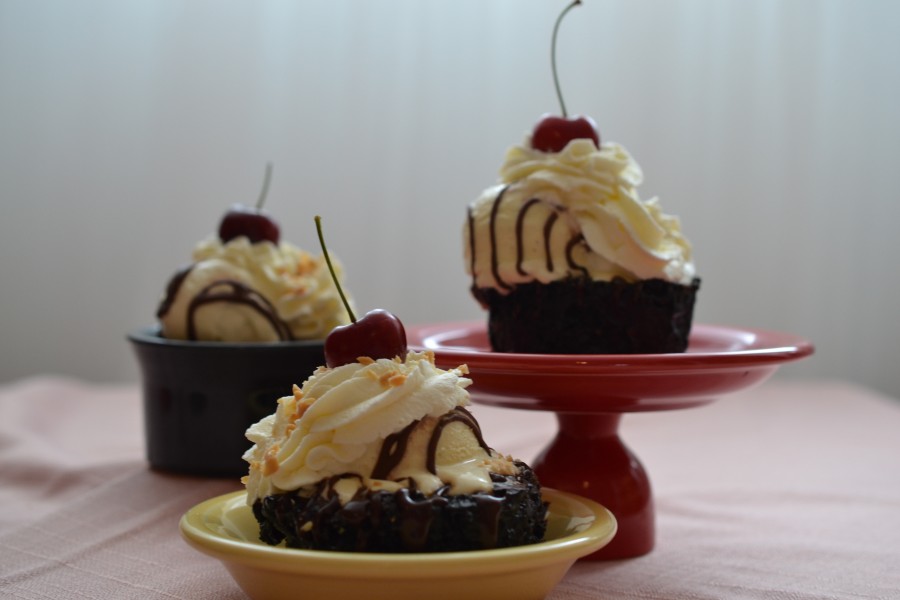 I love it when I get reminded of the basics I sometimes forget… ice cream melts!  Sundaes have a narrow window. There is benefit to thinking things through.
The ramekins were fantastic.  I could serve in them directly or shift the brownie to a Berry Bowl or an Appetizer Plate.  The versatility allows home bakers to make this dessert their own: chocolate ice cream instead of vanilla, caramel or butterscotch sauce instead of chocolate, etc.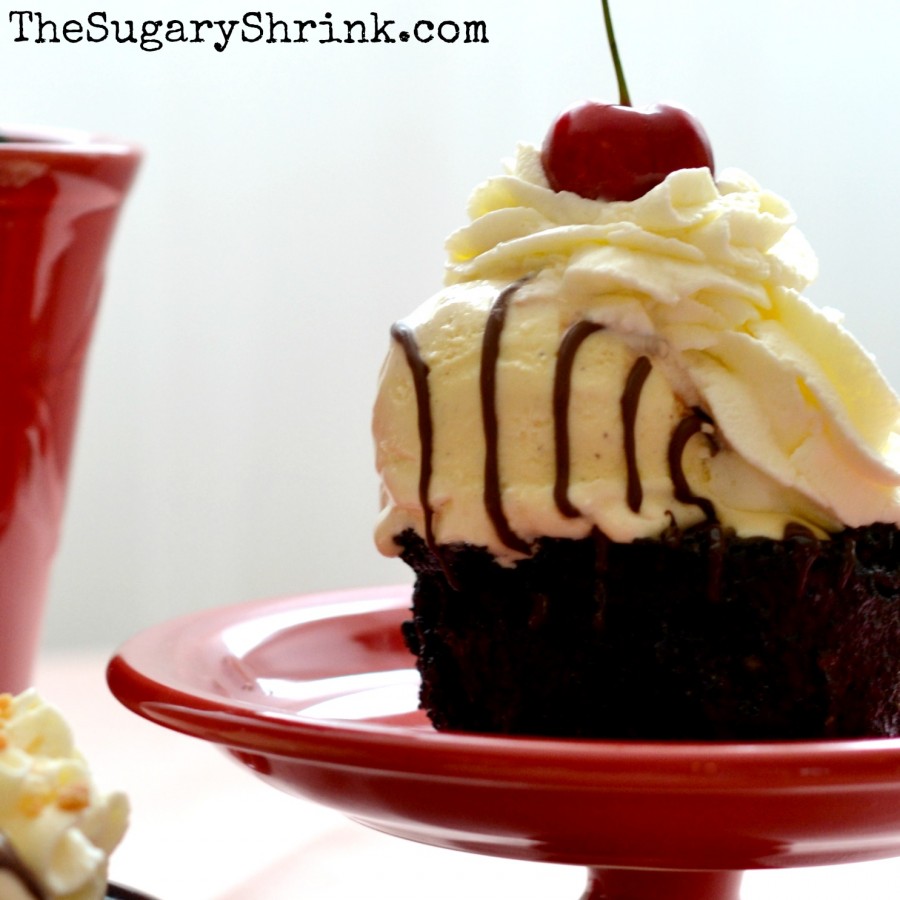 This Brownie Sundae was just the  lesson I needed – baking, like many aspects of life, is about progress not perfection.
I'm grateful for my life partner and our commitment.
I'm grateful for our people and the relationship we get to have together.
None of what I enjoy today is possible if I'm not sober.  So grateful for this way of life.