Mickey Mouse Birthday Cake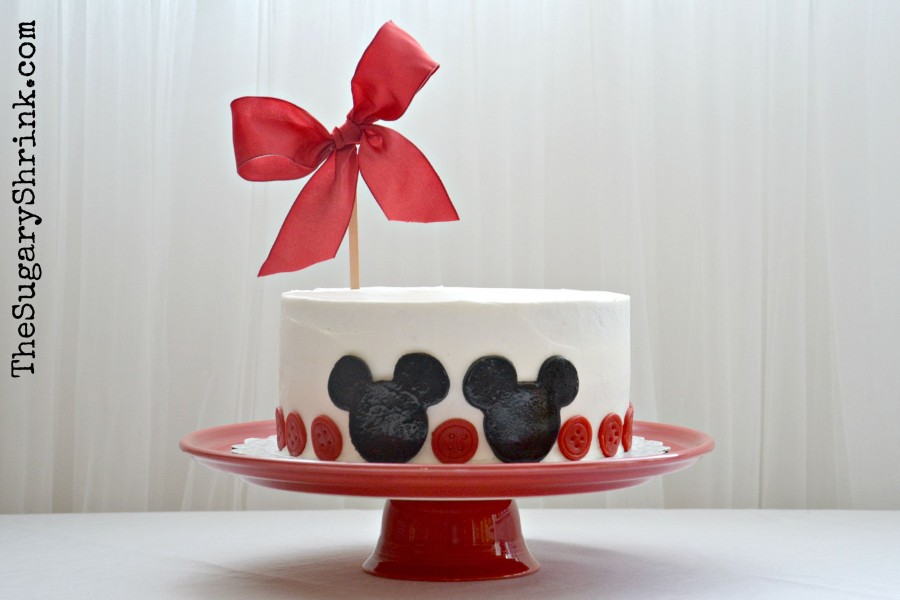 Double-layer Light Butterscotch Cake, Cheesecake, Vanilla Buttercream, and Marzipan Mouse Ears
What a fun birthday cake!  A wonderful friend of ours here in Heidelberg was celebrating her birthday a few days late with a surprise dinner party in a beautiful garden setting.  It was a long leisurely dinner, terrific speeches, much laughter, and delightful cake.
I started with the cheesecake since I like for it to set up in the fridge overnight.  Then came the cake rounds.  I call this one Light Butterscotch Layer Cake because I used Light Brown Sugar…. the color is significantly lighter than when I bake it with Dark Brown Sugar.  The flavor is yummy in both cakes and a bit more rich with the dark.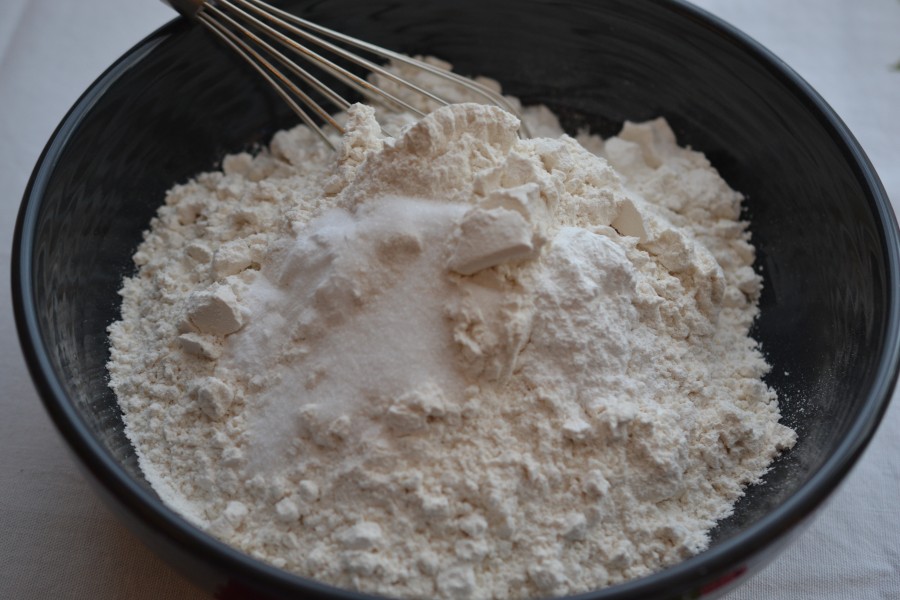 After the dry ingredients are mixed, gently blend into the wet ingredients until just barely integrated.  I love the Homer Laughlin Fiesta Dinnerware Large Bistro bowl for combining the dry ingredients.
While the cake was cooling, I made the marzipan decorations.
Starting with a portion of commercially available, already tinted red marzipan – I made a few buttons using the large, open end of a few piping tips.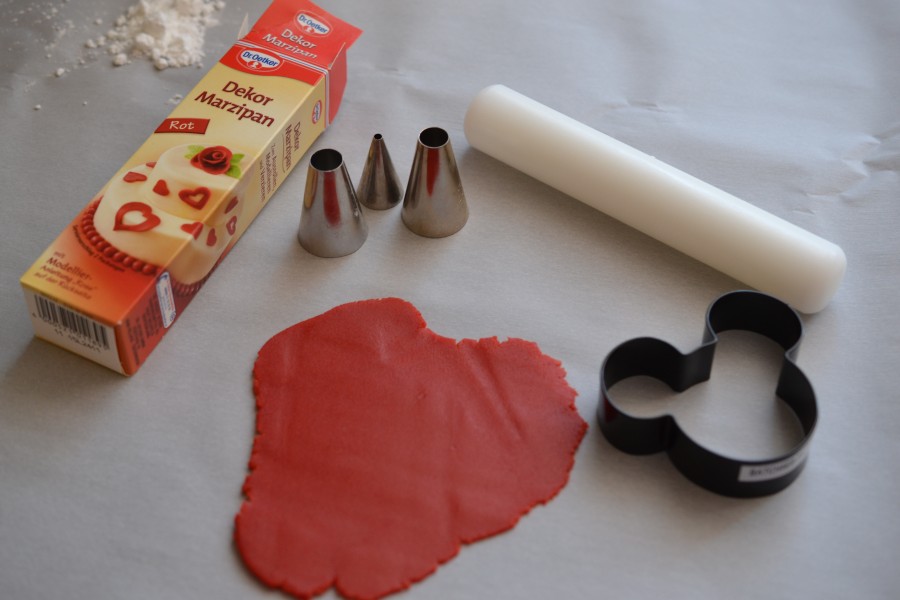 Adding coloring gel Navy Blue and Chocolate Brown to the remaining piece of red marzipan, I ended with a deep black.  This is one of the hardest colors to get right in cake decorating and I was happy with the result.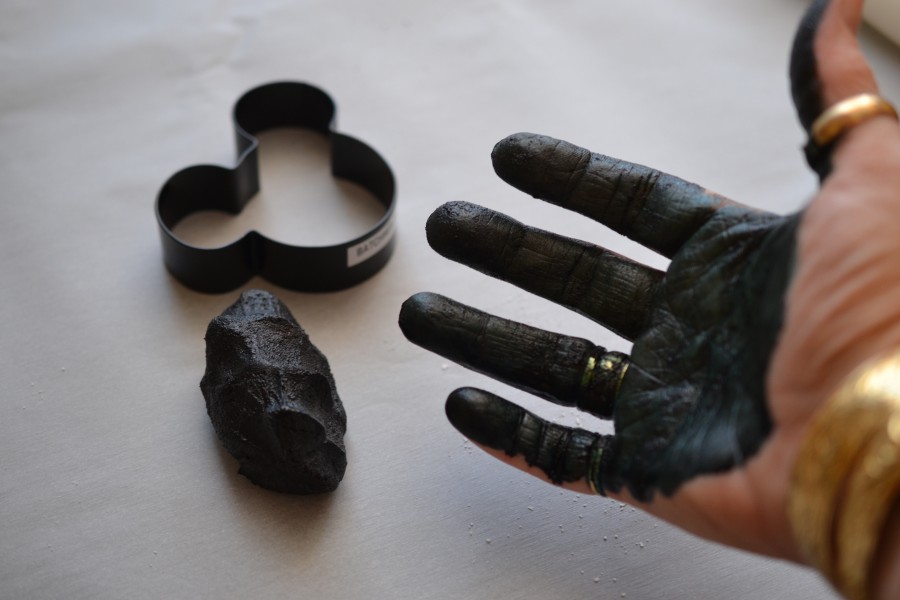 In order to keep the marzipan from sticking to the cookie cutter, I use powdered sugar to help release the shape.  At the same time, the powdered sugar leaves a bit of residue.
Using a dab of light corn syrup, I wipe away the sugar and the marzipan is left with an extra-shiny glow.
Building the cake went really well.  Since the middle layer is a cheesecake, I don't need to add buttercream filling.
The cake is frosted with a simple Vanilla Buttercream – it's a perfect background to the marzipan decorations.  Why marzipan?  The guest of honor at the party absolutely loves this delicious almond treat.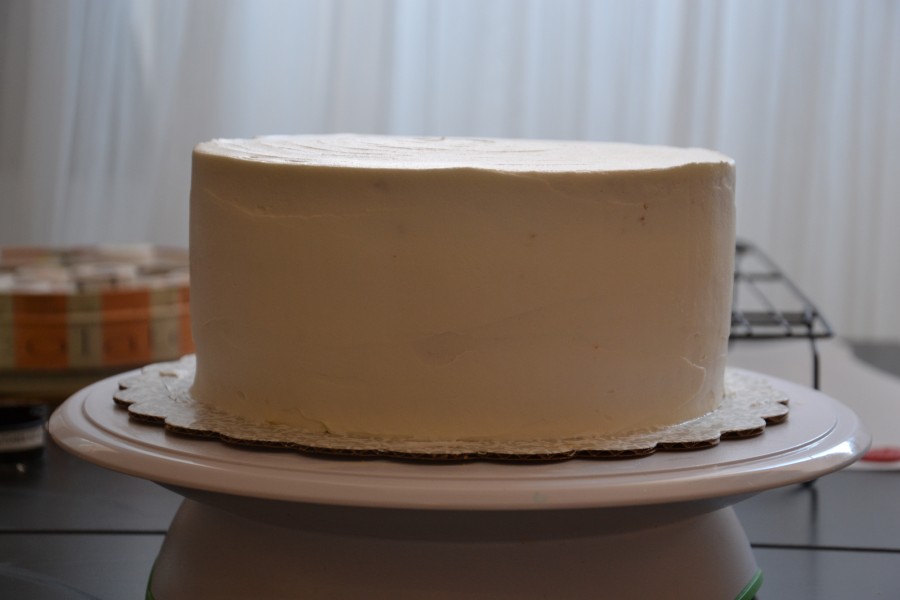 I struggled getting all the pieces onto the cake since I tried placing the mouse ears while they were still tacky.  It worked out and I was glad to have made a few extra pieces.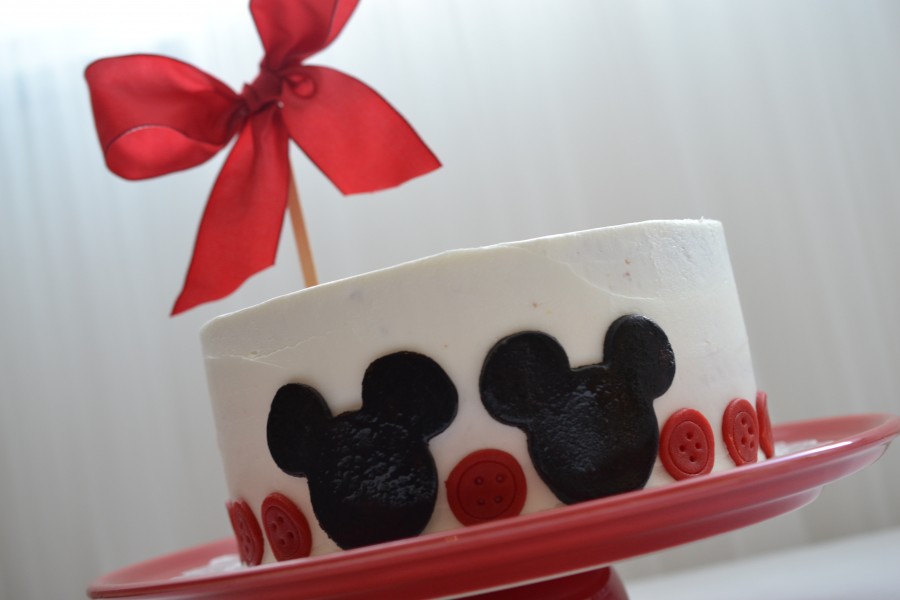 Cake slice photographs mid-party are never a sure thing, but we did pretty well with these.
I will definitely be making this cake again – it's just too delicious to not bake.
It was a great sober night out with my life partner.  We love the company of our friends and our people.  No complaints, here.