Triple-Tier Neapolitan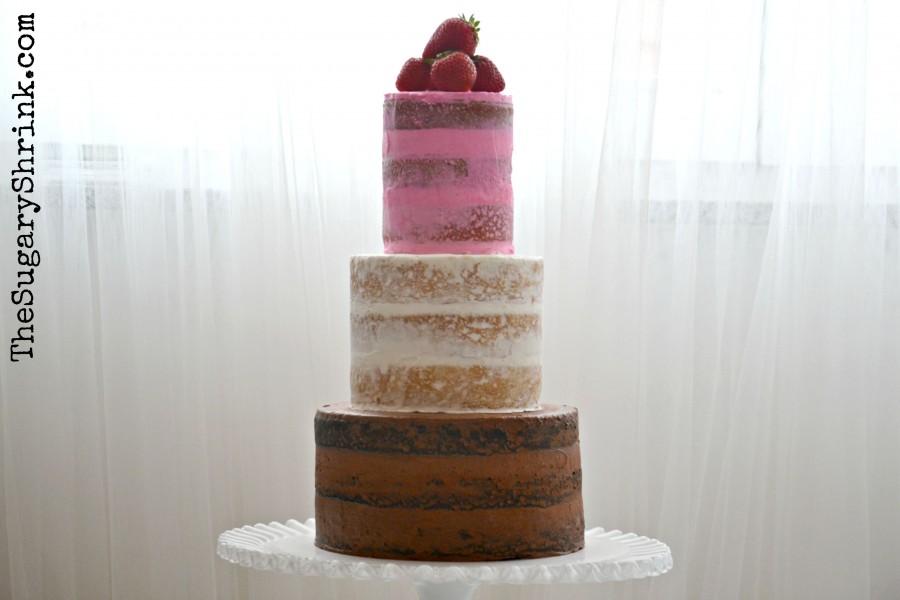 Triple-tier Neapolitan Cake
Triple-layer Dark Chocolate Cake with Lindt Chocolate Ganache Filling
Triple-layer Vanilla Cake with Vanilla Buttercream Filling
Triple-layer Strawberry Cake with Strawberry Buttercream Filling & Fresh Strawberry Garnish
This is a lot of cake!  And isn't it fun?
Some days I know exactly what I'm baking and set out to do it.  Other days, I'm not feeling particularly inspired, but I know I really want to bake.  When that happens, I usually start with my favorite go-to Chocolate Layer Cake and see what happens.
As I was mixing the chocolate, it occurred to me to make a tiered cake.  My very first internal response "that's so much work" was quickly followed by "but that would be kinda awesome!"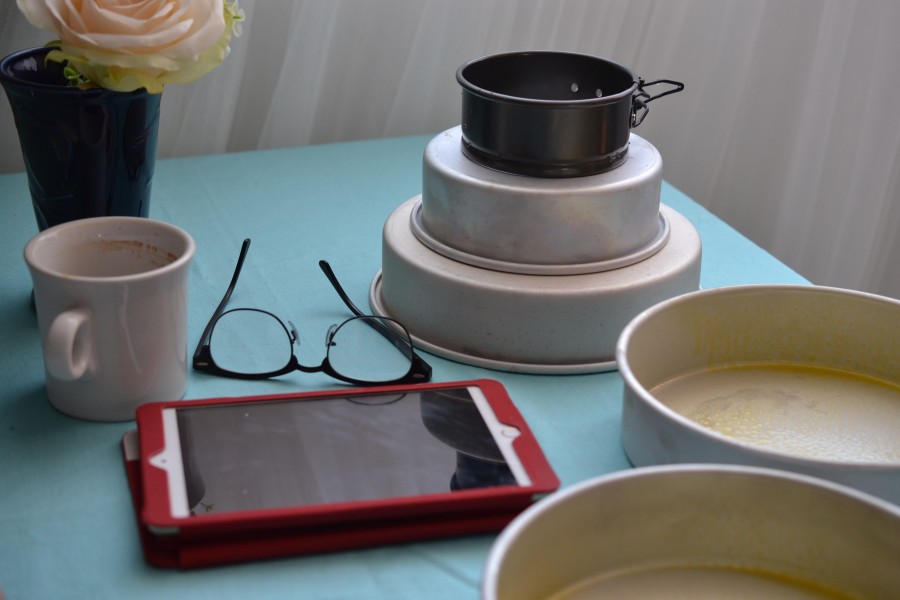 Next, I considered baking something different from the chocolate… peanut butter, red velvet, almond, etc.  But, I love the classics – so Vanilla Layer Cake was an easy decision.
While the chocolate cake rounds were cycling in and out of the oven, I prepared the vanilla batter.  As I imagined the vanilla sitting atop the chocolate… strawberry came to mind.
Again, the internal dialogue, "NO!  THAT'S TOO MUCH WORK!"  was over ruled with "BUT THAT WOULD BE EPIC."
I brought this on myself and I loved every minute of it.  There were absolutely moments of self-doubt, but I worked to overcome that.
The Neapolitan is a classic… chocolate, vanilla, and strawberry.  It's really important for the Vanilla to be white and not yellow – so, I baked the cake with six egg white and not four whole eggs in order to keep the yolks out of the sponge.
Baking with the basics means anything is possible.
Lining a cake pan with parchment or wax paper is how my grandmother baked a cake.  As much as it is humbug to add this step, it really pays off when the cake round easily releases from the pan.  It's a "leave no chunks behind" approach to the layer cake.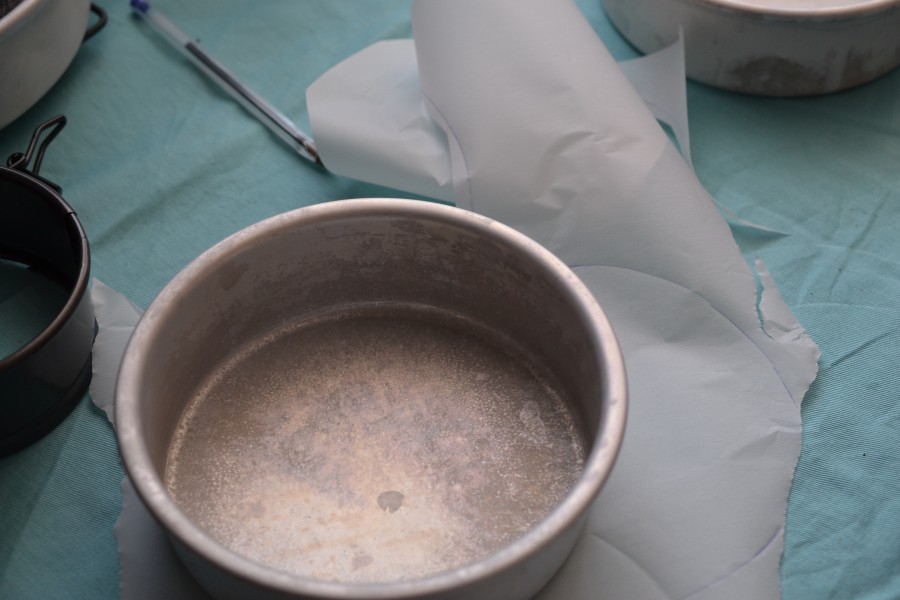 I love all the colors of the cake rounds.
Beginning with the chocolate tier, I filled it with an amazing Lindt Chocolate Ganache.  I thinned out a small portion of it to apply the exterior crumb coat.
This was a decision point – how to design the cake.  There are many lovely piping techniques that would look fantastic on this cake.  I concluded that the sponge with a crumb coat would be minimalist yet dramatic.
The Vanilla Buttercream is nothing but delicious.
The little 4″ rounds needed to be leveled before stacking.  The smallest cake board I had in the house was a 6″ that was easily trimmed down.
These three separate cakes barely fit in the fridge, but it was important to let them sit over night to make stacking more manageable.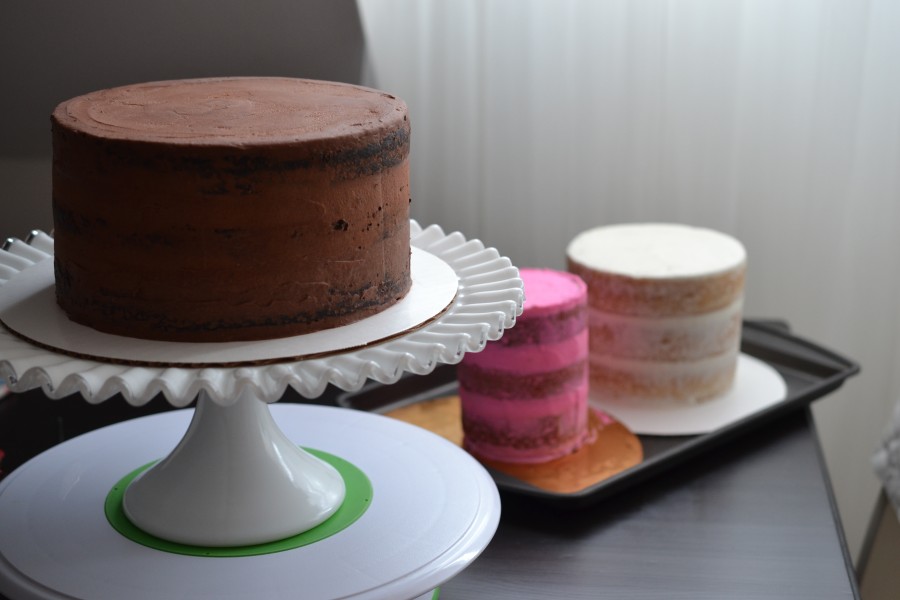 The chocolate and vanilla tier needed additional internal structure to support the weight.
Building each tier on a cardboard cake round helps with weight displacement, the bubble tea dowels offer support.
And the stacking ….
Keeping the design simple and working with cold tiers, it wasn't necessary to cover the gap between tiers.
I do love this cake; it looks almost like what I envisioned.
It's important to me that I include a slice snapshot whenever I can.
When I first started designing and decorating cakes, I was all over Pinterest looking for ideas and inspiration; I was mesmerized by truly remarkable cakes.  Then I found out some of these were really cake designs (fondant or sugar paste over a Styrofoam base) and not cake. Oh.
Taking a slice from the cake demonstrates, "This is real cake and it's really yummy too!"
Slicing a tiered cake requires a different approach… if this was a big event, I would separate the tiers and then slice.  But, while it's still stacked, the slice requires moving along the curve of the tier above the slice.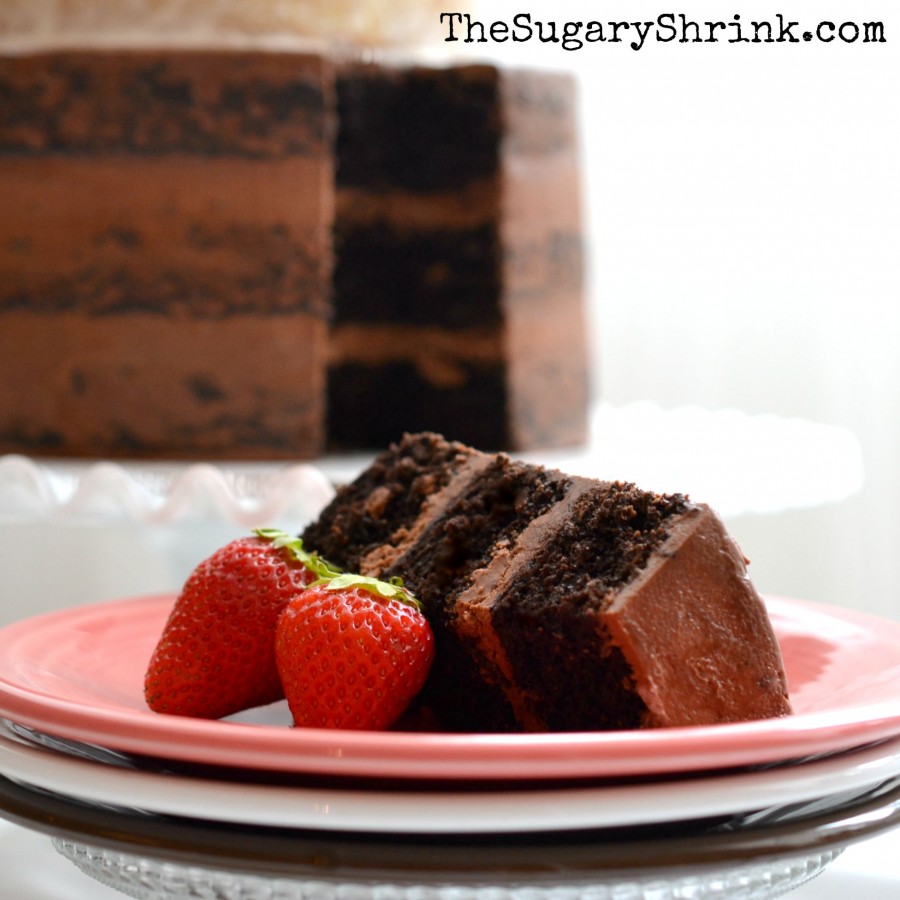 I absolutely love this slice on my Homer Laughlin Fiesta Dinnerware Dessert Plates in Flamingo, White, and Chocolate.  It's like they were invented for a Neapolitan cake!
What a great day for a fun cake.  And a great day in this amazing season of life.
It's also a great day for sobriety.