Autumn Apples & Cinnamon
Triple-layer Cinnamon Cake, Vanilla Buttercream and Apple Pie Filling with tinted Vanilla Buttercream Ruffles
Apples and Cinnamon registers as a comfort food in my DNA… I just feel better when I'm around this natural pair.  In oatmeal, cookies, pie, or cake – apples and cinnamon say "All it well."
This is a new cake for me.  The Cinnamon Layer Cake is one I adapted from allrecipes.com and it turned out wonderfully.  Most cinnamon cakes are baked in a ring pan and served warm with a sauce.  I am still in love with my layer cake and knew I could switch things up a bit in order to have three layers of goodness.
Here's how the cake went together.
I love using my Homer Laughlin Fiesta Dinnerware Bistro bowls for combining dry ingredients.  The large size is perfect for 3 cups of flour with several teaspoons of dry ingredients added.
The fresh brown eggs are consistently in my baked goods because that's what is available at my local market.  I'm super lucky.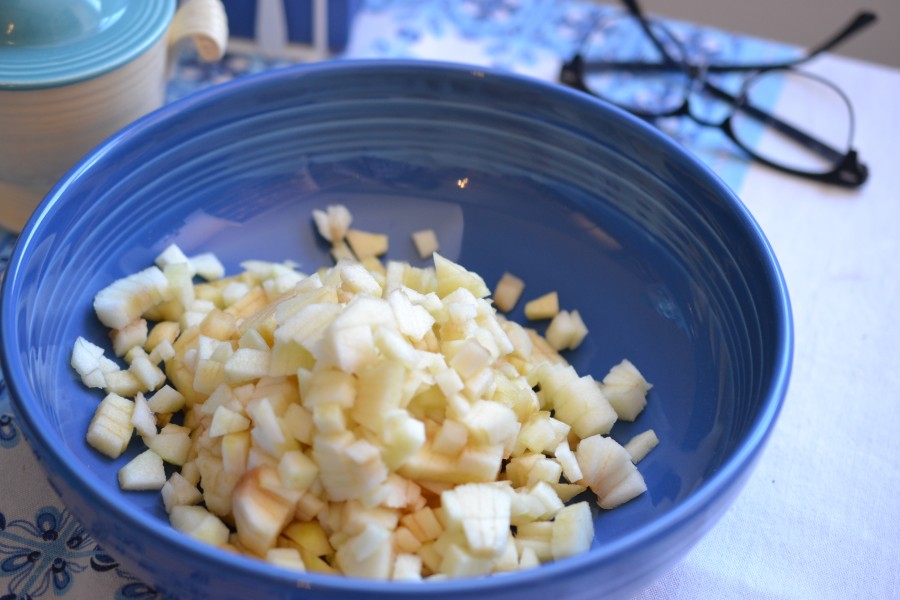 While the cake was in the oven, I made the Apple Pie Filling for between the layers.  I started with two apples (one Granny Smith, one Pink Lady) and gave it a very fine chop… think brunoise (1/8″ cubes).  I chose this technique to ensure there would be plenty of apples in every bite.
I heated up the pie filling much like a caramel sauce: brown sugar, white sugar, butter, apples, vanilla, and salt.  It needed to cool before filling the cake.
The Apple Pie Filling needs to cool at room temperature, so I took a break.
Cake building began as usual, however, instead of three scoops of buttercream for an 8″ round cake, I used two.
I piped on a small ring of buttercream to act as a barrier to keep the Apple Pie Filling in place instead of oozing out the sides when the next layer was put in place.  Think of it as 'load bearing' buttercream.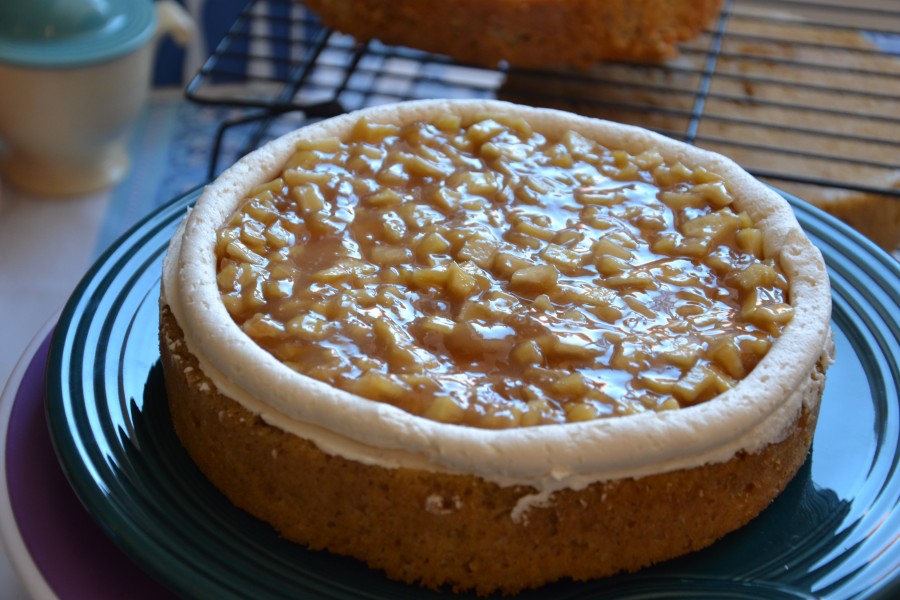 For funsies, I toasted a few pecans, chopped them and sprinkled across the apples.  Doesn't that sound amazing?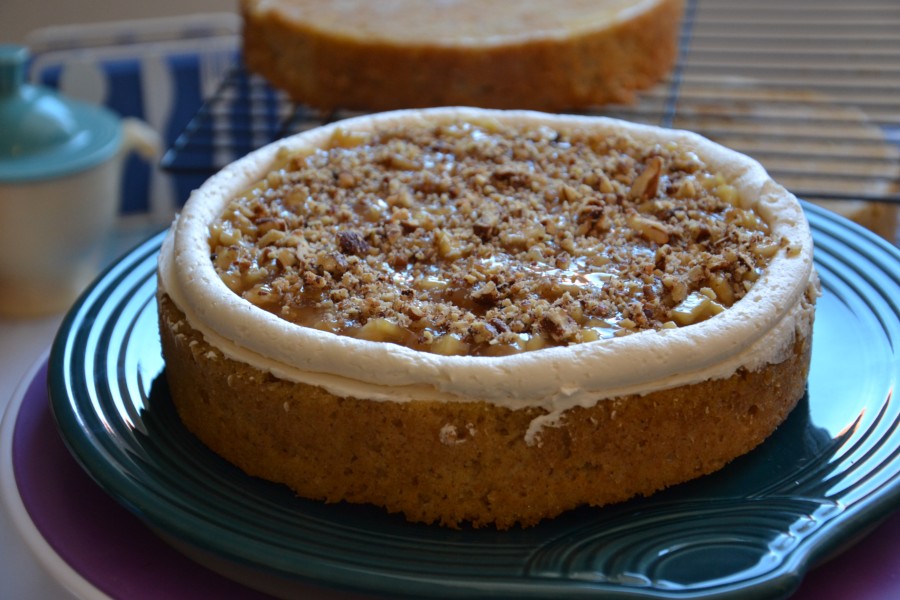 With the first layer done, it was time to move on.
I just love my old-school Fiesta Two Handled Server – it's a wonderful cake plate and this color, Juniper, is ideal for Fall.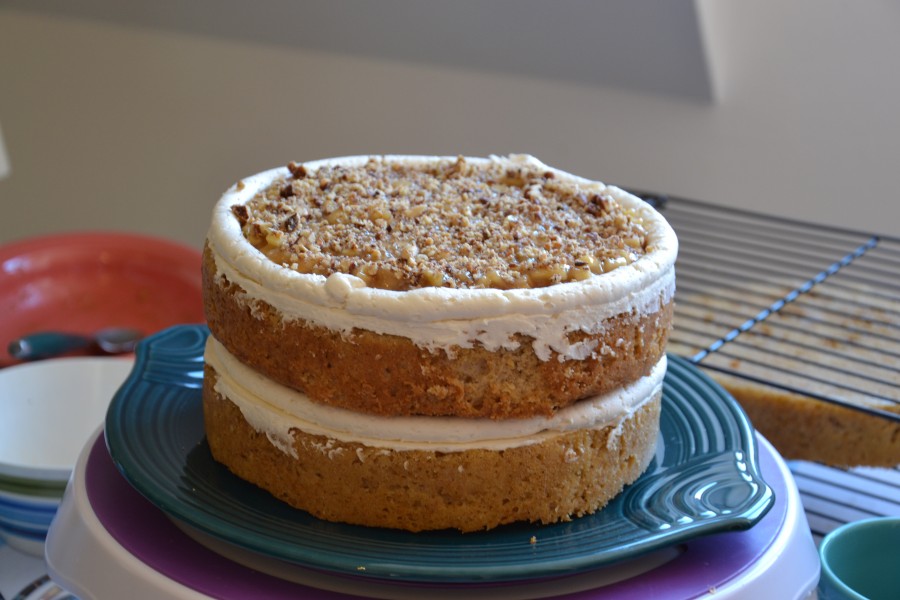 Right here, I can tell you this is a lot of cake!  But soooo yummy.  Cinnamon, apples, pecans, vanilla buttercream….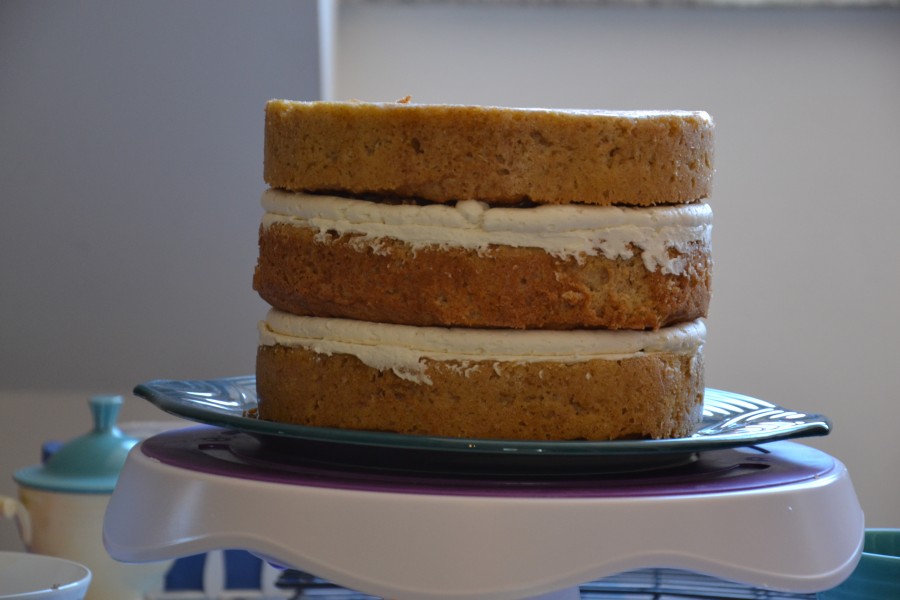 Because of the height and the filling, I definitely needed to dowel this cake.  If I was transporting this cake to an event, I'd have put in two or three bubble tea straws for peace of mind.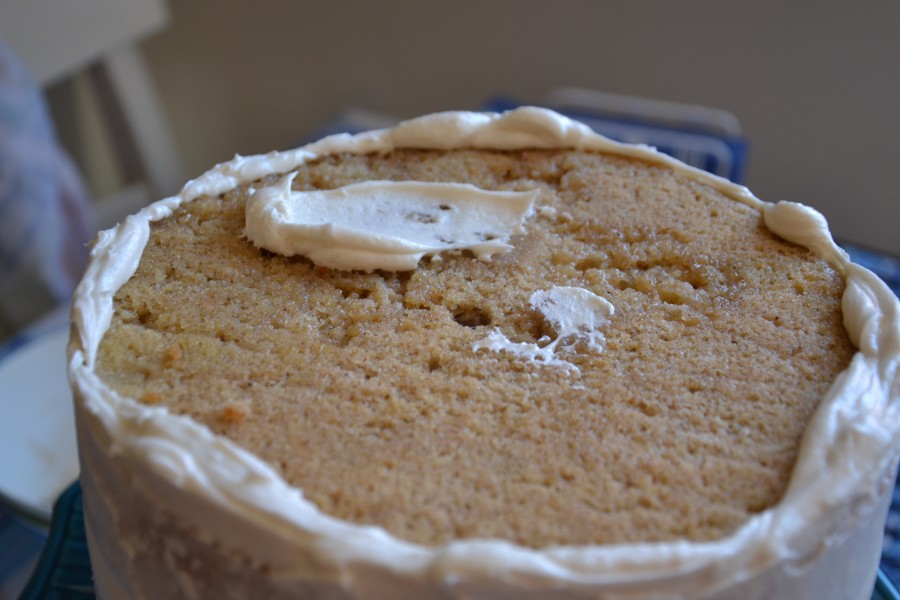 With the crumb coat completed, it was time to set up in the fridge.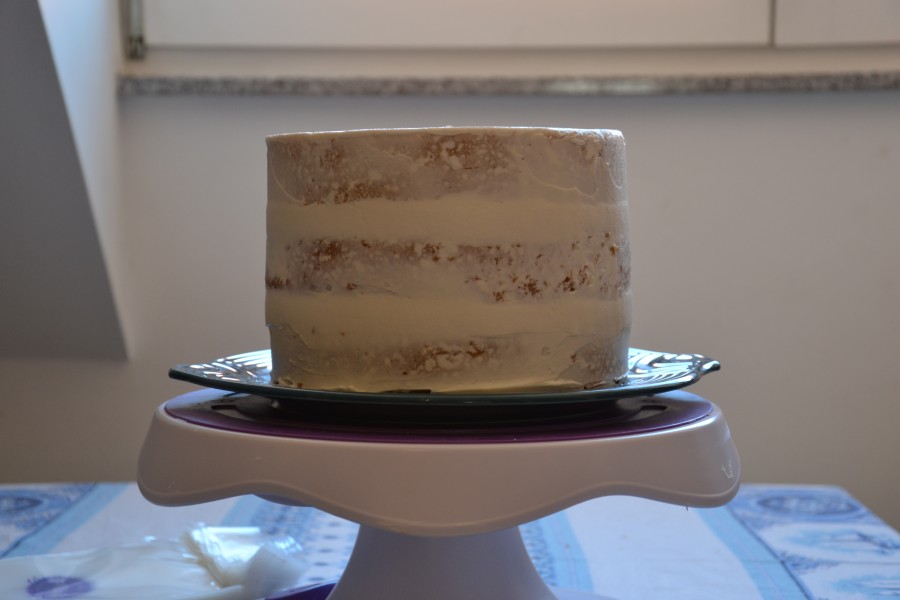 This cake was all about combining these delicious flavors – but I had no idea how to decorate it.  I wanted something to celebrate Autumn, which means color to me, and lots of it.  I decided on a simple ruffle design that could celebrate color and change and the imperfection of nature.
I started with my Wilton colors: buttercup, copper, juniper, and burgundy….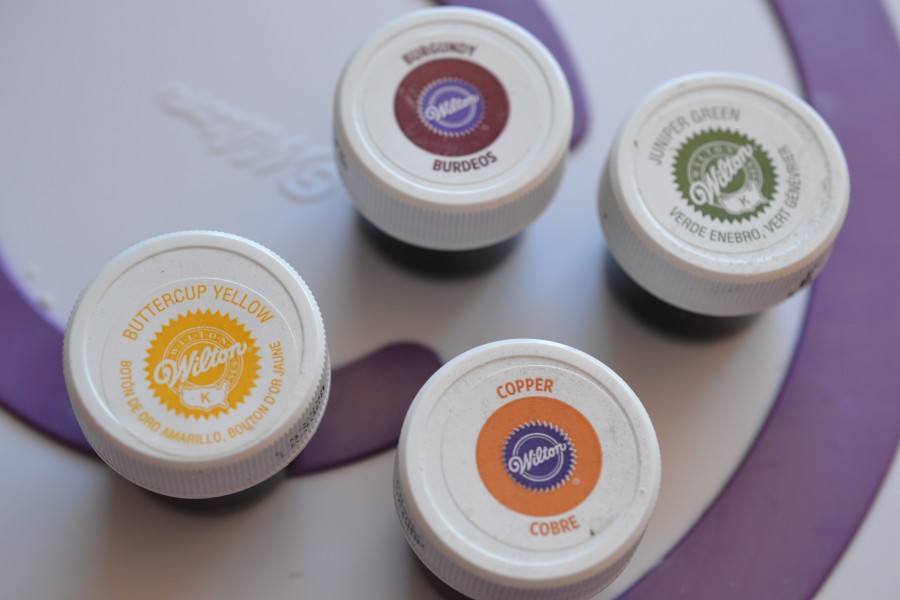 …and divided the Vanilla Buttercream into individual bowls, then stirred in the coloring gel.  I used a standard open star tip.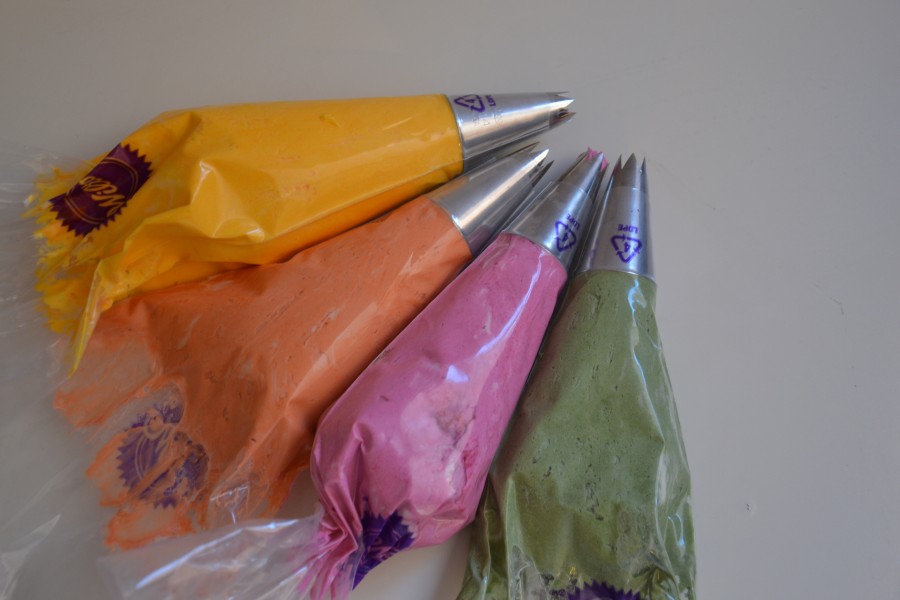 I love these colors and the waves of ruffles that suggest movement.  The noise of the outside of the cake belies the quietness that in waiting inside – cinnamon and apples.  The comfort food of Autumn.
I am fortunate and grateful for my life partner and our people.
I am fortunate and grateful for sobriety.