Peach Layer Cake for a Potluck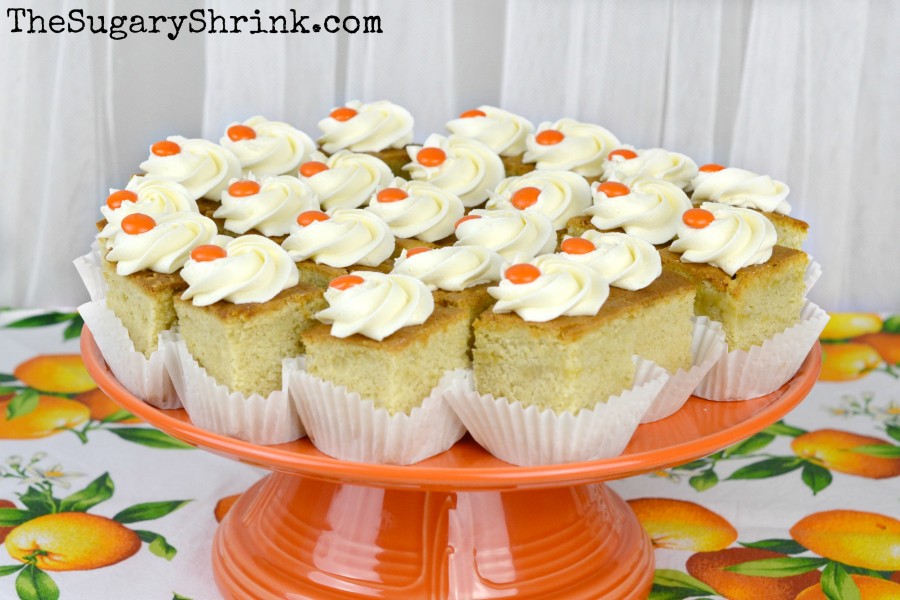 Peach Cake with Peach Buttercream and an M&M Garnish
It's that time of year!  Desserts on-the-go describe summer picnics, BBQs, family reunions, potlucks, camp out, etc.  How to get your favorite cake to that outdoor event is what this post is all about.
Layer cakes are my favorite of all time.  While I do bake cupcakes, galettes, and all manner of yumminess… cake tops the chart for me.
At the same time, have you seen what a mess a layer cake becomes when sandwiched between the noodle salad and cookie tray at the neighborhood potluck?  It gets messy and unwieldy almost immediately.
Or, think about the last staff meeting you attended, how long did it take before the pie/trifle/sheet cake look like a toddler had mowed through it?
There are solutions and we're going to tackle them one at a time.
"I need to take a cake to tomorrow's event and I don't have much time!"  Consider this option.
Today's featured cake is a Peach Layer Cake prepared in my Homer Laughlin Fiesta Dinnerware Foundry 9×13 Baker.  When pressed for time, bake the cake you're comfortable producing, including your favorite box mix.  Do you with gusto!
I had peaches in the house and started with blanching.
As soon as the peaches were cooled a bit, I simply tore the fruit from the pit and processed it by hand.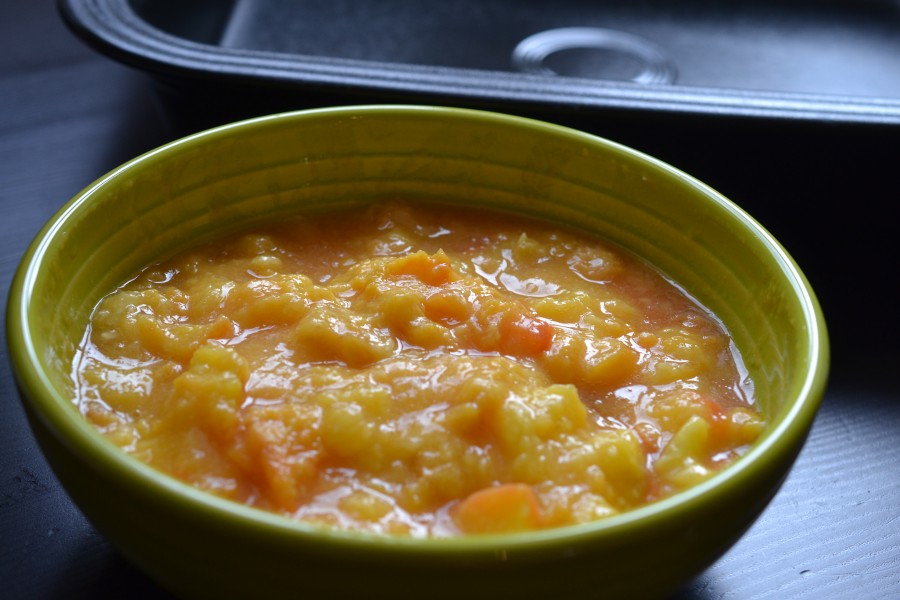 With the dry ingredients in one bowl and the peaches prepared, it was time to get some baking done.
I included 1.25 cups of stewed peaches in the batter.  I pressed the remainder through a sieve to include in the buttercream.
Knowing I would need to have the entire cake release from the pan, I lined the bottom with parchment paper and used a spray non-stick on the sides.
I baked the entire cake batter in one pan.  It required 60 minutes in the oven, but the cake was baked through and not at all dry.  I did gently press the center dome back into the cake.
After ten minutes of cooling, it was time to see if all the cautionary work paid off.
Yea!  The cake released very easily.  The Foundry baker is a champ and I loved the results.
In order to reduce messiness in taking a cake to a crowded event – prepare individual servings.  "But I don't have time for cupcakes, Sugary Shrink."  Of course not, let's slice that 9×13 cake into single servings.
First thing…. square up the sides.
With the sides vertical, it's time to slice this cake.
When preparing servings for an event, keep in mind there will likely be other desserts to choose from and the size of each slice of this Peach Cake can be much smaller than those served at home.
Upside with this technique:  Each slice is a center slice. How awesome is that?!
A general rule-of-thumb I follow… if the event is outdoors away from home, I prefer a cake plate that is plastic or disposable.  I'm not taking my Fiesta to a pool party or a church potluck at a nearby park.
In this case, I've opted to cut a large rectangular cardboard cake support in half.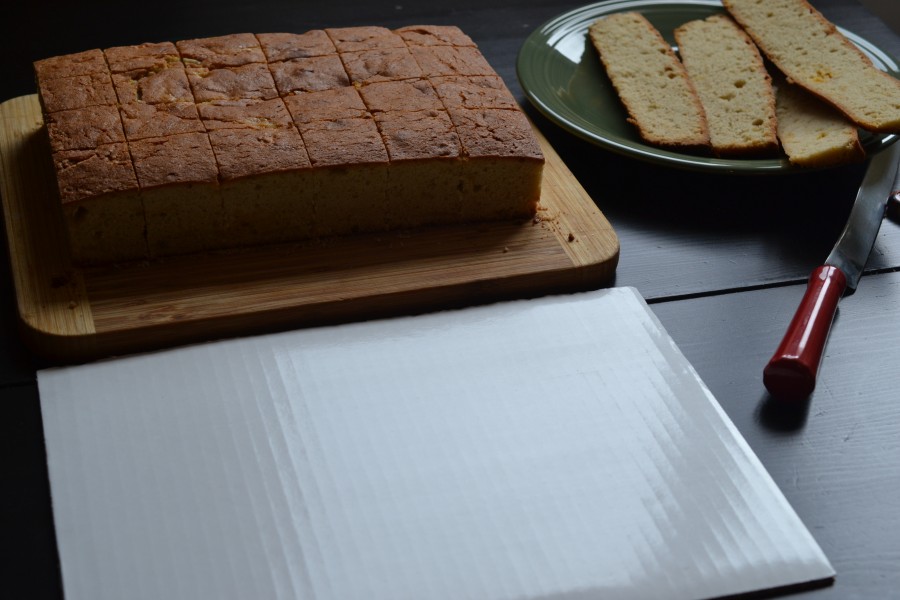 I'm only interested in the cake slices at this point…the carved away sides have many uses in store.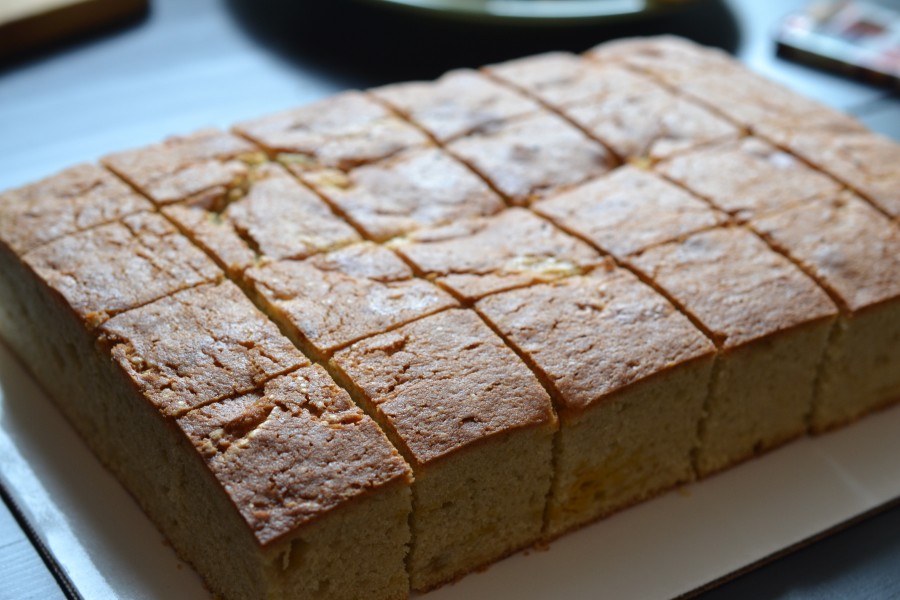 Those servings look great.  No one is looking for perfect, but aim for mostly even.
The sides come in handy when somebody on my squad walks through the kitchen and needs to taste-test the Peach Buttercream with the Peach Layer Cake.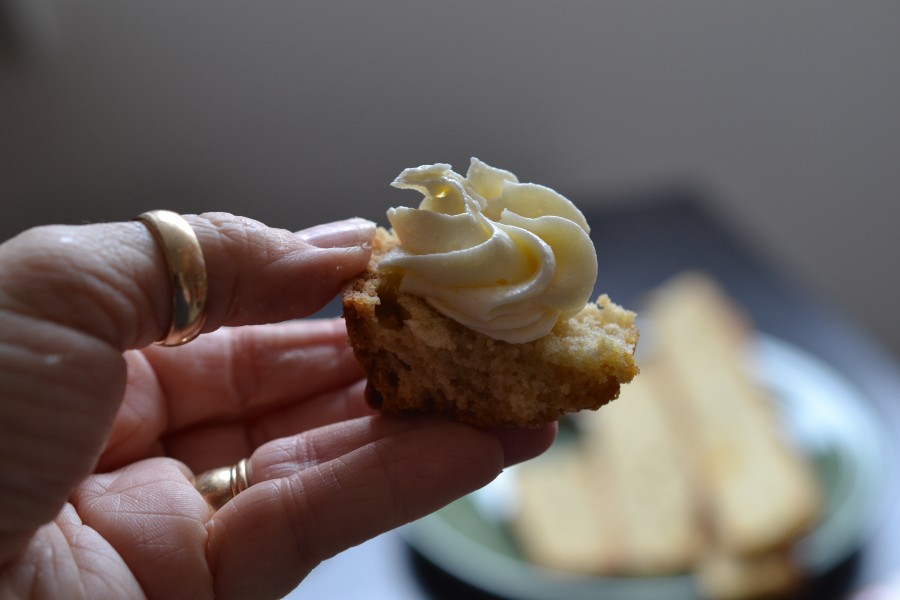 Reduce buttercream stickiness by piping roses onto each slice of cake.  No time to prepare buttercream?  Whip 1 to 1.5 cups of powdered sugar into tub frosting – it'll pipe onto cake and cupcakes…and stay put.
I tend to add a little bit of fun onto cupcakes, so I've garnished each slice with an orange M&M.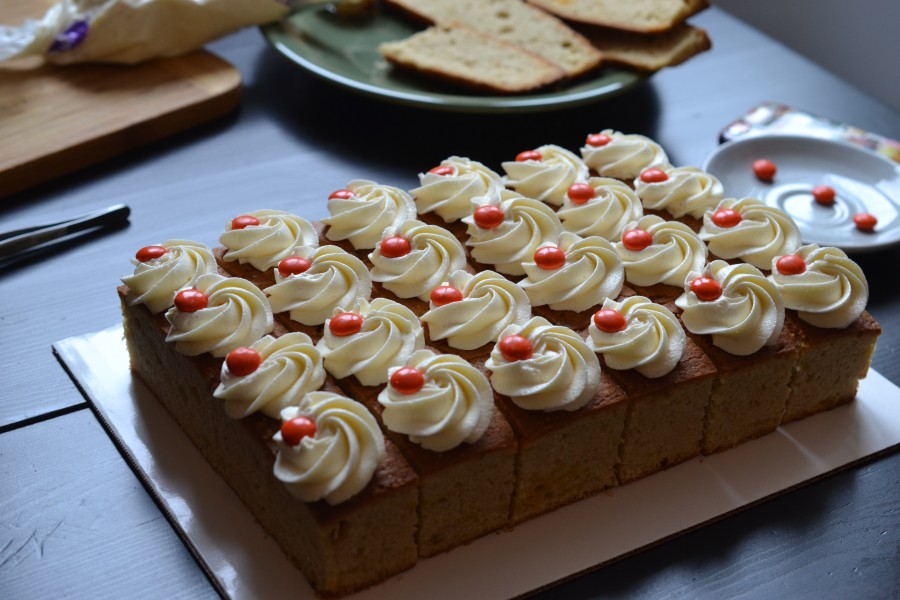 The cake is baked, sliced, and ready to go.  How is the cake transported?
I have several plastic cake/cupcake takers in varying sizes.
No plastic carrier?  That's ok.  Snip off one pointed end of six toothpicks; place around edges of the cake – flat end up.  Tent plastic wrap around the dessert.
Let's get that cake moving.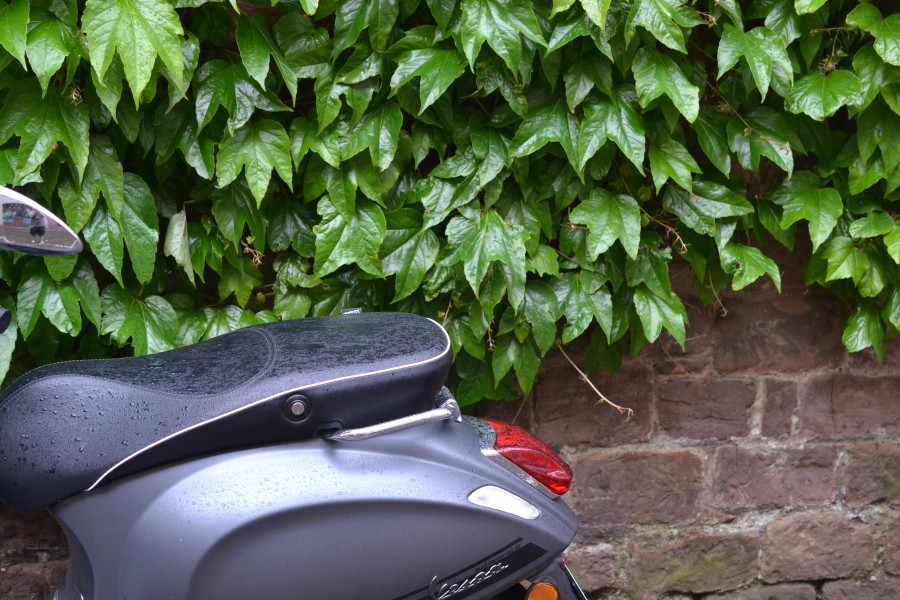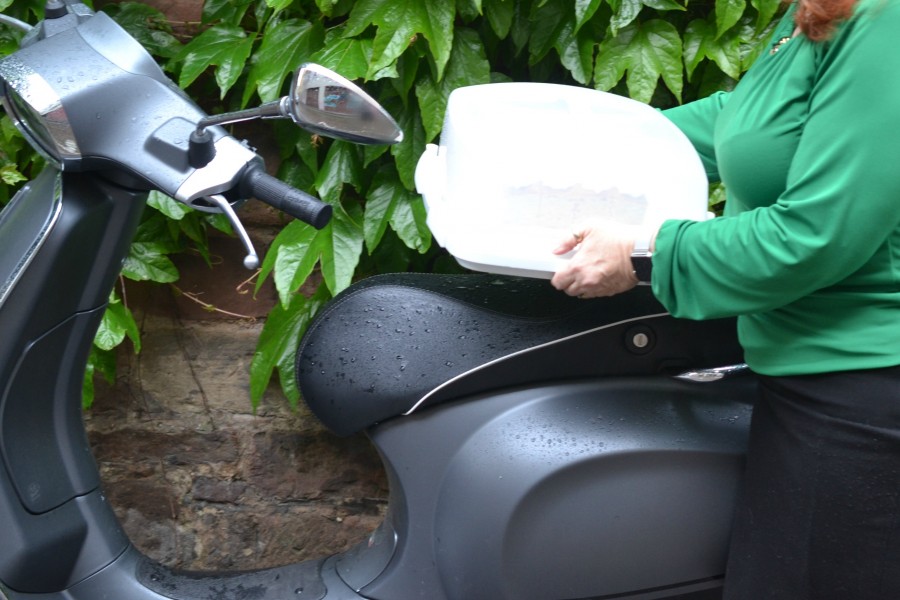 Back to that rule-of-thumb…. If the event I'm attending is an indoor, smaller group, with a reduced risk of a volley ball landing on the dessert table… consider plating each slice in a cupcake liner and showcasing your favorite cake plate.
It makes quite a lovely presentation and eliminates the need for even the smallest of servers.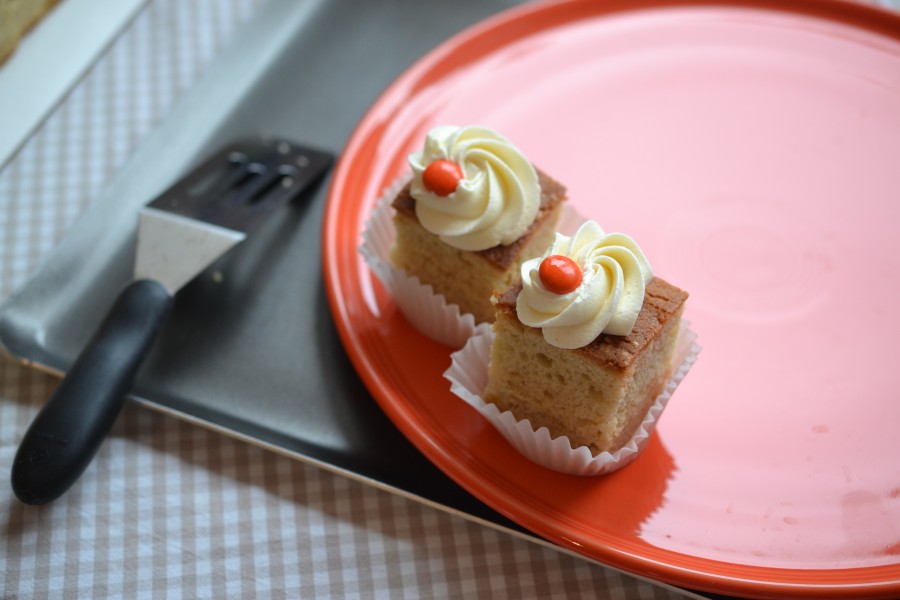 I love sharing my cake and cupcakes with people.  But, I'm not always interested in slicing and serving a two-tier cake of scrumptiousness.  Maybe you aren't either.  Slicing the cake beforehand will still leave your dessert delicious and likely presentable at the same time.
I'm grateful for my life partner husband and his willingness to lend a hand with my ideas.
I'm grateful for our people and their love.
I'm grateful for sobriety and all that is possible.