Strawberry Roses Forever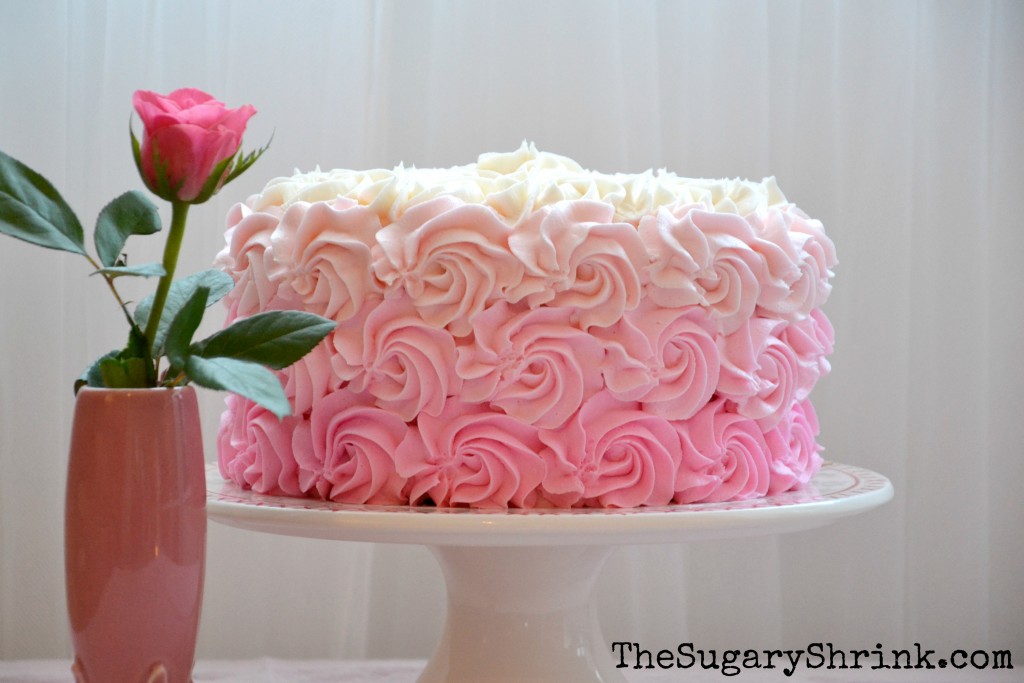 Triple-layer Strawberry Cake and Cheesecake with Strawberry and Vanilla Buttercream Roses
With Valentine's Day so close, I've been concentrating on cakes that would be a lovely dessert shared after a romantic dinner, cupcakes to take into the office, or baked yumminess for no reason at all!  I've also been working on family friendly cupcakes the kids can help decorate.
During a discussion of Valentine's Day desserts, this Strawberry and Cheesecake Cake was developed due to all the comments regarding Strawberry Cheesecake!  Though I haven't baked that particular cheesecake yet, it sparked an idea for this interpretation of the traditional Strawberry Cheesecake…emphasis on cake.
Confession… it was as delicious as it sounds!  The Strawberry Cake recipe includes 1c. of strawberry puree (I used my blender) and 2c. of strawberry yogurt.  I also add just 1t. of strawberry extract to ensure enough flavor; the results are worth it.
The Cheesecake baked without a crust is ideal for layering between cake sponge..it provides just the right amount of creaminess and the texture blends extremely well.
Mercy!  That level of wonkiness had to be addressed!  Cake is about progress not perfection and it is also the case that wonky layers at the outset of building cake will produce an even wonkier final product.  #voiceofexperience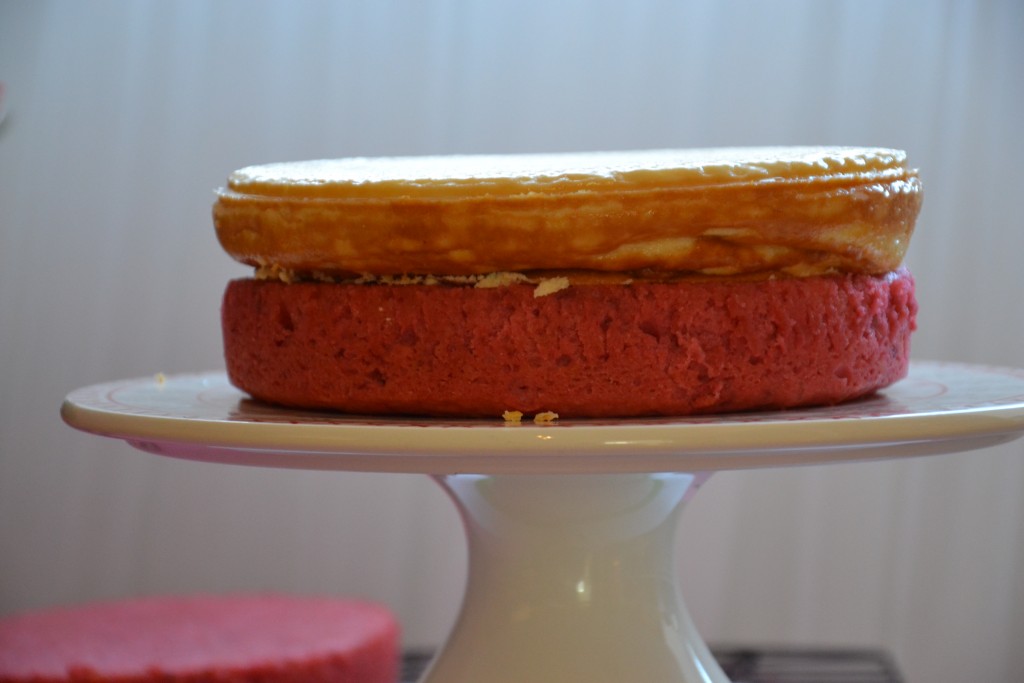 With a bit of knife work here and there, the layers evened out.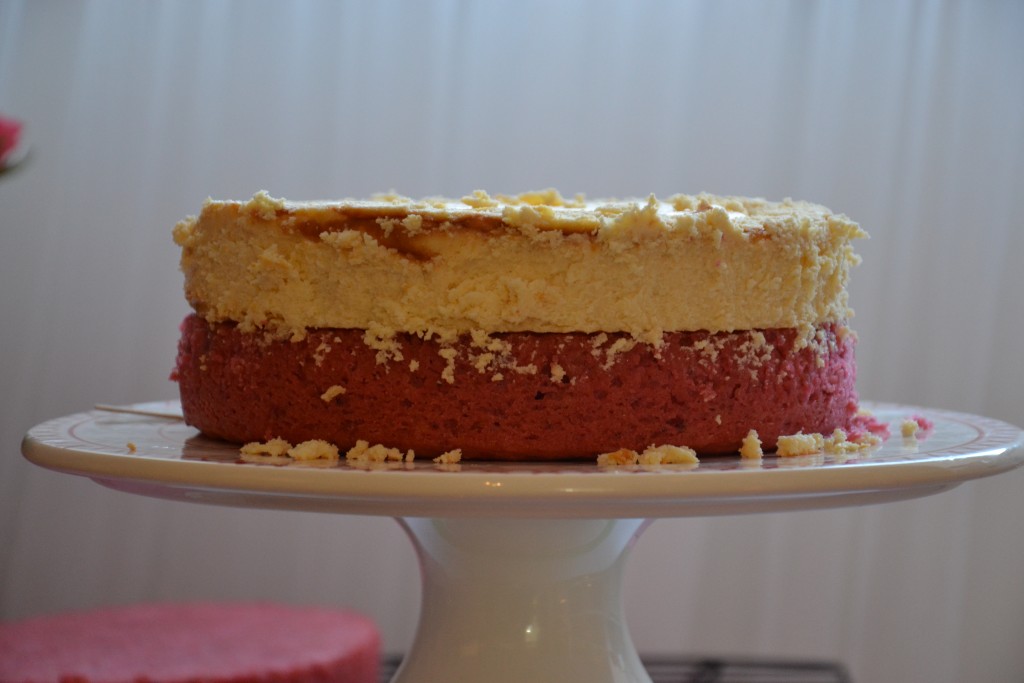 The crumb coat is a thin covering of Strawberry Buttercream.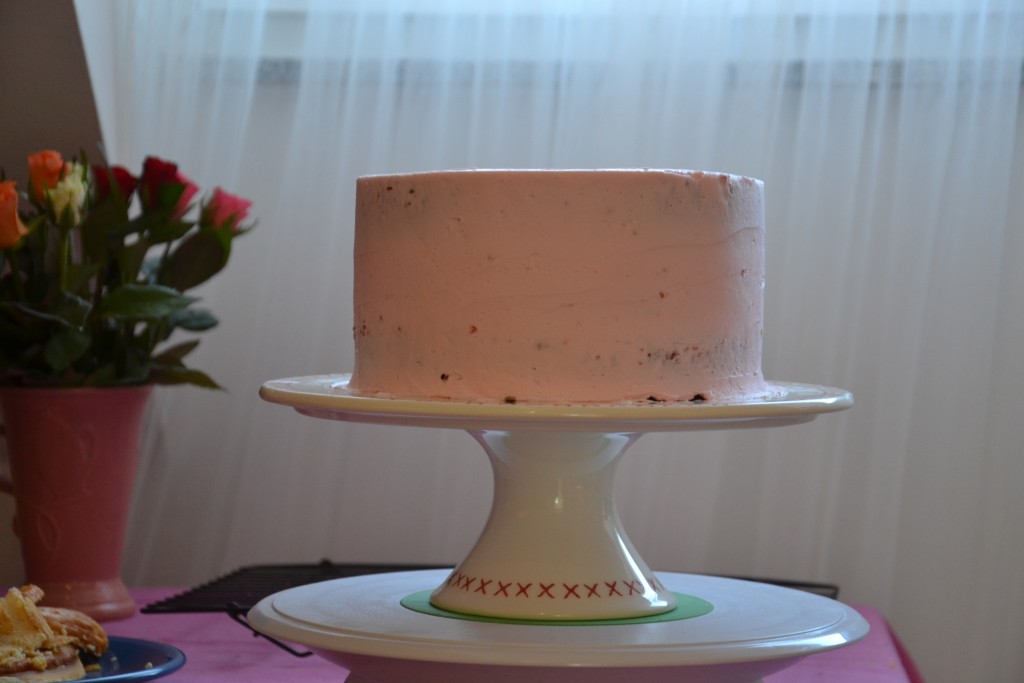 The white buttercream on the far right is Vanilla Buttercream, then I added Strawberry extract to the remainder of the frosting.  When tinting buttercream it is a best practice to use gel coloring instead of liquid, but of course liquid is effective with lighter colors in small portions.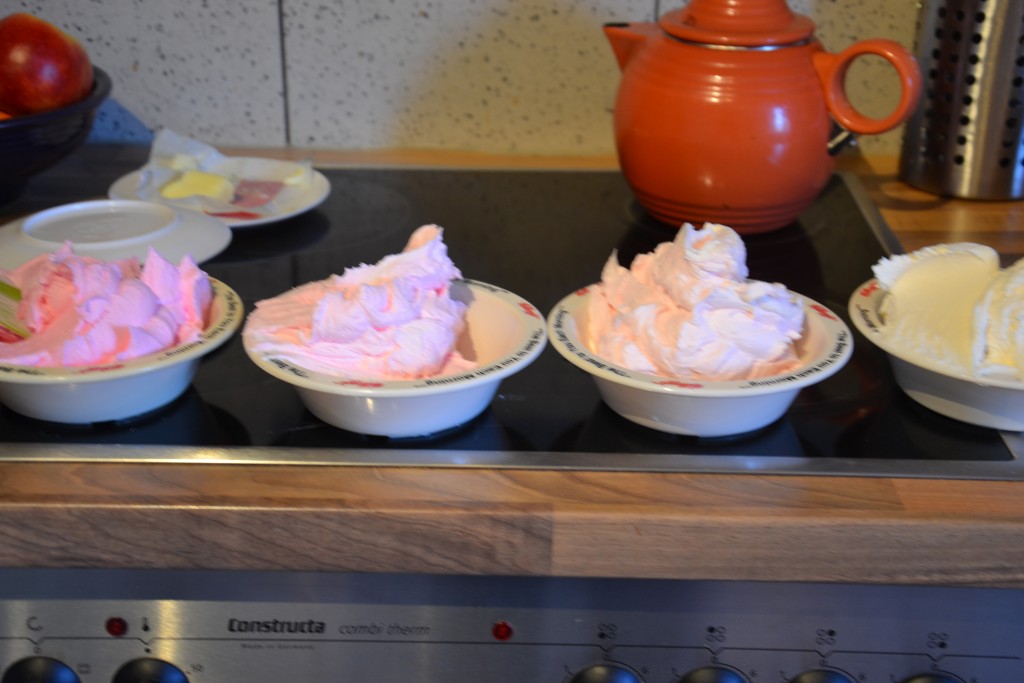 Hot tip: When tinting for an ombre effect (graduated color intensity of one hue), step back from the work to check the transitions and, if possible, use identical bowls to avoid visual influence.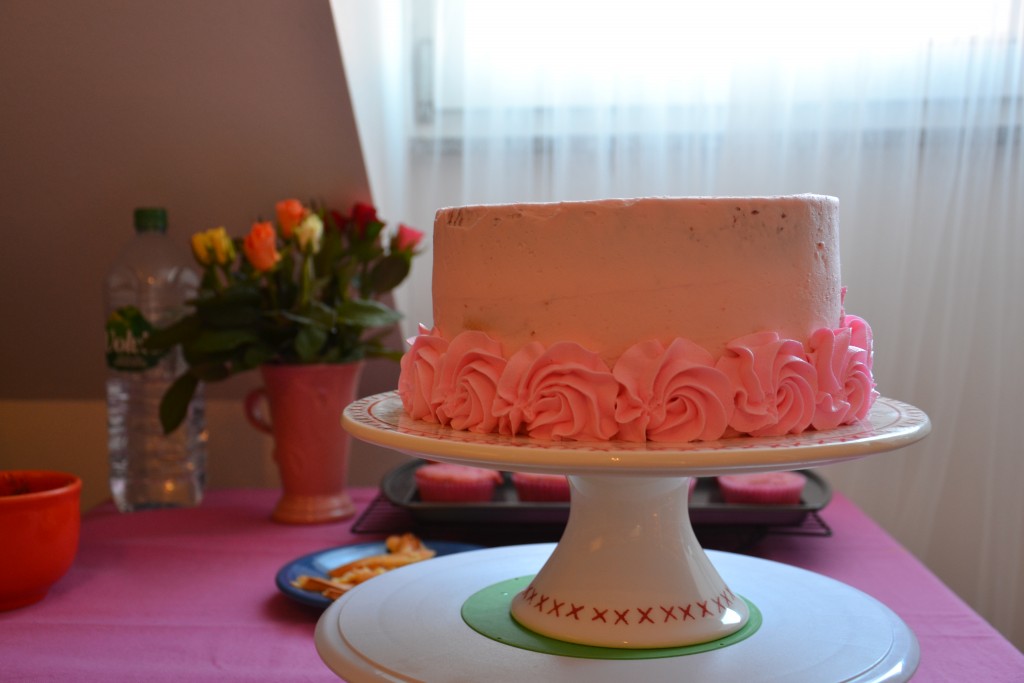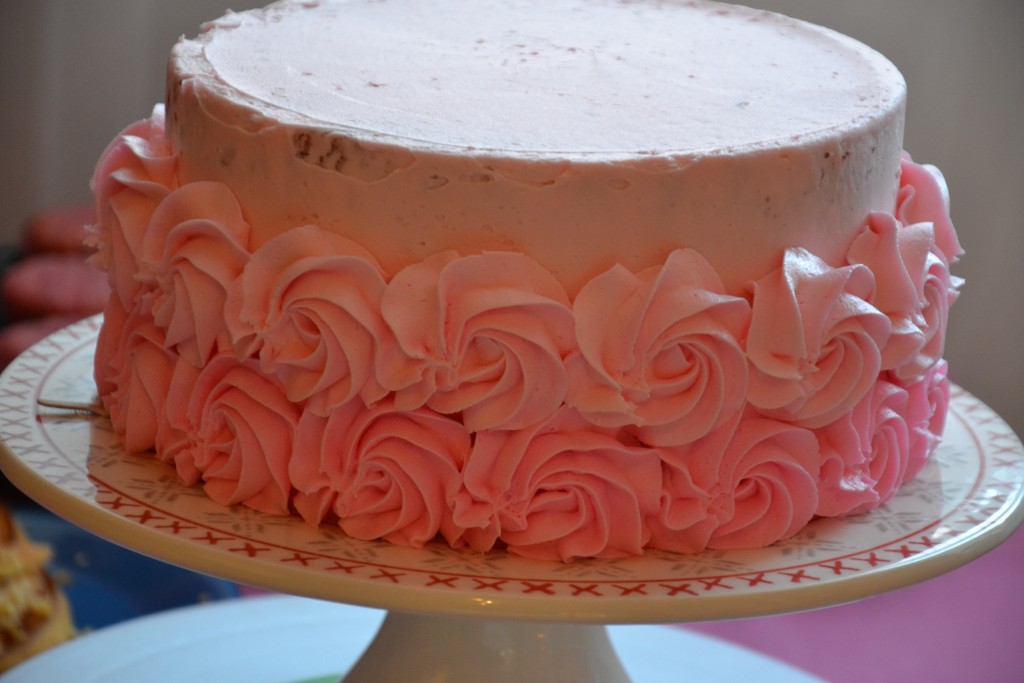 I used a Wilton 1M open star tip for the buttercream roses.  The ratio of powdered sugar to butter to cream is the key for consistency in piping this design – the ingredient most bakers don't talk about when it comes to frosting is the level of air mixed into the frosting.  When piping roses, I prefer to have less air in the buttercream.  But, that's just my preference.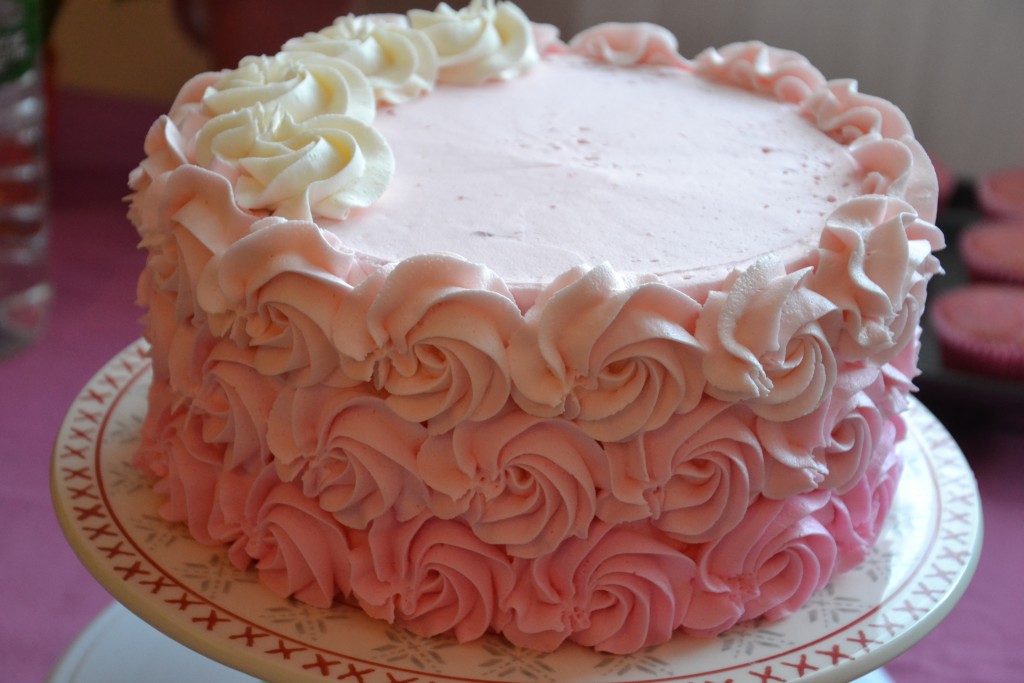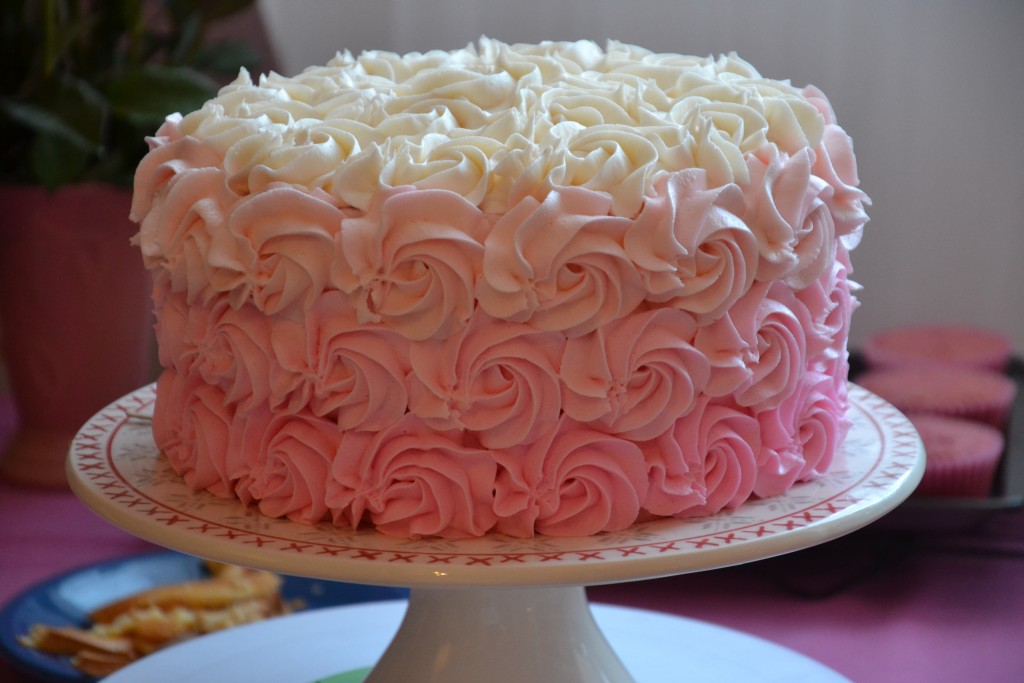 I was very happy with this result.  Be warned… three layers of cake with this much buttercream is heavy. Literally.
Here is an extreme close up of the frosting…despite a reduction in air, it is quite light and delicious.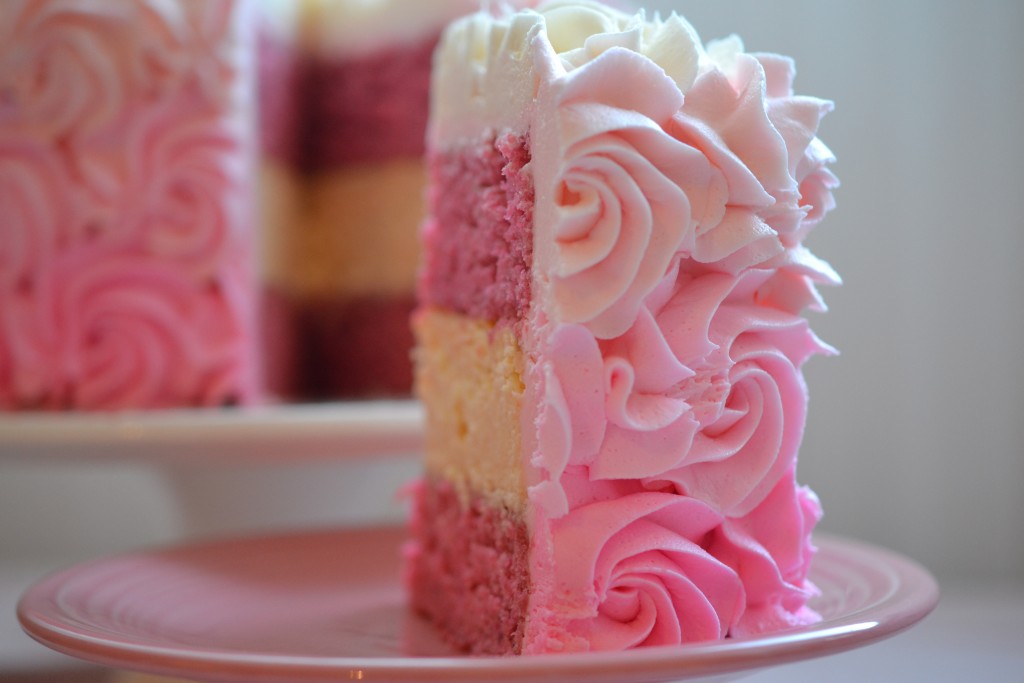 This is definitely a Valentine's Day cake… strawberries, cheesecake, and roses.  I was happy to share a slice of this cake with my life partner; he loved it!  It is the case that I'm also grateful for our people as well as sobriety.  Cake in my life is a good life.