Chocolate Cupcakes!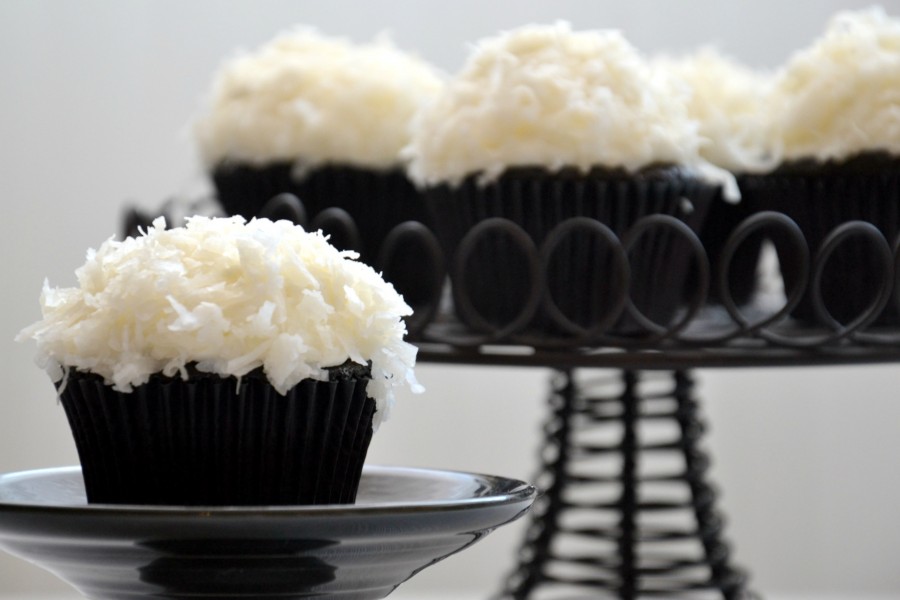 Chocolate Cupcake with Coconut Buttercream & garnish of Sweetened Coconut Flakes
We're celebrating the Chocolate Cupcake today!!
This is my favorite, go-to cupcake whenever I need something in a hurry. Here's my never-fail recipe I use…don't look now, but I use dark chocolate in this amazingly moist chocolate cupcake.  When I tell people it's a dark chocolate cupcake, I often hear "I don't like dark chocolate."  So, I started to simply introduce it as a chocolate cupcake and it's green lights after that.  Hot tip: descriptions are incredibly important.
The versatility of this sponge is endless.  Here are a few of my recent favorites.
These small cakes are frosted with a Strawberry Buttercream and an M&M center.  I used a small Wilton #22 Open Star tip to pipe on flower-petal inspired loops.
This frosting is a Vanilla Buttercream with a drizzle of melted Lindt Chocolate, 70% cocoa.  It's simple and quite delicious; I used a Wilton 1M piping tip.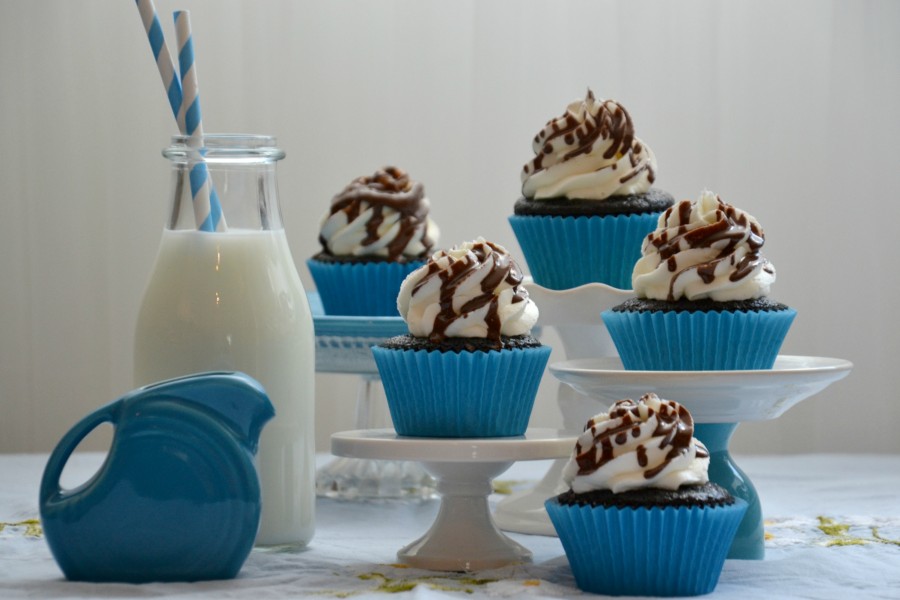 From the just-about-anything-can-be-a-cupcake-topper category… cereal!  These Peanut Butter Cap'n Crunch cupcakes include a bed of Peanut Butter Buttercream and a drizzle of melted Nestle chocolate chips.
These cupcakes have a segment of melted Ritter Sport Chocolate-Drizzled Waffle nestled into a swirl a Vanilla Buttercream, once again demonstrating that bakers need not be limited to sprinkles on cupcakes.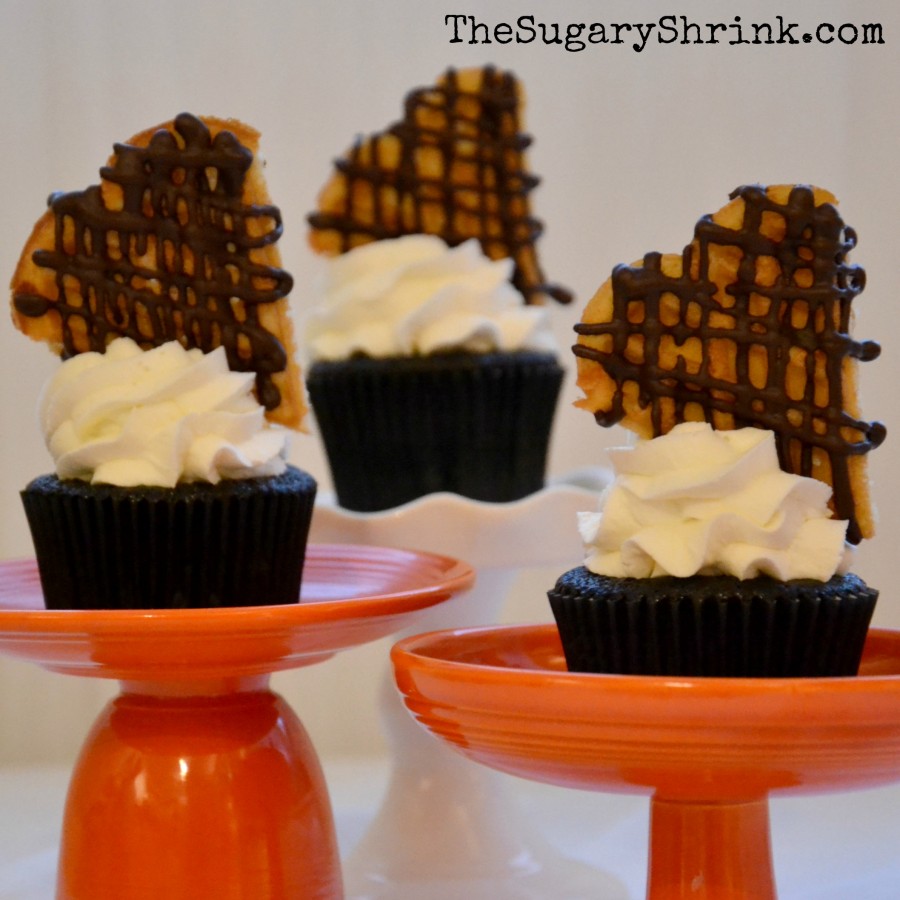 Sometimes, it's ok to leave a cupcake without a topper…especially when none are handy in the kitchen right this very minute.  These chocolate cupcakes with Nutella Buttercream are de.lic.ious.  And, I would have popped a Ferrero Rocher bon bon on top if I'd had them.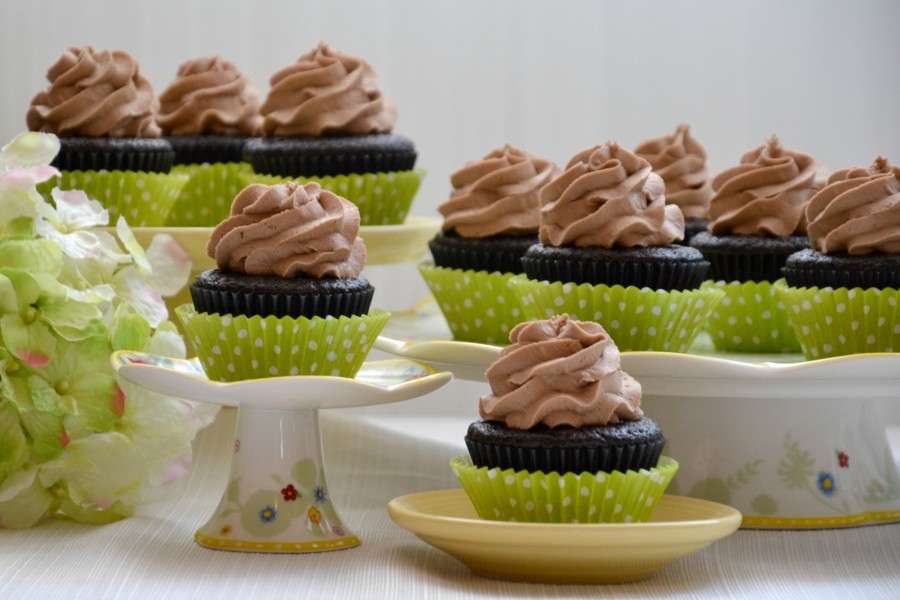 Apparently, "Easter Island" cupcakes are quite fun.  Sitting atop that wonderful puffy cloud of Vanilla Buttercream is a White Chocolate Mask from Venice.  Something so simple looked quite stunning.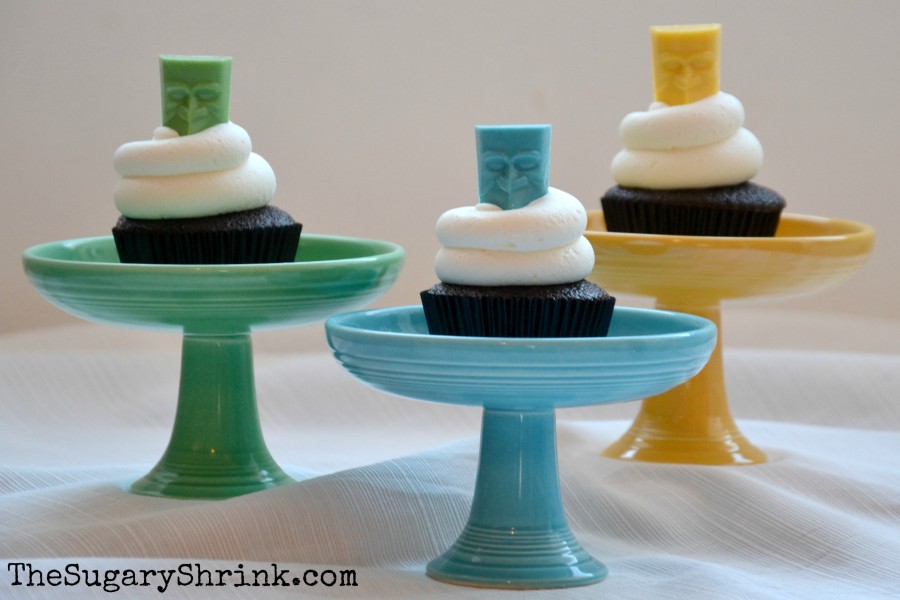 When I didn't think I had much in the pantry, I found a few Starbursts at the bottom of a candy bag.  I warmed the red chewy candies for a few seconds in the microwave, rolled each out between two sheets of waxed paper, and used a small cookie/fondant/marzipan cutter to cut out little heart shapes.  I love the color and it was yummy.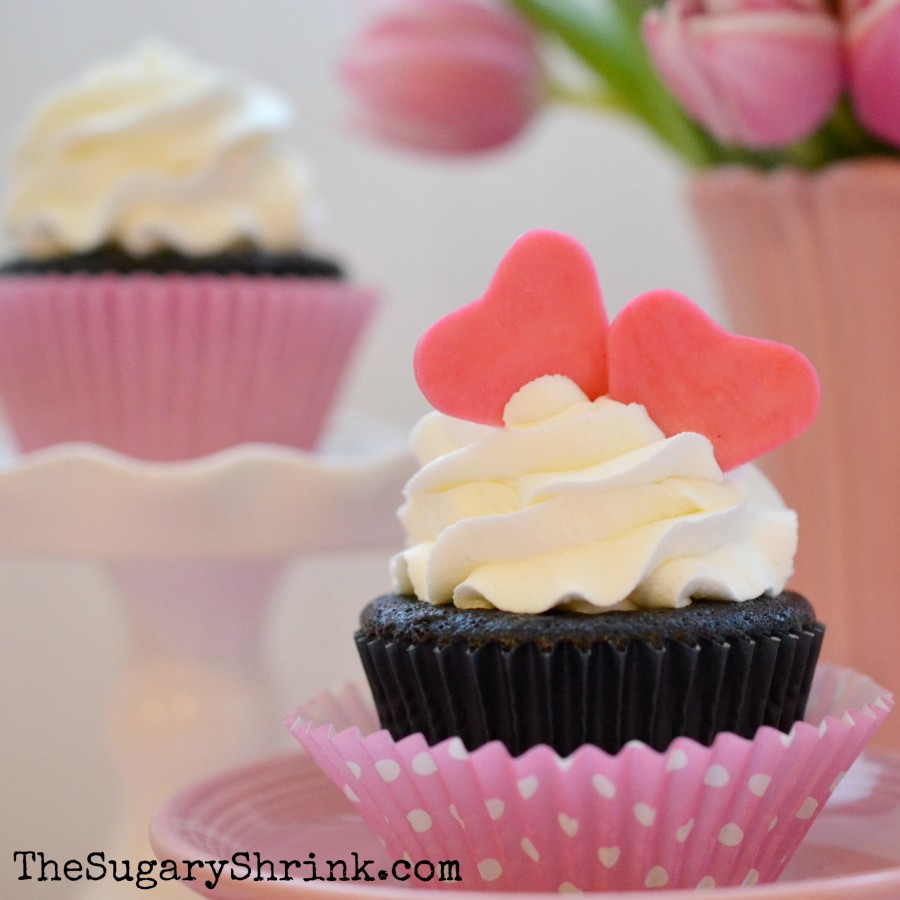 Fun with ribbons!  This little lollipop got a boost with a bit of grosgrain – it's like two sweet treats in one!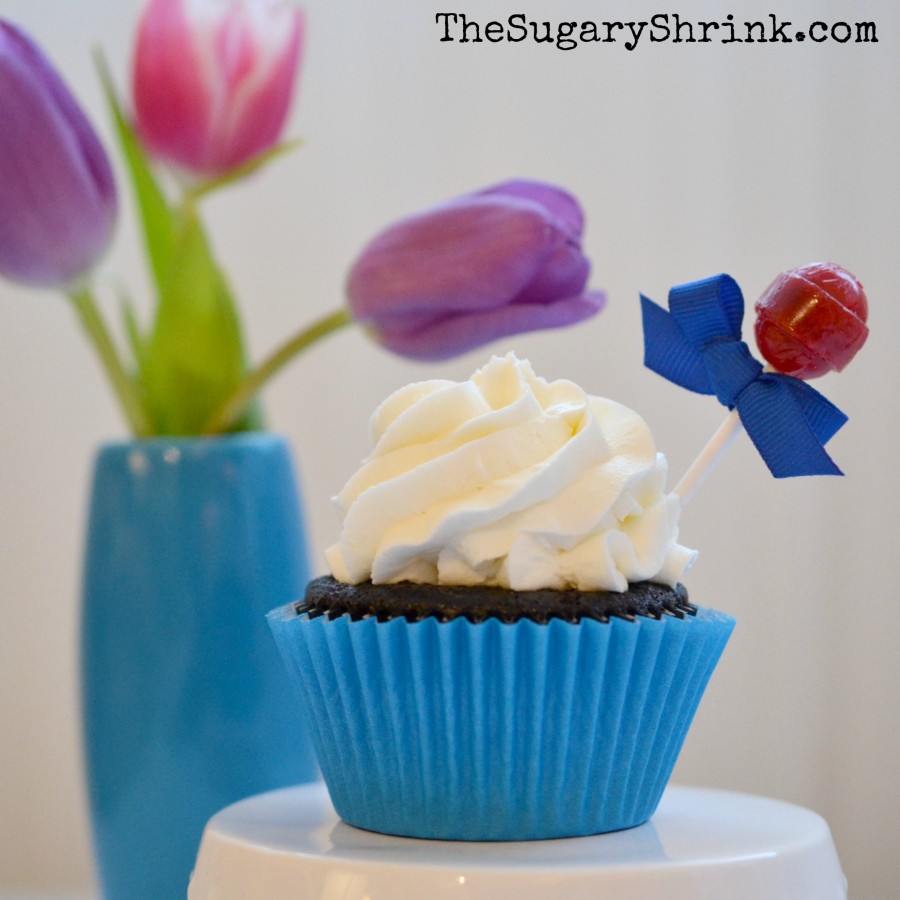 Sweet and Salty is such a fan favorite.  A little bit of chocolate and a few pretzels make this design a winner.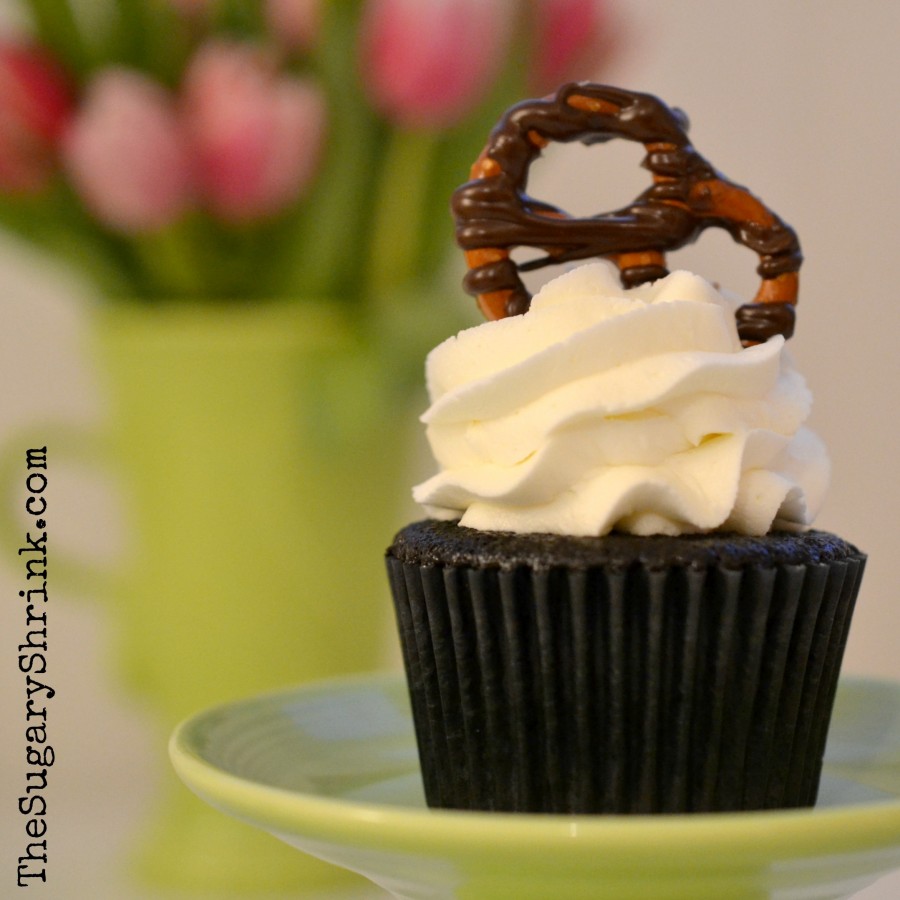 And finally, when in doubt… chocolate, chocolate, and more chocolate.  This Chocolate Cream Cheese Buttercream has a drizzle of melted Dark Milka chocolate plus a variety of mouth-watering Chocolate Candy bar toppers: Ritter Sport, Milka, and Reese Peanut Butter Cups. Also, I just love my vintage Fiesta Sweet Comports and Demitasse Cup/Saucers repurposed for cupcake stands… they're kinda perfect.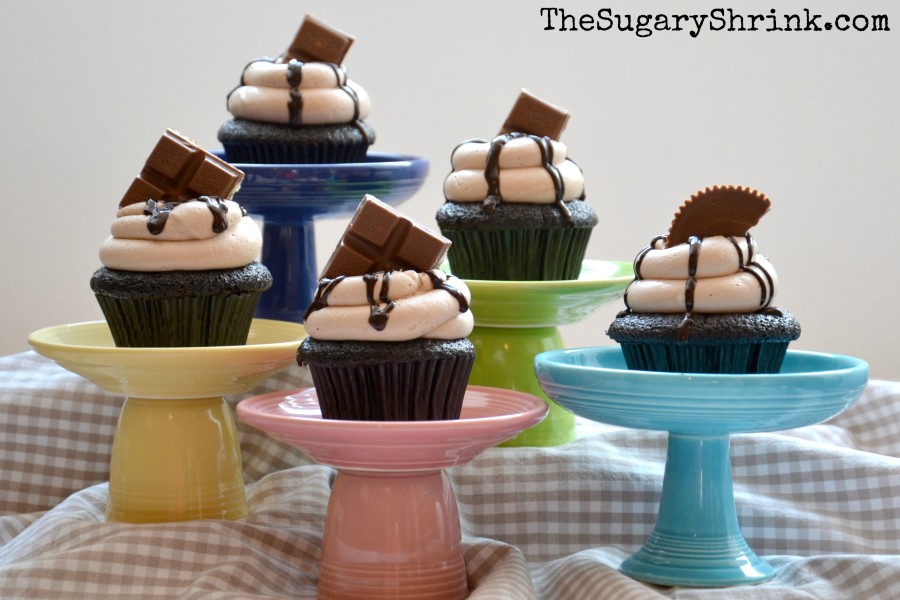 I don't know, but I doubt I could ever get tired of baking my favorite Chocolate Cupcakes.
Gratitude today looks like my life partner, our people, and sobriety one day at a time.