Blueberry Lemon Cake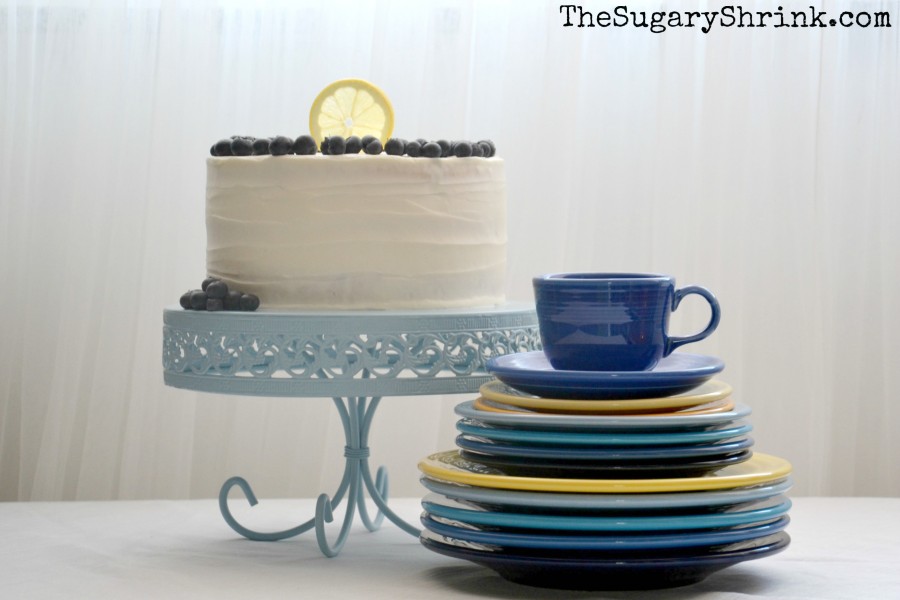 Triple-layer Blueberry Lemon Cake with a Light Lemony Cream Cheese Buttercream and a Garnish of Fresh Blueberries & Lemon Slice
Me:     "I don't know what to bake."
(extended back/forth discussion regarding cake)
LP:    "What about blueberries?"
Me:     "You have the best ideas!!"
Today's Blueberry Lemon Cake is brought to you by an inspired and patient life partner.  As soon as I heard him say "blueberries", I was all in.  I looked for recipes online, admittedly, most were leaning toward the muffin or blueberry loaf side of baking, I am almost always looking for layer cake.
After some research, I put together some components of several recipes with an adaptation from sallysbakingaddiction.com.
About six months ago, I prepared Blueberry Buttercream for a Walnut Cake.  While it was delicious, it was a light blue and didn't look very appetizing.  It was a great lesson and I knew to keep the cake its natural color.
This is how an amazingly delicious and moist cake was baked.
Some of the fresh and local ingredients used.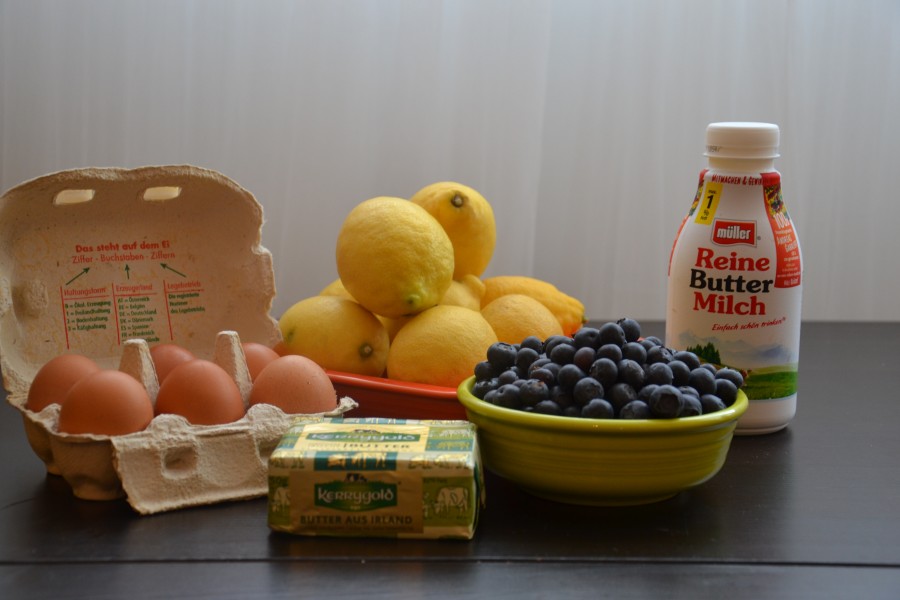 Combining the dry components separate from the wet ingredients allows the ingredients to become fully integrated.
My Fiesta Dinnerware Large Bistro Bowl has become my very favorite bowl to combine ingredients.  It can easily accommodate four cups of flour with room to mix.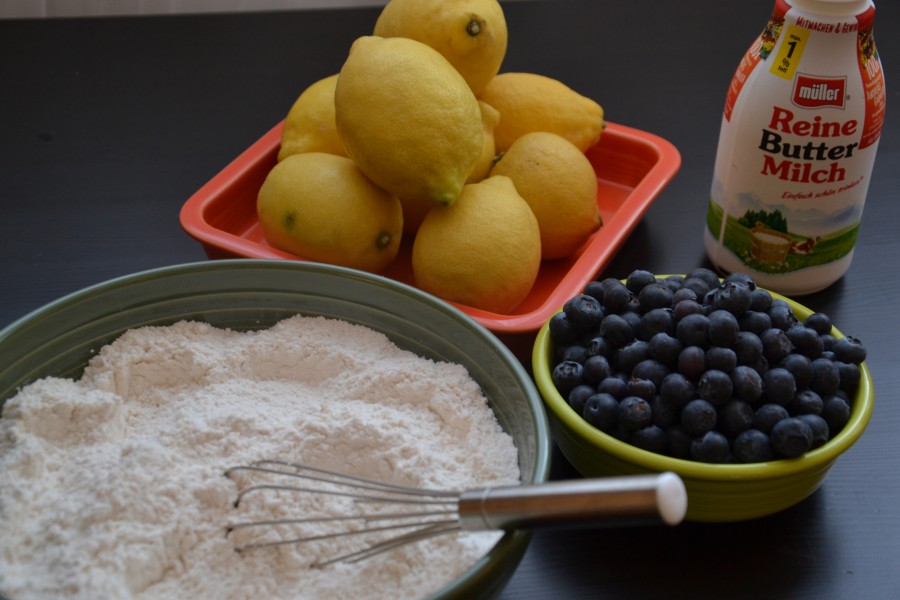 After the butter, sugar, and eggs were combined.  Add the zest of three lemons.  Sometimes it isn't always possible to have fresh ingredients so juice or extract is used.  That's ok…and if possible, use fresh.  Doesn't this lemon zest look scrumptious?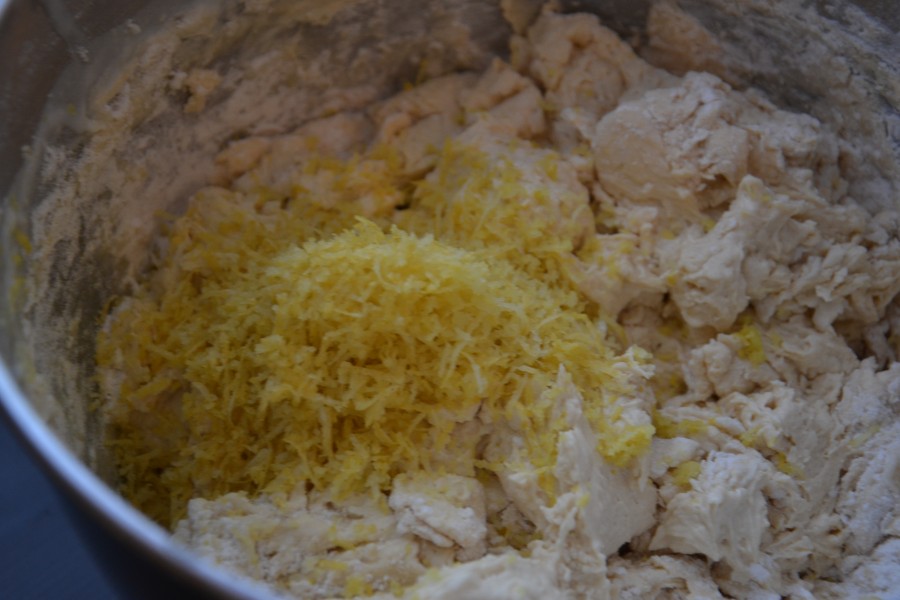 One of my favorite baking tips when adding solid components to a batter… toss them in flour!  If it's chocolate chips in cakes or brownies, toss them in flour to keep them suspended in the batter.  In this case, toss the blueberries in flour to keep them from settling at the bottom of the cake round.
I used a Fiesta Dinnerware Medium Bistro Bowl to toss, by hand, the almost two cups of blueberries with 1T flour.
Working with the flour in the batter – less is more.  The less stirring, less mixing, and less manipulation the better.  Ever so gently, fold in blueberries.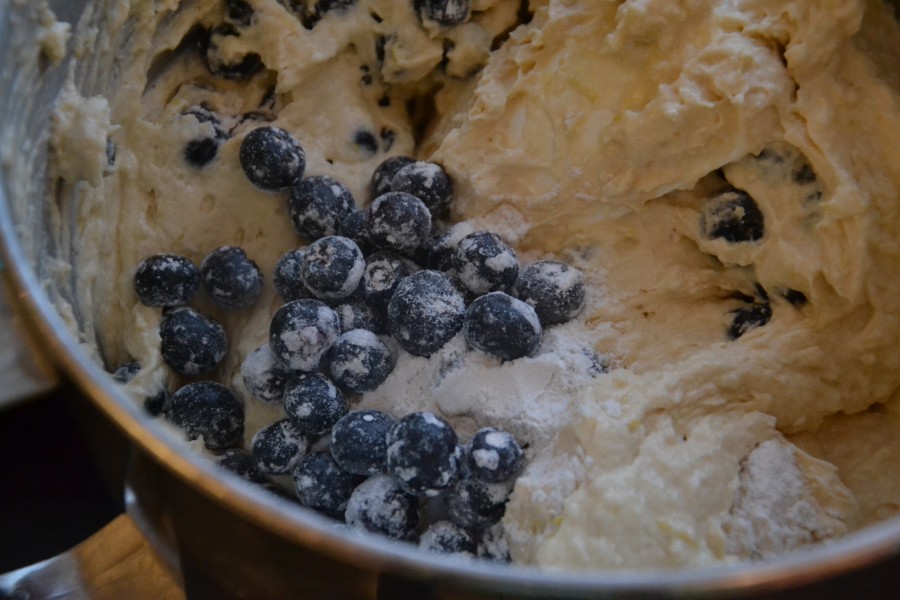 Again, I barely got the berries mixed in – just enough to keep them from sitting together all in one place.
It is critical to weigh the rounds and that step begins with prepared pans – parchment across the bottom and non-stick spray on the sides.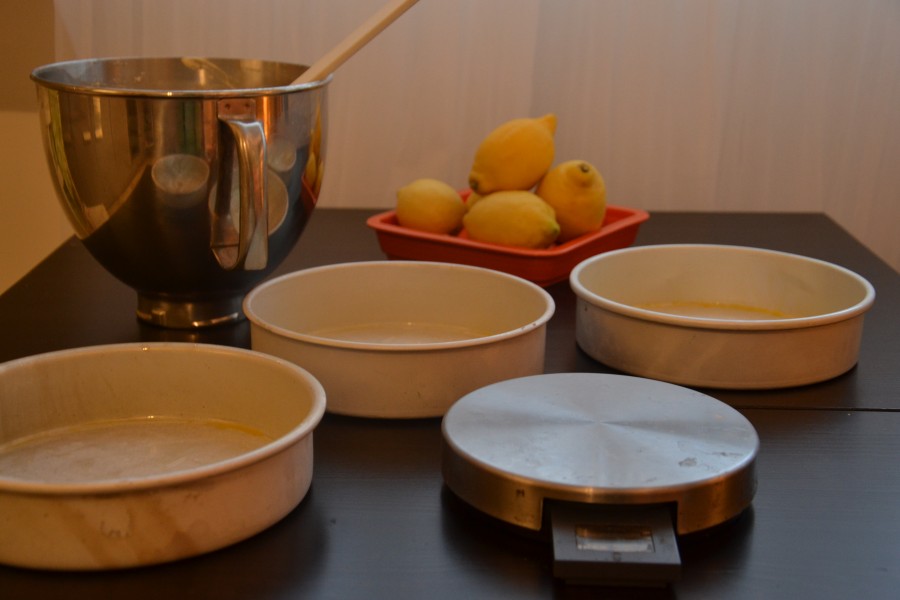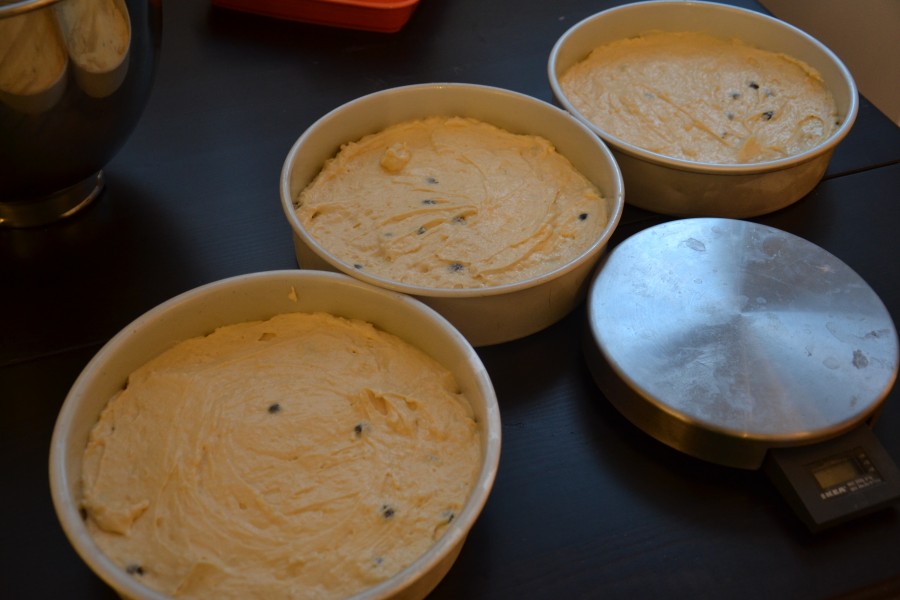 The results are so clean when using parchment or wax paper in the cake pan.  I just don't worry about losing a middle chunk of cake when baking with a paper round.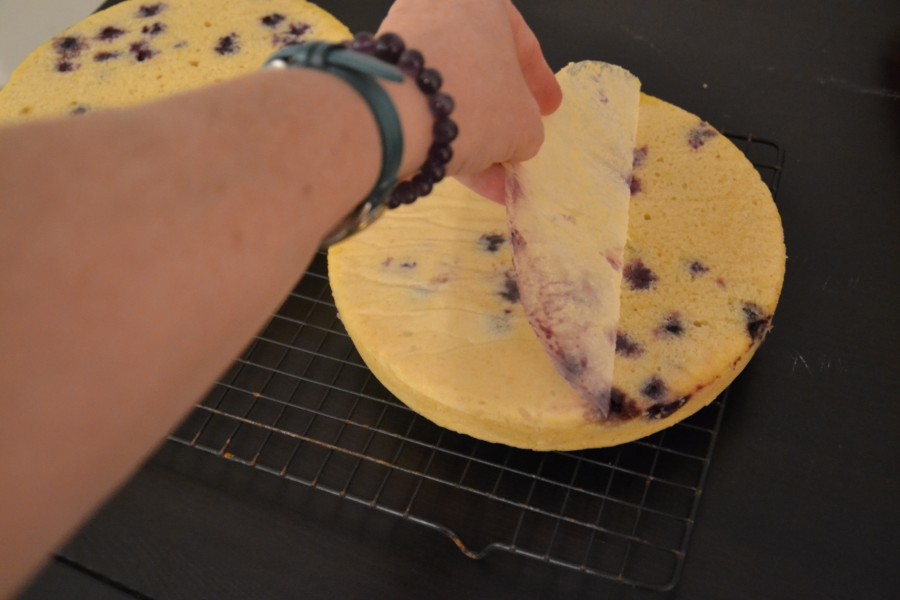 I really dig this blue cake stand; it seems like a natural companion to a Blueberry Lemon Cake.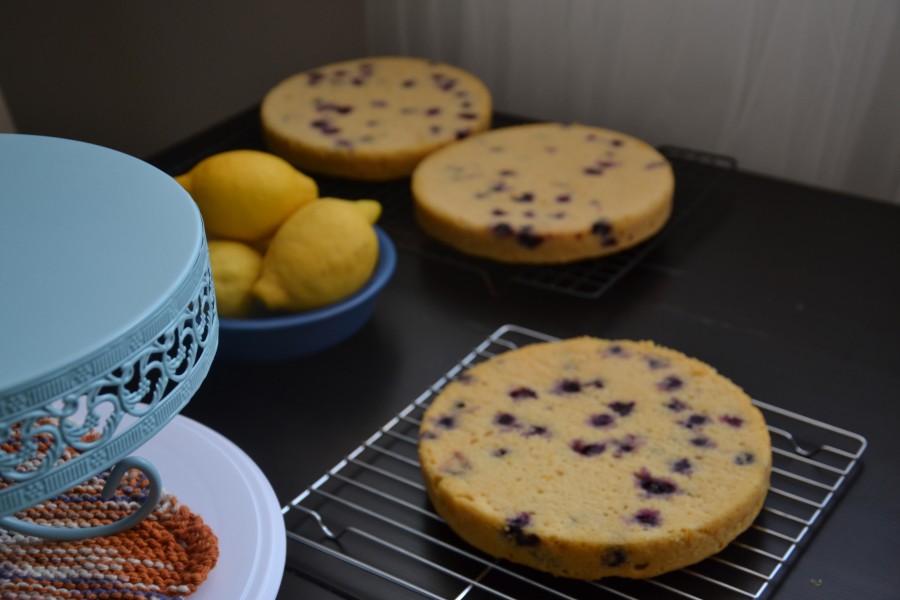 Because I made my favorite cream cheese buttercream, I was excited to build this cake.  While I typically use three scoops of buttercream for the filling when constructing an 8″ cake – with cream cheese I use two scoops.
After the crumb coat, I popped this into the fridge to set up.
I kept decorating on the simple side – a ring of blueberries and a slice of lemon.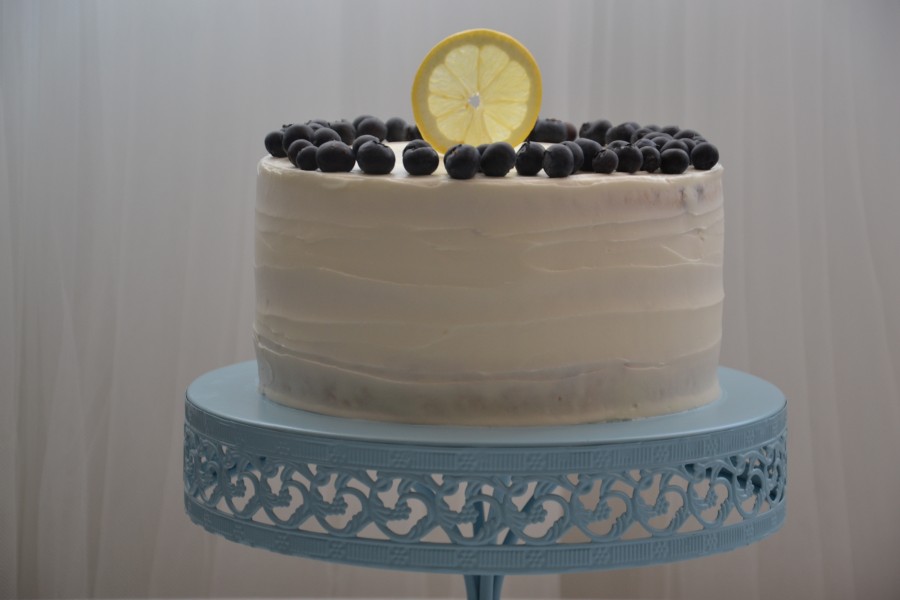 Simple. Delicious.  Perfect for an intimate celebration, backyard BBQ, or luncheon.  And why stop at blueberries?  I think just about any berry would work – strawberries, blackberries, or raspberries.
Can you see the results of dusting the blueberries with flour?  They didn't sink and are suspended all throughout the layer.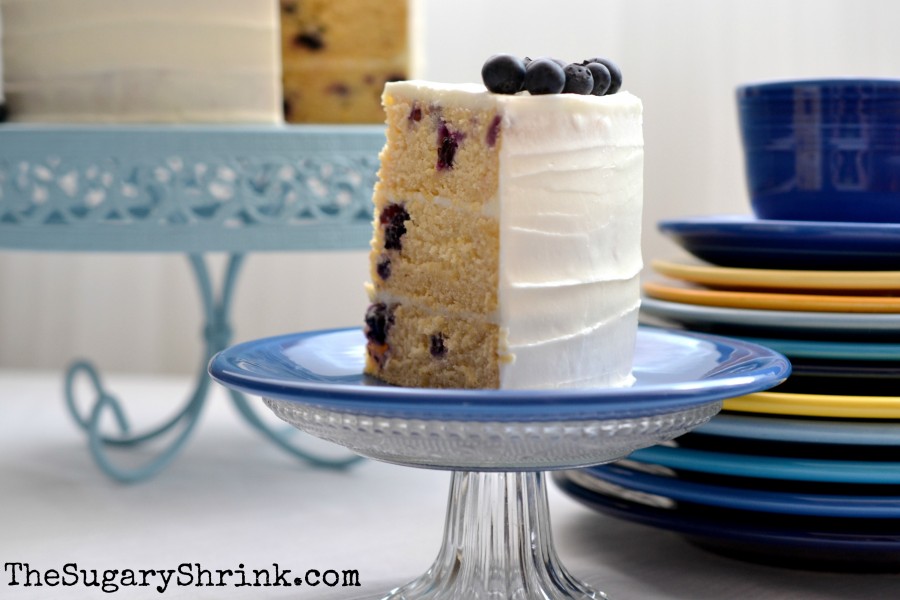 This is a good cake.  The blueberries bring the sweet and the lemon brings the tart – it's a perfect pairing.  And then a cream cheese buttercream with a hint of lemon .. oh yummy.
I'm feeling grateful for my life partner and not just because he inspired this cake.
I'm feeling grateful for sobriety and the twelve steps that help me live a meaningful life.
I'm feeling grateful our people are kind and keep the communication lines open.