Vanilla Rainbow of Deliciousness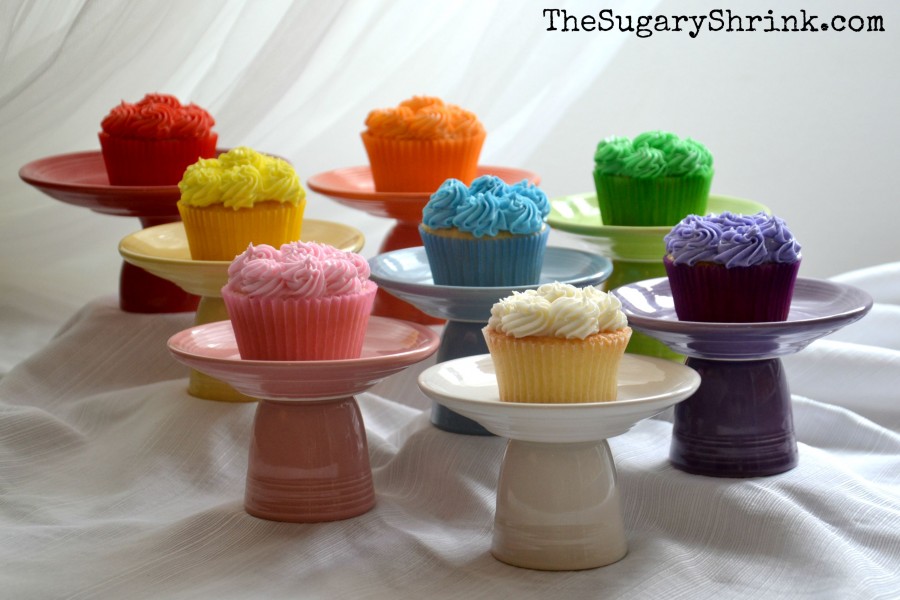 Vanilla Cupcakes with Vanilla Buttercream
So much color!  I love working with color and this vanilla cupcake event was no exception.
We recently took a five-day holiday and I wanted to stay active with my InstaGram account, so I baked this little rainbow and uploaded one color a day over the course of a week – the final day was a snapshot of all the yumminess.
I simply don't tire when it comes to coordinating colors and working to match buttercream with my Fiesta Dinnerware.
I started with my favorite Vanilla Layer Cake recipe and portioned out the cupcakes into rainbow colored cupcake liners.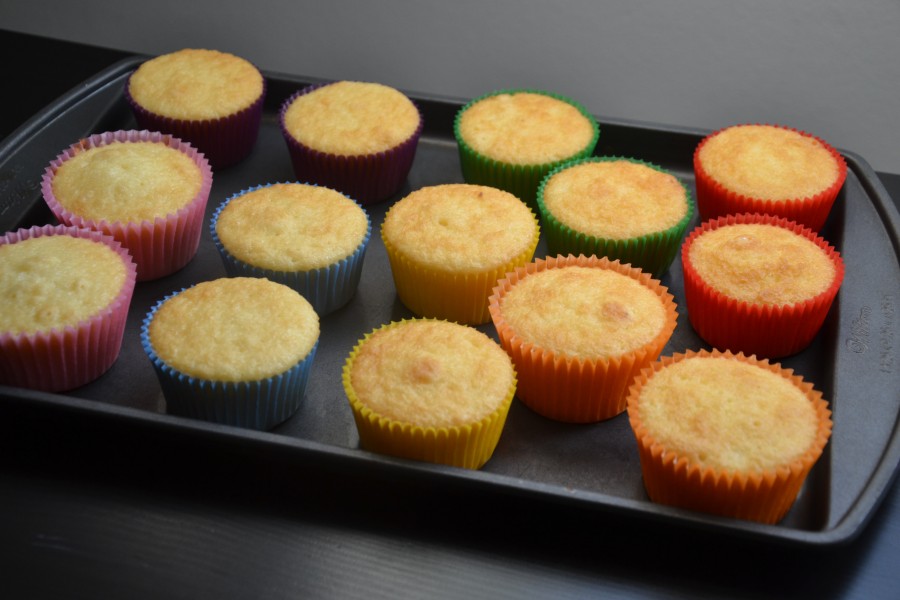 A quality cupcake liner that is grease-proof will help maintain the integrity of the color during baking.
I divided the white vanilla buttercream into equal portions in identical bowls – it helps me keep the portions even and the colors bounce from the same background.
I had to decide on which design to use… I tried several designs in white on a few test cupcakes.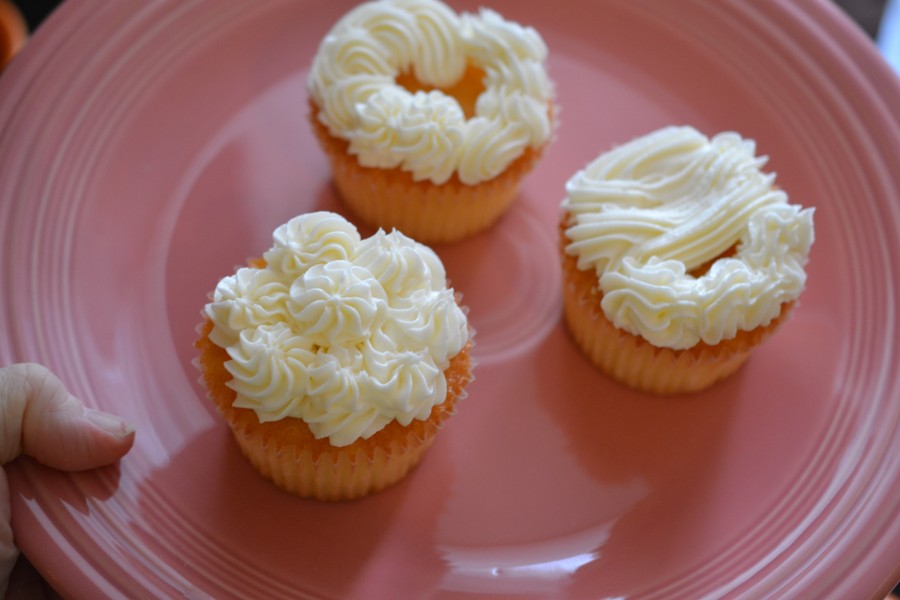 I love love love the look of the mini-swirls.  It makes for a beautiful look and a very doable design for home bakers such as myself (it's the same design I often use on full size cakes – swirls along the top edge).
Adding pink and white to the standard rainbow sequence was a thoughtful decision.  I really liked it.
With the cupcakes done, it was time to set up the photo shoot.
I have demitasse cups and saucers as well as these little vintage Fiesta Sweets Compotes.  For consistency, the demi set was chosen.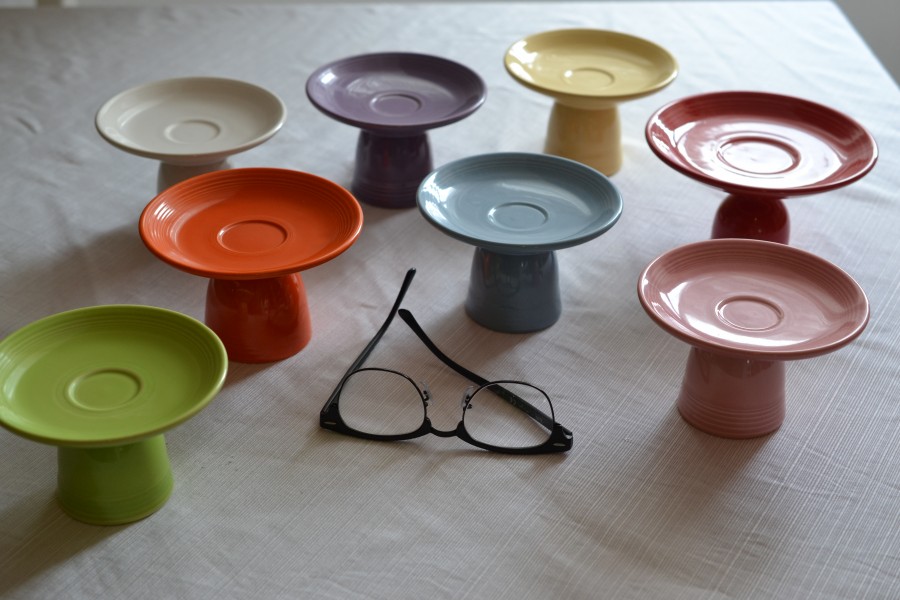 The orange demitasse cup/saucer is the Vintage Red set – the saucer is just slightly larger than the contemporary sets.  And the only red I have is a teacup saucer – so I sat in on an egg cup.
In order to get the most bang for my color in the photo, I adjusted the height of each cupcake by sitting it on something hidden beneath the tablecloth.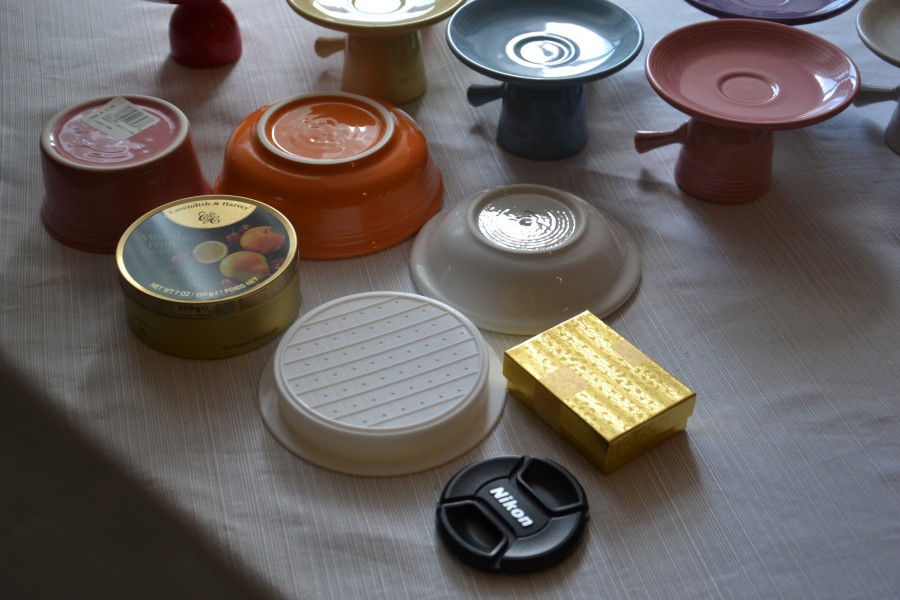 ….and the results…
…with cupcakes.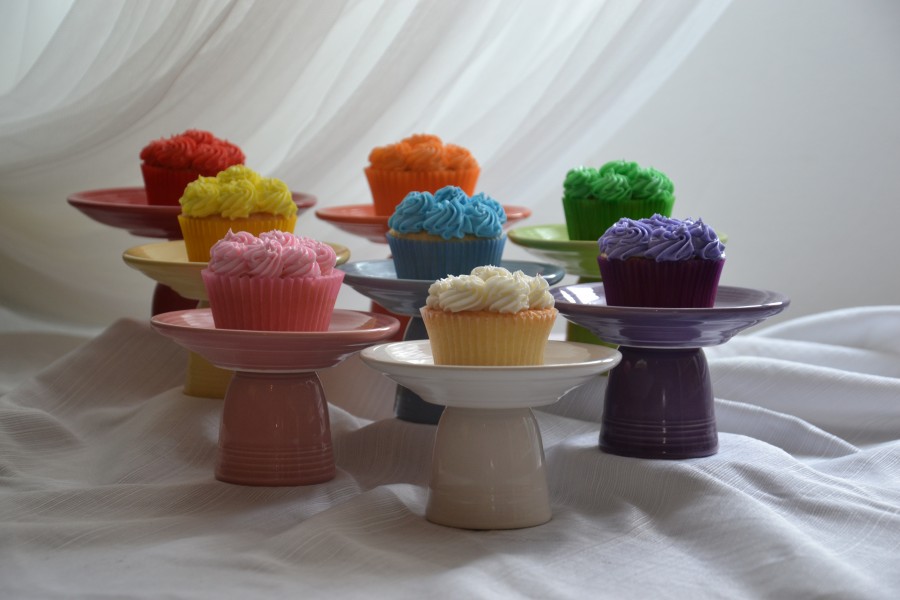 I really loved this project.  It appealed to my creativity and color and problem solving and puzzles.

And separately.
I love that my life partner and I get to go on holidays together and make wonderful memories.
I love that we send our people postcards from every place we visit… "Thinking of you. Love, Mom"
I love that living a sober life allows me to experience in the joy.