Apricot Blackberry No-Bake Bites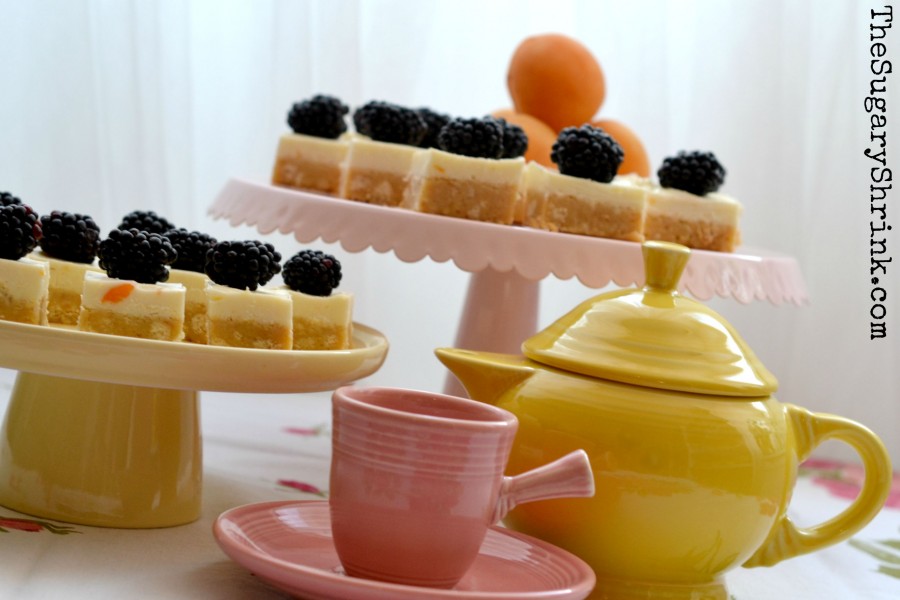 Butter Cookie Crust, Apricot Cream Cheese Filling, and a Blackberry Garnish
This no-bake bite was so delightful.  It hit the spot when I wanted something sweet but not too sweet; crunchy but not too crunchy.
Looking for a wonderful no-bake bar or bite has sent me to the Test-Kitchen.  I'm learning to find that balance between not to dry and not too wet.  Too dry and it falls apart; too wet and the gooeyness prevents it from leaving the pan.
Blackberries inspired this wonderful flavor combination – the berries looked amazing in the market and were so plump!  Immediately, I was drawn to pair them with an apricot filling and cream cheese sounded like all kinds of yumminess.
This is how they went together.
The butter cookies are the type that melts in my mouth – you know the cookies that are often seen at Christmas time in big metal tins.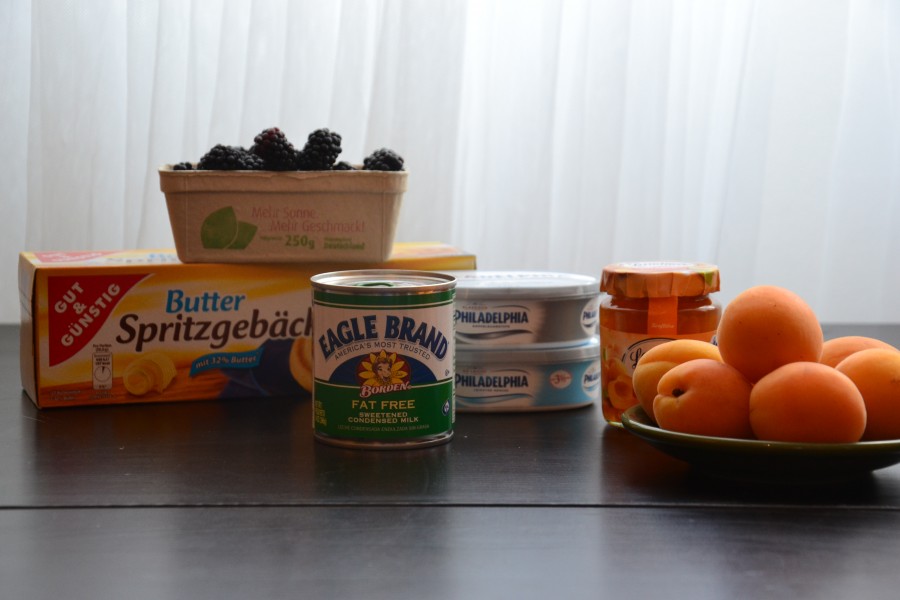 Originally, I thought 200gr of cookies was enough, but I had to increase it to 300gr with a ratio of 10oz sweetened condensed milk and 4T melted butter.
While the crust was in the refrigerator, I blended the cream cheese mix.  The flavor was soo good, it nearly didn't make it to the baker!  I blended 525gr cream cheese, 1t Apricot flavoring, 2T apricot jam, and 1c powdered sugar.
If I would have had time and more apricots, I would have stewed the apricots, run them through a sieve and added the concentrated juice to the cream cheese.  Just thinking about it makes me swoon.
The 9 x 13 Fiesta Ware Baker sat in the fridge all night for the bars to set up.  Using parchment paper (or waxed paper) allows the entire recipe to be lifted out and onto the cutting board.
Little squares to match the blackberries made sense.
Simple and nearly perfect for a summer party.
I'm grateful for my life partner and our people.  Because of sobriety, we're able to enjoy lazy summer evenings together…and little dessert bites, too.