Easter Bunny Chocolate Cake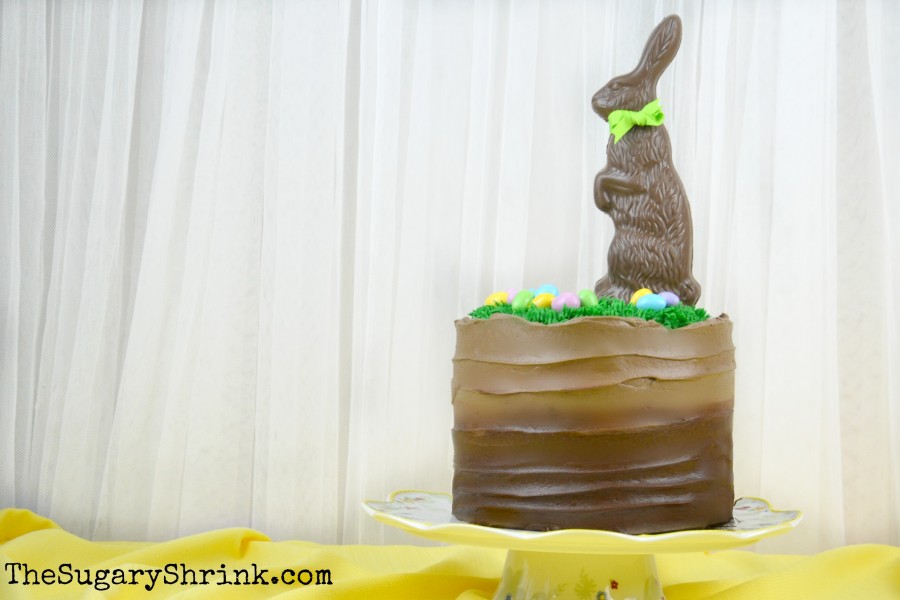 Double-layer Dark Chocolate Cake, Double-layer Banana Chocolate Chip Cake, Chocolate Fudge Filling, Whipped Dark and Milk Chocolate Ganache, Vanilla Buttercream Grass, Almond M&M Eggs, and a delightful Chocolate Bunny
So much cake!!  So amazing to build.. and seriously, I loved every minute of this one.
First part of the puzzle happened weeks ago when my life partner husband bought me this bunny; he wanted to make sure I had first dibs on the unbusted chocolate.  Totally cute.
Based on the size of the bunny, I determined the height of the cake.  Even though it meant extra work, I knew I had to bake two cakes – which took all morning.  My small oven can only accommodate two 8″ round pans at a time.  There are days I feel like I'm using an Easy-Bake Oven.  And, I'm very grateful for the amazing kitchen we have.
Our oldest son loves the Dark Chocolate Cake and our youngest son really enjoys my Banana Chocolate Chip Layer Cake.  It's a great combination!  Also, I don't know which cake our daughters love.
Baking is science!  This recipe calls for the baking soda to be added to the buttermilk…. foam city.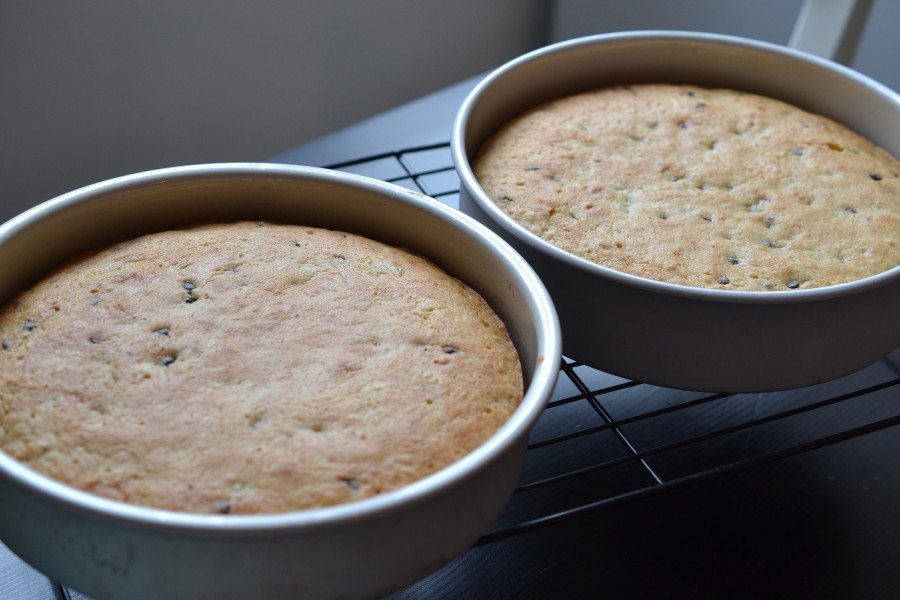 Once the Banana cake was cooling, I went to work on the Chocolate.  After both were completely cooled, I started the build.  It was a deliberate choice to place the Chocolate layer first – I thought it would look nicer when sliced.
After the crumb coat, it went back to the cake fridge while I worked with the ganache.  Once that was ready, I swirled on dark chocolate and milk chocolate ganache.  The consistency was not as stiff as buttercream which was perfect for this technique.
The Vanilla Buttercream was tinted with green gel; I piped it one with a Wilton #233 grass tip.
I love the balance of the tall bunny with the tall cake.
Knowing this cake would be quite heavy, I planned to sit it on my upended Homer Laughlin Fiesta Dinnerware Hostess Bowl – it's incredibly stable.  And, it is the case that Poppy is the only Easter color I have with both the cake plate and base.  I tried to make it work, but I wasn't thrilled.  It was just….nice.
Something needed to change.  We moved the cake to a different cake stand and I tied a green ribbon around the bunny's neck.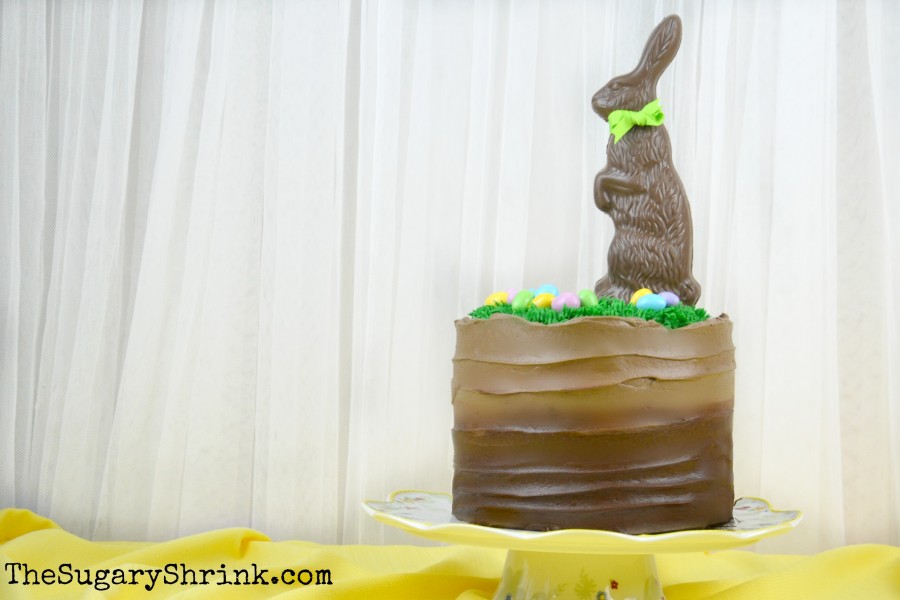 Yep, that was better.
How to slice a cake this big?  Slice straight through and use a larger plate.  I chose the Fiesta Luncheon plate for the full slice.  But it makes more sense to divide each slice in two… then serve.  Be sure to have extra M&Ms on hand to add to the 'bottom' slice!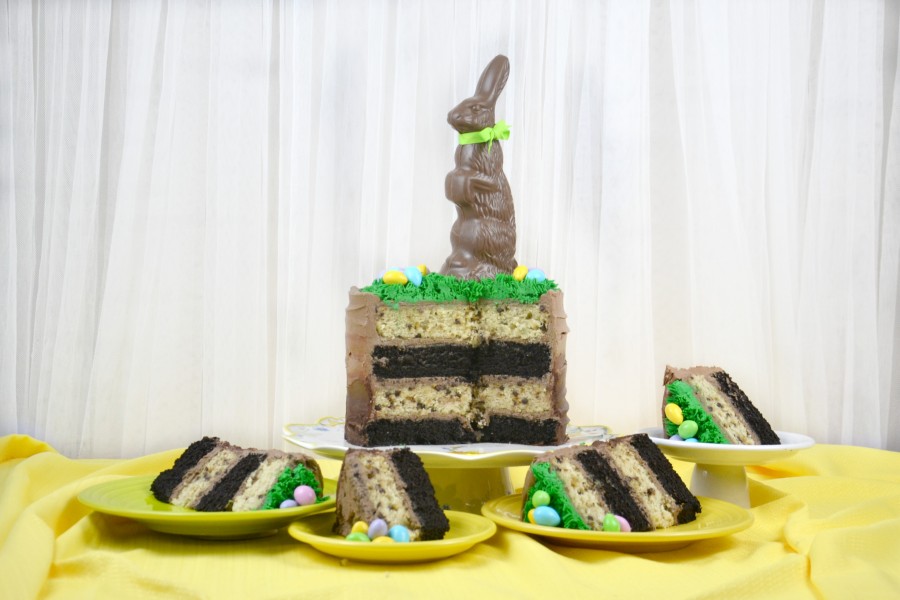 So.much.cake.  I love it.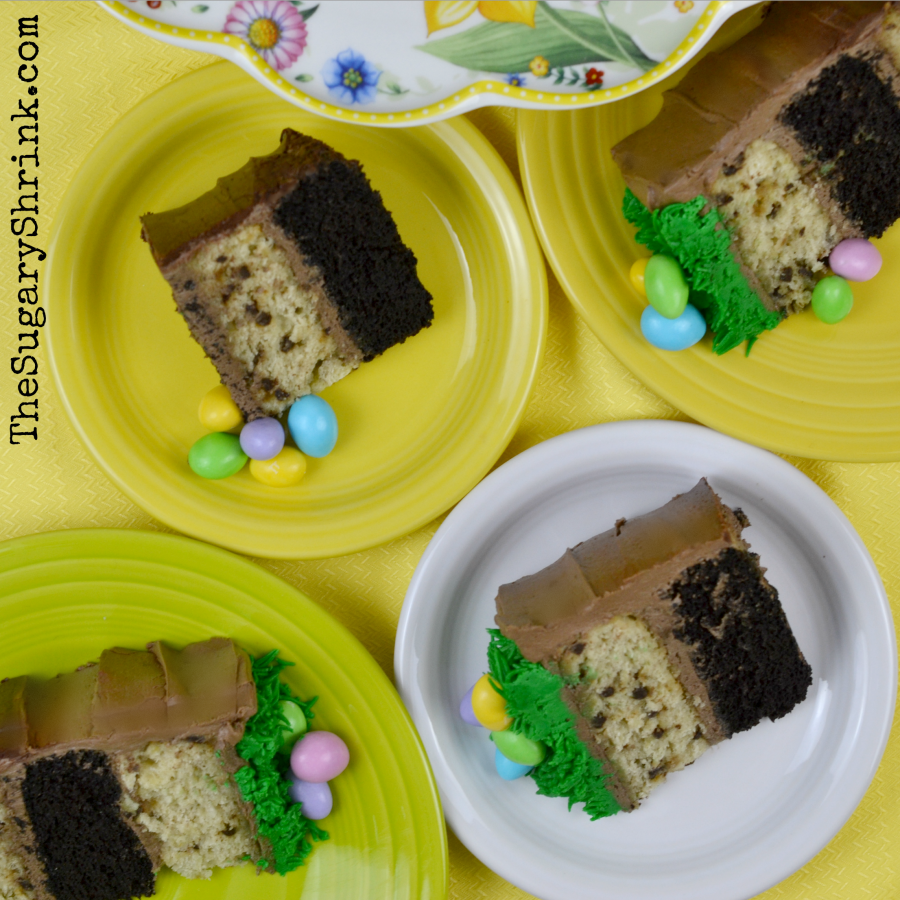 I love holiday cakes – there's just something special about desserts when families gather.  We won't be able to spend this holiday with our people but we will for sure skype or facetime!
I've so much gratitude for my amazing life.  And the people I get to love and the ones who love me in return.  None of it is possible without sobriety.
Thank you Springtime for your return – oh how I missed you.