Honey Spice Bee Hive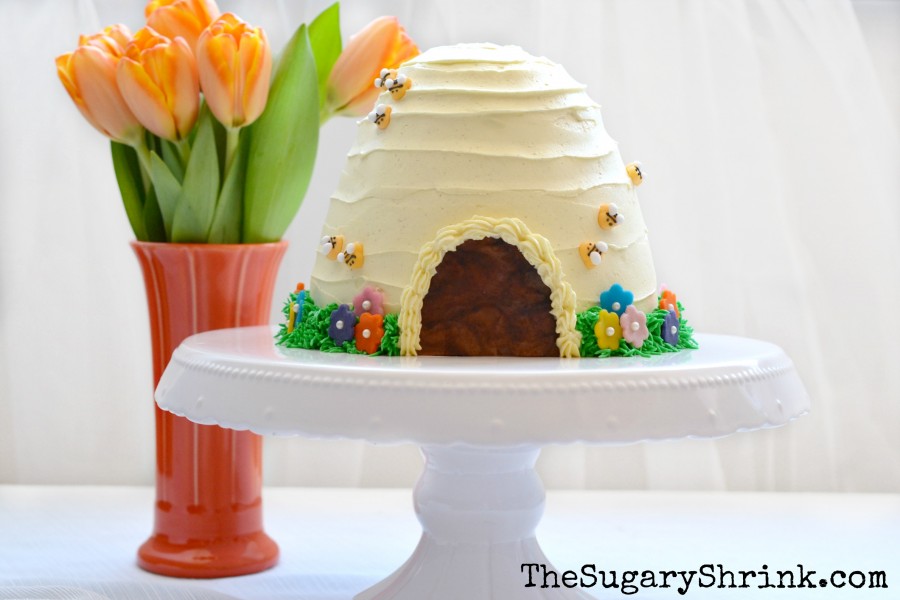 Honey Spice Cake with Honey Cinnamon Buttercream Filling, Vanilla Buttercream Frosting and Marzipan Flowers
I love all the colors of the flowers on this beehive!  Today I'm celebrating bees, the importance of bees, and the greater importance of flowers.  Also, why not celebrate cake, too?
Nordicware USA inspired me to bake this cake when they posted a short video on their FB page, which took me to their blog post outlining the importance of bees in our eco system, especially food production.  Where there are bees, there is honey…so off I went.
I've never baked a Honey Spice Layer Cake before, but not having a recipe is only an itty bitty stumbling block.  Recipe development is one of my favorites, so off we went.  I started with my Classic Vanilla Layer Cake and switched up the cake flour to all-purpose flour.  Baking in a Bundt pan with two halves coming together works better for me when assembling with a more sturdy cake sponge and less on 'light crumb' (which cake flour provides).  I reduced the sugar, added honey, substituted half of the oil with apple sauce, and took a stab at spice levels.  It's a winner.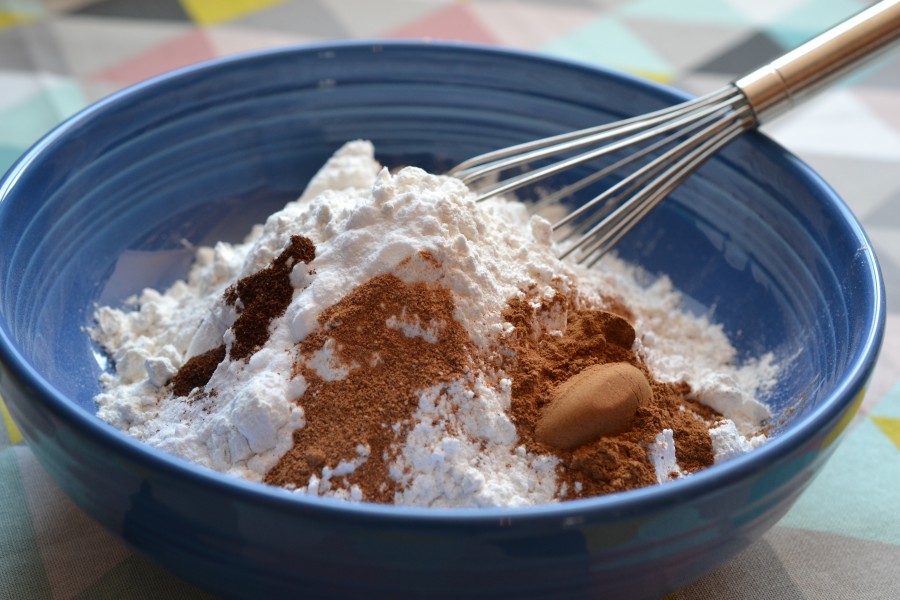 Following directions on using my Nordicware pans is simple and essential – coat the pan with non-stick spray that includes flour, then lightly brush to evenly distribute.
To reduce clean-up, I spray my pans over the dishwasher (with dirty dishes).  The over-spray lands on the door and will get cleaned the next time it's run.  And yes, I'm crazy lucky to have a dishwasher in my sweet German kitchen.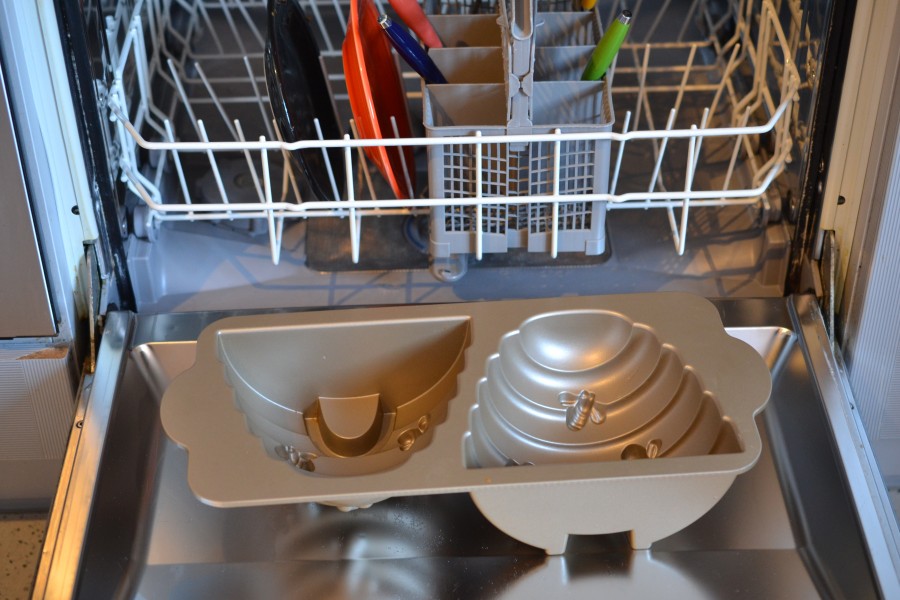 Since this was a new recipe, I wasn't sure about the baking time.  I started with 40 minutes and added 5 more minutes to complete the baking.
I know I'm very fortunate to have a working oven.  And, I look forward to the day we'll have something larger.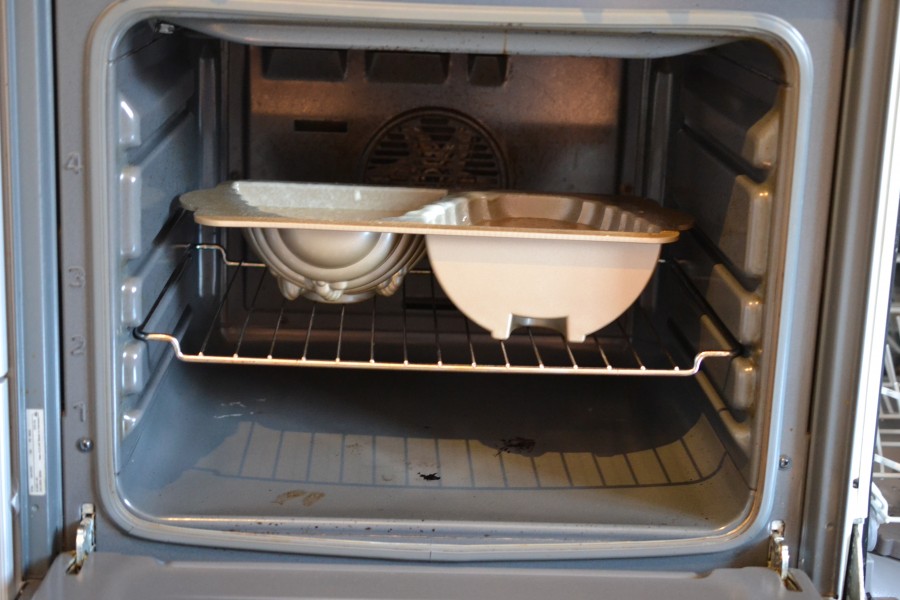 Let cool for ten minutes.
I love when my cake slips out of the pan this beautifully.
Trimming away the rough edges allowed the cake halves to sit flat; this made for filling and applying the crumb coat a snap.
I carved away the honeybees for a smooth shape on the beehive.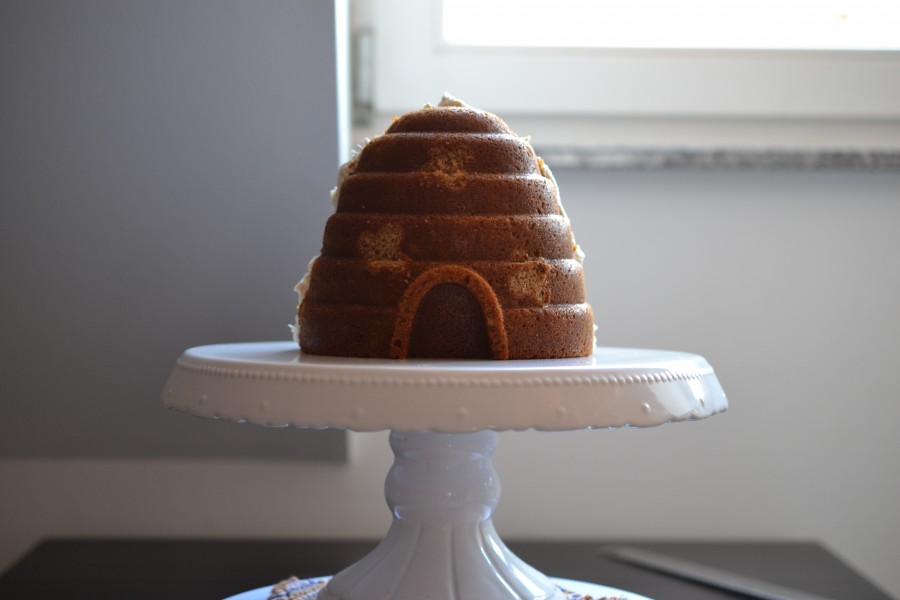 What buttercream pairs with this cake?  Certainly Vanilla, Cinnamon, Cream Cheese, …maybe even an Apple Buttercream.  But why not a Honey Cinnamon Buttercream?  The filling and frosting only required 2/3 of what I made – so I added it to the Vanilla Buttercream I made for the outside frosting.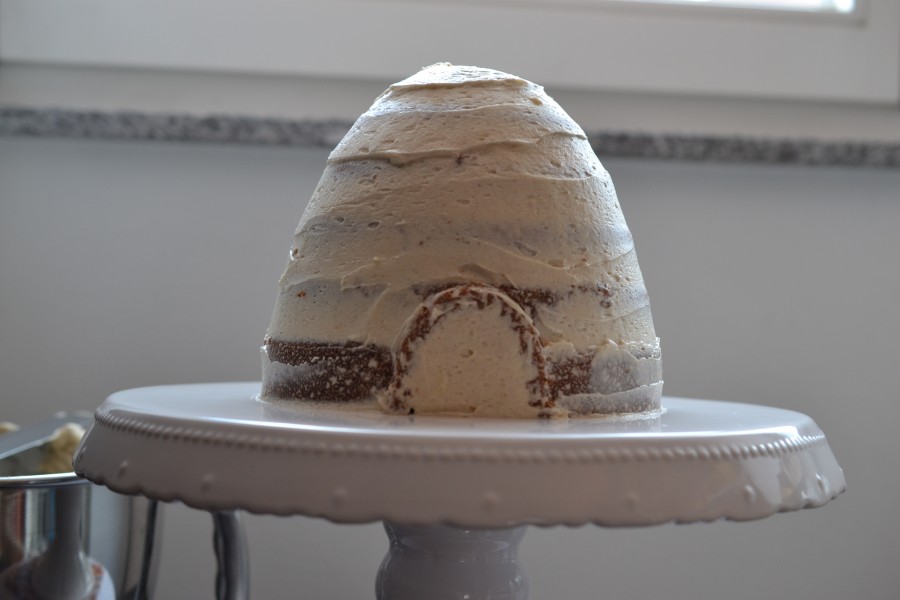 While the cake was baking, it was time to make marzipan flowers.  Originally, I only made pink, blue, yellow, and purple flowers – but added the orange when beautiful orange tulips came in the house.  The perfect vase was my 8″ Poppy Vase by Homer Laughlin Fiesta Dinnerware… it's a stunning look.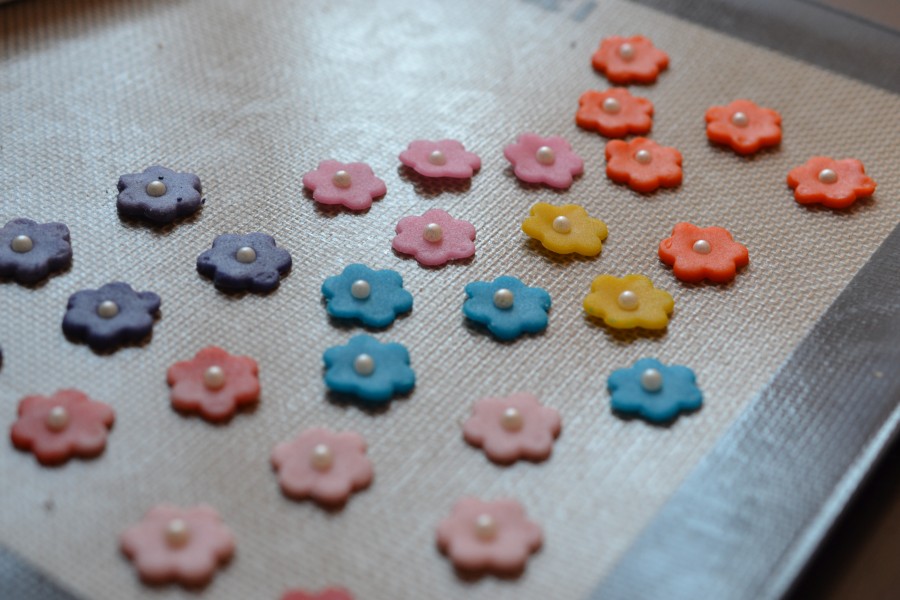 The entrance to the hive is made with marzipan – I added a couple drops of brown gel and stopped short of having it fully blended.  I love the texturing effect.  To get the right size and shape of the arc, I gently pressed the pan onto the marzipan and cut along the edge.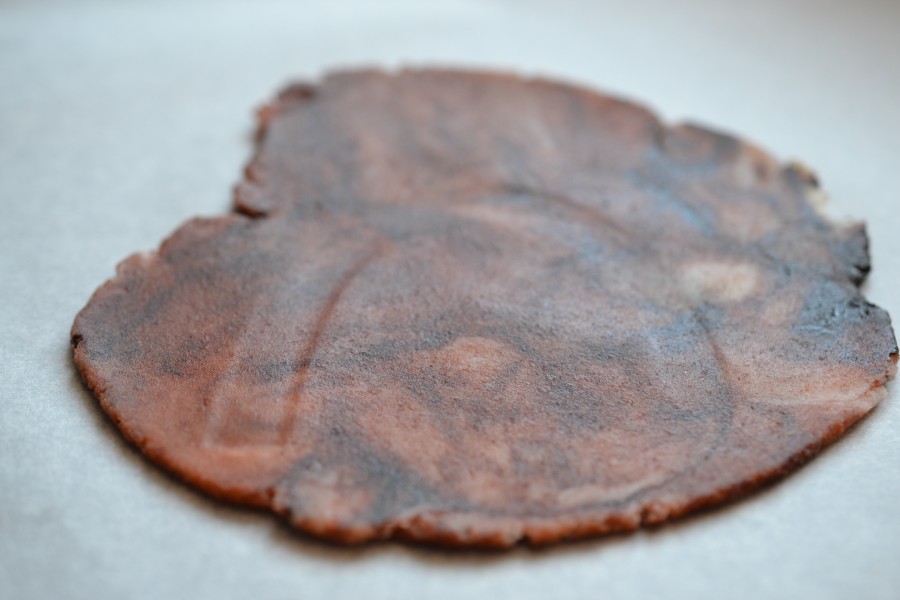 Finally, I tinted some of the buttercream green for the exterior grass along the bottom edge.
I never thought I'd get around to actually decorating this cake!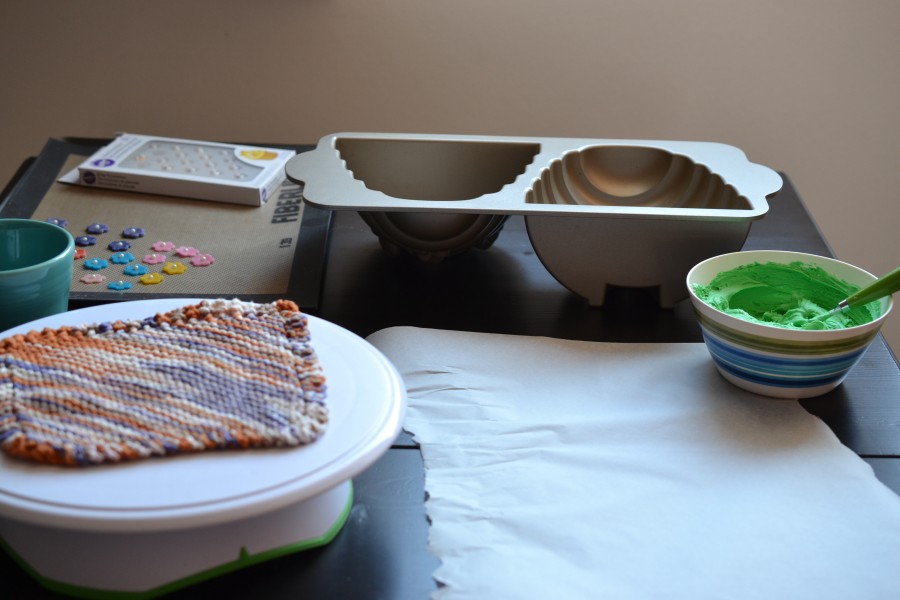 First the buttercream, then the hive door, and finally the grass.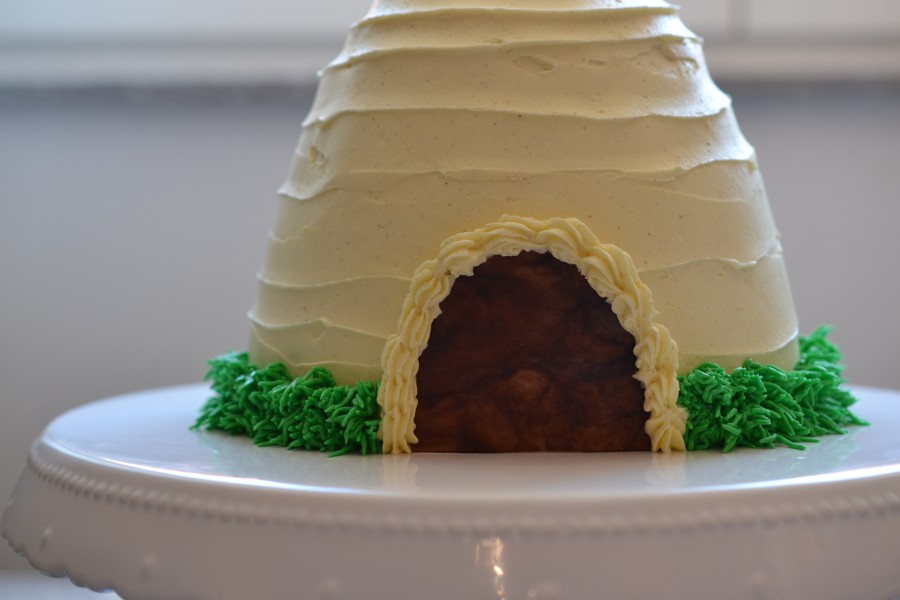 After a bit more smoothing over, it was ready for flowers and sugar bees and photos!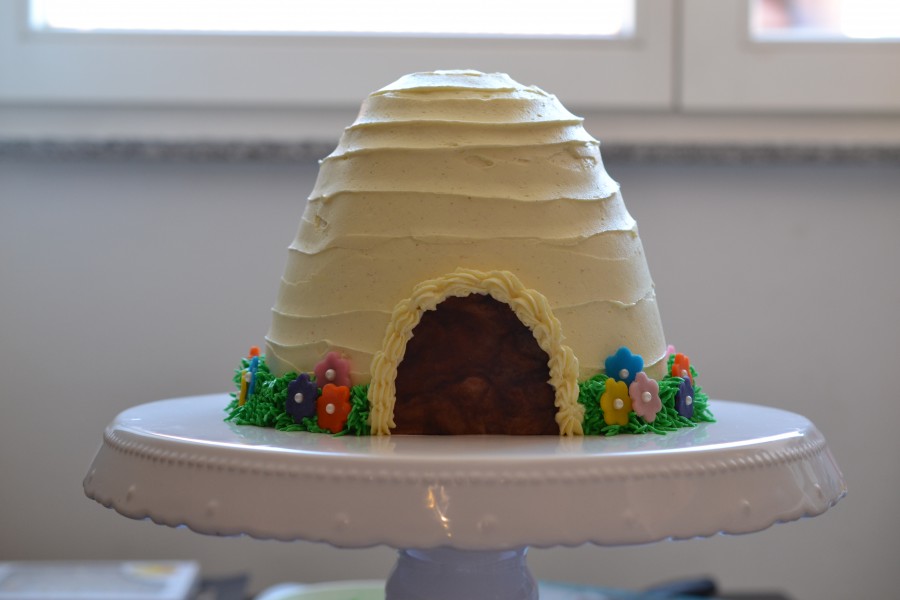 I'm not sure, but maybe the bees are a little too much?  The flowers are important and the bees seem necessary… so I couldn't edit either one out.
As I've said before, I use this pan often and love how versatile it has been for me.  Check these out…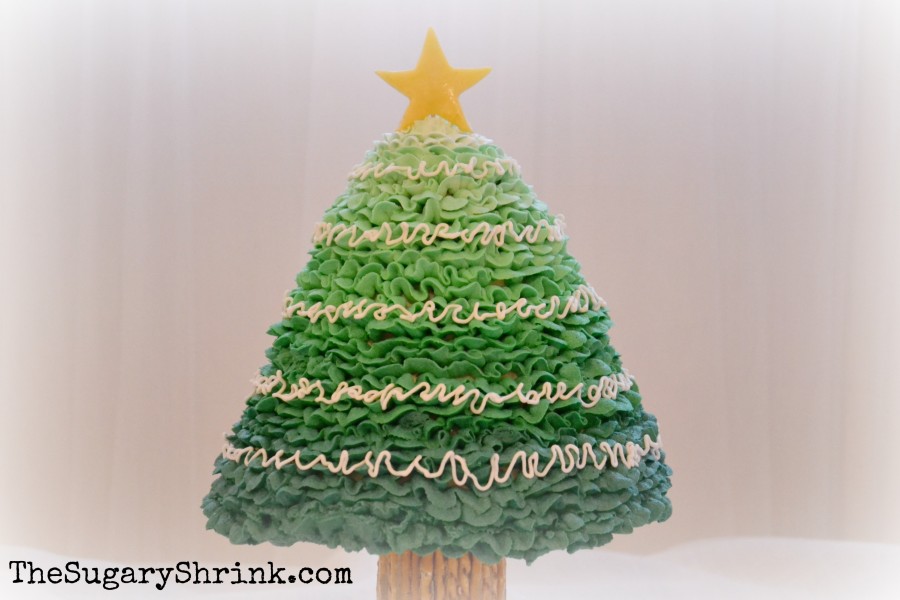 I blogged Totoro here.
Not wanting to use my Tree Stump cake stand again, I went in a different direction.  I love the contrast.
Then it was time to slice this wonderful Honey Spice Beehive.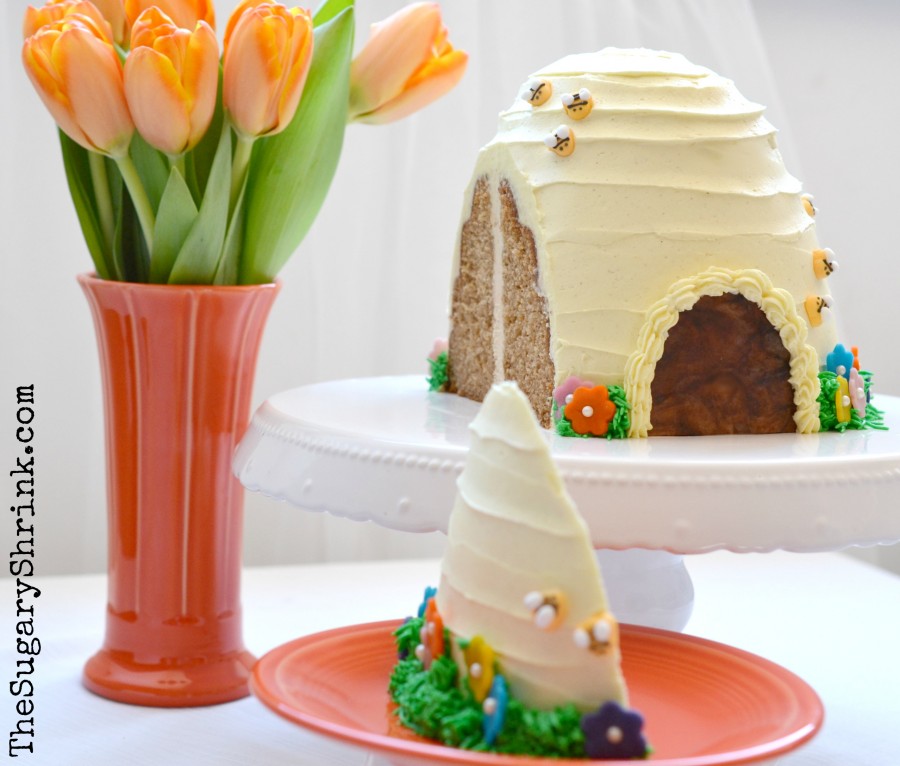 Shazam!  It turned out beautifully and I was delighted with the results.  If I were to serve this cake at a party, I'd top it first then work slices across the cake (as in this photograph).
It's been a great cake to construct and share.  I love the inspiration provided by the University of Minnesota Bee Lab and Nordicware.
I'm incredibly grateful for my life partner and our people.
I'm incredibly grateful for sobriety.
It's a great day to pair a little cupcake with a beehive of buttercream..