Crowned Chocolate Bundt Cake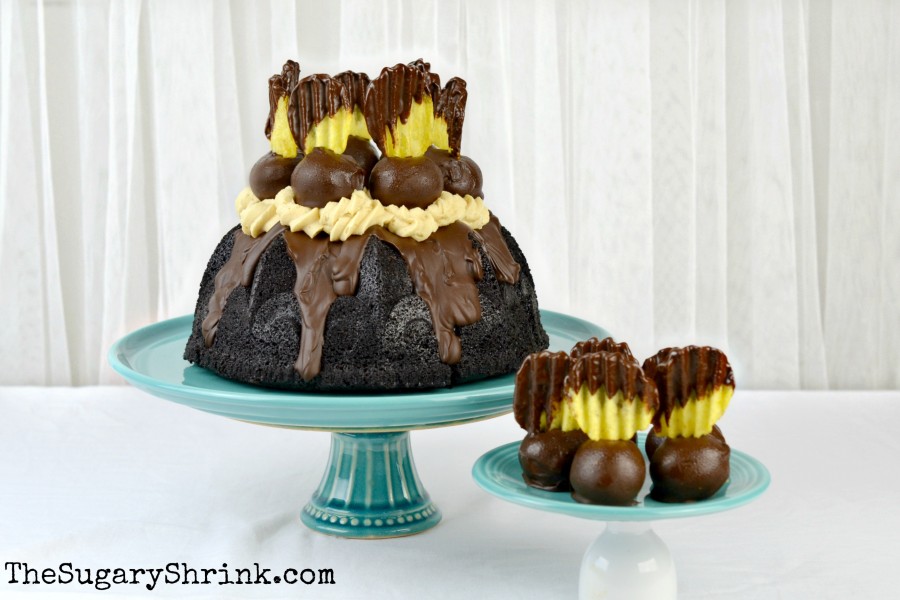 Dark Chocolate Bundt Cake, Lindt Chocolate Lava, Peanut Butter Buttercream, and Peanut Butter BonBons with Chocolate Dipped Potato Chips
All this chocolate and peanut butter and crunchy, salty potato chips?  This cake right here will hit all those snack pulse-points when you can't decide between something salty or sweet.  Let me make it easy for you… choose both since this Bundt cake is just the ticket.
I was inspired by a delightful Tasty video that popped up in my FaceBook feed last month (find the link here) and modified it slightly for a more dramatic appearance.  Let's face it, Chocolate Dipped Potato Chips are as decadent as they sound and even more delicious.
Starting with the Bundt cake seemed logical since it took nearly an hour in the oven.  Here we go.
I whipped together my favorite Chocolate Layer Cake and poured it into my Nordic Ware Fleur de lis Bundt Pan.  This pan is my go-to when making a classic Bundt cake.  I thoroughly coat the inside of the pan with a non-stick cooking spray which includes flour and haven't had any problems with cake sticking!  A quick hand wash and towel dry for this pan and it's back in action… it's such a dream!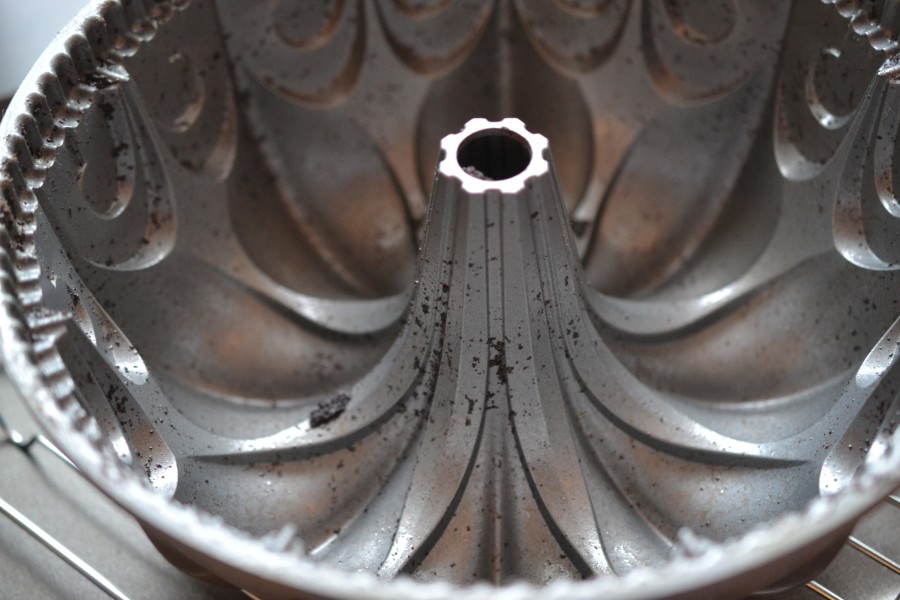 Ten minutes after removing the cake from the oven, I turn it out onto a cooling rack.  For this cake, it was better that the cake cooled down before pouring the melted Lindt chocolate over the top.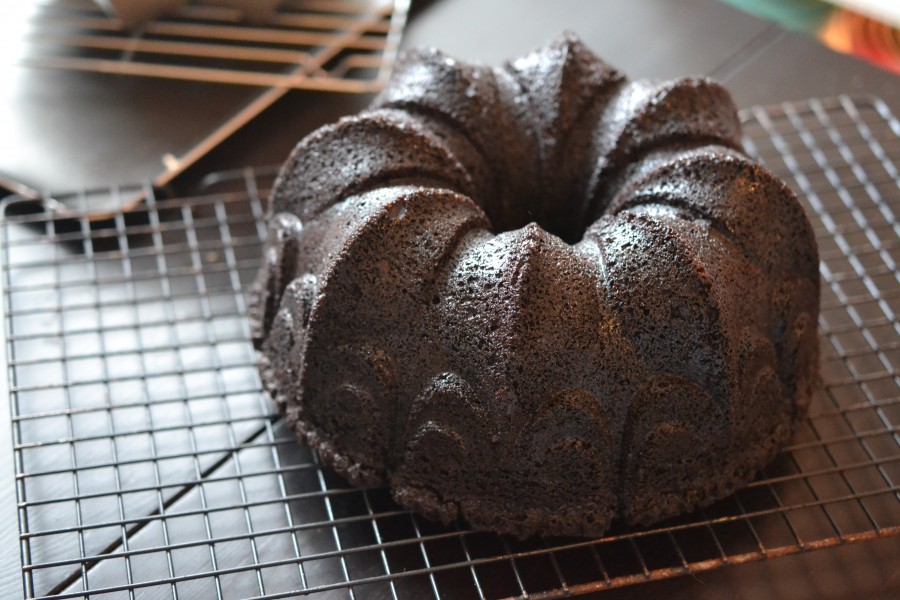 A melted Lindt Lava Flow …doesn't it sound amazing?
The cake went into the fridge while I prepared the bonbons, which includes: peanut butter, powdered sugar, and potato chips.  That's it.  Plus a quick dip into more melted Lindt chocolate.
Good news regarding these bonbons… the potato chip topper did not become soggy while sitting in the bonbon or in the fridge and they kept for three days.  They might keep longer than that, but these didn't make it past 72 hours.
With the cake and the bonbons ready, time to put everything together.  In order to create the best platform for the bonbons to sit on, I added a little swirl of Peanut Butter Buttercream.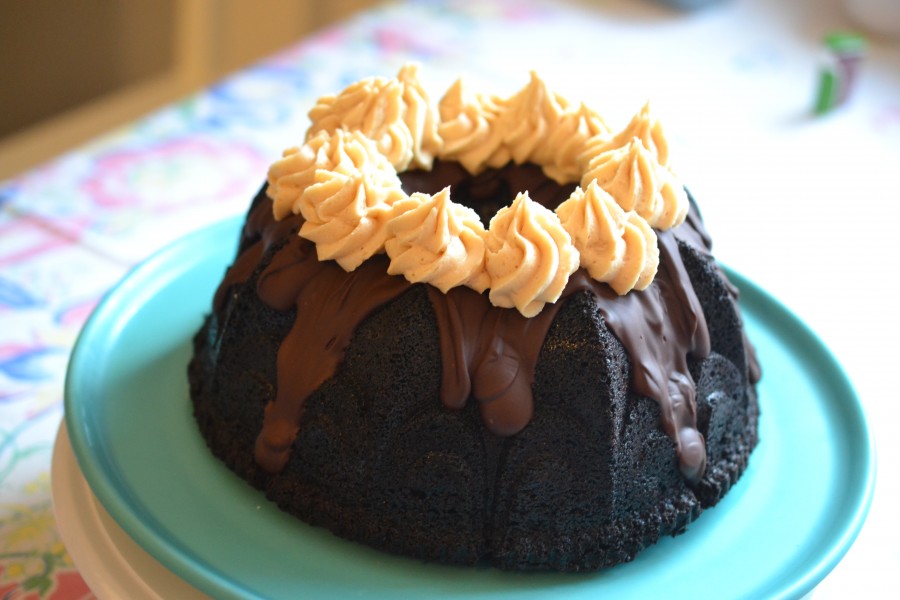 There is something so appealing about this color combination: chocolate brown and turquoise.  It has a classic look and always seems so stylish.  A true work-horse in the kitchen is my Homer Laughlin Fiesta Dinnerware 12″ Cake Plate… it leaves me room to decorate the bottom of an 8″ or 9″ round layer cake or, in this case, show off the lines of the cake from the Bundt pan design.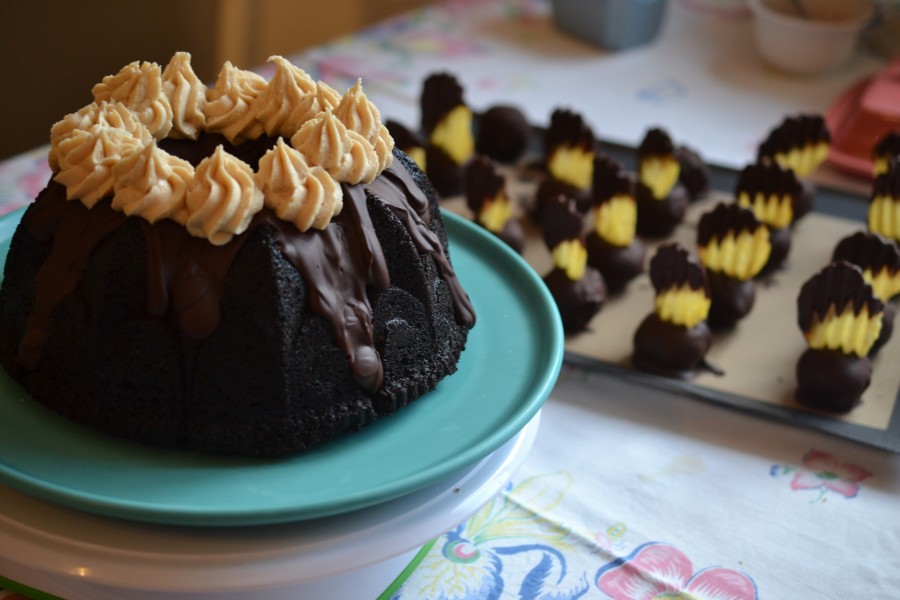 The top of that Bundt became crowded, so I added only what would fit comfortably.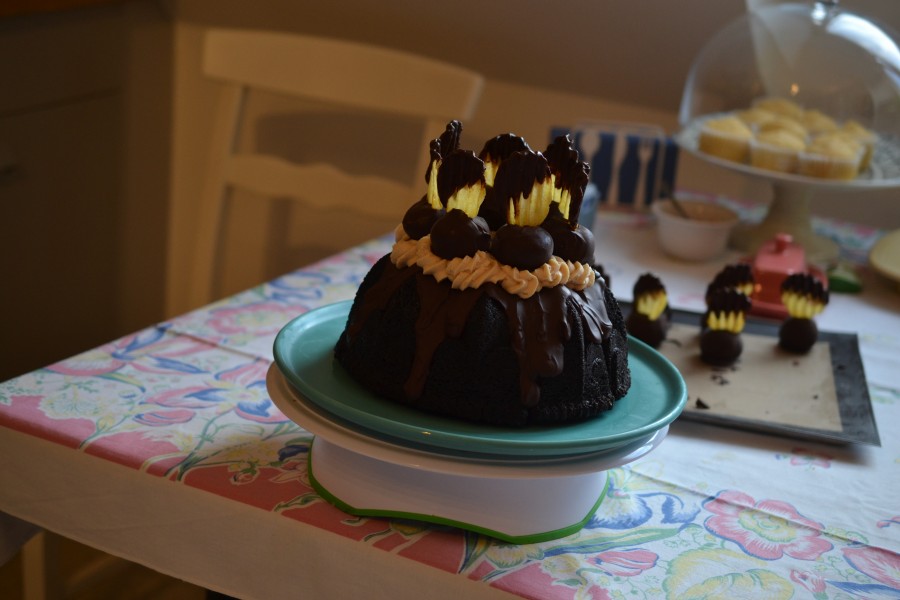 I wasn't quite sure what I'd created, but it certainly had drama!  There's a crown quality to it or maybe feathers?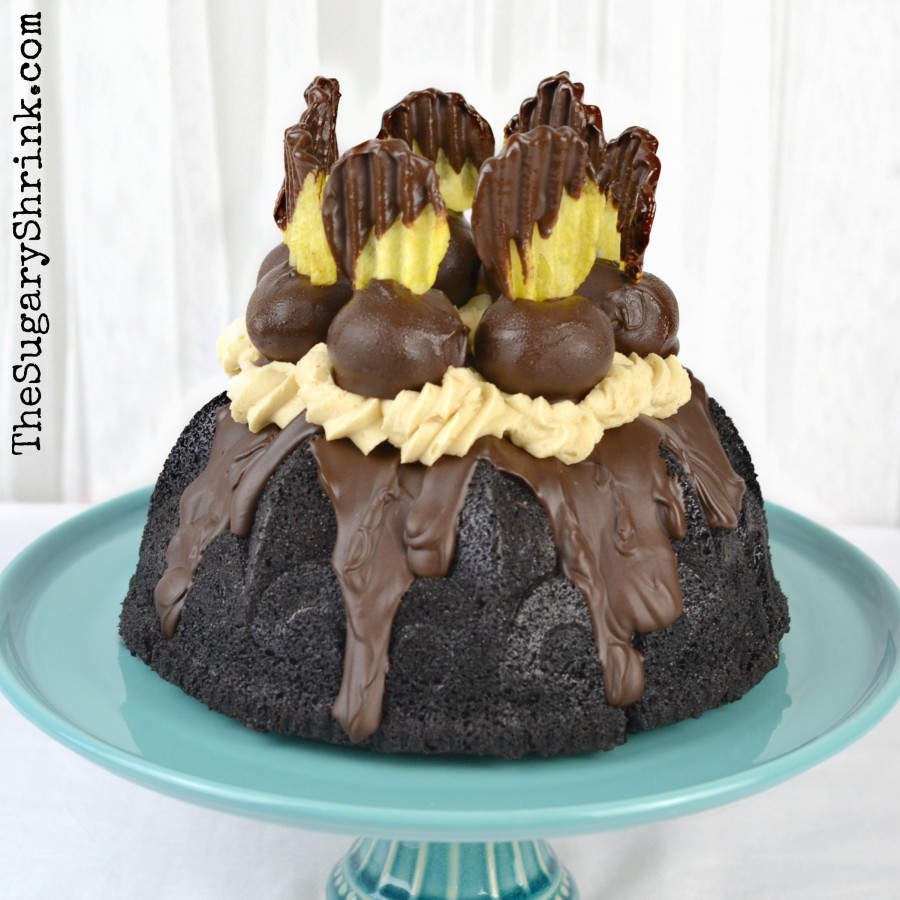 As it turns out, we had a weekend guest staying with us when this delightful cake was prepared and we loved sharing it!  And the feedback on the bonbons was mostly, "Mmm… hmmm…. yeah."  Put this one on the "Win" list.
I'm crazy in love with my life partner husband and our life together.
I'm crazy in love with our people and the people they bring into the family.
I'm crazy grateful for sobriety one day at a time.