Hello, Dancing Lady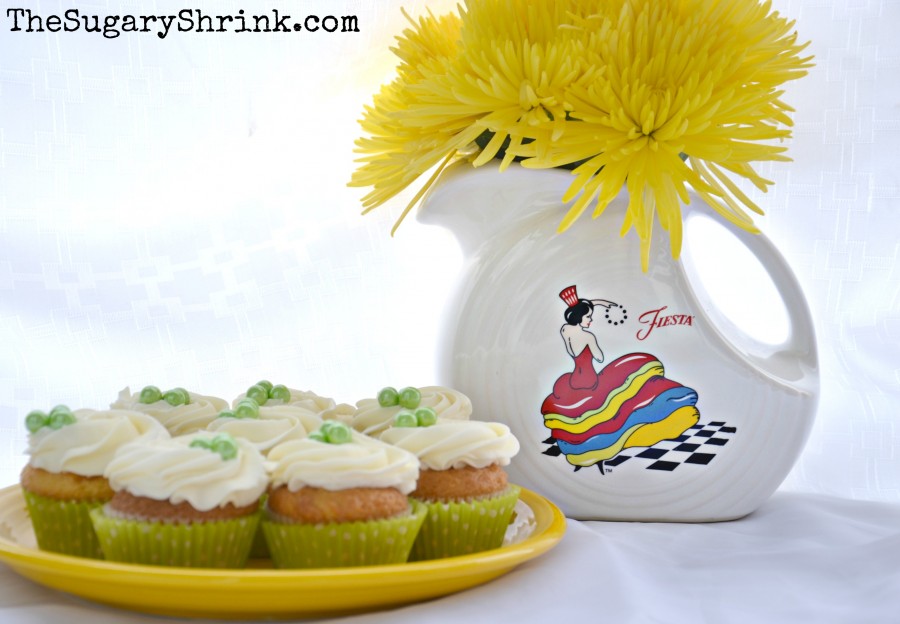 Vanilla Cupcakes with Vanilla Buttercream and a Candy Topper
I'm terribly excited that the sun is shining again and the all the bright colors are beginning to pop!
This includes the brand new Homer Laughlin China Company's Fiesta Dinnerware Dancing Lady!   She's been inspiring me in the kitchen with colors, shapes, and design.  I began with these incredibly sexy Vanilla Vanilla Cupcakes all decked out for St. Patrick's Day.
The new Daffodil Bistro Dinner Plate is an ideal platform for many of my desserts – an 8″ round cake fits perfectly.  Or in this case, 8 cupcakes.
This is one of my favorite recipes which I've finally dialed in for baking at 4200 ft.  The Classic Vanilla Layer Cake is almost always a winner on your dessert table as well as most get togethers.
The key is cake flour.  It has less protein which provides more lift and is a very moist cake with a delicate crumb.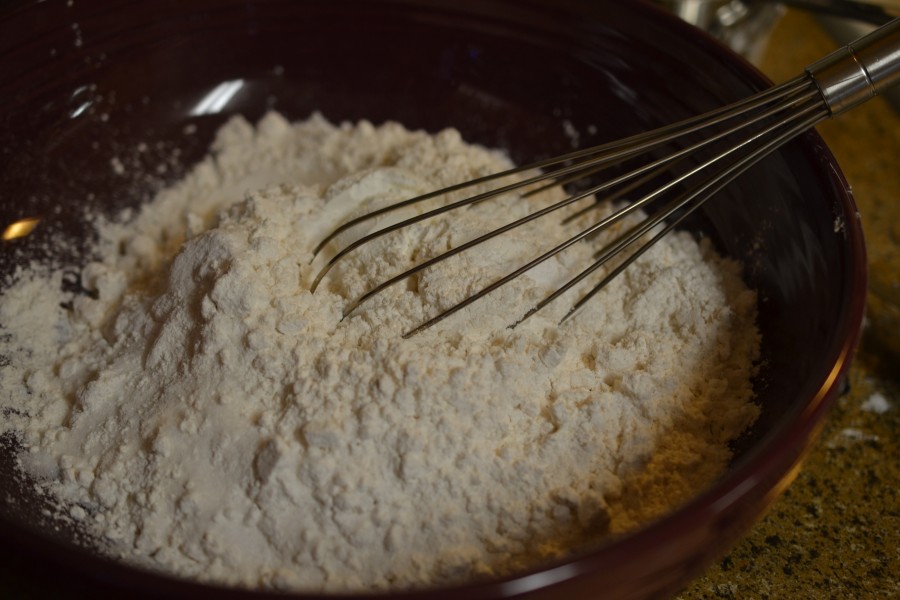 I still prefer brown eggs.  It's what I started using in Germany and that's that.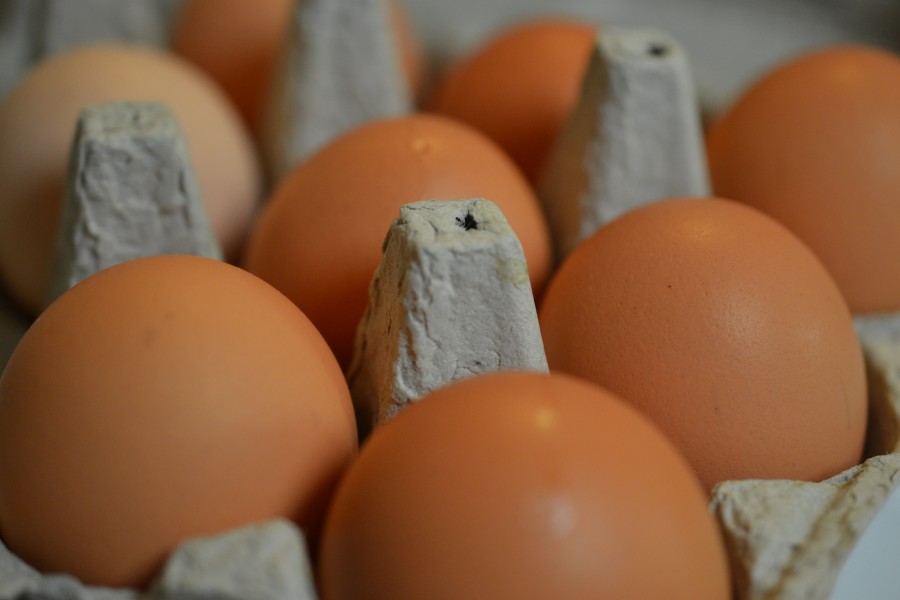 While the cupcakes cooled, I whipped up some American Buttercream.  It hardly takes a minute.
Taking inspiration from the skirt with swirls and colors, I started with a simple reflection.  I was reluctant to cover up the design but still wanted to put it to use!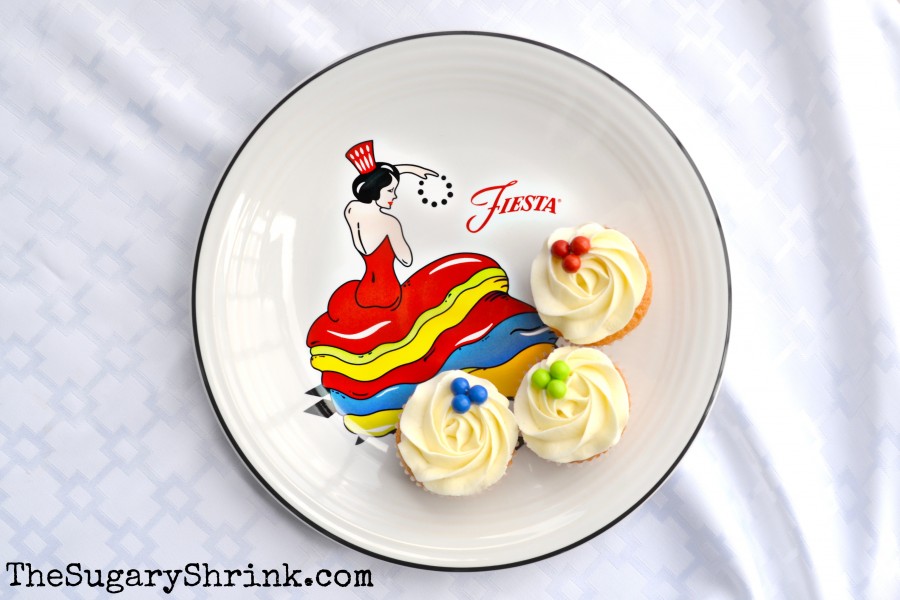 Wanting to prepare for the next fun holiday that includes a parade (your town has a St. Patrick's Day Parade, right?) – I coordinated with my new Lemongrass Bistro Crescent Plate.  This works all day.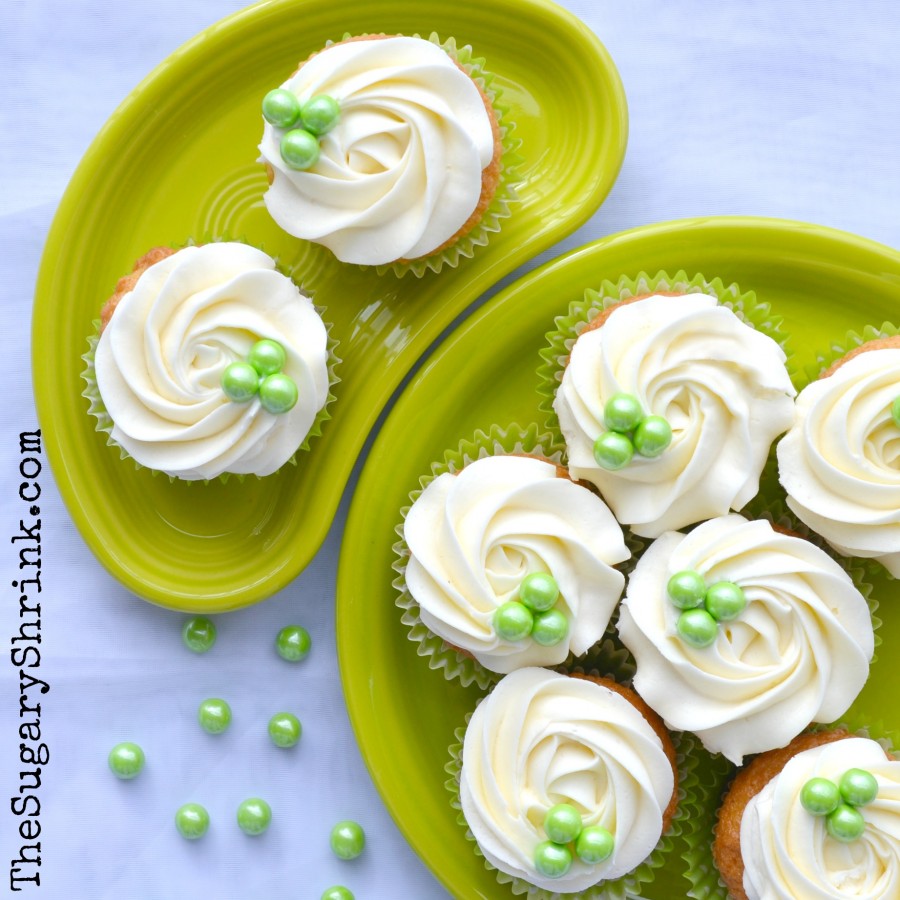 I love what I do… create with food and colors.  My goal is to always make sure the cake or cupcake tastes as delicious as it looks.  "Let the insides match the charm of the outside."
I'm so very grateful for my life partner husband.
I'm so very grateful for our people and the people they bring into our lives.
And none of it would be possible without sobriety one day at a time since 07 Feb 1997.