Red Velvet Hearts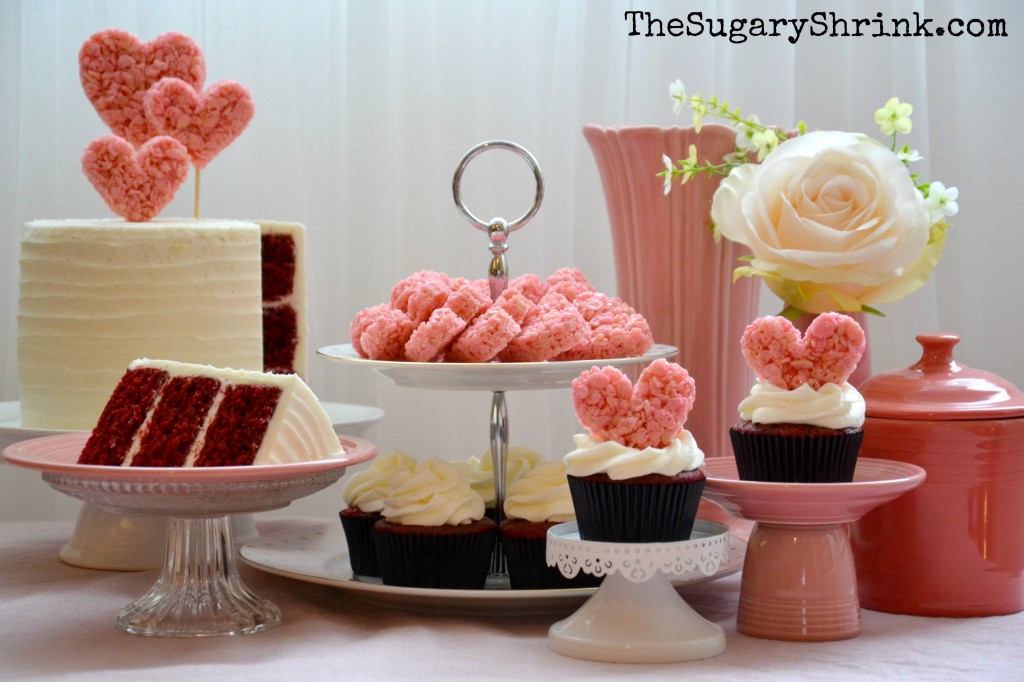 Triple-layer Red Velvet Cake, Cream Cheese Filling & Frosting, Rice Krispie Hearts, and Red Velvet Cupcakes with a Cream Cheese Swirl
Nothing says "Be Mine" like a Red Velvet with Cream Cheese Valentine's Cake topped with Pink Rice Krispie hearts.  And this was a cake and cupcake display I was excited to bake and create.
I'm happy with how I've been able to dial in my Red Velvet Layer Cake recipe and Cream Cheese Buttercream…it's quite lovely.
Putting together this wonderful dessert table for a Valentine's Day celebration was really fun.  I just pulled things together that I had here in the house.  I used Fiesta in Rose and Flamingo, a cake stand I found at Butlers about two years ago, and a two-tiered cupcake stand I brought home from a chocolatier in Ghent, Belgium.
While the cake was cooling, I made the Pink Rice Krispie hearts.  Just as the 3T butter and 5.5cups of mini-marshmallows were completely melted over a medium heat – I added several drops of dark pink food tinting gel.  Aim for very pink since adding 6cups of rice krispies will tone down the end color.  After the cereal was fully integrated, I pressed the whole mess into a spring-roll pan because I wanted the treats to be thin in order for the cookie cutters to work well.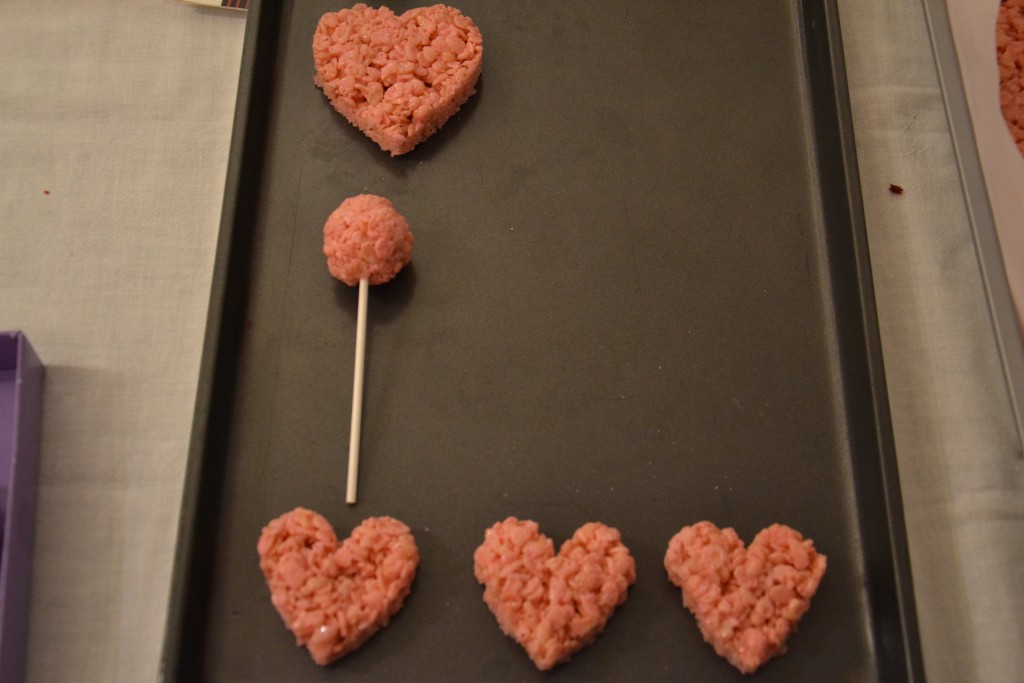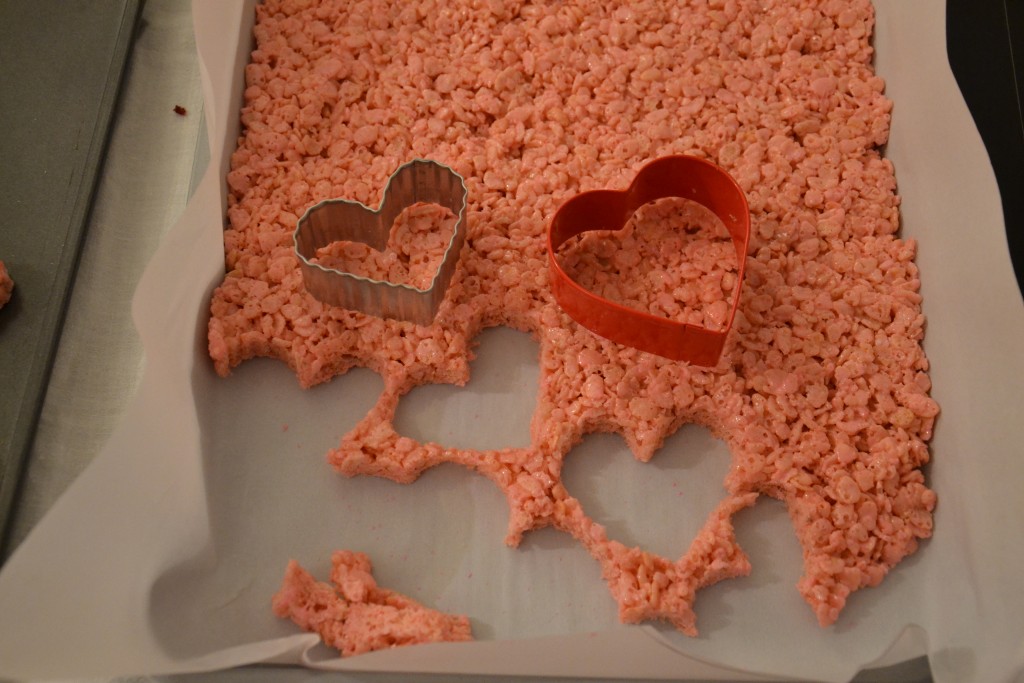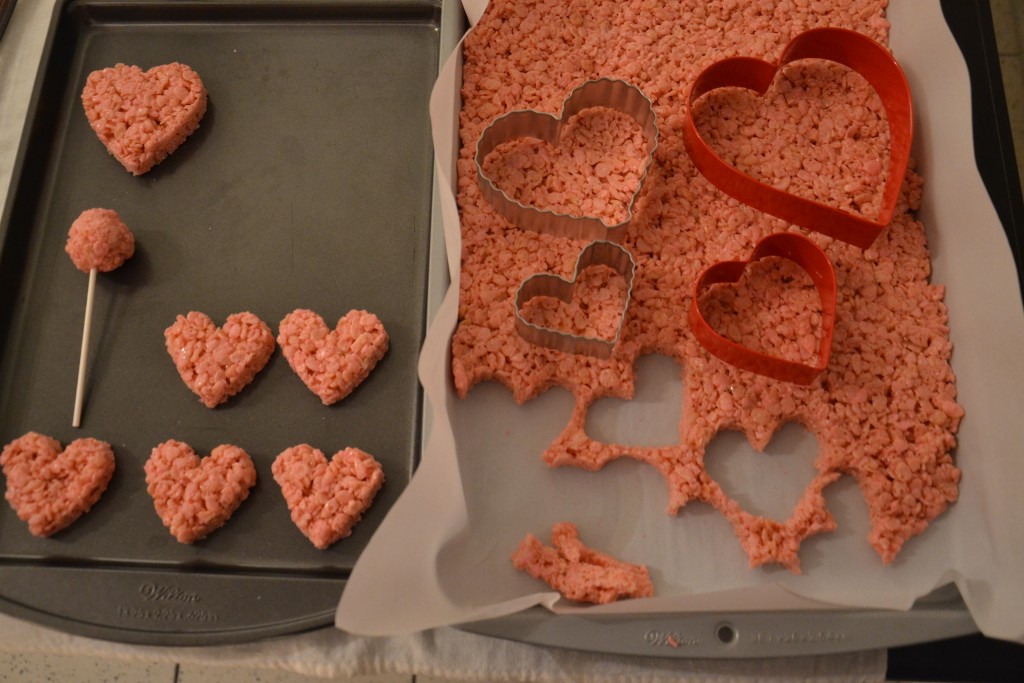 The little remnants from around the hearts were balled up and stuck on a lollipop stick (dip end of stick into melted white chocolate for sturdiness).  These little pops can be a perfect 'taste tester' for your little assistant bakers…or maybe not so little assistants.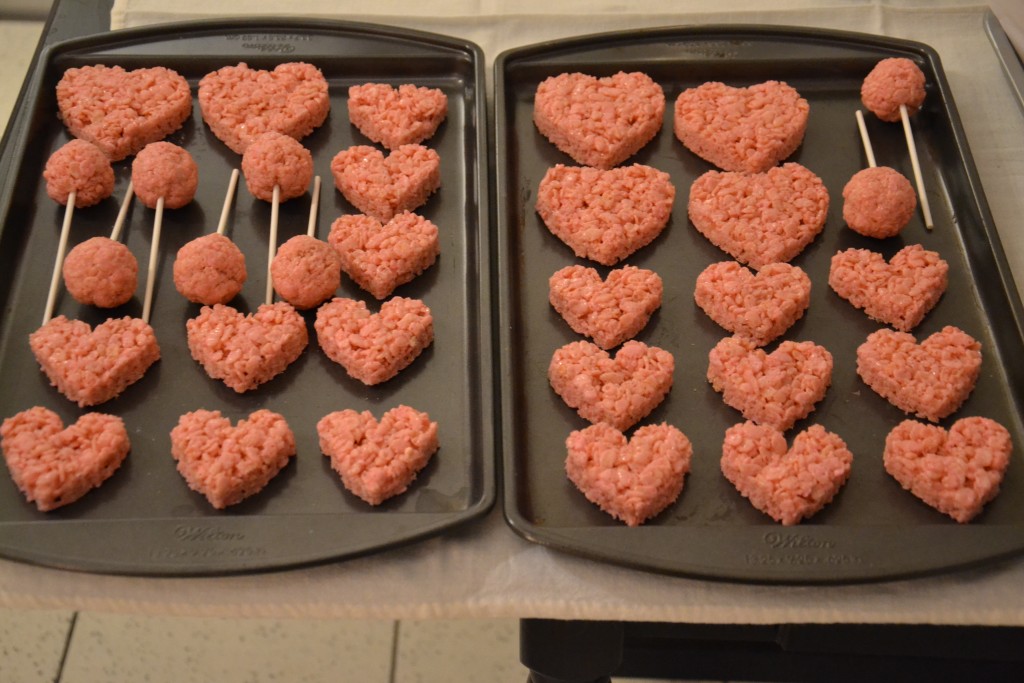 Now for putting this 6″ triple-layer cake together…
The Cream Cheese Frosting demonstrates the need for a crumb coat…keep the crumbs of the cake in to prevent migration through the final design.
Why haven't I topped more cupcakes with different colors and shapes of Rice Krispies?!
I was so happy with the result of this baking day… the cake and cupcakes were yummy and the look matched what I had envisioned.
At the end of the day, I'm grateful for my life partner and our life.  I'm grateful for our people and sobriety and cake.