Banana Chocolate Chip Comfort Cake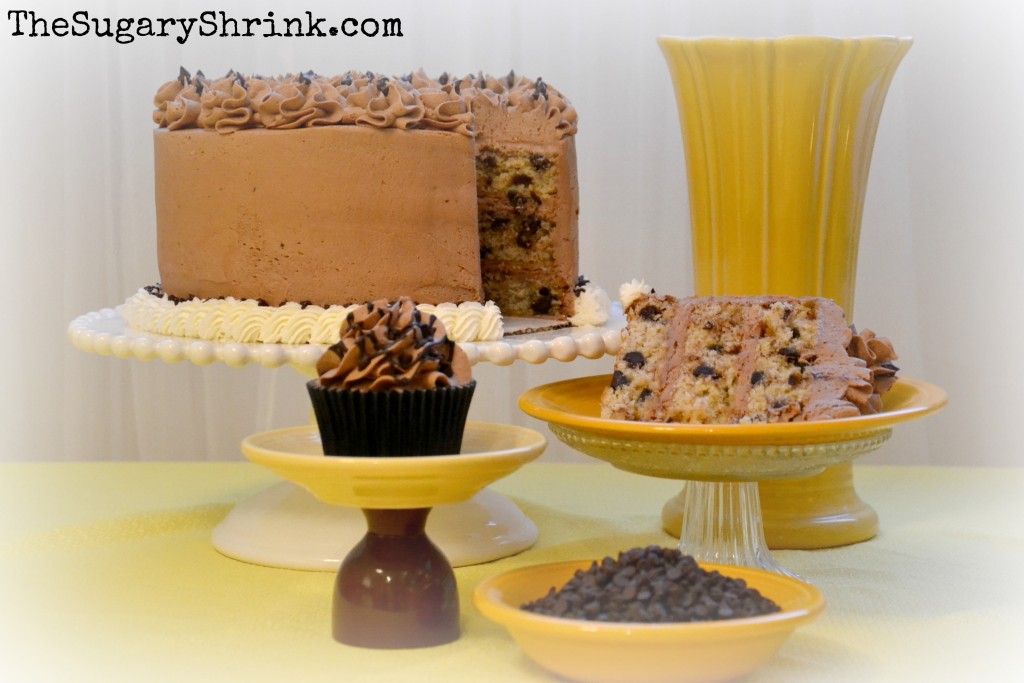 Triple-layer Banana Chocolate Chip Layer Cake and Whipped Dark Chocolate Ganache Buttercream Filling and Frosting with a Vanilla Buttercream Rope Swirl
The texture and taste of this Banana Chocolate Chip Layer Cake is fantastic!…adding 1.5cups of chocolate chips really kicks the cake up a level.  I am in love with this flavor profile and I've added it to my growing list of favorites.
If the cake is delicious, the cupcakes are equally yummy and so delightful.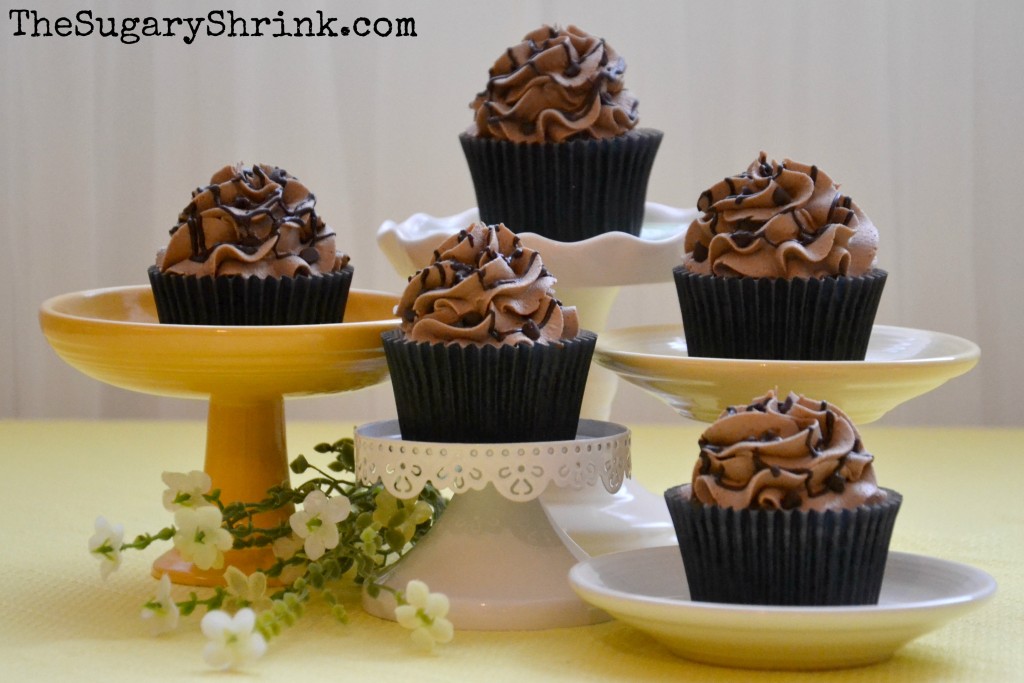 The cake went together like this.
Of the 1.5cups of chocolate chips, I held back 3T in order to place a few chips across the top of the cake round layers and/or cupcakes.  This help ensures the chocolate is evenly distributed throughout the cake.
Hot tip: Toss chocolate chips in a small bit of all-purpose flour before adding to a cake or brownie batter. The rough texture of the flour on the chocolate will help the chips stay suspended in the batter and prevent all the chips from sinking to the bottom.
Hotter tip: Place the flour and the chocolate chips in a gallon ziplock bag and enlist the help of young bakers.  Task them with the job of shaking the bag until all the chips are coated.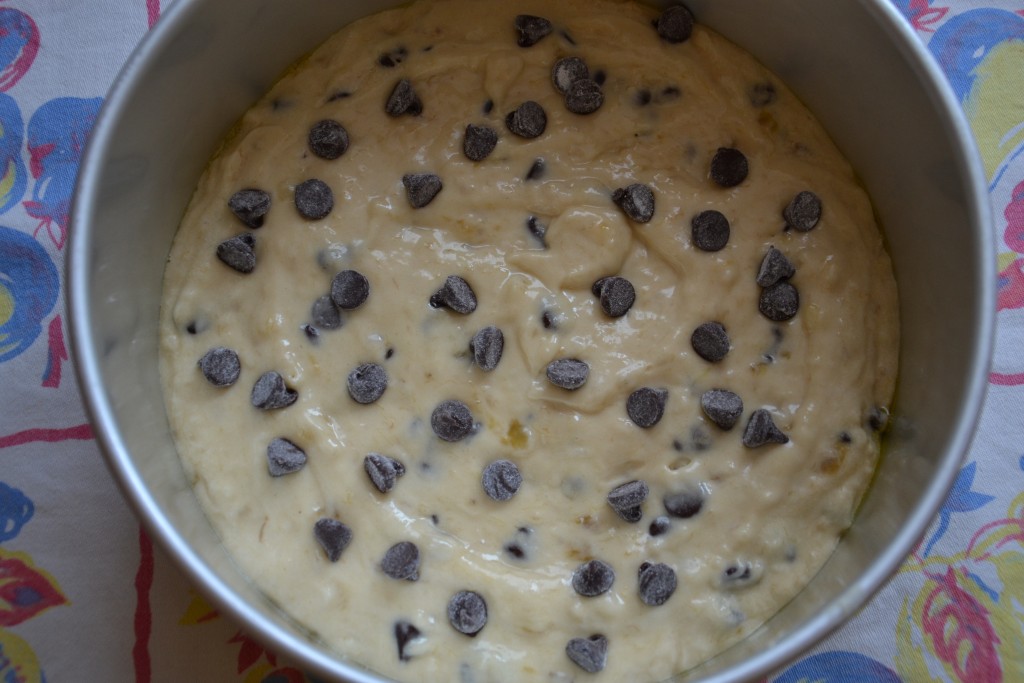 This cake doesn't have significant rise while baking.
If considering an alternative to chocolate frosting, think about Banana Buttercream, Vanilla Buttercream, or Peanut Butter Buttercream.
After I finished the crumb coat on the layer cake, I popped the cake into the cake fridge.
Mini-chocolate chips and a dark chocolate drizzle was an ideal complement for this cupcake.  Sometimes I take extra care with chocolate chips or sugar pearls on a cupcake swirl, especially when they keep sliding off the buttercream!
A slice of this cake is the essence of comfort food.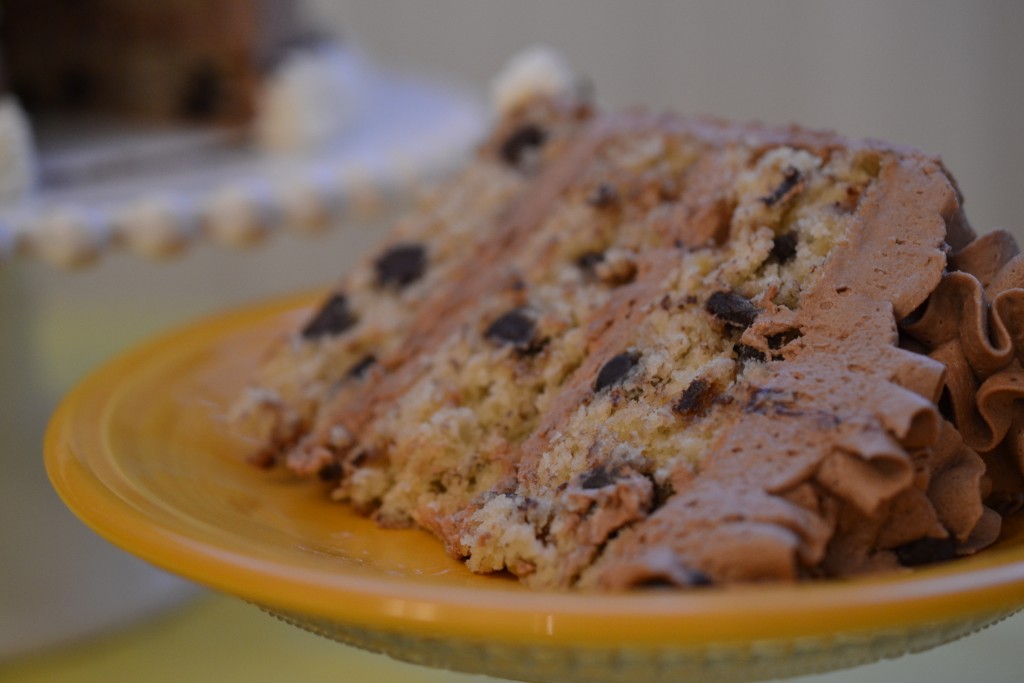 I love developing new recipes using every day ingredients I usually have in the house.
I also love my life and my life partner.  And our kids.  And sobriety.